Zoom with Us on Sept 10 & 29
~With Special Guests~
️Sign up for our next Zooms: Thurs, September 10th and Tues, September 29th, 7:30-9:00 pm. RSVP for September Zooms here.
Hear from Steve Kagan who's written 900+ Vote Forward letters, shown with sidekick, Blue If you still have postcards, write along with us. But even if you don't have postcards or you're done, join us for our September Zooms here. Learn from these special guests:
Thurs, Sept 10th – Steve Kagan, a member of Indivisible Chicago-South Side will join us to talk about the Vote Forward effort. A perfect project to do after you're done with your postcards.
Tues, Sept 29th – A member of Yes for Fair Tax will drop by to tell us about the Fair Tax amendment, a ballot measure for Illinoisans on November 3 ballot.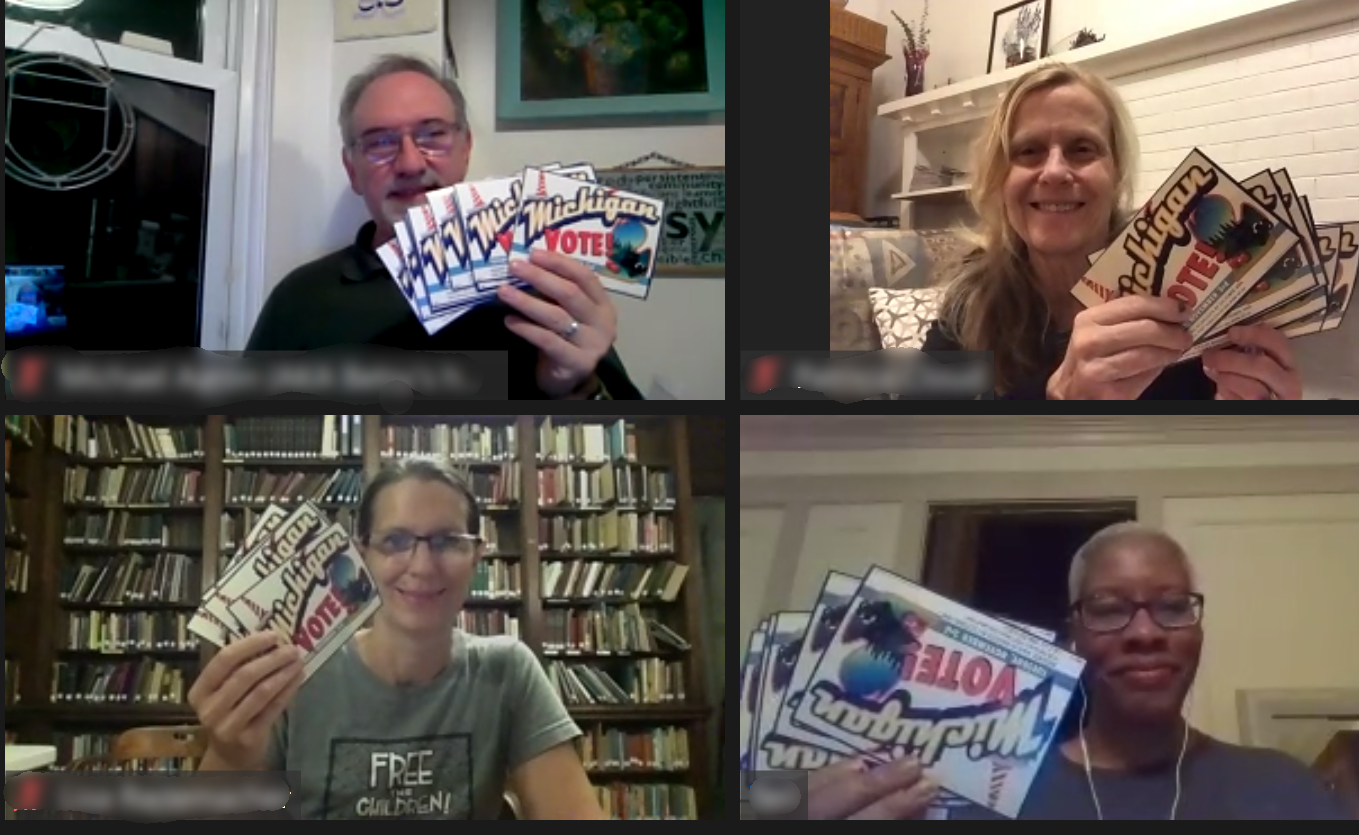 We look forward to seeing you on September 10th and 29th.
RSVP for September Zooms here.
Neighbors Who Vote: Volunteer Opportunities
Julia Kline, Kevin Murry, Cassandra Fay Smith on 53rd St, registering voters
Activist Julia Kline, a member of Indivisible Chicago-South Side, has launched Neighbors Who Vote, an outdoor, in-personvoter registration effort in Hyde Park and Woodlawn with fellow organizers Cassandra Fay Smith and Morrow Cleveland. Indivisible Illinois is also partnering in this effort.
So far, Neighbors Who Vote volunteers have registered 17 voters at Hyde Park and Woodlawn locations and events. Join Neighbors Who Vote and register new voters.
DATES/TIMES/PLACES
Dates, times, and locations are inherently subject to change, so be sure to RSVP first so you can be alerted to any changes.
Sidewalk Brigade: 53rd Street & other Hyde Park street locations. 5:00-6:30 pm on these days: Tues, Sept 8; Fri, Sept 11; Mon, Sept 14; Fri, Sept 18
61st Street Farmers Market: 6100 S. Blackstone, 9:00 am-2:00 pm (sign up for one or more 90-minute shifts) on these Saturdays: Sept 12; Sept 19
Multiple locations TBA during the week of National Voter Registration Day (Sept 22): Sept 21-25. Details to be announced.
RSVP here. Provide your full name, cell phone number, and the date or dates you are available.
---
BRING: A clipboard (or two if you have them) + a few pens
BE SAFE: Wear a mask
and whatever else you need to feel safe. Bring disinfecting wipes if you can, to periodically wipe down your clipboard and pens. Wear a hat to keep the sun out of your eyes, but avoid sunglasses if possible; it's easier to connect when people see your eyes.
WEAR: If possible, wear a t-shirt like Julia's (above). Order whatever size and style you want here. Otherwise wear a plain white T-shirt. Important: Do not wear anything partisan. When registering voters we must be strictly non-partisan.
SIGN UP: Email Indivisible Chicago-South, and we will immediately pass along your contact information to Julia. If you have questions, please include them in your email.
---
And while you're at it, make sure YOU are registered to vote.
1. Illinoisans, check here to be sure that you are registered.
2. Chicagoans, register to vote or change your voter address here.
3. Chicagoans, get info/apply to vote by mail here.
4. Suburban Cook County voters, get all your voter info here.
5. Illinoisans, get even more info on safe, "virus-free" voting at the statewide Indivisible Illinois Virus Free Voting webpage.
REMINDER: Chicago and suburban Cook County voters can drop their completed vote-by-mail ballots in secured drop boxes at early voting sites.
YOUR Budget Priorities: Tell the City by Sep 13
Tell Chicago's Office of Budget and Management YOUR budget priorities for our city. OMB invites you to fill in their Budget Survey and writes:
To provide an opportunity to deliver feedback about resident priorities, values, and distribution of limited City resources, the Office of Budget and Management (OBM) is launching a public survey, opening on Monday August 31st through September 13th.
Sign the Petition for CPAC – 4th Ward
Over the past few weeks, you've learned about CPAC – the ordinance for a Civilian Police Accountability Council. Check out the IC-South Side August 31 newsletter for more CPAC info.
Have you signed the petition yet? As of Friday, the Winning CPAC-4th Ward group is seeking 125 additional signatures in their petition to Ald Sophia King and Mayor Lightfoot in support of civilian control of police via CPAC. OK to sign if you live in another ward. Help Winning CPAC-4th Ward get to 400 signatures!Sign the petition here.
HPKCC Voting Forum: Sept 17
The Hyde Park-Kenwood Community Conference presents an online community dialogue on voting rights, hosted in collaboration with the League of Women Voters of Chicago: Thursday, September 17, 6:00 pm. Sign up here.
Finish Up Those Postcards!

Just weeks to go in the great postcards-to-voters project. Keep working and get ready to turn in your postcards to Indivisible Chicago-South Side by the end of September. Running behind? Ask your friends and neighbors to help you out.
If you received your postcards from Indivisible Chicago-South Side, eitherby picking them up from Esther Peters or having them hand-delivered by Esther or by Betsy Rubin, then:
You'll need to return them to us in batches of 100 along with the address sheets.
To arrange, you can reply to the earlier emails that you got from Esther or Betsy OR let us know right here.
If you received your cards from a different group or if the postcards were shipped to you in the mail, then please refer to the instructions that accompanied your order.
Get Active with Indivisible Chicago Alliance
When we can't knock doors, we ring phones – a proven way to turn out citizens to vote, up and down the ballot. Thank you to Indivisible Chicago-South Side members for leaping into phonebanking in these critical months leading up to the November election.

Now that the postcard effort is finishing up, take the leap into phoning voters. The citywide Indivisible Chicago Alliance provides opportunities to act – safely from home – via their 3 States 1 Mission initiative.
---
Phonebanking Opportunities: Here's thephonebanking schedule via Indivisible Chicago's 3 States/1 Mission project:
Call Michigan or Wisconsin voters about candidates up & down the ballot
Call Michigan voters to help them register to vote
Call voters in Illinois's 14th Congressional District for Rep Lauren Underwood
Call Illinois voters in support of the IL Fair Tax Ballot Initiative
Call prospective volunteers for the Indivisible Chicago Alliance
And other opportunities, as announced
New to phonebanking or need a refresher? Sign up for a clear and friendly 30-minute online phonebank training here.
Let us know if you've been phonebanking so we can give you a shout-out!
Indivisible Chicago-South Side
Email: Indiv.Chi.South@gmail.com
Follow IC-SS on Facebook and Twitter
---
DemCast is an advocacy-based 501(c)4 nonprofit. We have made the decision to build a media site free of outside influence. There are no ads. We do not get paid for clicks. If you appreciate our content, please consider a small monthly donation.
---