---
Mark Your Calendar!
Prescott Indivisible General Meeting
Thursday, August 6, 6:00-7:30 pm
Zoom Link:  https://us02web.zoom.us/j/83368604240
General Meeting Agenda

Our guest speaker, Toni Denis, will present and respond to questions about the New Jail Project.  Her career as a journalist includes working for newspapers, magazines, and websites.  As a political activist, she has served as chair of a county Democratic party and as a board member of a state political organization. You may want to check out the No New Jail Facebook group before the meeting.
In addition to Toni's presentation,  we will hold a remembrance of the 75-year anniversary of the bombing of Hiroshima. 
---
Social Media
Like it or not, social media is playing a big part in how people are thinking about our upcoming election. A few suggestions how to get your voice heard:
Twitter
If you are already on Twitter and want to make a quick and easy addition to our progressive megaphone, go to the Fulcrum Alliance list and "Follow" it. Then "Like" and "Retweet" our posts. Click Fulcrum Alliance above or use this link: https://twitter.com/i/lists/1260335277567905792
Do you have a question about using Twitter? Do you want help to step up your Twitter involvement? I (Mavis Brauer) will be holding Twitter Office Hours on Mondays from 1:00-3:00pm. Here's the Zoom link: https://us02web.zoom.us/j/82132063643
Facebook
If you go on Facebook, go to the Prescott Indivisible group and "Join" it. 
Go to the Fulcrum Alliance page and "Like" it.
---
Prescott Indivisible Expenses
Thank you to those of you who have made donations to our many programs. If you have not yet made a donation, please consider doing so by going to prescottindivisble.org and clicking the "Donate"button. Thank you!
---
Move to Amend
Help us amend the U.S. Constitution to establish Corporations are NOT persons with Constitutional rights. If you are interested in learning more about this group, write them at naz@movetoamend.org or call Michael Adcock at 928-237-9143.
---
John Lewis
PBS has a special "John Lewis–Get in the Way" along with some other related short clips.  Also see CNN's documentary "John Lewis: Good Trouble".  The death of John Lewis brings to the forefront that this is definitely a time for us as a country to reflect on where we are and where we've come from.

~Mavis Brauer, Chair, Prescott Indivisible
---
Racial Equity – What does it mean?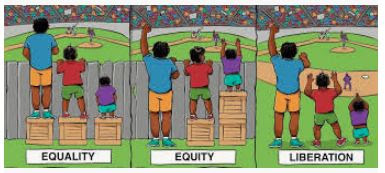 Racial Equity is about applying justice and a little bit of common sense to a system that has been out of balance.  When a system has been out of balance, people of color are the most affected.  An imbalanced system makes all of of us pay.  Click HERE to read more about Racial Equity and where the Arizona Candidates stand. Or go to https://prescottindivisible.org/ and click on "Blog".  
---

BLACK LIVES MATTER
"I have said this before, and I will say it again.  The vote is precious.  It is almost sacred.  It is the most powerful-non-violent tool we have in a democracy."~John Lewis, June 2019
---
AS of July 27, we have 99 days left until the general election.  Indivisible calls this week "The Week of Action" and here are five suggestions.

1.  Volunteer to help John Lutes get elected to the Yavapai County Board of Supervisors from District 1.  Click John Lutes above or go to https://www.lutes4ycbos.com/ and then click on "Get Involved".
2. Volunteer to help Judy Stahl get elected to the Arizona State House from LD1 Click Judy Stahl above or go to https://www.judystahl.com/ and click on "Get Involved" then "Volunteer Opportunities".
3. Go to the Yavapai Democrats Headquarters this Saturday, August 1 from 9:30am-noon and pick up a free yard sign for any or all of these candidates: Judy Stahl, John Lutes, Delina Disanto, Stu Starky, Bill Mundell, and Shea Stanfield.
Address: 1555 Iron Springs Road, Suite 1, Prescott, AZ 86305
Phone: 928-541-0413
Email: info@yavdem.org
4. Purchase ($25.00) a Biden Yard Sign from the Biden for President website. Click Biden for President above or go to:https://store.joebiden.com/yard-signs/
5. Vote Tripling: Call three friends and remind them to return their early ballot…NOW!
Thank you for all that you do!~Mavis Brauer, Chair, Prescott Indivisible.
---
IF NOT US, WHO?  IF NOT NOW, WHEN?*99 days to the presidential election
Our endorsed candidates, Judy Stahl and John Lutes, are campaigning under incredibly difficult circumstances. They will be our voice for change in the Arizona State House and in Yavapai County.
And,
They need our voices on the PHONES NOW! Every vote for Judy and John is a vote for Joe Biden and Mark Kelly too!
Click the images below to volunteer.
And/Or,
Volunteer to support a different campaign each week!  The Ferris Wheel Project is a weekly rotating phone bank sponsored by the Yavapai County Democratic Party.  Click the image below to volunteer online (or email Madison Lisle at madison.lisle@student.prescott.edu
If you are a first time phone banker, or you need a refresher, all the phone banks have training.  Also, a bit of good news, more people are willing to talk because they are home so much.  That is one of the very few good things to come out of the COVID pandemic. 
 
 ~Marion Pack, Member at Large, Prescott Indivisible 

*Origin of "If not us, who?  If not now, when?"
---
Education Funding in Arizona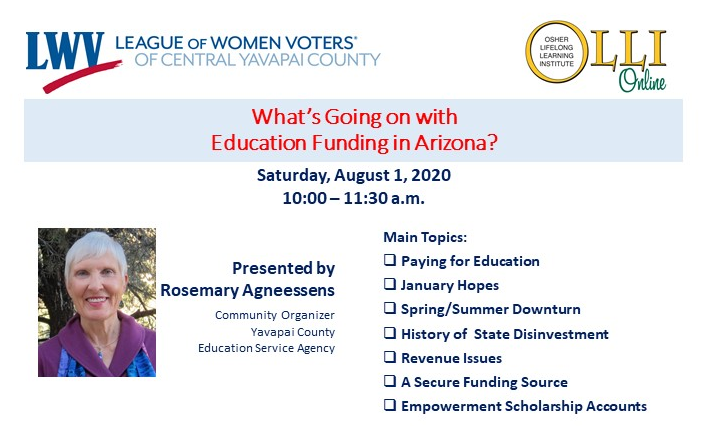 Register in advance for this meeting by emailing lwvcyc.education@gmail.comYou will receive an email with instructions on how to join the meeting
following your registration. 
---
Coalition for Compassion and Justice (CCJ)
 is a Shining Star!
We are so honored and excited to be featured by the Arizona Community Foundation of Yavapai County as one of this year's Shining Stars!

This is such an amazing opportunity and you can participate!  When you click on the link below and "Like" or "Share" our video on Facebook, it's a vote for CCJ to receive more funding from ACF.  How cool is that?
One click helps us
continue our mission to end homelessness in your community.
Our meal train supports our most vulnerable, those living in homelessness, with nutrition and a meal served as a family.  We are currently hosting 10-15 guests every evening, amounting to $50-75 an evening.  We offer no contact drop-offs for donated meals and take all work out of ordering when you give financially.   Also, PI helped us serve close to 6,000 meals over the past few months… THAT'S A BIG DEAL!
~ Jessi Hans, Executive Director, Coalition for Compassion and Justice
Click HERE to read more about CCJ.
Click HERE to read more about ACF.
Click HERE to read more about CCJ's Meal Train.
---
Important Dates to Remember
---
Because We Need More Reading and More Viewing
We're not slowing down
Voter suppression is a racial justice issue.
How to honor Rep. John Lewis? Help realize his vision for a more just America.
Trump won't say if he'll accept election results
---
Americans have 100 (now 99) days to defeat the tyranny of Trumpism
Lots of funny/not funny, sorry/not sorry political cartoons
We will not let this deter us:" Maricopa County Democratic Leaders Vow to Press on after an arsonist destroyed the Democrat's Phoenix Office
---
Virtual Events
 

                      
Emerge Virtual Salon Series (Leaders Matter Series includes a conversation with Pete Buttigieg on 7/28)
Washington Post Live Events  (includes a conversation with Senator Tammy Duckworth on 7/30)
---
Newsletters



CNN's Good Stuff
Robert Hubbell
Heather Cox Richardson Letters from an American
Americans of Conscience Checklist (Jennifer Hoffman)
---
Governor Ducey


Dear-Doug.com# (Want to send a complaint letter to Governor Ducey?  This website will write it for you!)
---
Wear a mask when you go out, wash your hands
and practice social distancing.
---
AZResist is an independent calendar covering
civil rights and progressive politics across Arizona. 
---
CONTACTS
Contact Your Members of Congress
KYRSTEN SINEMA
825 B&C Hart Senate Office Building Washington DC 20510
(202) 224-4521 
contact@sinema.senate.gov
MARTHA MCSALLY
B40D Dirksen Senate Office Building Washington DC 20510
202-224-2235 
contact@mcsally.senate.gov
PAUL GOSAR
2057 Rayburn HOB, Washington, DC 20515 202-225-2315
6499 S. Kings Ranch Rd. #4, Gold Canyon, AZ 85118 480-882-2697
220 N. 4th St., Kingman, AZ (by appt. only)
122 N. Cortez St., Suite 104, Prescott, AZ 86301 928-445-1683
http://paulgosar.house.gov/contact/
Arizona
Governor, Doug Ducey
State Capitol, 1700 West Washington Street, Phoenix, AZ 85007      602.542.4331
http://azgovernor.gov/governor/form/contact-governor-ducey
Legislature http://www.azleg.gov/
Senator Karen Fann kfann@azleg.gov 602-926-5874
Rep. Noel Campbell ncampbell@azleg.gov 602-926-3124
Rep. Steve Pierce spierce@azleg.gov 602-926-5584
Prescott
Mayor Greg Mengarelli
201 S. Cortez St. Prescott 928.777.1248
---
DemCast is an advocacy-based 501(c)4 nonprofit. We have made the decision to build a media site free of outside influence. There are no ads. We do not get paid for clicks. If you appreciate our content, please consider a small monthly donation.
---