Prescott Indivisible is a non-partisan community which seeks to promote a progressive and inclusive agenda in support of human rights and the environment.
INFORM  CONNECT  INSPIRE  RESIST
191 weeks down,
16 weeks to the presidential election
---
REQUEST FOR ACTION ~ COVID 19
Call and/or email Governor Ducey and our local mayors and tell them to REQUIRE the wearing of masks in public when social distancing is not possible.  This is a public health issue and not a political issue!~Mavis Brauer, Char, Prescott Indivisible
Contact Information:
Ducey:
Phone: 1-602-542-4331
Email: engage@az.gov
Mengarelli, mayor of Prescott:
Phone: 1-928-777-1248
Email: communications@prescott-az.gov
Palguta, mayor of PV:
Phone: 928-759-3100
Email: mayor@pvaz.net
Croft, mayor of Chino Valley:
Phone: 928-636-2646
Email: dcroft@chinoaz.net
COVID-19 Statistics:
Yavapai County Community Health Services
Arizona Department of Health Services
Arizona Coronavirus Map and Case Count
Blog for Arizona:
Strong Leadership according to Doug Ducey:  Please wear a mask or I will ask you to please wear a mask again
Step Down, Ducey!
---
Awarded Grant
Prescott Indivisible was awarded a $1,500 grant from National Indivisible to help pay for stamps and printing of 3,000 more postcards for the Voter Values Project (VVP). That helps a lot! We have a goal of sending 10,000 postcards and this will get us to our halfway mark.
We still have to pay for 5,000 more stamped postcards by November 3 so it would be much appreciated if you would go to our our website PrescottIndivisible.org and donate $5 or $10 a month.  Thank you.~Mavis Brauer, Char, Prescott Indivisible
---

Racial Equity Education 
I hope you found last week's recommendations thought provoking.  This week I'm going to recommend two classic documentaries:
"13th" explores race and incarceration in the U.S. and can be found on Netflix.  Click HERE to read more about it.  Click HERE to view the official trailer.
Let me know by EMAIL (chair@prescottindivisible.org) if you have a recommendation to further our racial equity education.  Thank you.~Mavis Brauer, Char, Prescott Indivisible
---
Mark Your Calendar!
Prescott Indivisible Next General Meeting
Thursday, August 6, 6:00pm
Exciting Program Information to be Announced Later!!
---
Last week InvestinEd turned in 435,669 signatures to get the Invest in Education Act on the ballot – surpassing the legal requirement of 237,645 by almost 200,000 signatures. Before we even turned in our signatures, our opponents started plotting against us and spreading false information about Invest in Ed. Now, as of Friday, July 10, afternoon, they've filed a lawsuit to try to prevent us from qualifying for the ballot and letting Arizona voters decide whether to fund our schools.

We must fight back. We need $7,500 into our Legal Defense Fund today. Click here to donate.
Our opponents have already shown they are willing to do and say anything to defeat us, but they can't erase our work. Thousands of volunteers across the state collected signatures from hundreds of thousands of Arizonans who know it's time to Invest in Education and Arizona's future. Donate to our Legal Defense Fund today.
Thank you for taking action,
The Invest in Education Rapid Response Team
P.S. Please forward this information to your network. Only together will we be able to win this fight!
Paid for by Invest in Education. (Sponsored by AEA and Stand for Children.)
Not authorized by any candidate.  Sent via ActionNetwork.org.
---
Save Our Schools Arizona Network
and the League of Women Voters 
Present
The Truth About Vouchers ~ Virtual Presentation/Panel
Tuesday, July 15, 6:00pm

Click HERE to Register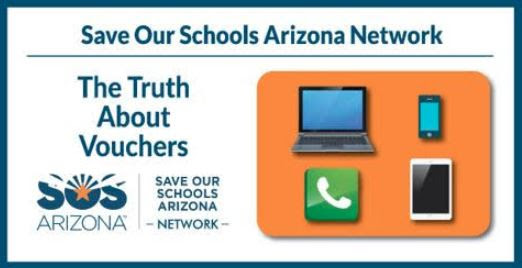 You are invited to attend this important, informative webinar. This straightforward presentation reveals the problematic history of private school vouchers in Arizona and across the nation using historical sources and data-based analysis. You won't believe what you learn — but it's all true! Special thanks to the League of Women Voters of Central Yavapai County for their support and co-sponsoring for this important event.
This will be a virtual online presentation you can attend from the comfort of your own home. Your audio and video will be turned off and the Q&A will be facilitated using the presentation chat box.
Co-Founders Beth Lewis (Executive Director) and Sharon Kirsch (Director of Research) will be presenting with special guest panelists from local public schools to share in the Q&A and discussion. Panelists include Amy Bowser and Lisa Groves (Teachers: HUSD), Sonja Tenney (Teacher: PUSD) and Clark Tenney (Assistant Principal: PUSD/PHS).
SOSAZ Network is a non-partisan, non-profit working throughout Arizona to provide a fact-based review of our current public schools classroom crisis, how funding cuts and tax payer money is directed to fund private schools and the negative impact these privatization schemes are having on our public schools in the Prescott area and statewide.
Click HERE to visit the Save Our Schools Network website for more information.
The LWVCYC is a non-partisan, non-profit organization with the mission to educate voters through our 501(3)c Education Fund.
Tuesday, July 16, 6:00pm
Click HERE to register
---
Attention!!
Mail Ballot Update
Two issues regarding mail ballots have been resolved in Arizona. One questioned what happens to a mail ballot received unsigned or with a questionable signature. The other, a lawsuit about extending the mail ballot deadline.
The first concern has been resolved through a discussion with Laurin Custis, Yavapai County Registrar of Voters. Her position is that they want to count every vote received, if at all possible. If a ballot is received without a signature, or a questionable signature, the Registrar's office reaches out to the voter if there is contact information. They then give five days for the voter to come in and fix the problem.
Furthermore, if a ballot is received on Election Day with a questionable signature, the voter is still given five days to come in and resolve the signature issue. That is not the case with an unsigned ballot received on Election Day; those ballots are rejected and disposed of. The bottom line is, sign your ballot before mailing!
The other concern involved a lawsuit filed in November by Voto Latino and Priorities USA. It contends the state has "no legitimate interest'' in enforcing the deadline, particularly when the state is promoting that people cast their ballot by mail. Attorney Sarah Gonski wants U.S. District Court Judge Dominic Lanza to require counting of ballots postmarked by the 7 p.m. deadline and received within five business days afterwards. Gonski contended that the personal drop-off option can be "more time-consuming and burdensome'' for rural voters who often live many miles from a drop-off location, as well as for Hispanic and Latinx voters who she said have difficulty obtaining transportation or leaving work during the hours when county recorders' offices are open.
Katie Hobbs, Secretary of State, contends that Voto Latino and Priorities USA have no legal standing to challenge the law. She said they haven't provided any evidence that a member of their organizations — or, for that matter, anyone at all — has been harmed by the failure to count their vote because the mail wasn't delivered until after the deadline. Hobbs, through her attorney, claimed that Arizona provides more opportunities for voting than many other states. That includes the ability to cast an early ballot without having to provide any excuse at all. More to the point, she said that people have 27 days to get that early ballot back to county officials. And if they can't get them in the mail on time, Hobbs said, they can always drop them off at polling places before or on Election Day.
In a deal reached recently, the two groups who challenged the law will not pursue their claim that it is unconstitutional to refuse to count ballots that have not arrived in the mail by 7 p.m. on Election Day.
In exchange, Secretary of State Katie Hobbs has agreed to do more voter education to help ensure that the ballots do either get mailed in time to meet the deadline or that they are dropped off at polling places. And Hobbs also is required, under the terms of the deal, to specifically look for ways to "expand early voting opportunities in Hispanic and Latinx, Native American, and rural communities."
In signing the settlement, Hobbs denied that the deadline violates any constitutional rights. But the deal not only avoids what could have been a protracted legal battle but also gives her an opportunity — and potentially some funding if lawmakers approve — to do more outreach to ensure that people get their ballots returned in time to be counted. Hobbs agreed to study how many votes were not counted in the past three elections because they missed the deadline as well as the "feasibility of implementing a postmark deadline.'' That includes a requirement to see how other states have successfully moved to such a deadline.
~Submitted by Marion Pack, Prescott Indivisible, Member at Large
---
August Primary Election
---
Get Involved ~ Volunteer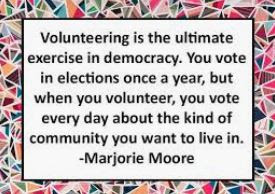 We're in the fight of our lives!
All of the below (and many causes) need volunteers. 
Please contact them to see how you can help!
Delina DiSanto
Democratic Women of Prescott Arizona
Joe Biden
John Lutes
Judy Stahl
Mark Kelly
Prescott Indivisible
Save the Dells
Stuart (Stu) Starkey
Voter Values Project
Yavapai Democrats
---
BLACK LIVES MATTER
We wouldn't have to have Black Lives Matter if we hadn't had 300 years of Black Lives Don't Matter.  ~ Source Unknown
Suggestions:
Read:
"When They Call you a Terrorist: A Black Lives Matter Memoir" by Patrisse Khan-Cullors and Asha Bandele. Click HERE to read a review by indiebound.org.
Participate (Tuesday, July 14):
A Conversation on Race and Racism in Small-Town America, presented by ProPublica Illinois
Listen and Read:
Frederick Douglass' Descendants Deliver His ' Fourth of July' Speech, presented by NPR. Click HERE to read "What to the Slave Is the Fourth of July?': The History of Frederick Douglass' Searing Independence Day Oration.
Check Out:
supermajority.com, Alicia Garza, a lifelong organizer, the founder of Black Futures Lab, and a co-founder of Supermajority.  In 2013, she started the Black Lifes Matter Global Network with her sisters Patrisse and Opal.
---
More Reading, Some Inspiration
and Even a Little Humor
Miscellaneous:
---
Read:
Number one. Arizona's coronavirus outbreak is, by some measures, the single worst in the world. 
"His death is due to the carelessness of the politicians." When her father died of COVID-19, Kristin Urquiza wrote an obituary telling the truth about who was to blame.
The looming eviction crisis. Hundreds of thousands of families could soon find themselves with nowhere to go.

Watch:
"Arizona is in a complete crisis right now." How Ducey's decision to open early created the conditions for catastrophe. 

Do:
Tell our US Senators to pass the HEROES Act. The $600 additional unemployment payments are keeping many Americans afloat at a time when COVID-19 has paralyzed much of the economy. But they'll expire at the end of July unless Congress acts. Tell Senators Sinema and McSally to support the HEROES Act, including the extension of the $600 weekly benefit, in the Senate.
Chip in to help others. Give to the undocumented workers relief fund, which has already helped hundreds of families who were excluded from the stimulus checks and other forms of assistance. 
Stay home when you can, wash your hands, wear your mask. At this point, it's up to us to keep each other safe.
---
---
CONTACTS
Contact Your Members of Congress
KYRSTEN SINEMA
825 B&C Hart Senate Office Building Washington DC 20510
(202) 224-4521
contact@sinema.senate.gov
MARTHA MCSALLY
B40D Dirksen Senate Office Building Washington DC 20510
202-224-2235
contact@mcsally.senate.gov
PAUL GOSAR
2057 Rayburn HOB, Washington, DC 20515 202-225-2315
6499 S. Kings Ranch Rd. #4, Gold Canyon, AZ 85118 480-882-2697
220 N. 4th St., Kingman, AZ (by appt. only)
122 N. Cortez St., Suite 104, Prescott, AZ 86301 928-445-1683
http://paulgosar.house.gov/contact/
Arizona
Governor, Doug Ducey
State Capitol, 1700 West Washington Street, Phoenix, AZ 85007 602.542.4331
http://azgovernor.gov/governor/form/contact-governor-ducey
Legislature http://www.azleg.gov/
Senator Karen Fann kfann@azleg.gov 602-926-5874
Rep. Noel Campbell ncampbell@azleg.gov 602-926-3124
Rep. Steve Pierce spierce@azleg.gov 602-926-5584
Prescott
Mayor Greg Mengarelli 
201 S. CortezSt. Prescott  928.777.1248
---
Our mailing address is:
Prescott Indivisible
P. O. Box 12694
Prescott, AZ 86304

Our email address is:
info@prescottindivisible.org
---
DemCast is an advocacy-based 501(c)4 nonprofit. We have made the decision to build a media site free of outside influence. There are no ads. We do not get paid for clicks. If you appreciate our content, please consider a small monthly donation.
---