IC-SS Weekly Update: June 22, 2020
---
Join Us on Zoom! Tomorrow (June 23) & in July
Register now for our next Postcard Parties, happening TOMORROW, Tues, June 23,and then Thurs, July 9, and Wed, July 22 – all from 7:30-9:00 pm. RSVP by email to get the Zoom link(s).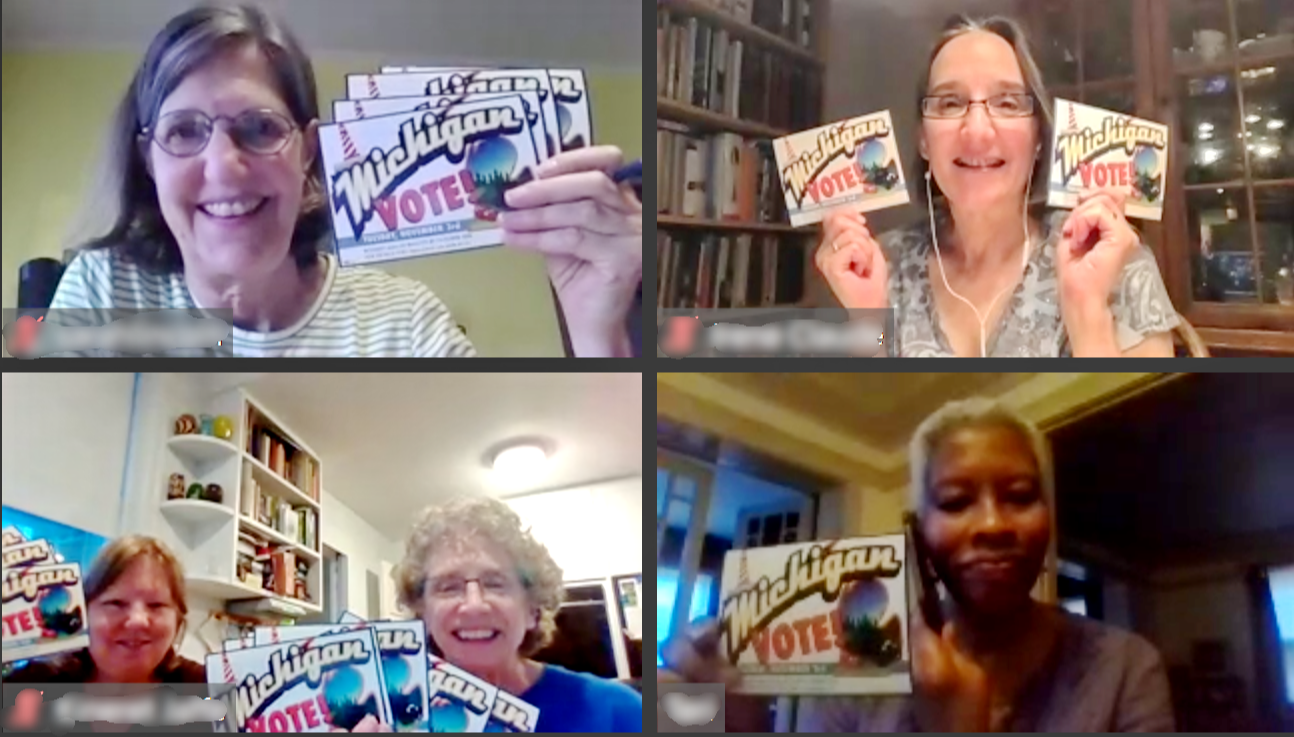 What happens at an IC-SS Postcard Party? See old friends, meet new ones, share resources for activism, and find companionship as you jot your postcards to voters in Michigan or Wisconsin. You're welcome to attend, even if you aren't currently writing postcards.
---
Postcard Profile: Kimberly Hinton
On June 4th, Kimberly Hinton got her postcards for Michigan voters (left). Last week, she sent in the photo at right from her "postcard office." Joined by her daughter, Kimberly has already penned nearly 200 postcards – squeezing in time during breaks from working remotely and attending online meetings.
Thank you, Kimberly Hinton, for your work on this important project – you'll make a difference in November!
Postcard writers: Share your postcard photos to appear in the newsletter or on Facebook/Twitter. Just obscure or blur any addresses. Thanks for your work!
---
Chicago Juneteenth – 2020
How did you spend Juneteenth? You may have taken part in some of the actions described in this Block Club Chicago story by Jamie Nesbitt Golden – supporting Black-owned businesses; educating yourself on the holiday and the movement for Black lives; donating to organizations that defend Black lives; celebrating with community; walking and marching.
IC-South Side member Teri Watkins took part in an interfaith Juneteenth walk held in Grant Park held June 19. It was organized by Bright Star Pastor Chris Harris and attended by faith leaders of many traditions. Cook County Board President Toni Preckwinkle, Lt. Gov. Juliana Stratton, Gov. J.B. Pritzker, and Senators Dick Durbin and Tammy Duckworth participated. Teri shares this glimpse of the march in progress:
---
Act on CPAC for Civilian Control of Police
BACKGROUND
Everyone imagines a future with no police violence. An immediate measure is to exercise civilian control over CPD. For years, the Chicago Alliance Against Racist and Political Repression (CAARPR) has been advocating for Chicago to implement a Civilian Police Accountability Council (CPAC); now, the citywide Indivisible Chicago Alliance has joined in this demand.
To learn more about CPAC:
Read about CPAC and see how it compares to the weak alternative (GAPA) via the resource links in Indivisible Chicago-South Side's June 15 newsletter.
Hear CAARPR member Michael Aaron (also an IC-South Side volunteer) speak for 3 minutes in favor of CPAC at the June 17 City Council meeting – tune in at 12:10 minutes.*
*The City Council did not, in fact, take up the CPAC ordinance on June 17th, so there is still time to convince more aldermen to support it.
ACTION
To date, 5th Ward Ald Leslie Hairston and 20th Ward Ald Jeanette Taylor are among a group of 19 City Council members supporting CPAC – but at least 7 more supporters are needed. See CAARPR's full list of CPAC supporters in the City Council – if your alderperson supports CPAC, give them a call to say thanks!
Do you live in the 4th Ward? It appears 4th Ward Ald Sophia King, the new chair of the Progressive Caucus hasn't come out in support of CPAC. If you live in the 4th Ward, call Ald King and ask her to support CPAC (and not the weaker GAPA): 773-536-8103. Or, as a 4th Ward constituent, you can email Alderman King, using the suggested script or substituting your own.

If you live in another ward and your alderman is not on the list of CPAC supporters, we ask you to contact them with a similar message.
Find your alderman here.
---
SIGN UP for 3 States/1 Mission:
ICA's Postcard Posse & Phonebanking
As part of Indivisible Chicago Alliance's 3 States/1 Mission project, IC-South Side is participating in the citywide Postcard Posse, writing postcards to voters in swing states. What to do for postcards:
1. ORDER POSTCARDS. Fill in the form at the Postcard Posse order page. Ask for 100 or more (in increments of 100) and select HYDE PARK as your pickup/delivery point.
2. REGISTER. Register at the Postcard Posse registration page. Sign up to write on your own, or choose one of our two teams (by zip code): South Side Scribes, Local 15 or 37.
3. IF YOU CAN, BUY STAMPS. Youaren't required to stamp your own postcards, but if you can afford to, you can order online: Here's a link to postcard stamps at USPS.com.
QUESTIONS OR CONCERNS?
Contact us at Indivisible Chicago-South Side
---
Already writing postcards? Increase your impact by phonebanking from home!
Join South Siders and other Chicago volunteers in phoning voters in swing state Michigan (and soon Wisconsin). Each phonebank session includes an orientation and Q & A via Zoom with helpful Indivisible Chicago Alliance organizers. For opportunities to phonebank and – if you're new – get a phonebank training, go to this page.
---
Indivisible Chicago-South Side
Email: Indiv.Chi.South@gmail.com
Follow IC-SS on Facebook and Twitter
---
DemCast is an advocacy-based 501(c)4 nonprofit. We have made the decision to build a media site free of outside influence. There are no ads. We do not get paid for clicks. If you appreciate our content, please consider a small monthly donation.
---