Prescott Indivisible Newsletter:
May 4, 2020
LOCAL ACTIONS
Prescott Indivisible News
Rosemary Dixon, who has served as the Prescott Indivisible Chair for the past 18 months has resigned because of health issues. At the Steering Committee meeting on April 28, the members and special guests, Tricia Sauer (AZ Indivisible Leader) and Abby Brill, expressed gratitude for her leadership and reminisced about her accomplishments. Rosemary will continue to be a member-at-large on the steering committee while recuperating. At the same meeting, Mavis Brauer, member-at-large, was elected as the new Prescott Indivisible Chair.

A Note from Rosemary Dixon:
My dear Prescott Indivisible family,
It has become clear to me that I need to step down from the position of PI chair. My health has been erratic, and I can see that at this point, I am not up to the job. It's been 18 months now and, apart from my health, I think PI needs a different personality to lead us forward. To that end, we are fortunate that Mavis Brauer has offered to step in as chair temporarily. I know she will do a good job keeping us all straight.
It doesn't mean I am stepping away from PI altogether, I will still be involved and working to figure out where I can best be of service.
Remember, it's nearly May. We have just six months to move that arc of justice. We have just six months to save democracy. Please stay the course as well as you can. Write those letters. Challenge your reps. Push for vote by mail.
Over the years it has been fulfilling to feel I am making a difference in this time of great injustice and I am grateful for that. I am especially appreciative of the amazing friends I have made. It has been an honor to serve as your chairperson.
In solidarity, and with gratitude, Rosemary Dixon
---
Volunteer Help Needed for PI Website:
The Communication team needs assistance with maintaining and updating our website. Experience with WordPress required. Job would require 3-4 hours per week. Please consider volunteering. Contact Dee: deecohen@cox.net
---
Voter Values Project
Louise Clara and Candy Atkinson, Volunteer Coordinators for the Voter Values Project (VVP), have been making cloth masks and have some to sell as part of a fundraising effort for the VVP. The original plan for the VVP was to encourage Independents to enroll in PEVL (Permanent Early Voter List) through door-to-door canvassing but due to COVID, part of the plan has shifted to mailing postcards. This fundraiser is to help pay for stamps.
SUGGESTED DONATION: $10 per mask
GO TO: prescottindivisible.org and click on the "donate" button.
Under the "Write a Note" line, specify how many masks you would like and a volunteer coordinator will contact you to arrange for delivery of your masks. Thank you for supporting the VVP and for staying safe.

If you have any questions, contact Mavis Brauer at pi.volunteer.coordinator.com.
---
ARIZONA STATE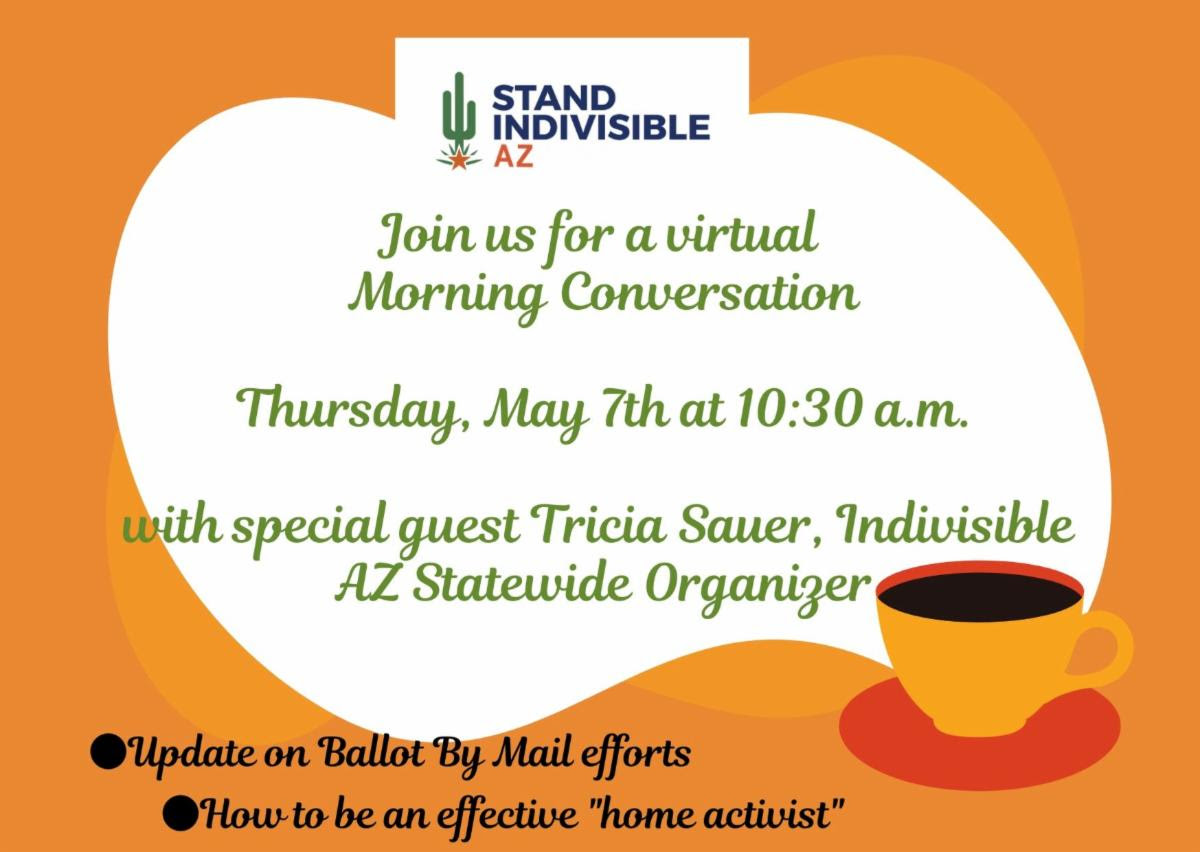 PLEASE REGISTER HERE.
After registering, you'll receive a confirmation email containing information about how to join the meeting. "See" you there!
---
Stand Indivisible AZ Legislature Flash Bulletin – 5/3/20
standindivisibleAZ.org
CALLS TO ACTION THIS WEEK: Let's use this time to protect our values with action. Here are two opportunities to have an impact from the safety of your home. Questions? Email rmccormick9@cox.net.

✔︎ DEMAND ALL-MAIL PRIMARY AND GENERAL ELECTIONS. URGENT!
The County Recorders must order materials to implement all-mail ballots. Per Citizens' Engagement Beyond Voting (CEBV): "To support a safe and secure election for the Primaries in August AND the General Election in November, it's time to demand that Gov. Ducey issue an Executive Order for a statewide all mail-in ballot. CALL GOV. DUCEY'S OFFICE @ 602-542-4331 NOW! Tell him that an all mail-in ballot is the safest way to ensure that Arizona's elections are accessible to all. Experts say that COVID-19 could subside a bit in the summer and re-emerge ferociously in the fall. We MUST ensure safe access to the ballot, and critical planning needs to start NOW." We do NOT want Wisconsin in Arizona.

The Legislature and the Governor resist all-mail elections, often with a hollow claim of voter fraud. This Session, the majority party killed SB1077, sponsored by Rep. Bowie (LD-18), which would have allowed counties to run mail-only ballots for all elections if approved by the county Board of Supervisors and if more than 60% of voters are on the PEVL (Permanent Early Voting List). The sole remaining recourse is Governor Ducey who has the power to order all-mail elections by Executive Order.

✔︎ FILL OUT YOUR ONLINE CENSUS QUESTIONNAIRE. AZ Census results will determine huge federal payments to Arizona and the number of Arizona members in the U.S. House of Representatives. Keep the Census worker from coming to your house by taking 10 minutes to fill out the form online HERE.
---
FROM INDIVISIBLE NATIONAL
Get angry. Then, get even.
PAYBACK PROJECT
https://www.paybackproject.org
Yes, we could just set our sights on canceling Cornyn, or getting rid of Graham, or trashing Tillis, or ejecting Ernst, or sending Perdue packing, but after years of Senate Republicans enabling Trump and destroying democracy, we have to do more.

Realtalk: Defeating this many Senate Republicans will not be easy — it will take a massive awareness campaign to expose the truth of their complicity to voters and a growing grassroots army on the ground ready to ensure their Democratic opponents have the funding and people necessary to knock doors, activate voters, and win. We have a comprehensive, four-pronged approach to make sure Republicans Senators are held accountable for their actions, their votes, and their enabling of Donald Trump.

TARGETED: Martha McSally
Despite being rejected by Arizona voters in 2018, McSally rode a gubernatorial appointment into the Senate and has spent every day since refusing to do her job. Now, instead of representing Arizonans, she spends her days in office covering for the Trump administration and complaining about constituents.
Ready to talk about how we're going to win? Here's our plan.

Build awareness & accountability.
When one of the 11 Payback Project senators take bad votes or do something else awful, we'll be in their states to broadcast it and hold them accountable for refusing to listen to constituents. And we'll keep reminding voters of their stances on the Affordable Care Act, abortion bans, climate change, and all our other top issues.
Boost local political power.
We'll do the work to get as many people involved in the election as possible, educating folks about what's at stake, growing the size of our local Indivisible groups, funnelling voters in these ten states directly to their local Indivisible group, and increasing logistical support for their election activities and recruitment efforts through trainings, organizer support, and powerful new tools.
Organize to win.
Our nationwide network of organizers will work directly with groups on the ground to leverage their power with voters, the candidates, and the media to build support for strong progressive challengers.
Get out the vote.
We'll run a robust GOTV campaign to turn as many people as possible out to the polls. Remember — these senators thrive on disenfranchisement, so it's our job to make sure voters show up to kick them out
---
Announcement: Indivisibles have overwhelmingly voted to endorse Vice President Joe Biden's campaign for President.
When we say Indivisibles overwhelmingly voted to endorse, we mean it: 95% of Indivisibles who responded and 94% of Group Leaders support endorsing former VP Joe Biden. (Just for context — our support threshold to make an endorsement was 60%.) These are incredibly high numbers and much better than our previously projected support aspirations of 60% of the movement supporting the endorsement.
We're so glad to be able to report all this enthusiasm, because we have big plans for 2021, and none of them are possible unless we make Joe Biden president. Today we're announcing this national endorsement to the world, and now it's time to do the work to win this election.

We want to take a special moment to speak to those of you who, like the two of us, supported another candidate in the Democratic primary. Whether you voted to endorse or not, know that you are a part of this movement, and we're asking you, personally, to join us in going all in to support Vice President Biden to defeat Trump. We can organize to win progressive legislative victories next year, but only if we first organize to elect Biden this year.
American democracy cannot survive another Trump term, but this isn't just about beating him. It's about paving the way for a new vision for the future. It's about defending democracy, protecting the right to vote, reforming our healthcare system, tackling climate change, and ensuring equity and justice for the most marginalized among us. Vice President Biden is the only candidate today who will make that vital work possible. That's why we're endorsing him, and why we're going to do everything in our power to make him the next President of the United States of America.
From the bottom of our hearts, thank you for joining us in this work, this organization, this movement. Indivisible means coming together, and that's never been more important. Together, we will win.
In solidarity,
Leah, Ezra, and the entire Indivisible Team
---
ANNOUNCEMENTS
Recommended Reading to Make Sense Of It All:
Today's Edition Newsletter SUBSCRIBE HERE
Robert Hubbell | rbhubbell@gmail.com, Los Angeles, CA 91436
I started this newsletter at the urging of my wife (a.k.a. "Managing Editor") as a way of providing support and hope for my three daughters and close friends who were shocked and anxious about Trump's election.
Letters from an American READ/SUBSCRIBE HERE
Historical perspectives on today's events by Heather Cox Richardson
Historians are fond of saying that the past doesn't repeat itself; it rhymes. To understand the present, we have to understand how we got here. That's where this newsletter comes in. I'm a professor of American history. This newsletter explores what it means, and what it has meant, to be an American.
Brené Brown PODCAST
I'm a research professor at the University of Houston. I've spent the past two decades studying courage, vulnerability, shame, and empathy. The bottom line: I believe that you have to walk through vulnerability to get to courage, therefore . . . embrace the suck. I try to be grateful every day and my motto right now is "Courage over comfort." I do NOT believe that cussing and praying are mutually exclusive.
CLICK HERE FOR SMALL VICTORIES: Judge blocks feds from giving tribal aid to corporations
---
CALENDARS
Prescott Indivisible Calendar LINK
Community Resources LINK
---
CONTACTS
Contact Your Members of Congress
KYRSTEN SINEMA
825 B&C Hart Senate Office Building Washington DC 20510
(202) 224-4521
contact@sinema.senate.gov
MARTHA MCSALLY
B40D Dirksen Senate Office Building Washington DC 20510
202-224-2235
contact@mcsally.senate.gov
PAUL GOSAR
2057 Rayburn HOB, Washington, DC 20515 202-225-2315
6499 S. Kings Ranch Rd. #4, Gold Canyon, AZ 85118 480-882-2697
220 N. 4th St., Kingman, AZ (by appt. only)
122 N. Cortez St., Suite 104, Prescott, AZ 86301 928-445-1683
http://paulgosar.house.gov/contact/
Arizona
Governor, Doug Ducey
State Capitol, 1700 West Washington Street, Phoenix, AZ 85007 602.542.4331
http://azgovernor.gov/governor/form/contact-governor-ducey
Legislature http://www.azleg.gov/
Senator Karen Fann kfann@azleg.gov 602-926-5874
Rep. Noel Campbell ncampbell@azleg.gov 602-926-3124
Rep. Steve Pierce spierce@azleg.gov 602-926-5584
Prescott
Mayor Greg Mengarelli
201 S. Cortez St. Prescott 928.777.1248
---
---
DemCast is an advocacy-based 501(c)4 nonprofit. We have made the decision to build a media site free of outside influence. There are no ads. We do not get paid for clicks. If you appreciate our content, please consider a small monthly donation.
---