Our response to the "2nd Amendment Sanctuary" proclamation happening in Yavapai County tomorrow.
The ginned up paranoia over this imagined threat is purely political, the real issues are far more complex. This is symbolic nonsense, let's get our #priorities straight!
---
The statement from Prescott Indivisible is as follows: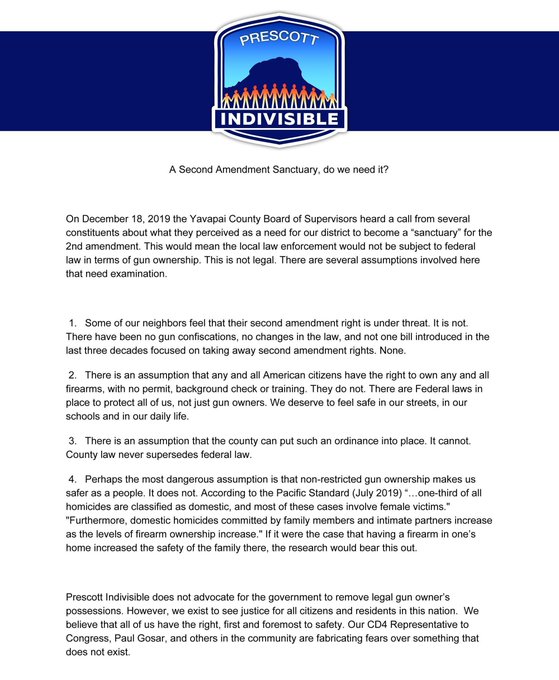 On December 18, 2019 the Yavapai County Board of Supervisors heard a call from several constituents about what they perceived as a need for our district to become a "sanctuary" for the 2nd amendment.
This would mean the local law enforcement would not be subject to federal law in terms of gun ownership. This is not legal. There are several assumptions involved here that need examination.
Some of our neighbors feel that their second amendment right is under threat. It is not. There have been no gun confiscations, no changes in the law, and not one bill introduced in the last three decades focused on taking away second amendment rights. None.
There is an assumption that any and all American citizens have the right to own any and all firearms, with no permit, background check or training. They do not. There are Federal laws in place to protect all of us, not just gun owners. We deserve to feel safe in our streets, in our schools and in our daily life.
There is an assumption that the county can put such an ordinance into place. It cannot. County law never supersedes federal law.
Perhaps the most dangerous assumption is that non-restricted gun ownership makes us safer as a people. It does not. According to the Pacific Standard (July 2019) "…one-third of all homicides are classified as domestic, and most of these cases involve female victims." "Furthermore, domestic homicides committed by family members and intimate partners increase as the levels of firearm ownership increase." If it were the case that having a firearm in one's home increased the safety of the family there, the research would bear this out.
Prescott Indivisible does not advocate for the government to remove legal gun owner's possessions. However, we exist to see justice for all citizens and residents in this nation. We believe that all of us have the right, first and foremost to safety. Our #AZ04 Representative to Congress, Paul Gosar, and others in the community are fabricating fears over something that does not exist.
---
Speaking of Rep. Gosar, he loves playing the pride in ignorance politics of paranoia… it's his go-to.
He loves smearing "the left" as "radicals" as he spends his time pandering to extremists, all the while having completely lost touch with ordinary folks who in reality can see the epidemic of gun violence often resulting in mass murder.
Paul is out of touch…
"Poll after poll shows that Americans support stronger gun laws, including an annual Pew Research Center survey in which the percentage favoring stricter legislation grew from 52% in 2017 to 57% last year to 60% this year."https://t.co/fDIWwJ2Y2B

— Prescott Indivisible (@IndivisPrescott) December 30, 2019
And recognize that the status quo regarding gun violence is completely unacceptable. The American people have had enough! A "2nd Amendment Sanctuary" in Yavapai County is completely absurd, with all the pressing needs here, why is this a priority again?
Thankfully, there are many courageous people standing up to this nonsense. We in #AZ04 are incredibly grateful to have the support of Fred Guttenberg, Thank you for the inspiration and your courage speaking truth to power Fred! #Solidarity ✊🏼
What can you do? Call or email the Yavapai County Board Of Supervisors or attend the meeting on Jan. 2, 9:00am at the county building on Fair Street. Come early!
Originally posted on Twitter. Re-posted with permission.
---
DemCast is an advocacy-based 501(c)4 nonprofit. We have made the decision to build a media site free of outside influence. There are no ads. We do not get paid for clicks. If you appreciate our content, please consider a small monthly donation.
---