Mass shootings take lives: Both of the killed and the survivors.
Survivors are often overlooked. They're injured both physically and mentally. Many unable to work. Suffer from emotional trauma. Drop out of the workforce to care for a victim. Struggle with huge medical bills.
What are the most common injuries in a mass shooting? What are the long term effects? How does it affect child victims? How much do mass shootings cost America? Who profits from this mayhem? Who's blocking gun safety reform?
See what happens to survivors of mass shootings
Enduring horror of mass shootings
"I had the idea to bring another level of understanding about mass shootings and how horrible they are," says Dr. Mark Langdorf, the study's senior author and a professor of clinical emergency medicine at University of California, Irvine. "Mass shootings have a huge impact on the patient, on health care resources, on public health. … The families of the survivors have their whole lives changed."
A patient who was treated at his hospital after getting injured during the 2017 the Route 91 Harvest music festival mass shooting in Las Vegas had five surgeries. And ran up $450,000 in bills. … Two and a half years later, they were not back to work, they were still on disability."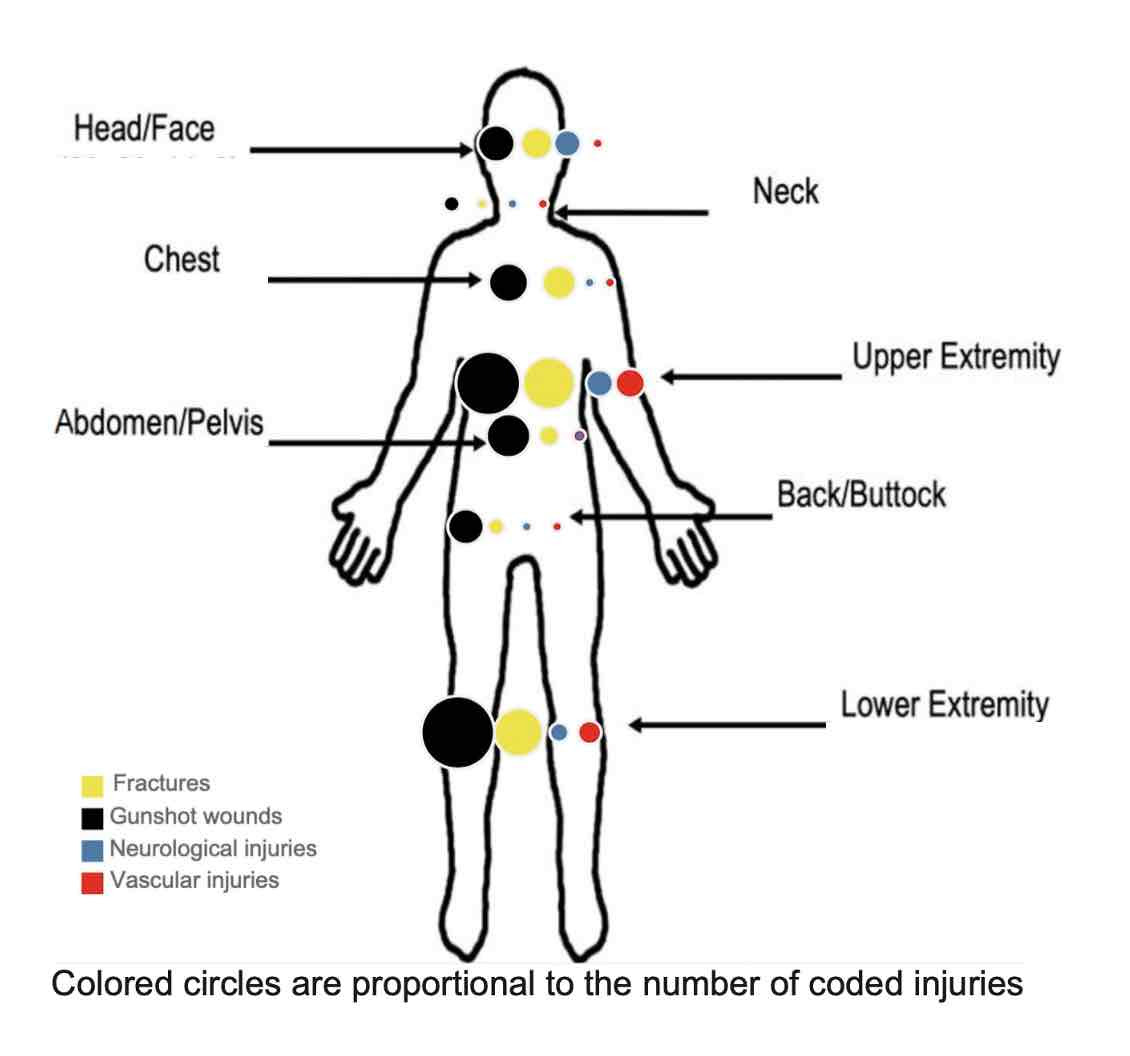 Semiautomatic firearms involving 50 weapons were used in all of the 13 mass shootings analyzed.
23% of the cases the shootings were associated with hate crimes.
The majority of the patients were white (69.9%), followed by Hispanic (15.3%), Black (11.4%) and Asian (3.4%).
The median age of injured patients was 33, and 52% were women.
Three of the mass shootings occurred at religious sites, three at bars or nightclubs, two at schools, and two at concerts or festivals.
The 13 mass shootings involved 30 semi-automatic assault rifles, 13 semi-automatic pistols, three shotguns, three handguns, and one bolt-action (non-automatic) rifle.
Most legally obtained firearms were purchased from a federally-licensed dealer, including all 24 firearms used in the Las Vegas mass shooting.
More than 90% of the shootings occurred within one mile of schools or parks.
Republican hypocrisy

TakeAway: Register and vote to end this American horror where Republicans beholden to gun lobby donations block common sense gun safety measures.
Deepak
DemLabs
DISCLAIMER: ALTHOUGH THE DATA FOUND IN THIS BLOG AND INFOGRAPHIC HAS BEEN PRODUCED AND PROCESSED FROM SOURCES BELIEVED TO BE RELIABLE, NO WARRANTY EXPRESSED OR IMPLIED CAN BE MADE REGARDING THE ACCURACY, COMPLETENESS, LEGALITY OR RELIABILITY OF ANY SUCH INFORMATION. THIS DISCLAIMER APPLIES TO ANY USES OF THE INFORMATION WHETHER ISOLATED OR AGGREGATE USES THEREOF.
References:
Research sheds light on the physical, mental and financial costs of nonfatal mass shooting injuries
How school shootings hurt student achievement and enrollment
Gun Lobby Donations – Open Secrets
Sandy Hook photo – TIME
Explaining What Happens to Survivors of Mass Shootings
A short 33 second video was created of recent mass shooting incidents with the free iMovie app. All credits to the original clips belong to the owners.
This video intro was added to a StoryMap designed with ArcGIS Online using data from the Journalist's Resource on Mass Shootings
The video highlighting ten recent mass shooting incidents was converted into a GIF using the free ezGIF app.
4. Another GIF was created to explain how readers could get details of recent mass shooting incidents with data from Mother Jones and Open Secrets details of gun lobby donations to Republicans who are blocking common sense gun safety measures.
5. A QR Code to the StoryMap was generated with the free QR Code Generator app. This makes it easier to share the StoryMap on social media. The StoryMap automatically adjusts to display well on a phone, tablet or laptop.
Reposted from Democracy Labs with permission.
---
DemCast is an advocacy-based 501(c)4 nonprofit. We have made the decision to build a media site free of outside influence. There are no ads. We do not get paid for clicks. If you appreciate our content, please consider a small monthly donation.
---