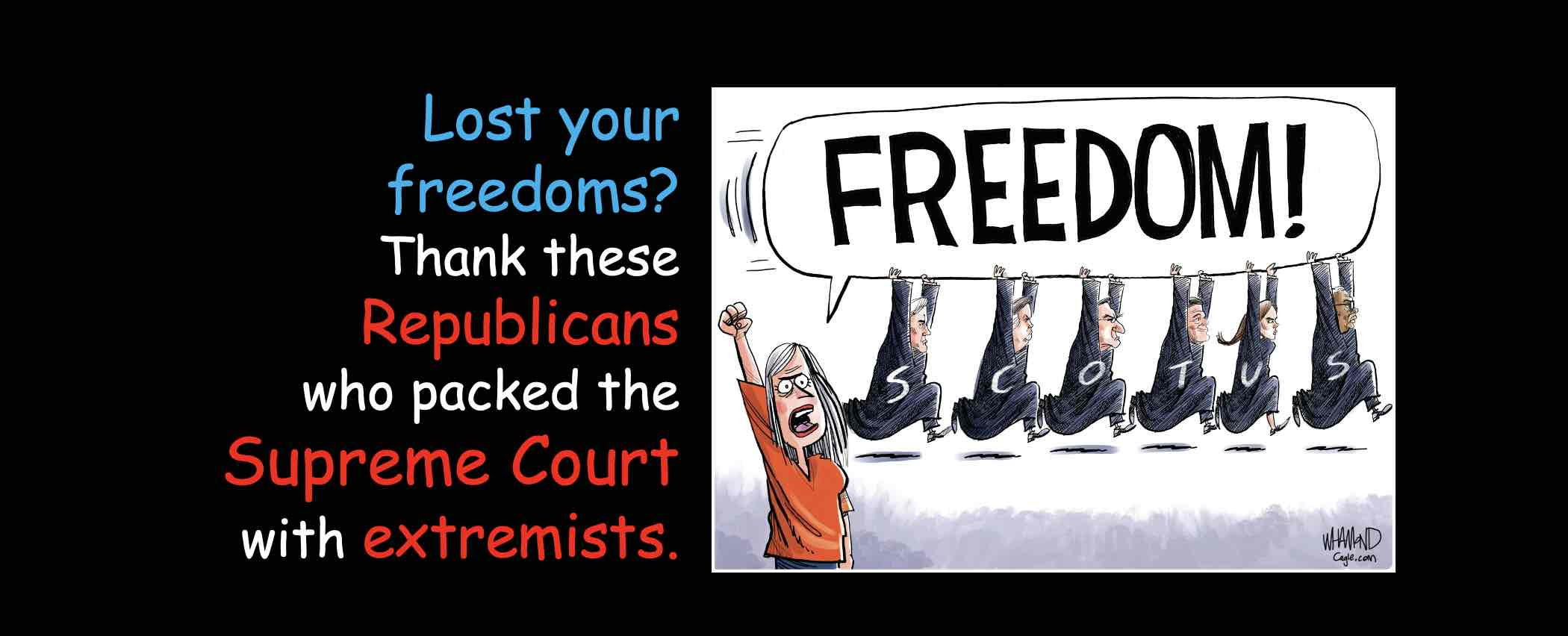 "Republicans have hijacked the US supreme court." – The Guardian
"The court's hard-right majority has neither popular support for its agenda nor institutional legitimacy. It is the product of a hostile takeover of the courts 50 years in the planning by conservatives who have long understood that unpopular policies that cannot be won at the ballot box can be thrust upon Americans by an unaccountable and unelected judiciary." – The Guardian
The runaway court has overturned Roe v Wade, approved gerrymandering, gutted the EPA and allowed more guns. How did the Supreme Court become so extremist? Court packing.
Thank these eleven Republicans who packed the court with extremist, political activist justices. So you think voting doesn't matter? Use this infographic to understand how the packed court has stripped women of their freedoms. You can also call the Senators to thank them for their service by just clicking on their photo.
Republican court packing
Raw political power gone wrong
"Republicans built this anti-majoritarian court by exercising raw political power. Now those partisan justices have begun handing down partisan victories that conservatives have sought for years, dressed in the skimpiest fig leaf of constitutional law, that could not otherwise be won through persuasion or the usual political means because most Americans stand opposed to these policies. It will require the same tough-minded use of political power to undo it."
These eleven Republican Senators voted to pack the courts and they're up for election in 2024. Think your vote doesn't matter? Think again.
Hold them accountable
Use this CALL YOUR GOP SENATOR app freely with this link. Add this URL (https://tinyurl.com/CallYourGOPSenator) to your tweets and posts to make it easy for readers to take your call to action. Readers simply click on an image on their phone or laptop to call that Senator.
Give supporters with a phone script
Organizers can also share a sample phone script to help people upset with the Senator's actions. This script was created with the free BigStage Teleprompter app and can be shared with this link. A free teleprompter opens on clicking the link and is pre-loaded with a script. They can can use it to practice sharing their frustration with Senator and also use the script when making the call.
Battling Back to Save Democracy
"Hardball politics determined to remake American through extra-political means created this legitimacy crisis. It will require equal determination and muscle to rescue us all from a closed game we're all allowed to play, but only the far right can win.
"The US holds one national popular vote and Republicans have only won that vote once since 1988. Yet they have held the presidency nearly 12 of those years, and as a result, they dominate the Supreme Court. They hold 50 Senate seats though they've received millions fewer votes than Democrats in Senate elections. DAVID DALEY charted the worst of the Republicans' efforts in his best-seller on gerrymandering, RATF**KED: Why Your Vote Doesn't Count, but he also draws hope from the citizens he writes about in UNRIGGED: How Americans Are Battling Back to Save Democracy" – Terrence McNally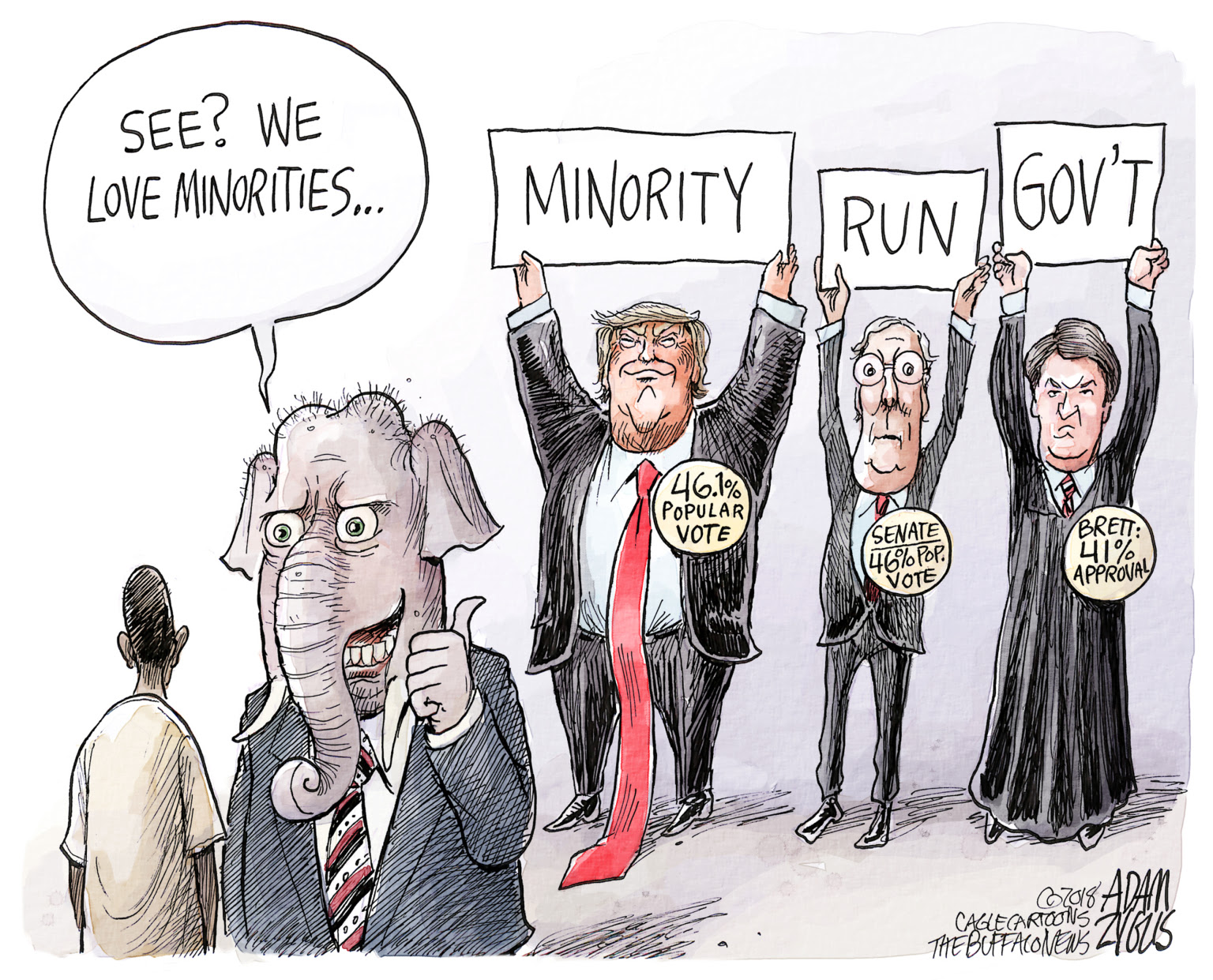 Take Away: Democracy isn't a spectator sport. Hold politicians accountable. Organize, register and VOTE!
Deepak
DemLabs
DISCLAIMER: ALTHOUGH THE DATA FOUND IN THIS BLOG AND INFOGRAPHIC HAS BEEN PRODUCED AND PROCESSED FROM SOURCES BELIEVED TO BE RELIABLE, NO WARRANTY EXPRESSED OR IMPLIED CAN BE MADE REGARDING THE ACCURACY, COMPLETENESS, LEGALITY OR RELIABILITY OF ANY SUCH INFORMATION. THIS DISCLAIMER APPLIES TO ANY USES OF THE INFORMATION WHETHER ISOLATED OR AGGREGATE USES THEREOF.
Reposted from Democracy Labs with permission.
---
DemCast is an advocacy-based 501(c)4 nonprofit. We have made the decision to build a media site free of outside influence. There are no ads. We do not get paid for clicks. If you appreciate our content, please consider a small monthly donation.
---