Where is the Jan 6th insurrection cast now? What are they doing? Catch up with this network map.
It's easy to forget people's contributions over time. Especially when there is a big cast. Who did what? When? Where? What are they up to now? Fortunately software makes it a little easier to see where the people involved in the deadly attempt to overthrow American democracy are now.
Search visually by clicking on a face. The details appear in the side panel.
Search by name (like Ginni Thomas in this example)
Search by category (Such as Charged/Indicted/Sued…)
Use the FOCUS icon to zoom in on just one person (like Jim Jordan in this example)
2 Years After Jan. 6 Insurrection, New GOP Chaos Roils The U.S. Capitol. On the second anniversary of the Capitol riot, another round of Republican turmoil has gripped the House and blocked the election of a House speaker.
As the chaos unfolded on the floor of the House of Representatives this week and Republicans struggled to elect a speaker, some lawmakers couldn't help but see links to the violent Jan. 6, 2021, insurrection that took place here two years prior. Many of the same far-right Republicans who supported or played key roles in the effort to overturn the 2020 presidential election based on false claims of fraud are now engaged in a historic speaker blockade that has delayed the formation of the House and ground all legislative business to a halt.
On Friday, the second anniversary of the attack on the U.S. Capitol, the House will try for the 11th time to elect a speaker. House Minority Leader Kevin McCarthy (R-Calif.), who also voted to overturn the 2020 presidential election, has failed to win a majority 10 times ― more than any speaker elections since the Civil War. – HuffPo
How to design a network map
This network map was designed in a few hours by a DemLabs volunteer with the free Kumu app. It includes 63 people organized in ten categories. The map can be searched in different ways -visually, by name or by category. This helps makes a lot of information easier to navigate. You can also zoom in/out or focus on just one individual. Details and links to more information appear in the side panel.
Get pro bono help with network maps related to social justice, voting rights and dark money corrupting politics here.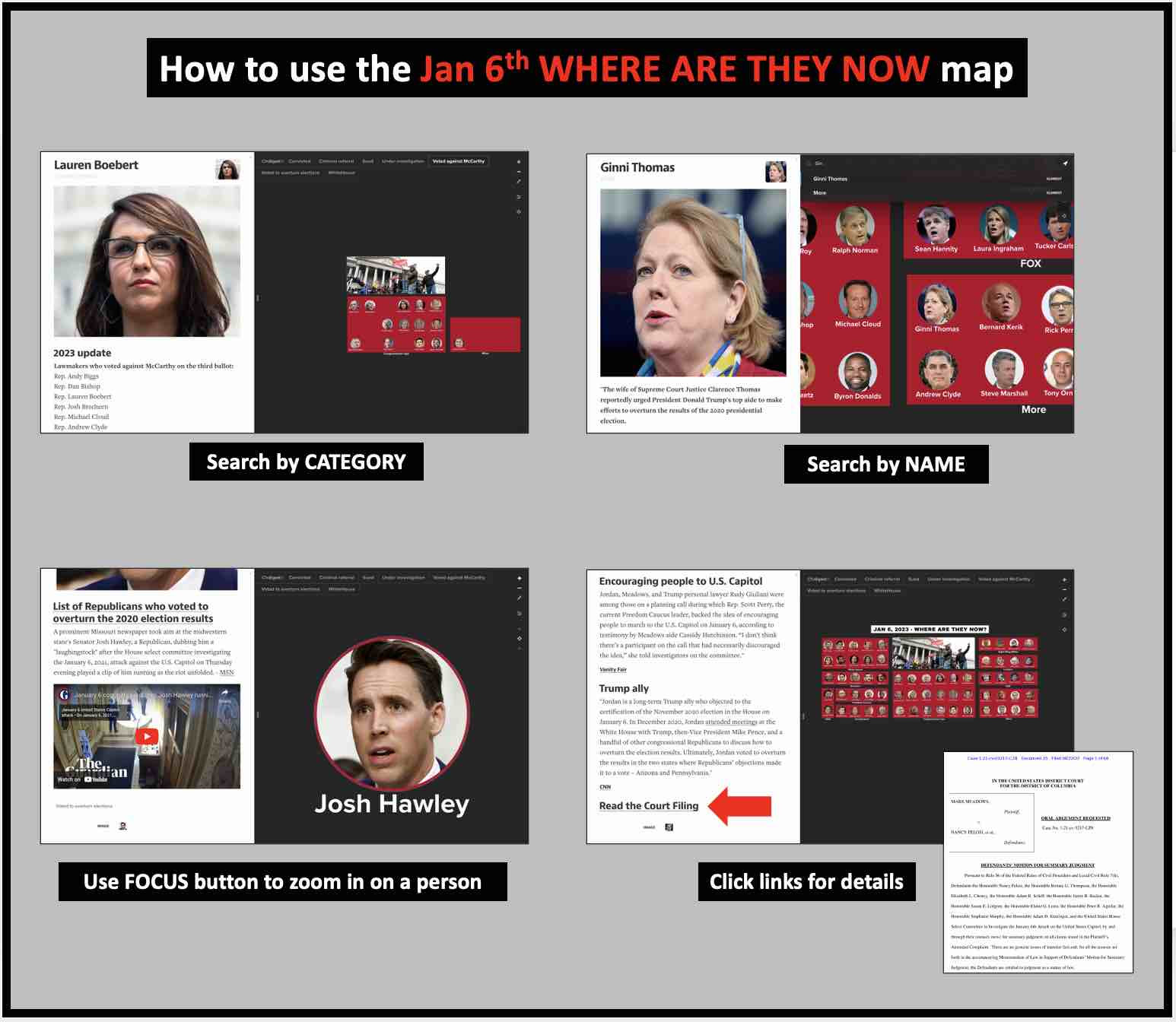 TakeAway: Remember who the Jan 6th cast was and what they did. History has a tendency to repeat itself.
Deepak
DemLabs
DISCLAIMER: ALTHOUGH THE DATA FOUND IN THIS BLOG AND INFOGRAPHIC HAS BEEN PRODUCED AND PROCESSED FROM SOURCES BELIEVED TO BE RELIABLE, NO WARRANTY EXPRESSED OR IMPLIED CAN BE MADE REGARDING THE ACCURACY, COMPLETENESS, LEGALITY OR RELIABILITY OF ANY SUCH INFORMATION. THIS DISCLAIMER APPLIES TO ANY USES OF THE INFORMATION WHETHER ISOLATED OR AGGREGATE USES THEREOF.
Visually speaking
Reposted from Democracy Labs with permission.
---
DemCast is an advocacy-based 501(c)4 nonprofit. We have made the decision to build a media site free of outside influence. There are no ads. We do not get paid for clicks. If you appreciate our content, please consider a small monthly donation.
---