Oregon voters pass a Ballot Measure 114 to reduce mass shootings.
The gun lobby loses, but gets Measure 114 blocked by judge in a small rural county. Ignoring the will of the people isn't democracy. How many more people will have to die in mass shootings?
"The court cannot sustain Measure 114 on mere speculation that the restriction could promote public safety…", says Harney County Circuit Judge Robert S. Raschio. – Orgeon Live
Check the number of recent mass shootings in Oregon with this map created with data from the Gun Violence Archives. How many people were killed in each incident? How many people were injured? Does this sound like speculation? Judge for yourself.
Respect the will of the people – not gun lobbyists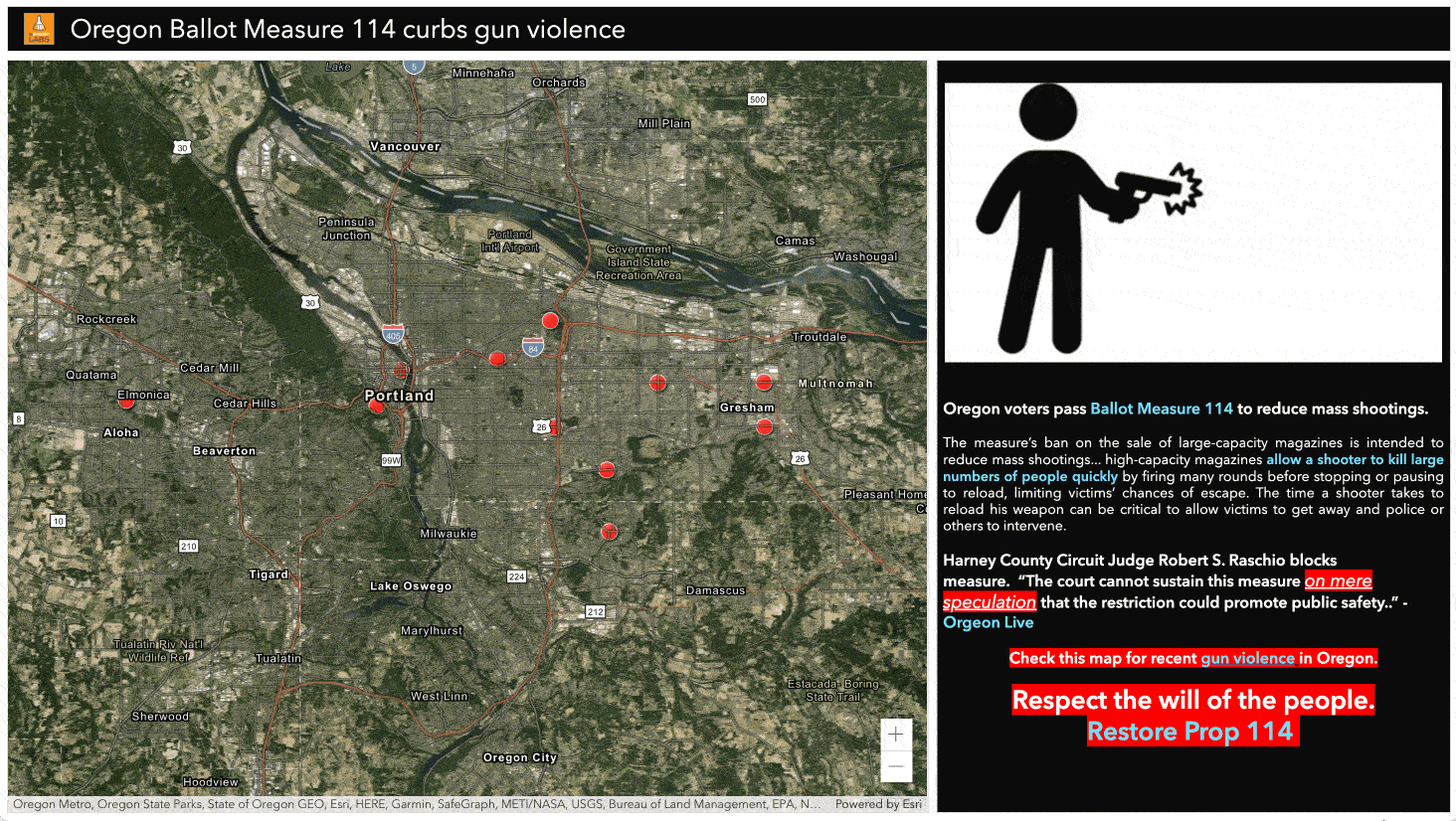 Oregon Ballot Measure 114
Measure 114 passed last month … The law, which had been scheduled to go into effect on Dec. 8. It bans future purchases of magazines that can carry more than 10 rounds of ammunition. It also requires those wishing to buy a firearm to get a permit first. Permits will require applicants to complete a safety class and a federal background check.
At least four lawsuits have been filed in federal court, where the request to temporarily prevent it from becoming law was denied last week by U.S. District Court Judge Karin Immergut, a Trump appointee.
Harney County residents Joseph Arnold and Cliff Asmussen quietly filed a lawsuit in one of the state court system's most rural venues where just one judge – Raschio – oversees the work from two counties. Arnold and Asmussen argue Measure 114 violates the Oregon Constitution. On Dec. 6, just hours after Immergut ruled against the firearms groups in federal court and let most of the new regulations take effect as scheduled, Raschio ruled the other way in state court and agreed to pause the entire thing. – OPB
Lawsuit filed in small rural county
The lawsuit in Harney County, filed by Gun Owners of America Inc., the Gun Owners Foundation and several individual gun owners, seeks to have the entire law placed on hold while its constitutionality is decided. The state lawsuit specifically makes the claims under the Oregon Constitution, not the U.S. Constitution. Burns, the town where the lawsuit was filed, is more than 280 miles (450 kilometers) southeast of Portland in a rural and sparsely populated corner of the state. – HuffPost
Storytelling to curb mass shootings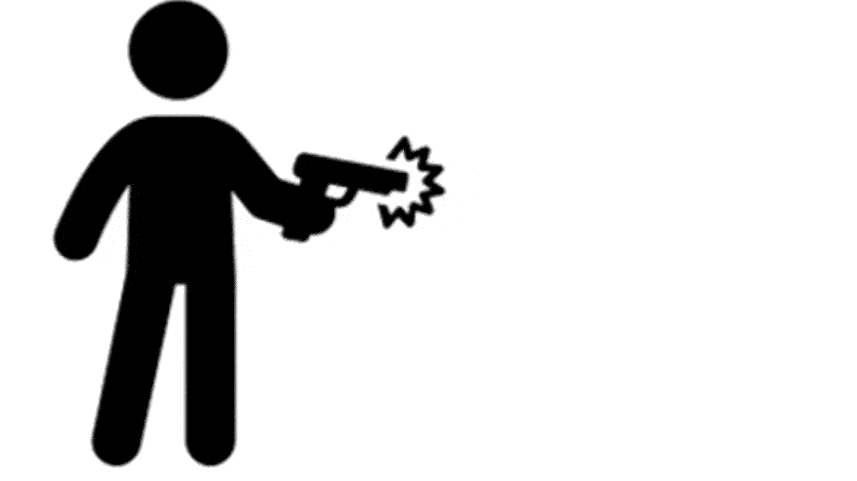 Rapid response infographics
This infographic was designed in a few hours by a DemLabs volunteer. It collects information from different sources and makes the case visually in an interactive way. The infographic can be seen on a phone or laptop and easily shared on social media with this link.
Study shows limiting large capacity gun magazines reduce mass shootings
"State laws requiring a permit to purchase a firearm were associated with 60% lower odds of having a public mass shooting, according to a study published in 2020. Limits on large-capacity magazines, meanwhile, were linked with 38% fewer people killed in mass shootings. Defendants noted in their legal filings that every mass shooting since 2004 that resulted in 14 or more deaths involved gun magazines with 10 or more rounds.
The law's fate is being carefully watched by both gun rights advocates and those who want stricter limits on gun ownership. It would be one of the first to take effect since a U.S. Supreme Court ruling in June struck down a New York law that placed limits on carrying guns outside the home." – HuffPost
Demand the will of voters be respected
Support groups fighting to reduce mass shootings like Lift Every Voice Oregon.
Senior Assistant Attorney General Brian Marshall objected to Raschio's block on the background check provision, saying that part of the law had never been challenged in the Harney County lawsuit filed by the plaintiffs. Raschio set a Dec. 23 hearing on that question. A hearing on the permit-to-purchase provision will also be scheduled. – AP
Take Away: Stop lobbyists and activist judges over-riding the will of the people.
Deepak
DemLabs
DISCLAIMER: ALTHOUGH THE DATA FOUND IN THIS BLOG AND INFOGRAPHIC HAS BEEN PRODUCED AND PROCESSED FROM SOURCES BELIEVED TO BE RELIABLE, NO WARRANTY EXPRESSED OR IMPLIED CAN BE MADE REGARDING THE ACCURACY, COMPLETENESS, LEGALITY OR RELIABILITY OF ANY SUCH INFORMATION. THIS DISCLAIMER APPLIES TO ANY USES OF THE INFORMATION WHETHER ISOLATED OR AGGREGATE USES THEREOF.
Visually speaking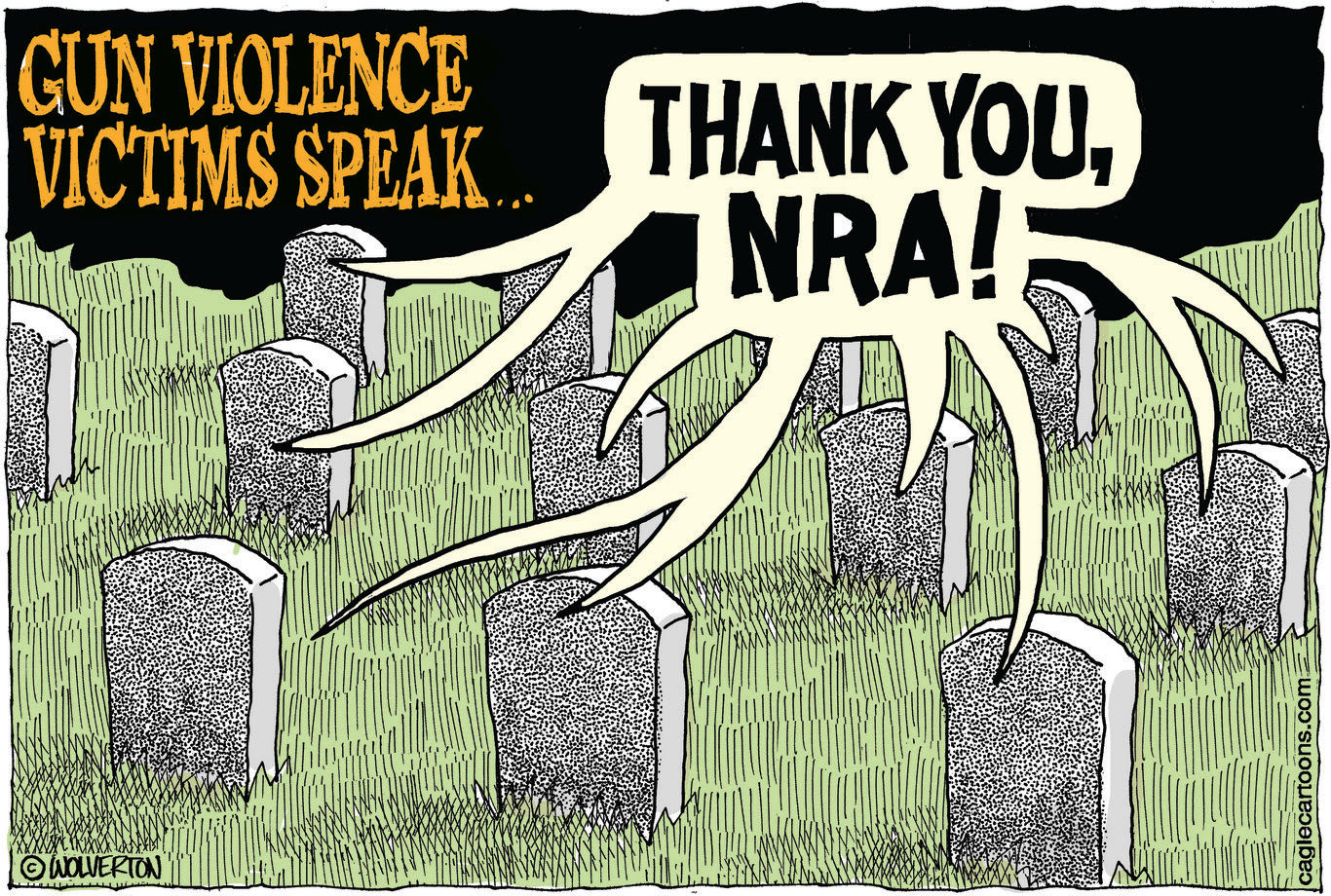 Reposted from Democracy Labs with permission.
---
DemCast is an advocacy-based 501(c)4 nonprofit. We have made the decision to build a media site free of outside influence. There are no ads. We do not get paid for clicks. If you appreciate our content, please consider a small monthly donation.
---