How do you describe Democratic accomplishments? Duh! Ask Homer.
Democrats have delivered for working Americans despite Republican roadblocks for their rich donors. How do you describe these Democratic accomplishments so that they can make an informed voting decision?
This voting guide describes nine key issues with Homer Simpson (created by Matt Groening) comparing Democrats and Republicans positions. You can skim it in seconds on a laptop or phone and also dive in for details. Check it out!
Who's got your back?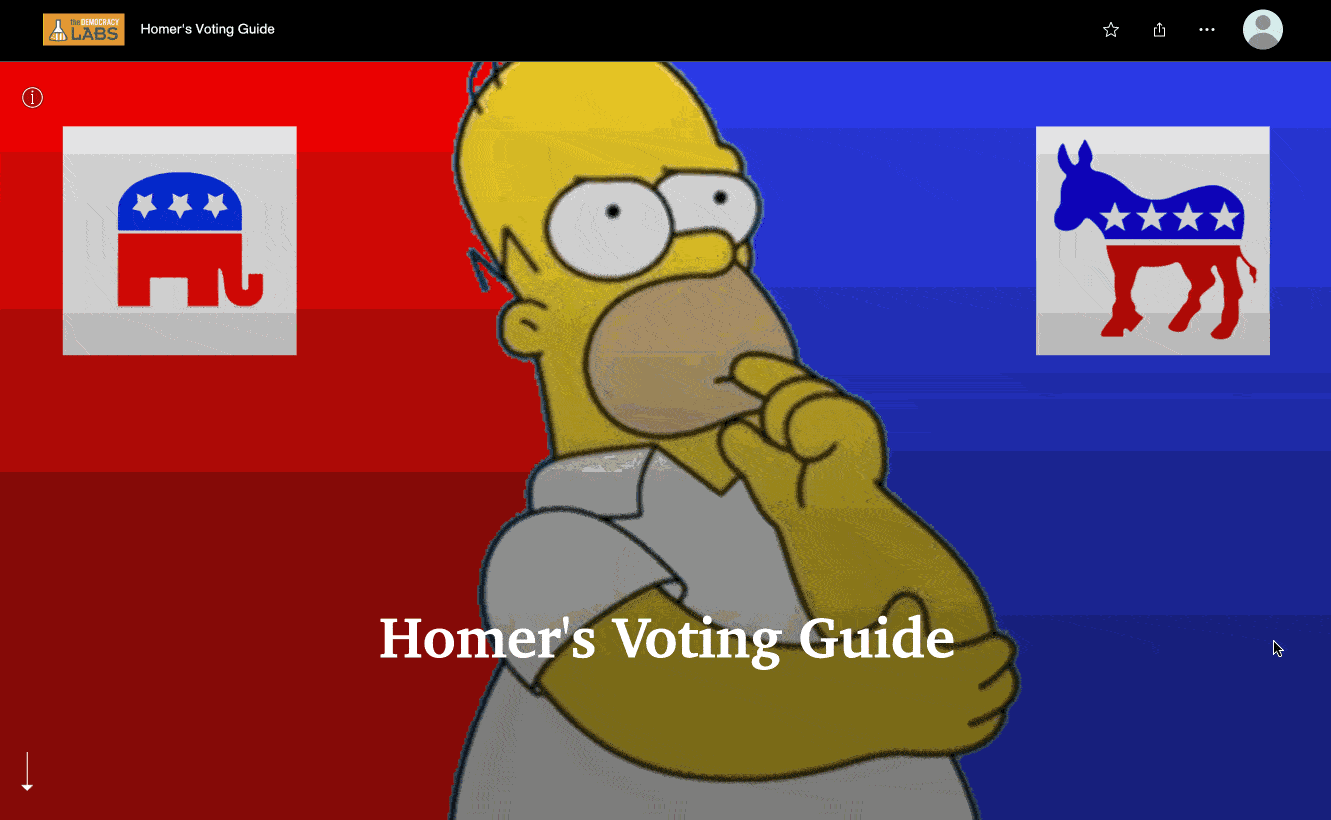 Voting guide on your phone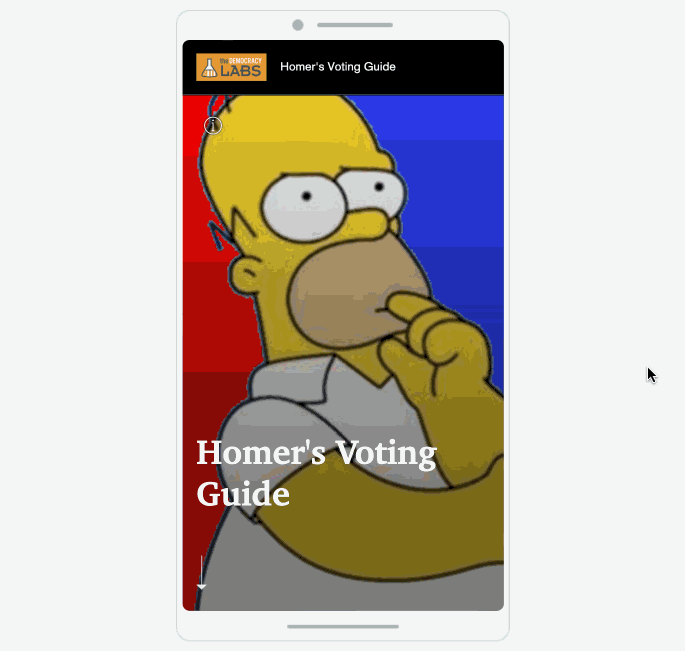 Infographic design
Reach more people
People are busy. Keep your message simple and easy to understand. Keep the details optional for those who'd like to learn more. This infographic presents both Democratic and Republican positions without disclosing a political position upfront. This is meant to get by the initial mental hurdle of people not wanting to learn about other viewpoints. The infographic framing is adapted from from Way To Win:
Most Americans believe in freedom, fairness and a better future. But a powerful few want to take away our freedoms, rule only for the few and endanger our future. This November, which side will you be on? Vote Democrats in November to #ProtectOurFreedoms
Most of us want our families to be happy, healthy and whole. But Trump Republicans block everything our families need from affordable care, to clean air and water, to common sense gun safety. This November, vote for Democrats to #ProtectOurFreedoms, our families and our futures.
Trump Republicans planned, paid for and pardoned the attack on our country on January 6th. Which side respects their oath and our freedoms? #ProtectOurFreedoms. Vote Democrats.
Keep it simple, stupid (KISS) is a design principle to keep things as simple as possible. Complexity should be avoided in a system to guarantee the greatest levels of user acceptance and interaction. People don't care how clever you are. They care about how you will make their lives better. The simpler the explanation, the more likely that more people will understand it. – Interaction Design
TakeAway: Democracy is on the ballot. Make sure voters understand who really has their back before voting. Thanks, Homer!
Deepak
DemLabs
DISCLAIMER: ALTHOUGH THE DATA FOUND IN THIS BLOG AND INFOGRAPHIC HAS BEEN PRODUCED AND PROCESSED FROM SOURCES BELIEVED TO BE RELIABLE, NO WARRANTY EXPRESSED OR IMPLIED CAN BE MADE REGARDING THE ACCURACY, COMPLETENESS, LEGALITY OR RELIABILITY OF ANY SUCH INFORMATION. THIS DISCLAIMER APPLIES TO ANY USES OF THE INFORMATION WHETHER ISOLATED OR AGGREGATE USES THEREOF.
Read in browser »
Reposted from Democracy Labs with permission.
---
DemCast is an advocacy-based 501(c)4 nonprofit. We have made the decision to build a media site free of outside influence. There are no ads. We do not get paid for clicks. If you appreciate our content, please consider a small monthly donation.
---