Six unelected officials with hidden conflicts of interest and beholden to billionaires should not be able to strip Americans of their freedoms.
Who funded the campaigns to get extreme right wing judges appointed to the courts? How do the judges' spouses make money? Why are their family income histories redacted? Who benefits from the cases they rule on? Follow the money behind potential Supreme Court conflicts of interest.
"Justices shield spouses' work from potential conflict of interest disclosures. Ginni Thomas, Jane Roberts and Jesse Barrett's clients remain a mystery, fanning fears of outside influences."
"When courts become extensions of the political process, when people see them as extensions of the political process, when people see them as trying just to impose personal preferences on a society irrespective of the law, that's when there's a problem — and that's when there ought to be a problem," Kagan said during her remarks at Northwestern. – Politico
Follow the money corrupting the justice system
Hidden money. Secret influence.
Dark money is a corrupting influence. Hiding it from public scrutiny makes it even worse.
Amy Comey Barret: "In the case of Jesse Barrett, even the name of his firm is unavailable on his wife's most recent disclosure statement. Information about spouses' employment is required on the forms, but justices may ask to redact it for certain reasons. Despite Barrett's profile appearing prominently on the front of his firm's website — and its touting of his employment in a press release — the name SouthBank Legal was redacted on Justice Barrett's public financial disclosure filing for 2021. – Politico
Jane Roberts is a legal head-hunter at the firm Macrae which represents high-powered attorneys in their efforts to secure positions in wealthy firms, typically for a percentage of the first-year salary she secures for her clients. A single placement of a superstar lawyer can yield $500,000 or more for the firm. Jane Roberts' clients include lawyers or law firms sometimes with active Supreme Court practices, at least some of which were more likely to work with her because of her status as the chief justice's spouse, three people close to law firms told POLITICO. Jane Roberts has also represented top government officials at federal agencies with direct interests in court business, said Stephen Nelson, another D.C.-area hiring consultant who said he and Roberts had referred candidates to one another in the past. – Politico
Virginia Thomas has gotten significant attention for operating a consulting business that reportedly includes conservative activist groups with interest in Supreme Court decisions as clients. Her husband, Justice Clarence Thomas, has chosen not to reveal any of his wife's clients, let alone how much they contributed to the Thomas family coffers, dating back to when her consulting business was founded. – Politico
Follow the money with a map
Billionaires conceal the groups they are funding in many ways. A network map, like this one created with the free Kumu app and using public information sources help people understand how the game is rigged against them. Click on the POLLUTION button, for instance at the top of the map. This reveals the flow of money which could have influenced the Supreme Court's ruling to cripple the Environmental Protection Agency (EPA) in its fight against climate change. Koch Industries is a major polluter.
Money talks. Dark money talks even louder.
In a devastating ruling on West Virginia v. Environmental Protection Agency, the Supreme Court has severely constrained the ability of the Environmental Protection Agency to limit future greenhouse gas emissions under the Clean Air Act. The decision comes at a time when countries around the world, including the United States, are falling far short of their commitments to reduce greenhouse gas emissions. This decision will make it harder to avoid the worst effects of climate change. HRWC
Chief Justice John Roberts wrote the majority opinion in the case, known as West Virginia v. the Environmental Protection Agency. His opinion was joined by the court's other five conservative members. – CNBC
"The Koch brothers are one of the biggest polluters in the country." Political Economy Research Institute at the University of Massachusetts-Amherst released two lists of the 100 firms with the most significant emissions in the nation. One list is for air and the other is for water. On the first, Koch Industries ranked 14th. On the second, it ranked 30th. – Poynter Institute
How billionaires get the laws they want
By having a hand in both voting litigation and the judges on the federal bench, this network could create a system where conservative donors have an avenue to both oppose voting rights and appoint judges to back that effort. – The Guardian
Donate to Republicans to nominate your judges to the courts. "JCN heightened its focus on AG races last year when it pumped $1 million in secret money into the Republican Attorneys General Association, making it the third-biggest contributor to RAGA and helping the GOP pick up three new slots so that it now controls the majority of state AG posts." … the organization contributed a minimum of about $2 million to groups that were involved in 2014 state judicial elections and efforts to influence how judges are chosen. Recipients of JCN checks included the many-tentacled Republican State Leadership Committee, which for the first time invested in court races around the country, spending more on them than any other outside group." – Daily Beast
Spend heavily to push your judges onto the courts. "The Judicial Crisis Network (JCN), a Washington, D.C.-based nonprofit, pledged to spend as much as $10 million to ensure Kavanaugh's confirmation — the same amount that it spent to help confirm Justice Neil Gorsuch in 2017. JCN has close ties to Trump's judicial adviser Leonard Leo, a longtime executive at the Federalist Society, the influential conservative and libertarian lawyers network based in Washington, D.C. JCN's filing lists nine other anonymous contributions, none smaller than six figures. The bulk of JCN's funding has typically come from the Wellspring Committee, another secretive nonprofit run by operatives who wear multiple hats in a larger network of opaque groups. Neil Corkery, Wellspring's current president, previously served as JCN's treasurer; his wife, Ann, was leading Wellspring at the time." – Open Secrets
Fund groups to bring cases to the courts stacked with your favorite judges. Donors Trust donated $1.5 million To Students for Fair Admission. Mother Jones described Donors Trust as having funded a conservative public policy agenda in the areas of labor unions, climate science, public schools, and economic regulations. The Charles G. Koch Foundation contributed millions to Donors Trust since the mid-2000s.
How the justice system has been rigged
Charles Koch donates millions to Leonard Leo affiliated groups that stack the courts with extreme right wing judges. Koch funds groups like Students for Fair Admissions that file lawsuits in line with his politics that are presented to judges that Leo helped get appointed. How do you think the court will rule on this case?
Students for Fair Admissions, a group run by anti-affirmative action legal activist Edward Blum, is asking the court to overrule its prior precedent upholding the narrow use of race in college admissions decisions. Blum, an opponent of race-conscious policymaking, previously brought cases on behalf of white students… It is almost certain that Blum will succeed this time in ending race-conscious affirmative action policies for higher education institutions. This will likely result in fewer Black and Latino students attending the most highly selective American universities, colleges and graduate schools… – HuffPo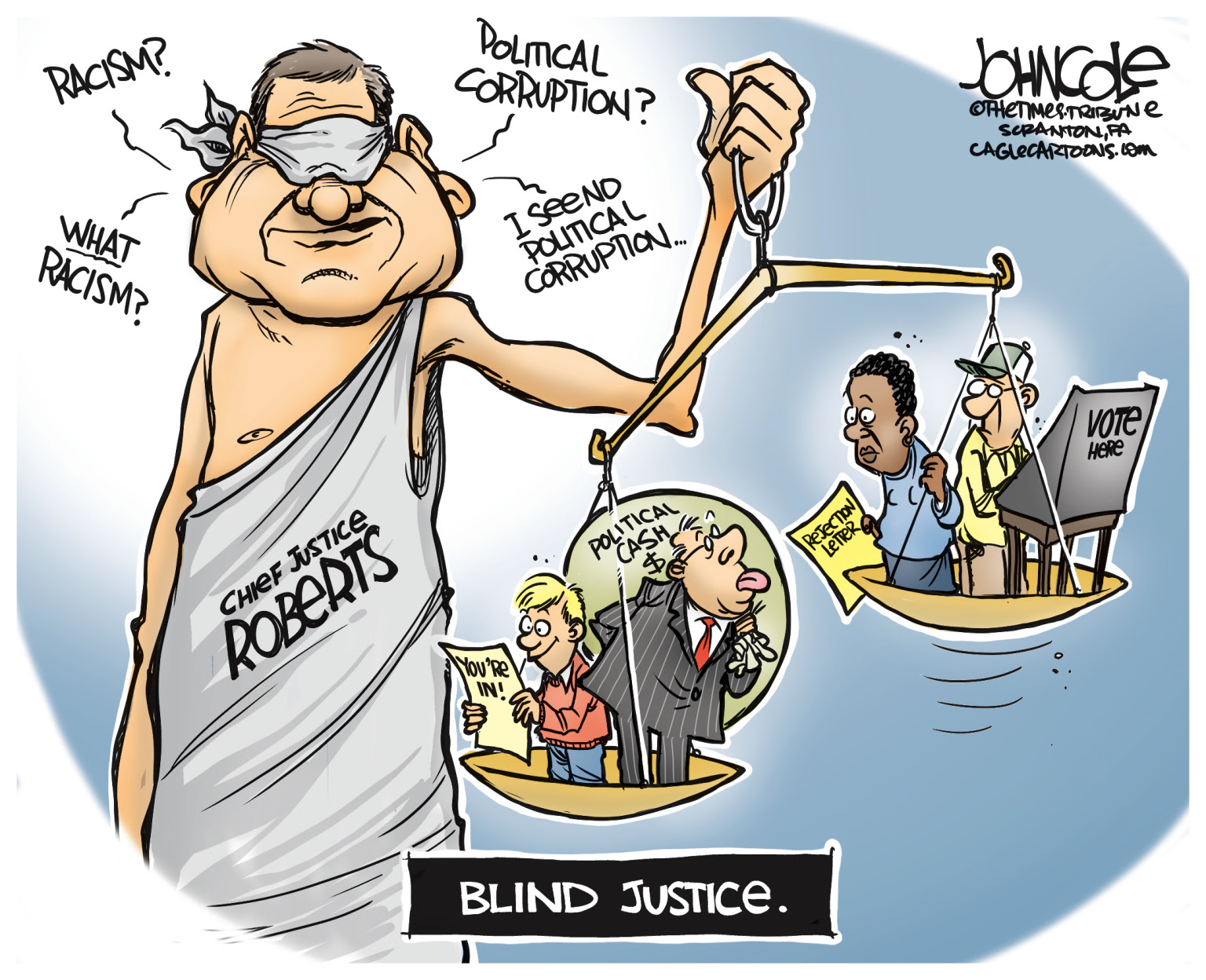 Fix the Court
The Supreme Court – America's most powerful, least accountable government institution… Fix the Court is a nonpartisan, 501(c)(3) organization that advocates for non-ideological "fixes" that would make the federal courts, and primarily the U.S. Supreme Court, more open and more accountable to the American people.
"They've told us where we can pray, picked our President, allowed billionaires to buy elections and made choices of life and death. Nine judges appointed for life to a court that makes its own rules and has disdain for openness and transparency." – Fix The Court
Vote Democrat to fix the courts
Ethical lapses. "Roberts has expressed concerns about lapses in the federal courts' ethics practices undermining confidence in the judiciary. In his most recent annual report on the state of the federal judicial system, he lamented the findings of a Wall Street Journal investigation that identified nearly 700 instances over the span of nine years where federal judges ruled on cases in which they or their families had some financial interest." – Politico
One of the nation's leading experts in legal ethics, New York University Law Professor Stephen Gillers, said the gaps in disclosure about the clients of justices' spouses fuel public doubt. Why should a justice's spouse not have to reveal a very large payment from a client?
The refusal to provide spousal information is also salient because justices have often noted that their salaries — $274,200 for associate justices and $286,700 for the chief in 2022 — don't compare to those of elite attorneys who can make millions in private practice. That means that some of the justices who are married receive a disproportionate share of their family income from their spouses. "Since a justice who owns 10 shares of stock in a party has to recuse even though the effect would be negligible on their finances, if that's true, why should a justice's spouse not have to reveal a very large payment from a client that could substantially improve a justice's quality of life?" he asked. – Politico
TakeAway: Vote to fix the court. Six unelected people with hidden conflicts of interest and beholden to billionaires should not be able to strip Americans of their freedoms.
Deepak
DemLabs
DISCLAIMER: ALTHOUGH THE DATA FOUND IN THIS BLOG AND INFOGRAPHIC HAS BEEN PRODUCED AND PROCESSED FROM SOURCES BELIEVED TO BE RELIABLE, NO WARRANTY EXPRESSED OR IMPLIED CAN BE MADE REGARDING THE ACCURACY, COMPLETENESS, LEGALITY OR RELIABILITY OF ANY SUCH INFORMATION. THIS DISCLAIMER APPLIES TO ANY USES OF THE INFORMATION WHETHER ISOLATED OR AGGREGATE USES THEREOF.
Read in browser »
Reposted from Democracy Labs with permission.
---
DemCast is an advocacy-based 501(c)4 nonprofit. We have made the decision to build a media site free of outside influence. There are no ads. We do not get paid for clicks. If you appreciate our content, please consider a small monthly donation.
---