Battleground New York
The road to keeping the House majority runs through New York!
New York was supposed to be a blue firewall but is now one of the most heavily contested states in the country. New maps created more competitive districts across the state, and at least six House seats could go either way this November.

This week's podcast breaks down the competitive races by region – here in Westchester, on Long Island, and Upstate New York. Hear about these six districts from activists and party members – who's running, what's at stake, and how we can help keep them blue.
Click here to listen to the podcast, which is also available on iTunes.
Click here to donate to the candidates running in these vulnerable districts. This bundle divides your donation between the six candidates running in the most competitive NY House districts.
Check out our updated website for ways to help get out the vote!
New! Click here for registration deadlines, absentee voting, and early voting dates.
Click here for a Westchester weekday canvas coordinated by New York Democrats for candidates up and down the ballot.
Click here for a Westchester weekend canvass.
Click here for phone banking options.
Indivisible's Tour NY Phone Banks target the New York battleground congressional districts that Democrats need to win. Register for a Zoom shift on Mondays from 6:00-7:00 PM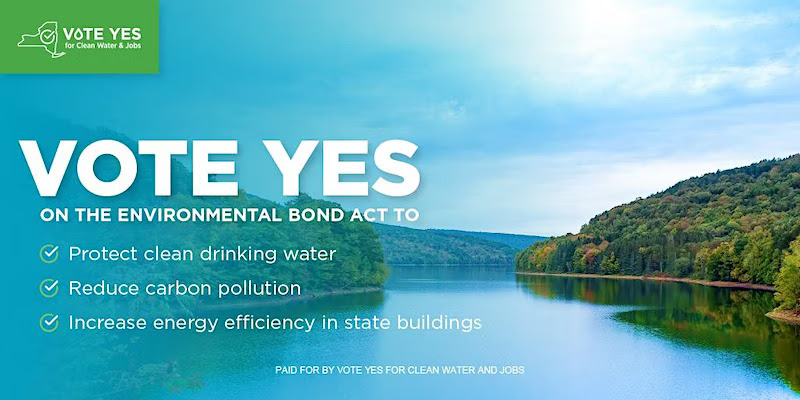 Vote YES on the Environmental Bond ActFlip Your Ballot and Vote YES on Prop. 1 – the Environmental Bond Act.Click here for information about this once-in-a-generation opportunity to improve quality of life, modernize infrastructure, and safeguard clean drinking water.
Absentee Voting Challenged
From Let NY Vote: "The Republican and Conservative parties have filed a last-minute, bad faith lawsuit to prevent New Yorkers from voting absentee under the law created to protect voters from COVID exposure. No New Yorker should have to choose between their health and their right to vote.

That's why we fought hard in 2020 to expand the reasons New Yorkers could vote absentee and enshrined the absentee voting expansion in state law. The lawsuit also attacks how absentee votes are counted in order to undermine the vote counting process. This lawsuit was filed while the election is well underway in order to create chaos. We must fight back."

Click here to fill out this important survey about absentee voting.

It is essential we quickly capture how our members have utilized expanded absentee voting since 2020. Please take this short survey now so we can quickly mobilize and fight back against this outrageous interference in our elections.
Defend Women's Rights
Join us in NYC to defend Women's rights across the globe.
Saturday, October 8th @ Noon, Foley Square, NYC
Limited Seats Remain
Pat Ryan's special election win made national headlines. Now let's knock doors and help him win his midterm election in a Congressional district that Democrats must hold.
Click here to register for a seat on the bus this Oct. 9th.
Protect the Freedom to Learn
Teach the Truth – Westchester is a grassroots organization that's fighting back against attacks on school curriculum (Culturally Responsive and Sustaining Education & Social and Emotional Learning programs). Here in Westchester, we are seeing censorship of teachers, book banning, threats to school board members, and uproars at school board meetings by right-wing activists. Our opponents are well-organized and well-funded.

Teach the Truth – Westchester, is conducting research in our community to better understand the major challenges, concerns, and priorities that face our school districts. As part of this research, we will be collecting surveys, conducting a virtual community listening session, and gathering personal stories. The conversations and data collected will be used to better understand the needs of our community and guide our efforts moving forward.
Click here to complete the survey.
---
DemCast is an advocacy-based 501(c)4 nonprofit. We have made the decision to build a media site free of outside influence. There are no ads. We do not get paid for clicks. If you appreciate our content, please consider a small monthly donation.
---