Don't fall for it! Learn to recognize the verbal tricks MAGA Republicans use to manipulate you.
See if you can spot the tricks used in these twelve recent examples. (Answers below). Here are the tricks to look for:
What About-ism: When criticized: say that someone else is worse. It's a simple way to shrug off criticism or even responsibility for any wrongdoings. – WaPo
Strawman: Attribute to your opponent something they haven't argued, and then knock down the fake argument you just made up. – WaPo
False flag: A trick of blaming an opponent for something you've done. – BBC
Both side-ism: When a person tries to make you believe that both sides are equally responsible for something even though one is really, clearly, at fault. – Urban Dictionary
I was just kidding: Deny responsibility for your statement by saying you were 'just kidding' and then accuse others of being "too sensitive," and mocking them. – Psych Central
Nonsense: Word soup that makes no sense at all.
Spot the trickery?
1. Trump claims the FBI scattered top-secret documents all over the floor at Mar-a-Lago to make him look bad. He has claimed that the FBI made him look sloppy and messy by scattering documents found during the agency's Mar-a-Lago raid on the ground to photograph them. – Business Insider
2. Herschel Walker Floats A Jaw-Dropping Air Pollution Theory. Walker Floats A Jaw-Dropping Air Pollution Theory. He presented an astounding argument for not enacting laws against air pollution: America's "good air" will simply "decide" to go to China. – HuffPost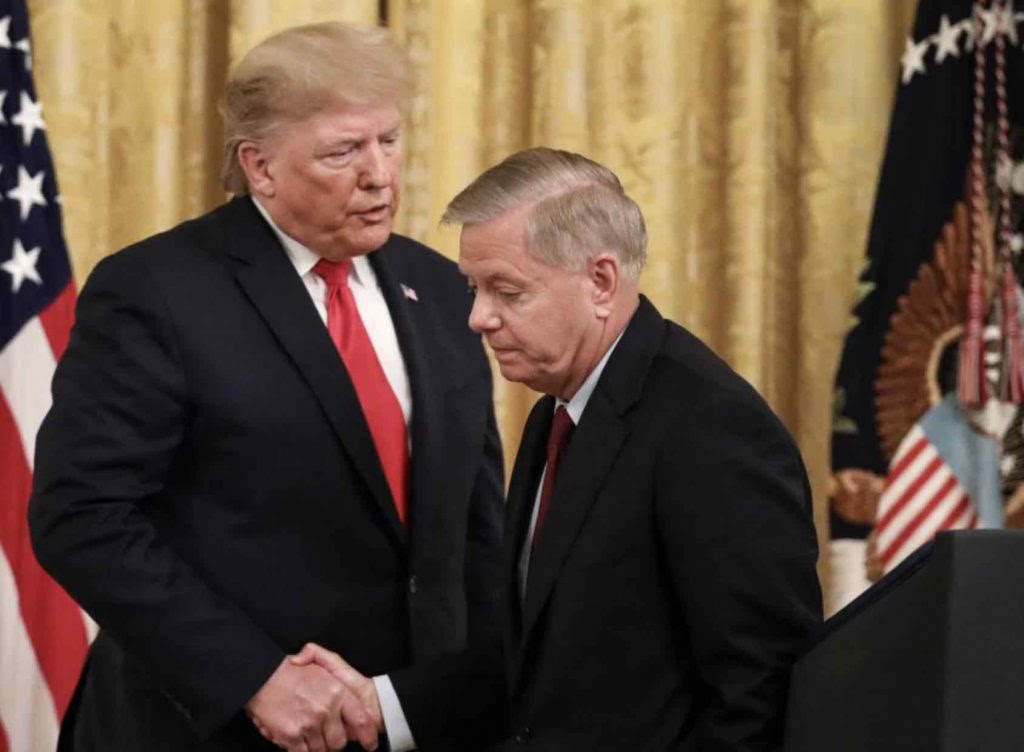 3. 'There will be riots in the streets' – Senator Lindsey Graham. "If they tried to prosecute President Trump for mishandling classified information after Hillary Clinton set up a server in her basement there literally will be riots in the street." – Yahoo News
4. Jim Jordan and the Ohio State sexual abuse controversy. Jordan told Fox News that DiSabato, whose decision to go public with his allegations against Strauss prompted the university's investigation, has a "vendetta against Ohio State" and has a "criminal record" and "all kinds of lawsuits against him." – VOX
5. DeSantis aide deletes tweet suggesting Nazi protesters were Democratic operatives. Ron DeSantis' press secretary is facing massive backlash after she sent tweets questioning whether pro-Nazi demonstrations in Orlando over the weekend were organized by Democratic staffers. – Politico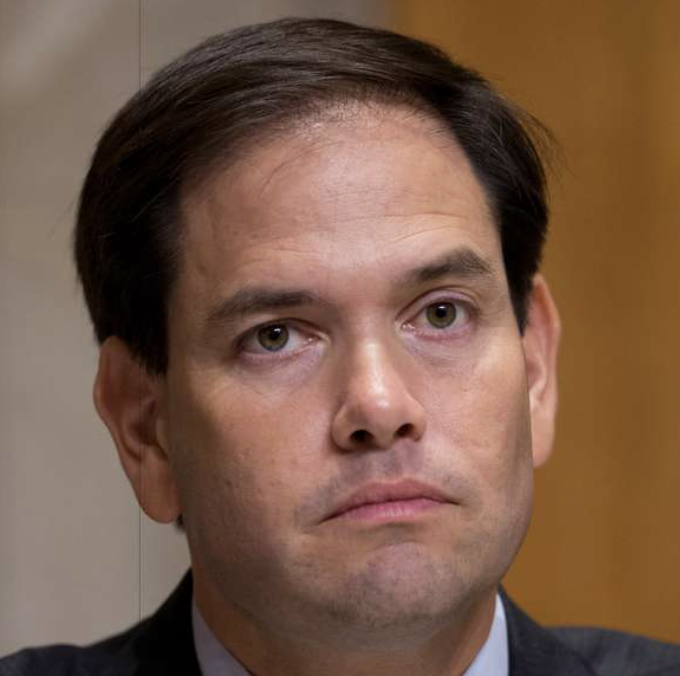 6. Marco Rubio explains his secret to paying off student loans. "I owed over $100,000 in student loans. The day I got elected to the Senate, I had over $100,000 still in student loans that I was able to pay off because I wrote a book, and with that money, I was able to pay it." – Florida Politics
7. Senator Ron Johnson (R-WI) said he didn't view the repeal of Roe v. Wade "as a huge threat to women's health" and that anyone who does not like their state's abortion laws "can move." Johnson's long anti-abortion record has taken center stage after the Supreme Court overturned federal abortion protections.- Vanity Fair
8. Trump said there were "very fine people on both sides" about the "Unite the Right". Trump described white nationalists, neo-Nazis and other extremists at the violent white supremacist gathering in Charlottesville, Virginia as "very fine people."- HuffPost
9. Tucker Carlson's documentary "Patriot Purge" suggests the January 6 riot was a plot to persecute conservatives. "The US government has in fact launched a new war on terror, but it's not against al-Qaeda, it's against American citizens," said Carlson. – Business Insider
10. "It will be easier to vote early in Georgia than in Democrat-run New York", said Senator Tim Scott. Scott conveniently left out was that Georgia Senate Bill 202 limits ballot drop boxes in predominantly Black areas, criminalizes handing out water to voters. – CNN
11. Republicans have been fixated on Hunter Biden. Since the Federal Bureau of Investigation served a search warrant on the former mayor, part of Rudy Giuliani's defense can be summed up as, "but what about Hunter Biden." – Raw Story
12. Shortly after the Uvalde school massacre, Governor Greg Abbott (R-TX) said the massacre "could have been worse". 'We have a problem with mental health illness,'" Abbott said—despite previously noting the shooter had "no known mental health history." – Texas Observer
Countering Whataboutism
"Whatabouts have an air of "truthiness" and can seem convincing at face value. The way whatabouts dominate our public discourse in an endless drumbeat of fake news and propaganda means that even well-meaning people are getting thrown off base. Many of those propagating extremist right wing views might actually be parroting something they heard on Fox News.
Whataboutism muddies an argument. A discussion about the blatant financial corruption of the administration is expanded into a general statement that all politicians steal, so it doesn't matter. Point out they're not actually addressing what you said, adding "that's an interesting point, we can discuss that later but let's talk about just this right now." Keep things focused on the issue at hand. Once you are through talking about specific examples of Trump's corruption, you can then compare it to their opinion that all politicians steal, and show that even though many politicians are corrupt, in comparison Trump displays a truly unique level of corruption." – Occupy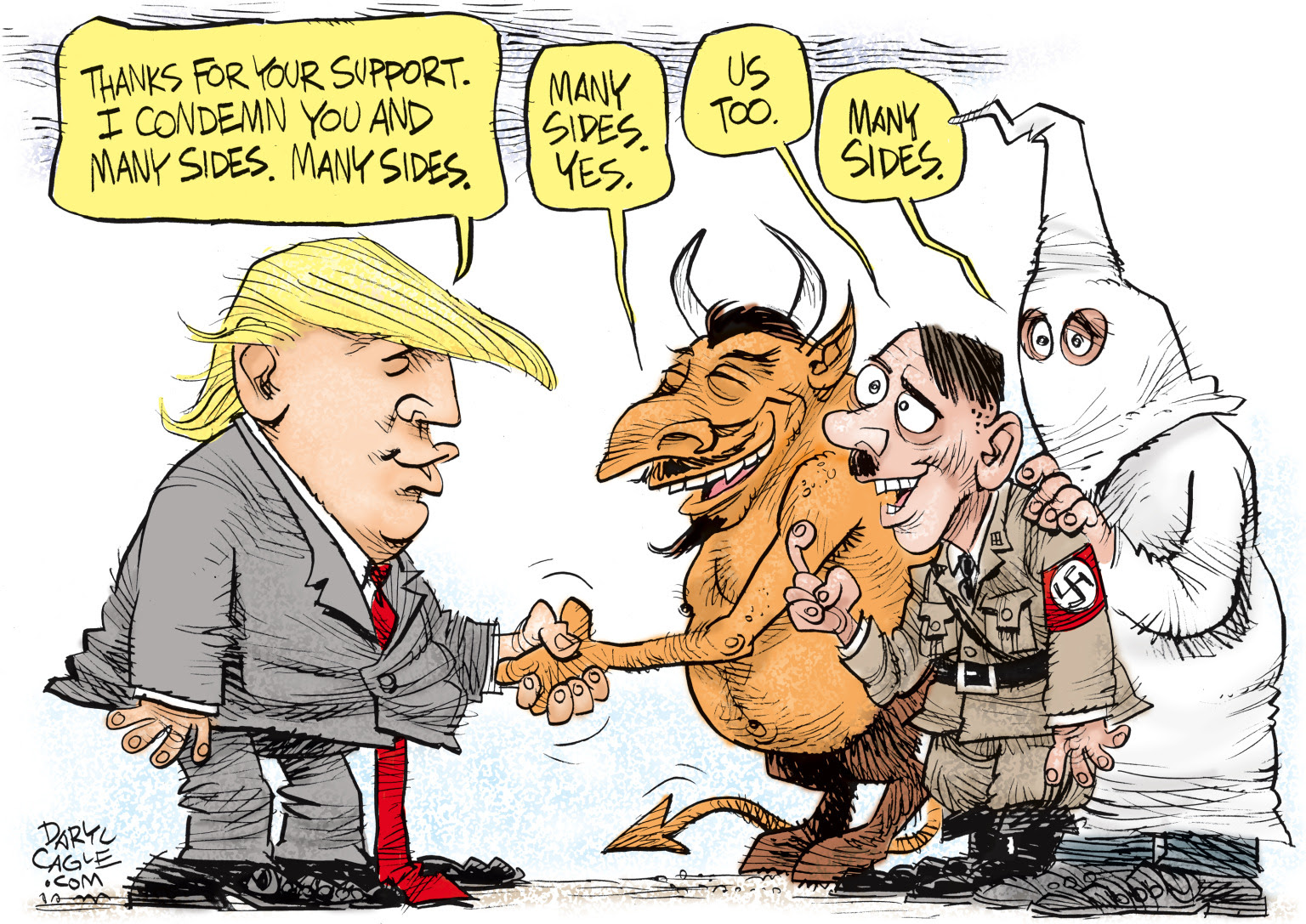 Countering False Flags
"Use humor and ridicule. George Lakoff, who studies propaganda, calls this a "truth sandwich" — a lie gets sandwiched between true statements. Research shows it effectively corrects a falsehood, because people tend to remember the beginning and end of a statement, rather than what's in the middle.
Countering Strawman arguments
Use clear and definitive language to counter strawman arguments. This makes it more difficult for your opponent to distort your stance, and makes it easier for you to correct them if they attempt to do so.
Point out the strawman. Call out your opponent on their use of the strawman, by explaining why their argument is fallacious, and how it distorts your original stance.
Ignore the strawman. You can choose to ignore the distorted version of your argument that your opponent presents (i.e. the strawman), and continue to advocate for your original position.
Focus on your audience rather than on persuading your opponent using strawmen in a debate.
TakeAway: Learn to recognize the verbal tricks MAGA Republicans use to manipulate you.

Deepak
DemLabs
DISCLAIMER: ALTHOUGH THE DATA FOUND IN THIS BLOG AND INFOGRAPHIC HAS BEEN PRODUCED AND PROCESSED FROM SOURCES BELIEVED TO BE RELIABLE, NO WARRANTY EXPRESSED OR IMPLIED CAN BE MADE REGARDING THE ACCURACY, COMPLETENESS, LEGALITY OR RELIABILITY OF ANY SUCH INFORMATION. THIS DISCLAIMER APPLIES TO ANY USES OF THE INFORMATION WHETHER ISOLATED OR AGGREGATE USES THEREOF.
Answers: (1) False flag (2) Nonsense (3) WhatAbout-ism (4) Strawman (5) False flag (6) Nonsense (7) Strawman (8) Both side-ism (9) False flag (10) Strawman (11) Whatabout-ism (12) Strawman
Image credit: The US Capitol on January 6th. Photo courtesy of Blink O'fanaye
Read in browser »
Reposted from Democracy Labs with permission.
---
DemCast is an advocacy-based 501(c)4 nonprofit. We have made the decision to build a media site free of outside influence. There are no ads. We do not get paid for clicks. If you appreciate our content, please consider a small monthly donation.
---