New York is a Battleground
Democratic Control of the House Hinges on New YorkThe midterm elections are two months away and New York is a battleground state. Six New York House races are competitive, according to Cook Political Report, in districts that stretch from Long Island, to here in Westchester and the Hudson Valley into Central NY. Radicalized Republicans are hellbent on taking back the House and only need five seats to do it – we must fight hard to win every vulnerable seat here in New York. Our freedoms are at risk – democracy is on the ballot this November.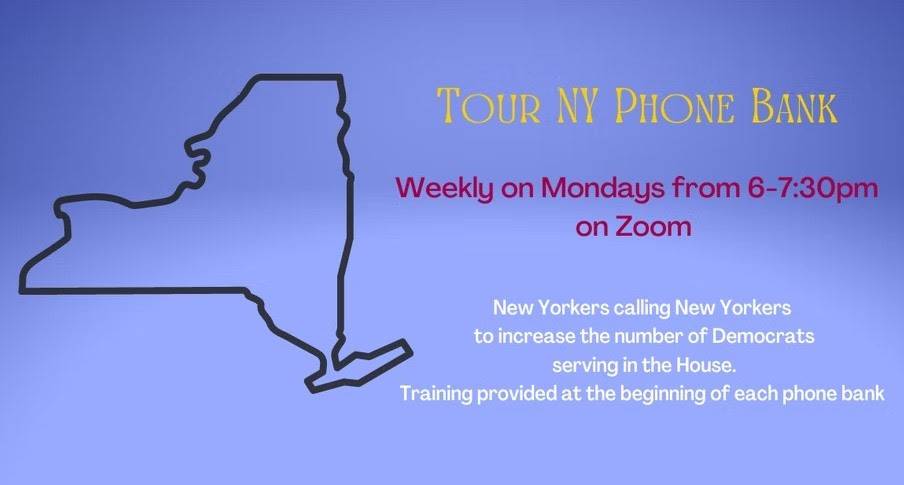 Phone Banks
Indivisible's Tour NY Phone Banks target the battleground congressional districts that Democrats need to win across New York.
Help Fill the Bus
Pat Ryan's special election win this month made national headlines. Now let's knock doors and help him win his midterm election in a Congressional district that Democrats must hold.
Click HERE to register for a seat on the bus this Oct. 9th. 
Postcarding Campaigns
Stay tuned for new postcarding opportunities. If you have your own cards, the following campaigns can give you addresses:
Email iwpostcarding@gmail.com to be added to our postcarding email list. 
Republican Threats to Democracy
In a primetime speech on Thursday night, President Biden warned that right wing extremism is a growing threat to our democracy and called the upcoming midterm elections, "a battle for the soul of America."
---
DemCast is an advocacy-based 501(c)4 nonprofit. We have made the decision to build a media site free of outside influence. There are no ads. We do not get paid for clicks. If you appreciate our content, please consider a small monthly donation.
---