Our Democracy is truly in danger. We must keep moving forward. Please join us at this week's Friday Power Lunch which will unpack the Political Power Playbook. Andlet's show our power by taking the easy one-click actions below.
If you have advocacy efforts to share, please forward! Thank you.
Onward warriors,
Stair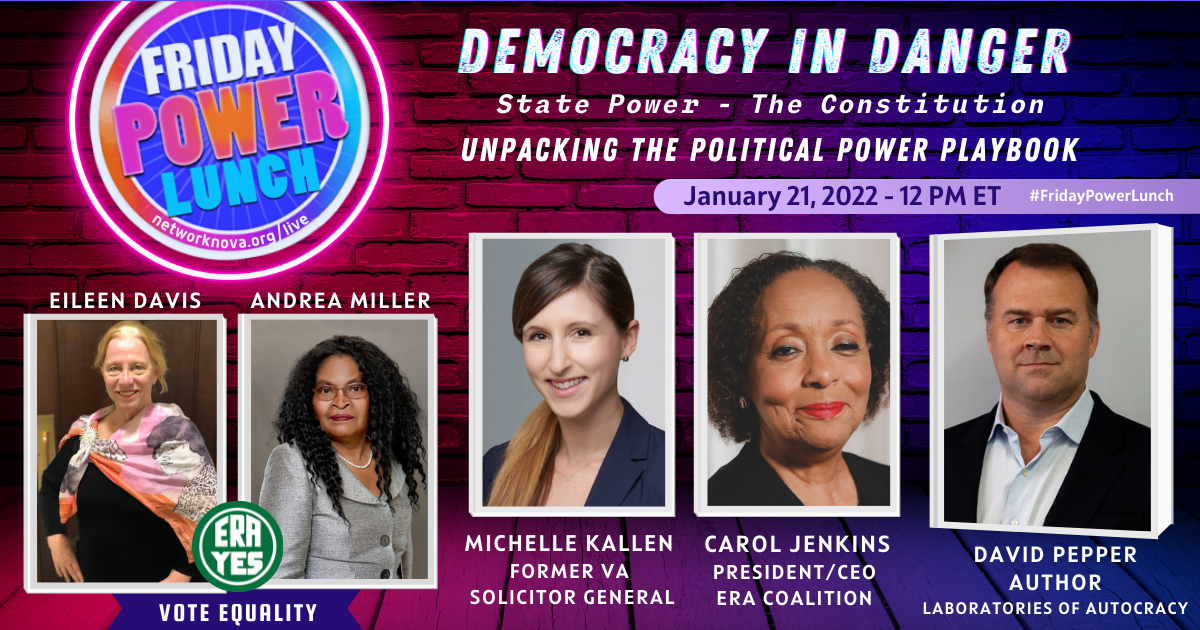 Democracy in Danger: Unpacking the Political Power Playbook
Register here
This week on the Friday Power Lunch (1/21/2022) we will look at some of the dangers facing Democracy. Our guests will help us unwrap the political power playbook to get a look at how the will of the people is being obstructed in the states, as well as federally with the delay of the 28th Amendment (ERA) to the U.S. Constitution.
David Pepper, master storyteller and author of the must read book of the moment, Laboratories of Autocracy: A Wake-Up Call from Behind the Lines will help us understand the corruption and extremism now poisoning state governments. David knows his way around state politics as a former city councilman, mayor, county commissioner, and head of the Democratic Party of Ohio. During his tenure as party leader, he saw a coordinated Republican effort to undermine democracy in Ohio be used as a blueprint in other states. You won't want to miss this extended conversation with David where he will share the scary details of this power playbook and present steps we must take to fight back. Take a look at David's 2 minute White Boards on Youtube.
When Virginia became the 38th state to ratify the ERA, all constitutional requirements for the ERA to become the 28th Amendment to the U.S. Constitution were satisfied. Yet, the ERA has not been published by the Archivist. What's up with this? Carol Jenkins ( President, ERA Coalition) will start this segment off by giving us an update from the national perspective. Michelle Kallen (former Solicitor General of Virginia) will explain the legal issues in play. We will round up this segment with longtime activists Eileen Davis and Andrea Miller (Vote Equality) sharing the calls to action on the 2-year anniversary of Virginia being the 38th state to ratify the ERA.
Please join and spread the love of our informative, current, upbeat hour with legislators, candidates, issues, music and door prizes! Register here.
In order to advance the ERA ratification, promote equality, and prevent the denial of equal rights on account of sex, we are calling on the Biden Administration to withdraw the far-stepping opinion memo from Trump and then Attorney General Barr. Please sign the Petition, which will be presented at the January 27th Rally:
Rally for Equality
January 27, 2022
12 Noon ET at the White House
RiseUp4ERAOn the 2-year anniversary of the final ratifying state for the Equal Rights Amendment – Virginia – join the ERA Coalition to rally in Washington, D.C. for a more just future for ALL!
12 Noon – Rally at the White House (also livestreamed)
1:30 pm ET – Delegation of volunteers marches to Department of Justice
2:30 pm ET – Delivery of petition signatures to the Department of Justice
Let them know you are coming here, registration on lower left.
The Virginia Grassroots Coalition has submitted their Priority Bill's letter for the General Assembly Session to our Democratic Senators and Delegates. Please write to your legislators in support of these bills. And please don't forget to let us know where you are ,here. And please let us know where you are for the Power Map for Advocacy.
PLEASE TAKE ACTIONS BELOW – EASY ONE CLICKS
CALL TO ACTION: Reform the recall process [Vote YES on SB495]
This bill creates a more transparent and efficient recall process for elected officials in Virginia. As it currently exists, the system leaves both the public and petitioners lacking a clearly defined process to check the powers of elected officials. Click here to take action. Questions: email Amy Bergner, abbergner@gmail.com
CALL TO ACTION: Ask Senators to support solar-ready roofs [Vote YES on SB290]
This bill would require certain large public buildings to include solar-ready roofs in new construction or significant renovations, saving energy and taxpayer money when solar is added. Similarly, new construction or significant renovations of public school buildings and facilities must be built to energy-positive standards. Click here to take action. Questions: email Sharon Shutler, shutlersharon@gmail.com
CALL TO ACTION: Ask Delegates to support solar-ready roofs [Vote YES on HB571]
Solar panels on the roofs of public buildings save money for taxpayers. Unfortunately, many buildings aren't built to hold the added weight of solar panels, or have too little roof space. Yet, solar-ready roofs save money for taxpayers by allowing public buildings to install solar at no upfront cost, & with long-term savings. Virginia is directing hundreds of millions of dollars to public schools for renovations. This bill will ensure students, families and taxpayers get the greatest possible benefit from this spending. Click here to take action. Questions: email Sharon Shutler, shutlersharon@gmail.com
CALL TO ACTION: Restore the right to vote [Vote YES on SJ1]
The right to vote is the cornerstone of our democracy, yet it's not guaranteed for all Virginians. Virginia is one of three (3) states with lifetime felony disenfranchisement…People who have served their sentences and paid taxes deserve a chance to choose the people who represent them. It's time for a change and it's time for a second chance. Click here to take action.. Questions: email Stephen Spitz, stephenlspitz@icloud.com
CALL TO ACTION: Stop toxic coal waste [Vote NO on SB120]
The Virginia Clean Economy Act (VCEA) set Virginia on a path to 100% zero-carbon electricity by 2050. It uses a Renewable Portfolio Standard which requires investor-owned utilities like Dominion Energy to obtain increasing amounts of electricity from renewable energy resources. SB120 declares waste coal — coal leftover from previous mining operations — to be a renewable resource. No form of coal is either clean or renewable, and waste coal left in what are known as "GOB" piles is an especially toxic, dirty product. Click here to take action. Questions: email Sharon Shutler, shutlersharon@gmail.com
CALL TO ACTION: Tell Dem Senators to oppose bill that would worsen the COVID-19 pandemic [Vote NO on SB601]
Virginia has historically followed the guidance of federal health authorities such as the Centers for Disease Control and Prevention (CDC) and respected professional medical associations, such as the American Academy of Pediatrics (AAP) as it has considered vaccination requirements. SB601 would cut off the Commonwealth's ability to follow this well established, science based process for making vaccination decisions about Covid-19. SB601 would also restrict the ability of the Commonwealth, private employers, health care providers and others from implementing protective measures to protect public health. Click here to take action. Questions: email April Breslaw, april.breslaw@ailurophile
Join the Center for Common Ground to encourage a Yes on HB130, HB416, HB605, HJR72 – The Right to Vote &
Yes on SB130 – The Right to Vote and SJ1
Tell Your Virginia Legislators – Vote Yes for Restoration of Rights – one click here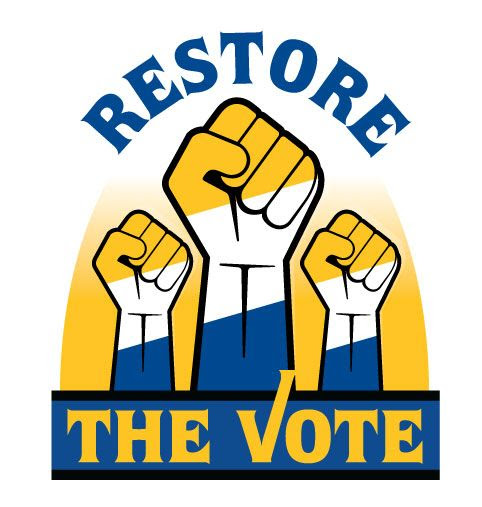 The Equal Rights Amendment
January 24, 5:30pm ET Virtual
The American Association of University Women-Garrett Branch will host an online presentation and discussion about the Equal Rights Amendment on Jan. 24 at 5:30 p.m.
Liza Mickens of VoteEquality will address the question about whether the Equal Rights Amendment is still needed today.
Register here.
"Keep Virginia Blue" War Room
Monday, January 24th, 8:00pm
Join Field team 6 as they discuss the 2022 Campaign Playbook, DNC Community Organizing Program, Democratic Party of Virginia DeBrief Tour & Re-Organization Elections.
Register here.
Truth in Journalism: Reporting on Politics and Identity in America
Wednesday, January 26th, 12:00pm ET Virtual
Center for American Women and Politics (CAWP) will be joined by PBS and NBC journalist Yamiche Alcindor for their annual Senator Wynona Lipman Women's Political Leadership Chair Lecture.
Alcindor has become a go-to voice in analyzing the most critical issues of our time, for Democrats and Republicans alike.  Registration and more info here. 
New Virginia Majority Monthly Volunteer Meeting :
Wednesday, January 26th, 6:00-6:30pm ET Virtual
New Virginia Majority will be hosting their monthly volunteer meeting on 26th of January. They will be giving an update on the legislative session, going over how to find and contact legislators, and a restoration of rights and relational organizing training. Register here. 
How We'll Rally Democrats to Vote in 2022
Thursday, January 27, 8pmET
In this webinar, the Progressive Turnout Project will outline the messages and tactics to employ across the country to rally Democrats to vote.
Joining the conversation will be Anat Shenker-Osorio, host of the Words to Win By podcast and Principal of ASO Communications. Anat is one of the leading progressive messaging experts.
More information and register here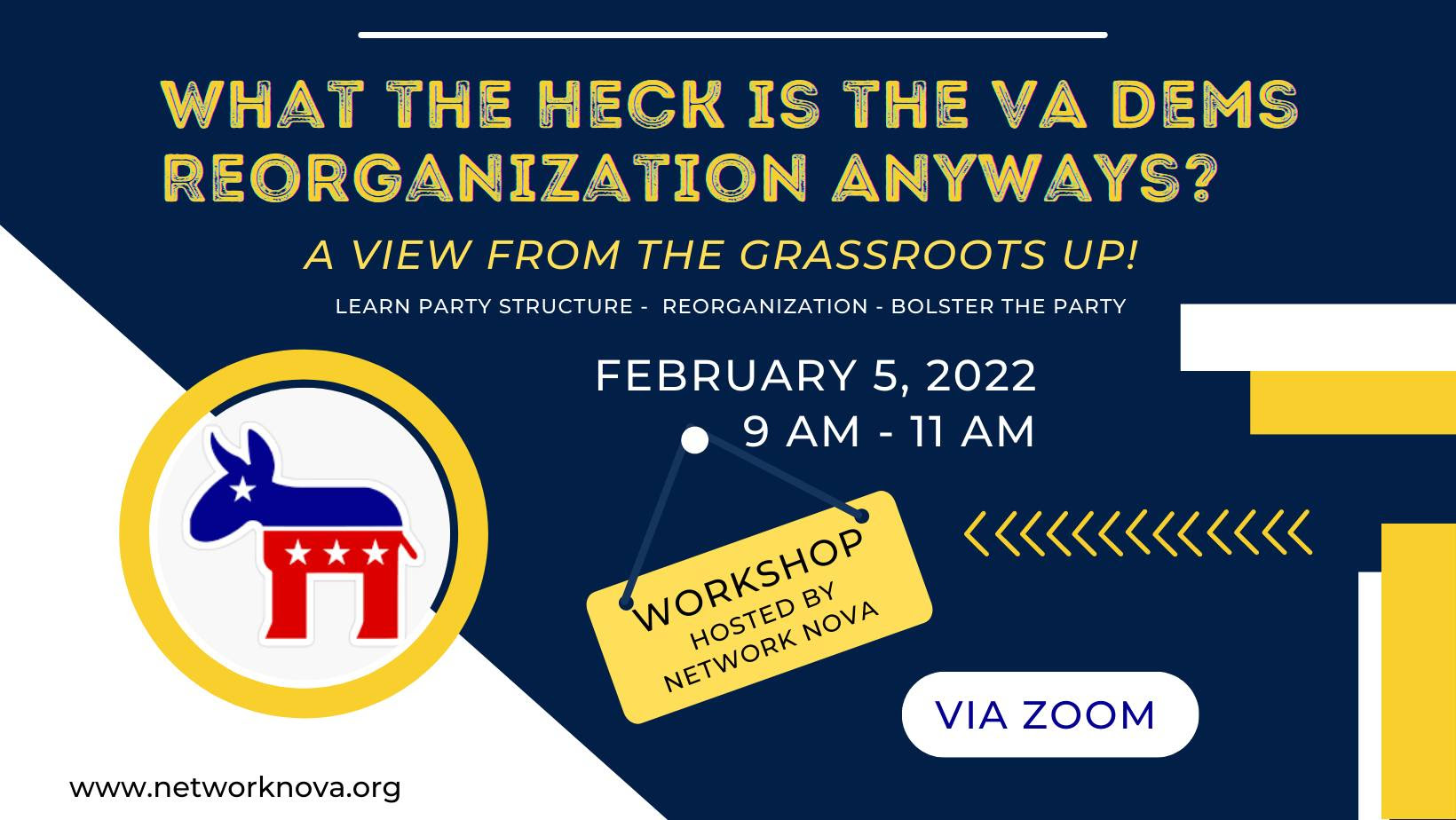 What the Heck is the VA Democratic Party's Reorganization Anyways? A View from the Grassroots UP!
Feb. 5, 2022: 9 am – 11 am – Virtual Workshop
Join Facilitators: Josh Stanfield: Historic Triangle Democrats, CD 2 Committee, State Central Committee and Rebecca Daly: Member of Congressional District 5 Committee and State Central Committee to learn about the structure of the VA Democratic Party, the upcoming "Reorg", &and how to get more involved to bolster the party
Sign up here.
---
DemCast is an advocacy-based 501(c)4 nonprofit. We have made the decision to build a media site free of outside influence. There are no ads. We do not get paid for clicks. If you appreciate our content, please consider a small monthly donation.
---