Black Lung Disease Trust funding jeopardized as Build Back Better stalls
Senators jeopardize funding for coal miners sick with Black Lung Disease. Why? Follow the dark money political donations.
"The coal industry is leaving a scarring legacy on the land and in the lungs of miners. More than ten percent of coal miners with 25 or more years' experience in underground mines have coal workers' pneumoconiosis, or black lung disease. As many as one in five have the telltale shadowy chest x-rays. The Black Lung Disability Trust Fund primarily gets its revenue from a small excise tax on U.S. coal production… the fund has run a deficit since it was created." – Brookings Institute
The Black Lung Disability Trust Fund is in danger of insolvency, threatening miners stricken with the disease. Joe Manchin and Republican Senators from coal mining states block the Build Back Better bill that would extend vital aid to sick coal miners.
This StoryMap shows the communities that will be hurt and follows the coal mining firms' political donations.
Black Lung Disability Trust Fund
"Black lung is caused by inhaling coal dust. The accumulation of dust particles in the lungs makes it hard to breathe. As the disease progresses, victims develop a cough or shortness of breath. "Living with black lung is thinking about every breath you take," former miner Robert Bailey Jr. told a congressional committee. – Yale Environment 360
"The Build Back Better Act extends an excise tax that funds a trust providing benefits to certain coal miners with coal workers' pneumoconiosis, commonly known as "black lung disease." The current rate for the tax, the primary revenue source for the Black Lung Disability Trust Fund, is set to expire at the end of 2021. the Build Back Better Act would extend it through the end of 2025.
The package addressing health care, childcare, education, climate change, and tax policy. But without congressional action before the end of the year, the excise tax rate will be cut roughly by half, diminishing a key source of revenue for a fund that is already riddled with debt." – New Republic
Lung cancer rates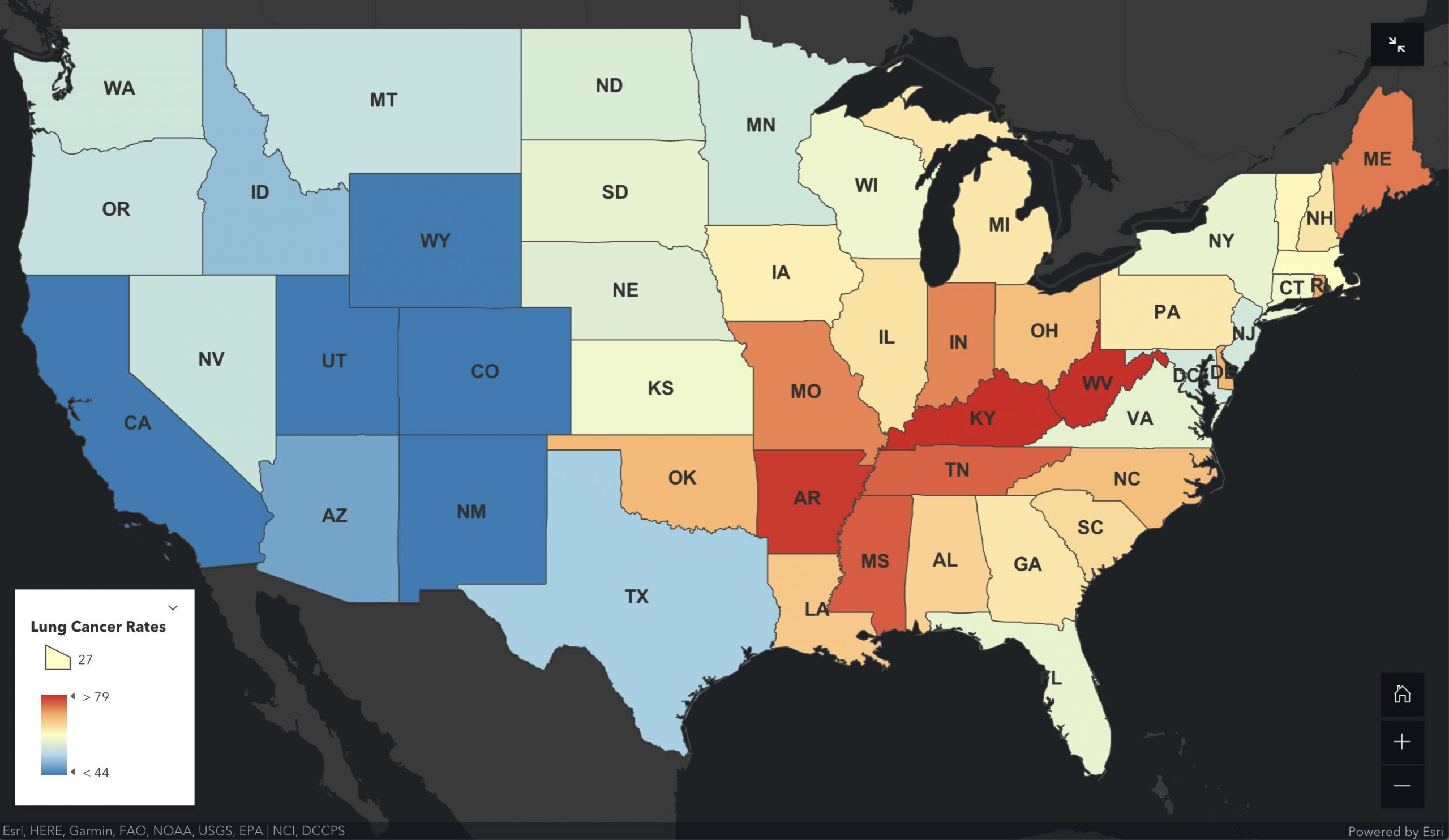 Follow the dark money
Use Open Secrets to follow the dark money from coal mining firms to politicians who are cutting funds to the Black Lung Disability Trust Fund.
Open Secrets is a nonpartisan, independent and nonprofit. It is the nation's premier research group tracking money in U.S. politics and its effect on elections and public policy. Our mission is to track the flow of money in American politics and provide the data and analysis to strengthen democracy. Their vision is for Americans to use this knowledge to create a more vibrant, representative and accountable democracy. Support Open Secrets
Represent coal communities. Not donors.
"The president of the West Virginia AFL-CIO, Josh Sword, asked Manchin to get back to the bargaining table, pointing out that the Build Back Better bill would not only lower the cost of health care and child care, but also shore up the Black Lung Disability Trust Fund, which provides benefits to thousands of coal miners. It also protects workers' right to organize and bargain collectively, creates jobs for home care workers, expands care for seniors and those disabled, and invests $4 billion in coal communities "to attract manufacturing companies that will provide good-paying, union jobs." – Heather Cox Richardson
TakeAway: Political decisions impact our lives. Make it easier for people to see the connection and how dark money political donations influences legislators.
Deepak
DemLabs
Recent Articles:
Republicans can't handle the truth so they whitewash history.
Speak up for accurate, honest and fully funded public education. FREEDOM TO LEARN.
Republican obstruction prevents FCC regulation of COVID misinformation platforms
Hunger games: Senators play politics with children's lives
Lawsuits punish domestic terrorists and conspiracists
---
DemCast is an advocacy-based 501(c)4 nonprofit. We have made the decision to build a media site free of outside influence. There are no ads. We do not get paid for clicks. If you appreciate our content, please consider a small monthly donation.
---