Everyone is sounding the alarm. Are you listening?
Like him or not: Bill Maher gives us the PRECISE reason for why we need to continue this work.
Listen. Then join us. 
Help pass the
Freedom to Vote Act and the John Lewis Voting Rights Advancement Act
 5actions you can do today!
---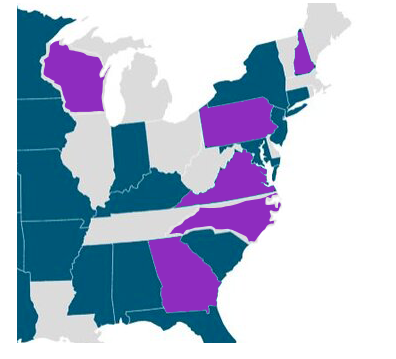 States Matter
Critical State Elections THIS November! 
Virginia!
There's so much at stake in Virginia.
And phone banking is our most effective tactic right now. These actions are recruiting poll workers, helping voters cure their ballots, helping candidates get elected, and providing information to communities.

If you haven't made these calls, click here for detailed information about training. If you need coaching, get in touch with Dana or Rebecca.

Once you're trained, join us on Sunday for the PowerHour
where the action happens!
Sundays between 3 and 5 pm via zoom
Tech support available as needed!
Pennsylvania!  
Vote by Mail Texting
Thursdays, 3-6 pm
Help Democrats sign up to vote by mail.
Training offered before each shift. New texters welcome!
Vote by Mail Chase Calls
Wednesdays, 4-6 pm or 6-8 pm
Help Democrats cast their vote by mail ballots.
Call using the autodialer ThruTalk. Training offered before each shift.
---
Fund the Movement
Lean Left's October Beneficiary
New Hampshire's Local Leadership Network (LLN) 

In our small states, Vermont and New Hampshire, elections can be won by a hand-full of votes. Right-wing groups are engineering a demographic shift to carry out their agenda and gerrymandering legislative districts that will make it impossible for even moderate Democrats, and certainly not Progressives, to ever win an election in New Hampshire. The state's Congressional delegation remains all-blue and its electoral votes went to Biden/Harris, BUT state government returned to a red trifecta in 2020. Chris Sununu easily won a third term as governor and will likely challenge Senator Maggie Hassan. U.S. Rep. Chris Pappas is also vulnerable. On the local level, Republicans took control of the State House and Senate, which had both gone Democratic in 2018. Our beneficiary for October is the New Hampshire Local Leadership Network, a grassroots organization, provides Democratic and Progressive candidates with campaign tools to win back state government. Your contribution will help financially support legislative candidates who rarely get money from the Party. 
Or contribute through your Giving Circle!
Read more about our October beneficiary HERE
---
Feeling lonely?
Frustrated and angry with the news about voter suppression?
Think about joining or starting a Good Trouble Cafe. 
---
Check Out Actions & Events on Our Website
There is plenty to do! 
Photo Credit: Susan Ritz
Have questions? Need support?

Get in touch with us here. 
 
---
DemCast is an advocacy-based 501(c)4 nonprofit. We have made the decision to build a media site free of outside influence. There are no ads. We do not get paid for clicks. If you appreciate our content, please consider a small monthly donation.
---