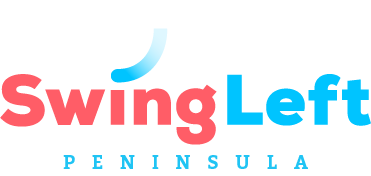 This week, join our seminar about the National Popular Vote project and how states can empower the Electoral College so it follows the will of the voters. Take action by signing up for our "Weekend of Action" phone banking event: we'll be calling Virginia voters to support progressive candidates in Virginia's 2021 statewide election! Leave the house and meet us in person to pick up postcards and letters in a Palo Alto Park. And, as always, join with fellow Swing Lefter's and make calls on Wednesdays and Saturdays to support Democratic candidates, register voters, and protect voting rights.
Read on for details…
Quick Links below:
---
Seminar: National Popular Vote
This Thursday! July 8th 6:00pm PT
Five presidential candidates in our history have won the popular vote but failed to win the presidency due to the electoral college. The will of the people has been subverted and it's time to ensure that the person voters elect is the person inaugurated.

Join Dr. John Koza as we discuss the National Popular Vote bill which will guarantee the Presidency to the candidate who receives the most popular votes in all 50 states and the District of Columbia.
Sign Up Now!
Thurs, July 8th 6:00pm PT
---
Virginia Weekend of Action Phonebanking
Saturday, July 10th 10am – 12pm PT
Sunday, July 11th 12pm – 2pm PT
The work to protect Democrats' control of Congress in 2022 starts right now in Virginia. Join Swing Left's "Weekend of Action" event, a national coalition to support our candidates in Virginia's 2021 elections!
On July 10, we will be phone banking for incumbent Nancy Guy. Nancy is running for re-election to the Virginia House of Delegates. She won in her district by only 41 votes! A retired lawyer and former school board member, she is committed to improving public schools, growing the economy, and building a more equitable criminal justice system.
On July 11, we will be phone banking for Debra Gardner who is running for delegate in Chesterfield County. A tireless advocate for Virginians, Debra has served at the chief deputy level of 3 state agencies and devoted countless hours to organizations that provide aid and services to the community.
We need volunteers to help us call voters to preserve the Democratic trifecta in Virginia. Newcomers are always welcome and we will train you every step of the way!
RSVP: Call for Virginia Victories
Sat & Sun July 10-11th
---
Postcard and Letter Writing Open-Air Meetup
Sunday, July 18th 1pm – 3pm PT
Come say hi and pick up a bundle of 20 letters or postcards to complete at home. We will have materials for you at a Palo Alto park. We would love to see you! If you can't make the event but would like a packet, or if you would like a larger number of postcards or letters to share with your writing group, please email Kirstin at etters@swingleftpeninsula.org
RSVP: Open-Air Meetup
Sun, July 18th 1:00pm PT
---
Phone Banks: Register Voters, Protect Voting Rights, Georgia Special Election!
Join us on Wednesdays from 2:00 to 4:00 pm PDT. We will be doing 3 things!
Calling unregistered voters in the California Central Valley-CD21 using Field Team 6's Voterizer and NPG VAN.
Texting California voters to oppose the recall using SPOKE.
Calling on behalf of Pricilla Smith, who is running in a special election for Georgia's 34th District for State Legislature. Early voting started June 28th and election day is July 13th.
Join us on Saturdays, from 1:00 to 3:00pm PT to Arizona and West Virginia residents and patch them through to their Senators' offices to support S1, For the People Act. June 22nd's vote was not the end of the fight to eliminate the filibuster and protect voting rights – it was just the beginning. But the clock is ticking. If we make our voices heard, and make sure Senators Sinema and Manchin hear from us, a pathway to passing filibuster reform and voting rights legislation is still possible.
We will help you log in, walk you through the process of making the calls and texts, and answer all your questions. Your help does make a difference!
RSVP: Call CA-21 and GA
Wednesdays 2-4pm PT
RSVP: Call AZ and WV
Saturdays 1-3pm PT
---
Write Postcards to STOP the Recall with Women's March
Send postcards to tell voters to vote NO on the California Governor recall. Fill out this form to order your postcards in batches of 50. RSVP Here
---
Follow us on Twitter (@SwingLeftPen) or join our Facebook group for updates on our latest events, actions, and news.
Questions? Email us:
Join our email list: https://actionnetwork.org/forms/slp_subscribe
If all else fails: info@swingleftpeninsula.org
---
DemCast is an advocacy-based 501(c)4 nonprofit. We have made the decision to build a media site free of outside influence. There are no ads. We do not get paid for clicks. If you appreciate our content, please consider a small monthly donation.
---