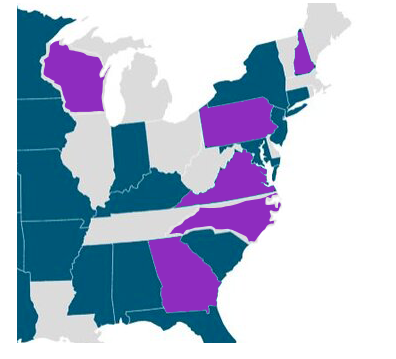 States Matter
Meanwhile, what is happening on the state level is as critical as we see the consequences of the Republican assault on voting rights and progressive legislation. Partners in our target states — Virginia, North Carolina, New Hampshire, Pennsylvania, Wisconsin, and Georgia — are working at the grassroots level to protect the vote. Keep checking our States Actions page for actions you can take.    
---
Join us in watching
Wisconsin, the birthplace of progressivism in America, has become a conservative laboratory. Through the stories of four determined women, Can You Hear Us Now unravels the way years of one-party control, due one of the most severely gerrymandered state legislative maps in the country, has reshaped democracy in Wisconsin.
Film showings (6/27-6/30)
with the panel discussion on
Wednesday, June 30 at 6:00 PM EDT
Registration and film trailer here.
Watch the film at your leisure between June 27-30. Then join us for the panel discussion at 6:00 PM EDT on the 30th.
At the post-film panel on June 30th, you will hear how activists are fighting back in Wisconsin through elections, redistricting, and the courts. Learn more about the panelists here. 
The event is free but please donate to either Law Forward and/or Citizen Action of Wisconsin, two organizations that are leading the fight for fair representation in Wisconsin.
---
Check Out Actions & Events on Our Website
There is plenty to do!
---
DemCast is an advocacy-based 501(c)4 nonprofit. We have made the decision to build a media site free of outside influence. There are no ads. We do not get paid for clicks. If you appreciate our content, please consider a small monthly donation.
---