What Will You Do This Week?
Join IC-South Side co-leaders and members in one or more of these activities.
Wednesday: Phonebank to voters in support of For the People Act. Wednesday, May 5th, 3:00 pm and every Wednesday with alternating start times at 3:00 pm or 5:00 pm.
From home, use an easy system to patch voters through to one of their senators to ask them to pass For the People Act, even if it means ending the filibuster.
Get full training and support via Zoom from the friendly Indivisible Chicago Alliance team, in partnership with Common Cause. Learn more/Sign up.
Saturday: Join in the John Lewis Day of Action. Saturday, May 8th, 1:00 pm. Show your support for HR 4/John Lewis Voting Rights Advancement Act, S1/For the People Act, & HR 51 DC Statehood by driving in a votercade (car caravan) or showing up later for the outdoor program. Nationwide info here. Chicago info:
South Side: Rainbow PUSH votercade,1 pm. Info/Sign up.
North Side: Indivisible Chicago Alliance votercade,1 pm. Info/Sign up.
IC-South Side co-leaders will be joining the South Side PUSH votercade, but you are welcome to choose either. All votercades will converge at the 31st Street Harbor West Parking Lot at 641 E 31st St at about 2:30. If you can't join a votercade (car caravan) but want to show support, you can join directly at the 31st St. event site for the program beginning after 2:30. There will be space for those who arrive without a car.
Please let us know if you sign up for a votercade (or will come to the program)! Write us here.
Cancellation: Due to a conflicting meeting, the office of Ald. Sophia King has cancelled our online meeting, originally scheduled for Thursday, May 6th. Once Ald. King's office sends us a replacement date, we will share a new announcement.
---
Thanks, Members Thanks to all members who took the IC-South Side survey about your concerns and interests. We look forward to sharing updates.


Big thanks from IC-SS co-leaders, Sarah, Esther, Betsy, Teri
---
Write & Type
How will YOU help assure voting rights and keep people voting? Write postcards or letters to voters. Use your social media to reach voters.
Write postcards to voters. Postcards to Swing States has launched its new campaigns! Encourage voting among new voters by writing postcards to them. Find answers to FAQs here and sign up here.
Write letters to voters. Vote Forward is testing to see how well your letters encourage new voters to keep voting. Get info and sign up here.
Use your social media & email to get the word out.Join DemCast and a team of everyday people using their social media accounts and email to spread the truth about the urgent need for democracy reform and key aspects of the Democratic party's agenda. They provide suggested graphics and wording, which you can adjust per your preference – then you just click to post!
Urge our leaders to pass For the People Act. Via your social media and Letters to the Editor, you can let our senators know we count on them to pass For the People Act. See national Indivisible toolkit.


Tell us how you are doing writing activism – email here!
---
Get Informed on Democracy Issues
Check out our the IC-SS Democracy Doc. Go here to find trustworthy and reliable sources of info on voting rights, democracy legislation, ending the filibuster, and ways to make our democracy strong and sound.
If you have a suggested democracy resource, please send us a link to it. We may share it in a newsletter or add it to the Democracy Doc. Thank you!
---
Organizations & Opportunities
Indivisible Chicago-South Side shares information and action announcements from other organizations on issues important in our country, state, city, and communities.
---
Tomorrow 5/4: Town Hall on Anjanette Young Ordinance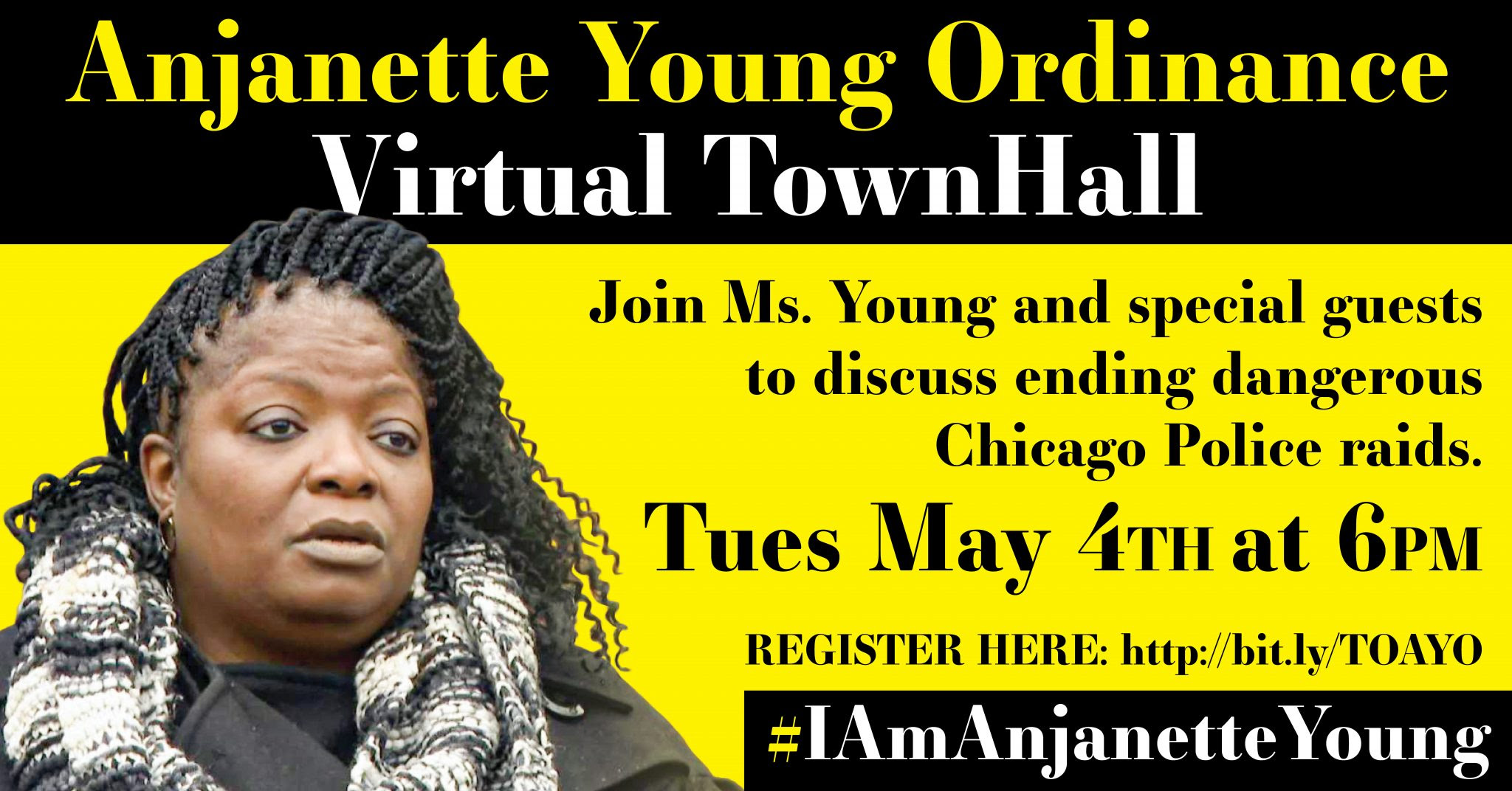 ---
From the Anjanette Young Ordinance Coalition (incl City Council Progressive Caucus & SEIU HCII): "We all saw what happened to Anjanette Young; how police raided her home and forced her to stand handcuffed and naked for 40min while they searched her home. Learn about how we're trying to end these wrong raids and protect the human and civil rights of Chicagoans with the Anjanette Young Ordinance." Read more on the ordinance here.
Attend: Anjanette Young Ordinance Town Hall (Online). May 4, 2021 06:00 PM. Sign up here. 
---
Support Just Cause for Eviction in Chicago
FromChicago Housing Justice League:The Just Cause for Eviction Ordinance "allows residents the ability to live in their own home and community safely, independently, and comfortably, regardless of age, income, or ability level….[It] gives tenants the security of knowing that as long as they remain in good standing with their rental agreement that they have the right to stay in place and not be removed from their home."
ACT: Read more about the Just Cause ordinance and sign a petition to support it here.
Email: Indiv.Chi.South@gmail.com
Follow IC-SS on Facebook and Twitter
Co-Leaders: Sarah Lincoln, Esther Peters,
Betsy Rubin, Teri Watkins
About: Group & Co-Leader Statements
---
DemCast is an advocacy-based 501(c)4 nonprofit. We have made the decision to build a media site free of outside influence. There are no ads. We do not get paid for clicks. If you appreciate our content, please consider a small monthly donation.
---