IC-SS Weekly Update: February 8, 2021
---
Let's Do Something About the Filibuster
Thanks to the 23 people who attended Indivisible Chicago-South Side's Feb 3 webinar and discussion, "Let's Talk About the Filibuster," featuring IC-SS Co-Leader Esther Peters.
Esther explained why so many are calling to abolish the filibuster:
The filibuster is inherently undemocratic because it prevents the party that won the most votes from passing legislation.
Right now, the filibuster means Senate Republicans can block virtually all progressive legislation. This likely means most voting rights will continue to be suppressed, DC won't become a state, and the Democrats will have few accomplishments to run on in the 2022 midterm elections.
Watch Esther's 17-minute presentation on the filibuster. After this presentation, we had a great discussion, not included in the recording.
Resources: End the Filibuster
How does the filibuster prevent the passage of vital democracy laws, and why should we call for our senators to end it? Read/listen/watch:
ACT: Send a Valentine to Our Senators
To date, Senators Durbin and Duckworth haven't come out strongly in favor of abolishing the filibuster. See the letters received by IC-SS Co-Leader Betsy Rubin (and others): Durbin/Duckworth on filibuster.

Our senators care what we, the voters, think. Let them know we appreciate their work defending our nation during the harmful Trump years — and ask them for bold action to strengthen our democracy. Start with a valentine!
Via citywide Indivisible Chicago, let's send our senators Democracy Valentines: The Democrats now control the House, Senate, and Presidency, so it's time to get to work! We are sending a message to Senators Durbin and Duckworth to let them know that members of Indivisible and progressive groups all across the state support the passing of voting rights legislation (including HR 1 & HR 4) and DC statehood by whatever means needed, including eliminating the filibuster.

Indivisible Chicago will collect names and addresses, print valentines with each person's name, address (to prove you are a constituent), and personal message, and deliver the valentines to our Senators. Just fill in this form and Indivisible Chicago will deliver your Democracy Valentines to our senators.
---
IC-SS Members Speak
Indivisible Chicago-South Side member Marva Watkins describes the impact of the work she did in 2018 and 2020 with other volunteers on the successful effort to elect Rep Lauren Underwood of IL-14. View Marva's one-minute video.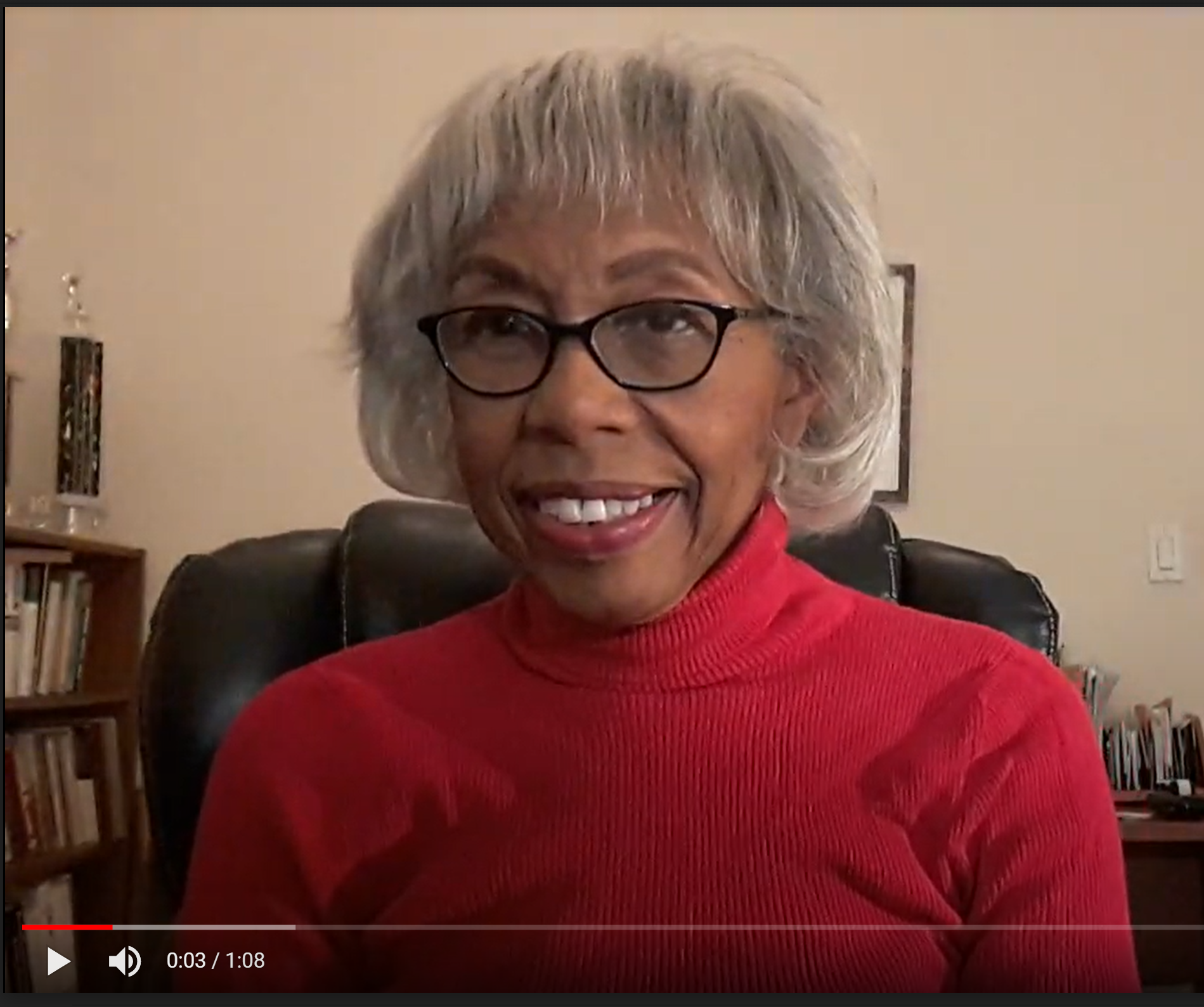 Marva says it's satisfying to know you can make a difference even in a district where you don't live. Postcards, letters, and phonebanking can make a difference!
View Marva Watkins' 1-minute video
Special thanks to Mike Lenehan of Indivisible Chicago Alliance for sharing the video with us. And open last week's newsletter to hear from IC-SS member Irene Claude.
---
Indivisible Chicago-South Side Elections
Indivisible Chicago-South Side will hold formal elections in late February for the four leadership positions. Here's the schedule:
Mon. Feb 15-Sun. Feb 21: Nominating period. Voting members may nominate themselves or another person (with permission from that person)
Sun., Feb 21, 4:00 pm: Nominations Meeting. Voting members can attend to meet the nominees. On Feb 2, all voting members were sent a Zoom link to the Feb 21 meeting.
Mon., Feb 22-Sun., Feb 28: Elections. Voting members will submit their ballots electronically.
To become a voting member of IC-SS, please register via this voting member registration form as soon as possible and no later than 5:00 pm, February 21. If you have been active with our group in any way, you qualify.
---
Take Action for Our Community, City, State
Indivisible Chicago-South Side shares information and action announcements on issues important in our state, city, and communities.
Stop General Iron
From Stop General Iron: Residents of a mostly Black and Latino neighborhood in Chicago's Southeast Side are announcing the beginning of a hunger strike in protest of environmentally racist policies that allow polluting industry to accumulate in communities of color. The strikers are demanding that the City of Chicago deny the final permit, and thus blocking the relocation of the General Iron (RMG) into the Southeast Side.
Read about the effort to #StopGeneralIron here and here.
Take action:
Uplift/amplify the messages calling for the City of Chicago to deny the permit to General Iron/RMG. Use this toolkit (even though some of the action dates have passed).
Donate to the Gofundme for the hunger strikers.
Support the Pretrial Fairness Act
With the leadership of State Senator Robert Peters, the Illinois General Assembly passed the Pretrial Fairness Act, to prevent poverty from putting people in jail. Now it's up to Governor Pritzker to sign the bill into law.
Get Informed
Act
Fire FOP President Catanzara
Recently, you may have heard John Catanzara, president of Chicago's Fraternal Order of Police, speak in support of the 1.6.21 attack on the Capitol. Under duress, he eventually issued a weak, unconvincing apology.
For months and years before that, Catanzara had a history of racist and Islamophobic statements. Indivisible Chicago-South Side was one of nearly 80 organizations joining Muslim Advocates in signing a letter calling for the firing of John Catanzara. Other signers include the ACLU of Illinois, Indivisible Chicago and other Indivisibles, the Leadership Conference on Civil and Human Rights, and many religious and other civil rights organizations.
Learn + Act
Tweet for IL's Consolidated Elections
Do you use Twitter? Would you like to help get out the vote for Illinois's consolidated elections (being held statewide except in the city of Chicago)? Statewide Indivisible Illinois, NWSOFA, and Ballot Z invite you to join them in Twitterstorms to support of the upcoming April Consolidated Elections in suburban Chicagoland. You'll receive a Twitter toolkit and join the group on Zoom as you tweet. RSVP for Thursday Twitterstorms from 6pm-8pm.
---
Indivisible Chicago-South Side
Email: Indiv.Chi.South@gmail.com
Follow IC-SS on Facebook and Twitter
Co-Leader: Esther Peters
Acting Co-Leaders: Betsy Rubin, Teri Watkins, Sarah Lincoln
---
Indivisible Chicago South Side · 5476 S. Harper Ave · Chicago, Il 60615
---
DemCast is an advocacy-based 501(c)4 nonprofit. We have made the decision to build a media site free of outside influence. There are no ads. We do not get paid for clicks. If you appreciate our content, please consider a small monthly donation.
---