Hello friends,
There is much to be said about the events of the past 9 days…an insurrection and attempted coup incited by Trump, his subsequent impeachment in the U.S. House, and a new record daily death toll from COVID-19. Finding the right words, however, is a challenge. There are reports of Mainers who participated in the Jan. 6 rally that preceded the attack on the Capitol and spoke out in support of the insurrection and Gov. Janet Mills has put the Maine National Guard on standby following warnings from the FBI of potential violence in all 50 state capitals.
But on Jan. 20 at 12:01 pm, Joe Biden and Kamala Harris will be sworn in as president and vice president. The work to repair the damage caused by the Trump administration is immense and we will all be called on to help. There are a few actions you can take right now, including taking part in one of the local events planned for Martin Luther King Jr. Day on Monday, Jan. 18. After four years of doing this work together, we all know that by staying informed and taking positive action, we can bring about the changes we want to see.
Stay safe and mask up!
The Suit Up Maine Admin Team
---
Call for the suspension of the Maine Capitol Police chief. Maine Capitol Police Chief Russ Gauvin is under investigation for sharing far-right conspiracy theories on social media, including false claims about fraud in the presidential election, anti-mask rhetoric, and support for violence against Black Lives Matter protestors, news brought to light by the publication Mainer. Gauvin has removed the posts and issued an apology, but Gov. Janet Mills has requested an investigation. Gauvin should immediately resign. If he refuses, he should be suspended pending the outcome of the investigation. Email your concerns to Public Safety Commissioner Michael Sauschuck at michael.sauschuck@maine.gov and Gov. Mills through the governor's online contact form.
---
Tell Collins to convict. The House has impeached Donald Trump for "incitement of insurrection," with all Democrats–including Representatives Jared Golden and Chellie Pingree–and 10 Republicans voting in favor. The Senate trial will begin as early as next week. Sen. Angus King favors Trump's removal, but Sen. Susan Collins has not said how she will vote. Learn more about where things stand and find out how to contact Collins in our call to action HERE.
---
Maine Legislature update. State legislators are getting to work on more than 1,600 bills introduced this session. As we line up bills for our Legislature Roundup tracker, we ask you to contact your legislators and let them know what issues are important to you. You can learn more about legislative advocacy in the workshops below:Maine People's Alliance Lobby Team Meeting, 10:30-11:30am, every Tuesday and Thursday. Find a date and sign up HERE.Maine Women's Lobby Legislative Kick Off with Big Bag, 6-7pm Tuesday, Jan. 19. REGISTER HERE.Maine Equal Justice Legislative Advocacy Training, 11am-1pm Friday, Jan. 22. REGISTER HERE.  League of Women Voters of Maine and Maine Citizens for Clean Elections, Advocacy in the Maine Legislature Series, 6-7pm Wednesday, Feb. 3. REGISTER HERE.
---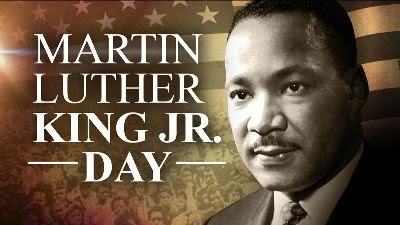 Martin Luther King Jr. Day. A number of organizations across the state will hold virtual and in-person events and actions on Monday, January 18 in observance of Martin Luther King Jr. Day. A partial list of events in Maine is below.
IN-PERSON EVENTS
BELFAST: Belfast 32nd Annual Martin Luther King Jr. Candlelight Community Gathering: 4:30 pm Monday, Jan. 18 in Post Office Square for a candlelight vigil. Participants should bring candles or flashlights, wear masks, and socially distance. Find more information here.
ONLINE EVENTS:
NAACP Maine Virtual Teach-In and Call To Action: Sign up for the day-long event, featuring nearly two dozen sessions led by non-profit and advocacy organizations across the state. 9 am-7 pm Monday, Jan. 18. Register here.
Bates College 2021 MLK Day Observance: Workshops and speeches beginning Sunday, Jan. 17 and continuing Monday, Jan. 18 with a keynote address by Angela Davis at 9 am. Find more details and registration info here.
First Parish UU Church of Kennebunk 18th annual Martin Luther King Jr. Program: Virtual program featuring Karlene A.P. Burrell-McRae, Dean of the College at Colby College. 10-11 am Monday, Jan. 18. Register here.
University of Maine Martin Luther King Jr. Day Celebration: The online event will feature a panel of UMaine alumni, students, and friends who will address the topic of "Being Black in Maine: Lived Experience and the Prospect for Change." Co-hosted by the Greater Bangor Area NAACP. 5-6:15pm, Monday, Jan. 18. Find more information here. 
University of New England Martin Luther King Jr. celebration events: A range of lectures and panels Jan. 19-22. Find a list and registration information here. 
Colby College Martin Luther King Jr. Day Celebration: Keynote Speaker, Dr. Peniel Joseph, will discuss "Dr. King's Beloved Community." 7-8pm Monday, January 18. Register here. 
Farmington Area Ecumenical Ministries 2021 Martin Luther King Day Ecumenical Service: This year's program will take place via Zoom and feature guest speaker Dr. Nirav Shah, director of the Maine CDC. Register here.
MDI Celebrates MLK Jr Day:  YWCA MDI, MDI Racial Equity Working Group, and MDI Helpers: Pandemic Mutual Aid will present a slide show of locally created art and a list of ways to volunteer in the community. Find more information here. 
First Parish Congregational Church Saco MLK Day of Service: Please wear a mask. All COVID-19 protocols will be observed. Providers will be limited this year but there will be new socks and underwear, health and beauty items, warm blankets, gently used warm weather clothing and new or gently used shoes available to take. A hot lunch to go will also take place. Find more information here. 
NATIONAL DAY OF SERVICE
Martin Luther King Jr. Day is also a national day of service and organizations across Maine have actions planned to benefit local communities. Find a volunteer event in Maine near you here.
---
On our website you'll also find:
Photo by Unseen Histories on Unsplash
---
DemCast is an advocacy-based 501(c)4 nonprofit. We have made the decision to build a media site free of outside influence. There are no ads. We do not get paid for clicks. If you appreciate our content, please consider a small monthly donation.
---