Remote learning is urgently needed but creating training courses the traditional way is slow and expensive. How does a group with little money and few technical skills create online training courses? Free innovative new software!
Creating online training is challenging:
– The skill levels of people getting trained vary greatly
– The training has to cover skills and apps which may change
– Students have limited time and fluctuating schedules
– The training has to be delivered on phones and laptops
Fortunately, these needs have been met by businesses who need to remotely train their employees. Political campaigns and non-profits gain by using the same free apps to quickly prepare online training. It also cuts the cost and time involved with hiring consultants to develop online training.
This blog covers:
– How to create interactive, video-based training course on your own with just a laptop
– How to design training for in small modules for self-paced study
– How to develop training that can be taken on a phone or laptop
– Free apps to create this online training LOOM, CARRD, CANVA, EZGIF and Google Drive
– Other free DemLabs tested apps to create training PREZI, QUIZLET, GLIDEAPPS and UDEMY
– Six free online training courses for organizing, canvassing, phone banking and more
Designing training on how to hold fundraisers on ZOOM with BigStage
Case Study
BigStage is a free app that lets users extend ZOOM with donation, volunteer and other buttons for fundraising and volunteer briefings. Presenters encourage their viewers to click on these buttons while still watching the ZOOM session. This is how we created training to explain how to create ZOOM fundraising events with BigStage using only free apps.
Modular – The training consists of three modules each about three minutes long so students can take the training at their own schedule.
Multimedia – Students prefer training material in different formats. Some prefer written training while others like video training. Our training consists of both introductory video based training using LOOM and more detailed instructions on GOOGLE DRIVE. Loom lets you record training videos on your laptop and then streams the recording for free without annoying YouTube ads.
Packaging – CAARD to package the different training modules into a simple, one page website that displays well on a phone or laptop.
Graphics – CANVA to create the graphics and schematics for the training.
Animations – EZGIF to create short animated GIFs such as the one above which show BigStage in action.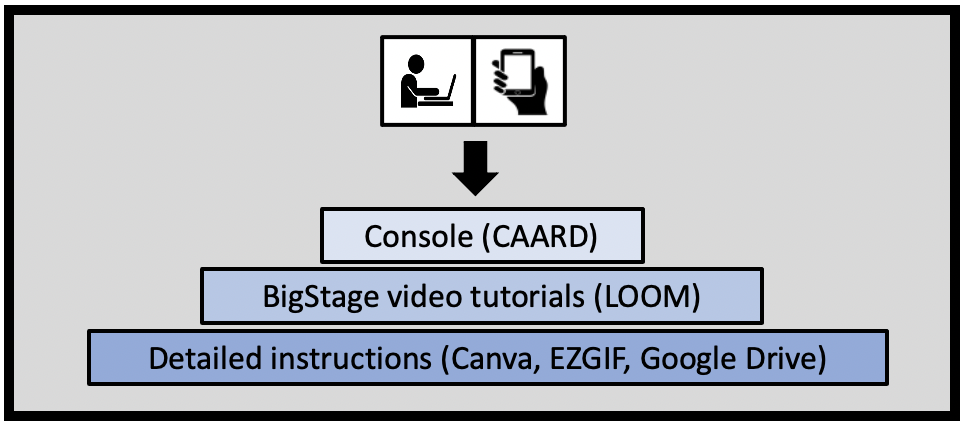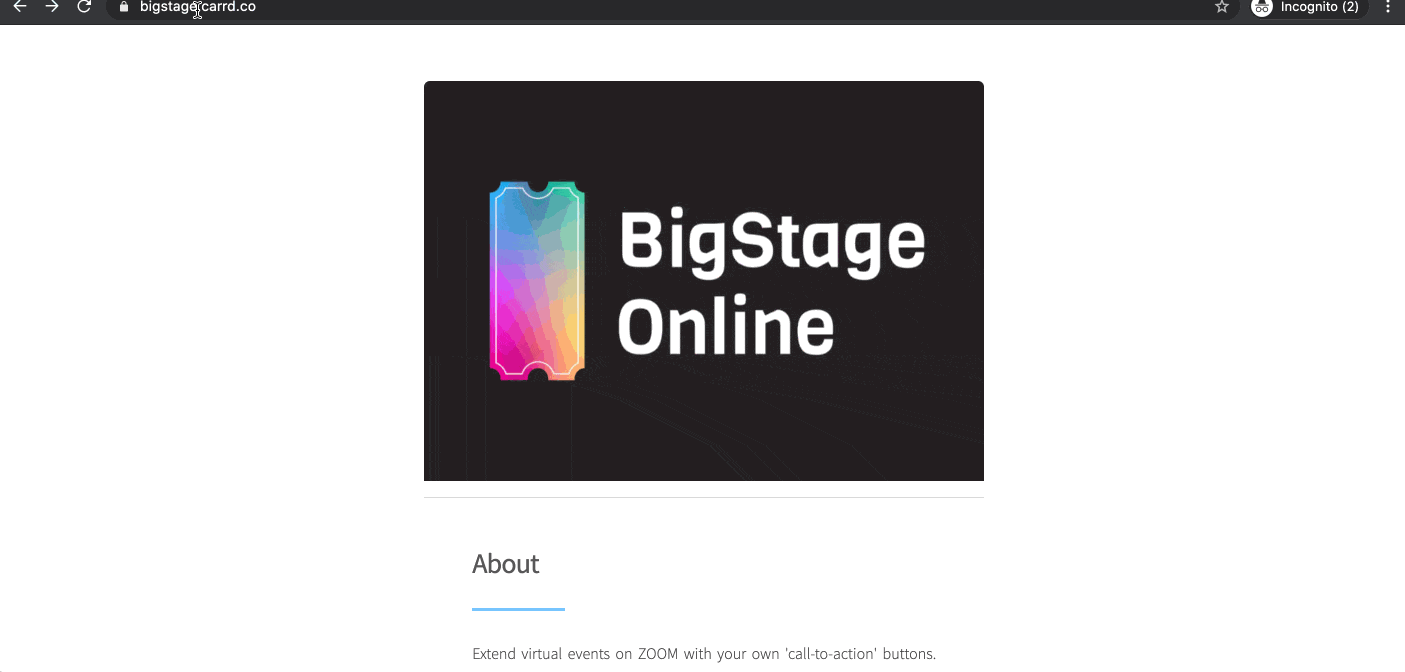 ---
Other free, wonderful apps to create online courses
UDEMY – This video course teaches how to tell your "Story of Self" in eight minutes and is hosted on Udemy. DemLabs developed the course (pro bono) for Organize For America (OFA). Kimberly Dryden and Demetris Akinnaso helped create the course. Course link.
PREZI – This interactive course was introduces strategic planning for organizers in the form of a simulated soccer match. It is built on Prezi and includes video clips of Heather Booth who founded the Midwest Academy in 1973 as a training institute for progressive community organizers. Course link.
ZOOM – This 20 minute course was created with ZOOM for the National Democratic County Officials (NDCO) to explain how to remotely collect video clips with the free Flipgrid app to remotely collect video clips from community members. Course link.
Quizlet – This course train canvassers how 'frame' issues through digital flash card based training created with Quizlet. It was designed for Michelle Pallas with StateWide Indivisible Michigan (SWIM). Course link.
YouTube – This course was developed for Susan Pfeiffer, a veteran SF based organizer who needed a better way to train new volunteers on how to phone bank. The four minute course is hosted on YouTube. Course link.
Glide Apps – This course was developed in both English and Spanish with Glide Apps. It can be viewed on a phone and includes details from many groups. It explains what to do during an encounter with ICE and how to take care of your children if suddenly deported. Course link.
---
DemLabs training using Glide Apps on your rights during encounters with ICE
Take Away
Design your training with your students' needs in mind. Pick the right format (video/text) for the course and the right duration. Use free apps that make it fast and easy to design your course. Contact us for pro bono help to get started with projects involving voting rights and social justice causes.
Deepak
DemLabs
Image credit: Bermix Studio on Unsplash
Read in browser »
---
DemCast is an advocacy-based 501(c)4 nonprofit. We have made the decision to build a media site free of outside influence. There are no ads. We do not get paid for clicks. If you appreciate our content, please consider a small monthly donation.
---