Dear Friends —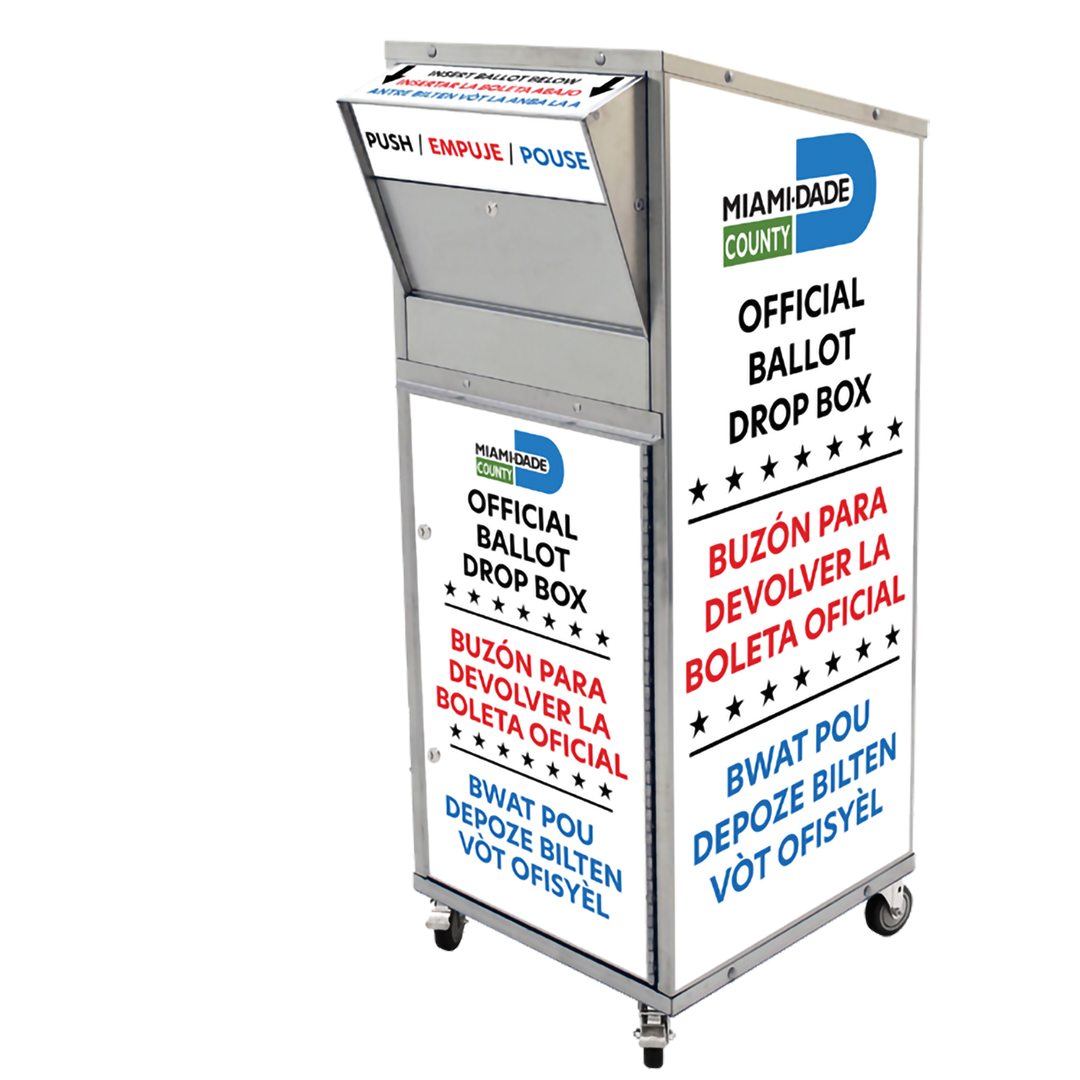 Early Voting started on Monday, and we've seen an overwhelming turnout in Miami-Dade County. If you haven't voted yet, please make a plan to turn in your vote-by-mail ballot at one of the 33 Early Voting Sites around the county, or vote in person. The ballot drop boxes and the polling sites are open from 7am – 7pm through November 1. At most locations, you don't even need to get out of your car to drop off your ballot. Click here to find an Early Voting site near you.
---
Ways to get involved:
We need volunteers at our Early Voting Sites!
We need more volunteers to help us hand out slate cards at Early Voting Sites across Miami-Dade. Some of our sites still need a Democratic presence. Sign up here: Join the Miami-Dade Dems at an Early Voting Site
Join one of our phone banks:
Help encourage voters to drop off their ballots at early voting location drop-boxes. Sign up here: https://www.mobilize.us/miamidadedems/event/309100/
Join the Voter Protection Team:
Voter protection team is looking for lawyers, problem solvers and patriotic people to help protect the vote during Early Voting and on Election Day. There are remote and in-person opportunities: https://go.joebiden.com/page/s/voter-protection-team-fl
Our Campaign Offices:
We now have campaign offices open in Aventura, Coconut Grove, Coral Gables, Cutler Bay, Doral, Homestead, Liberty City, Little Havana, Miami Gardens, North Miami, Palmetto Bay and Perrine. You can see their locations and hours here.
Events:
There are events happening each and every day from now until Election Day. Here are some coming up:
Friday, October 23: Drag Out the Vote
Come out to Palace South Beach to enjoy a drag show and celebrate our right to vote. Show your "I Voted" sticker!
---
Saturday, October 24:
Chiva Bus caravan with Congresswoman Debbie Mucarsel Powell in West Dade. Stay tuned for more details.
Biden Rally at Tropical Park (Bird Road Side): Sign up on Facebook.
President Obama will be speaking in Miami on Saturday — *the Miami-Dade Democratic Party will not be handling this event and we do not have tickets to hand out.*
Sunday, October 25:
The first of several Souls to the Polls caravans will be taking place in South Dade with speakers and festivities at South Dade Regional Library in the afternoon.
In the News:
Our Chair, Steve Simeonidis, made national news when he photographed an armed police officer wearing a Trump mask inside a polling location. There are a number of news stories explaining this incident.
CBS Miami: Chief Colina: Actions Of Uniformed Miami Officer With Pro-Trump Mask At Voting Site 'Unacceptable'
Miami Herald: Uniformed Miami cop spotted wearing pro-Trump mask near voting site will be disciplined
Buzzfeed News: A Miami Cop Is In Trouble For Wearing A Pro-Trump Mask Near An Early Voting Site
Become a Sustaining Donor
I can't thank all of our sustaining donors enough for stepping up and pitching in a small amount each month. These sustaining donations allow us to plan the programs that will drive up voter turnout across our county. We couldn't run our field program or our digital program without your support.
Can you become a sustaining donor of $7, $10, or $20.20 today?
We know this is a tough time for many of us right now, so please know we appreciate you staying involved in any way that you can. Thank you for all you do.
Onward,
Christopher Richmond
Executive Director
Miami-Dade Democratic Party
http://www.miamidadedems.org/
---
Coronavirus Resources: We've collected resources on drive-through testing, grocery store hours, unemployment and small business aid and more here at miamidadedems.org/covid.  
---
DemCast is an advocacy-based 501(c)4 nonprofit. We have made the decision to build a media site free of outside influence. There are no ads. We do not get paid for clicks. If you appreciate our content, please consider a small monthly donation.
---