2020 Election Update from the Coconino County Democratic Party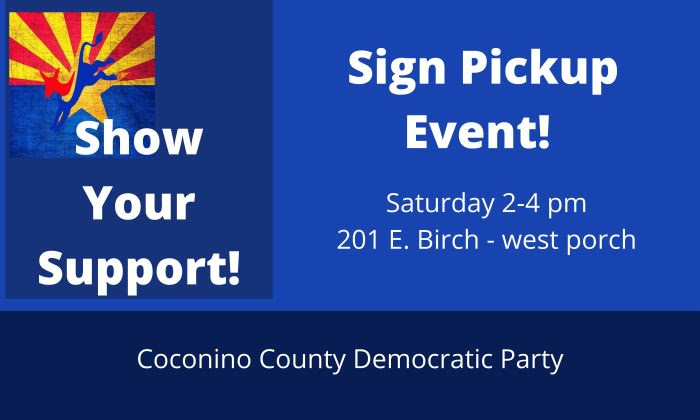 Latest on Biden/Harris/Kelly Signs
from Ann Heitland
I spoke with a shipping clerk at the trucking company this morning. Our signs were to have been delivered today BUT now not until tomorrow. I was told that they are on a truck — which is progress. How long can it take a truck to get from Phoenix to Flagstaff? We shall see.
Having more concrete assurance than before, we are moving forward with another sign pick up event on Saturday. Plus, we have nifty new bumper stickers:
Trying to fit a lot of signs on your lawn? Besides rotating them, here's another idea: Tie two together so that one candidate shows on one side and another on the other.
We want to acknowledge the hard work of Allan Gerston and Kerry Nugent and Bill Wade in running our sign pickup events this month. Also, Aubrey Sonderegger for producing bumper stickers.  And, speaking of signs, thank you to Bryan Bates, Nancy and Frank Branham, and Mary and Grant Gray for putting up giant Solar Team signs in near and far reaches of the County and to Cathy Rutherford for arranging the placement of our last one in Sedona.
Talking Points on Corporation Commission
Vice-Chair Marie Sansone has been writing a lot for us. Her latest blog post is about the Corporation Commission and our candidates. David Zorn's radio interview of Bill Mundell is also embedded in the post. Read it here.
Any Doubt About Voter Enthusiasm?
Check out this tweet from our County Recorders Office:
New Poll
Amidst the pandemic, Americans don't want campaigns knocking on their door. Just 16% say the Biden and Trump campaigns should be canvassing door-to-door this year, including only 7% of independents.
BE SMART >> There's been a narrative on this issue so far about whether Biden is "falling behind" by not door-knocking because of coronavirus since the Trump campaign is. But the reality is that Trump is doing something that very few Americans actually want him to do. It's yet another example of how he and his team are embracing extreme minority views during the pandemic.
What's "No Contact" Campaigning?
Phones
Social Media
More Talking Points
What to know more about Walt Blackman, for example? Go to our website and use the search tool at the right side of the menu bar. Type in "Blackman" and see what you get.
(We're a little light on Wendy Rogers, but watch for updates.)
Countdown:
11 Days Until Voter Registration Ends
13 Days Until Voting Begins
39 Days Until Voting Ends
Important info about voting in Coconino County here: CoconinoDemocrats.org/Vote
---
DemCast is an advocacy-based 501(c)4 nonprofit. We have made the decision to build a media site free of outside influence. There are no ads. We do not get paid for clicks. If you appreciate our content, please consider a small monthly donation.
---