I attended the 2020 March on Washington last weekend, flying all the way from Salt Lake City to join with my fellow activists and demand an end to police brutality against Black Americans. It was a thrilling experience. The day I got back, exhausted from the DC heat and weekend events, imagine how surprised I was to hear the President talking about me.
"The person on the plane said there were about six people like that person or more less and what happened is the entire plane filled up with the looters, the anarchists, rioters—people looking for trouble."
I knew from the moment I heard this that somehow the story of my very mild encounter with Devin Nunes on the flight from Salt Lake City to DC had made its way to Trump. My feeling was verified when The Daily Beast confirmed that the "anarchists" in question were on a plane from SLC to DC, and that their "target" was Congressman Devin Nunes.
Here's what REALLY happened, and why it is so beyond ridiculous that the President characterized it the way he did.
When the March on Washington was announced (the day of George Floyd's funeral), I immediately called Lori Coleman, a friend and coworker at DemCast Usa. and we booked tickets and a hotel that very day. We knew this would be an important moment in history, and we wanted to be there – to be a witness and to stand in solidarity with the Black Lives Matter movement.
This was my first trip to the DC area, and when the day of the trip finally arrived, I woke up early for my 10am flight. The plane I boarded was on layover from the LA area. As I waited to board, I talked to many people that were also heading to the March on Washington. The atmosphere brimmed with excitement, anger over what had been happening, and a feeling of solidarity among those that were going.
Early on, I recognized that Devin Nunes was on the plane. As you may recall, Nunes – a well known Trump propagandist and enabler – has such a low tolerance for criticism that he famously sued a Twitter user masquerading as "Devin Nunes' cow" because of how relentlessly the cow pointed out his treasonous activities on the platform.
In that light, everything that followed makes perfect sense.
About an hour into the flight, I went to the restroom, and on the way back I decided to have a little fun with Nunes. Having long been a supporter of @devincow, I pulled out my phone and hit record. Stopping at his seat, I asked him "Have you sued any cows lately?"
He just stared, so I asked again: "Have you sued any more cows latey?"
Then I did what any of my fellow "looters, anarchists or rioters" would do: I mooed at him.
I brought receipts:
(BTW – nice mask etiquette, Devin.)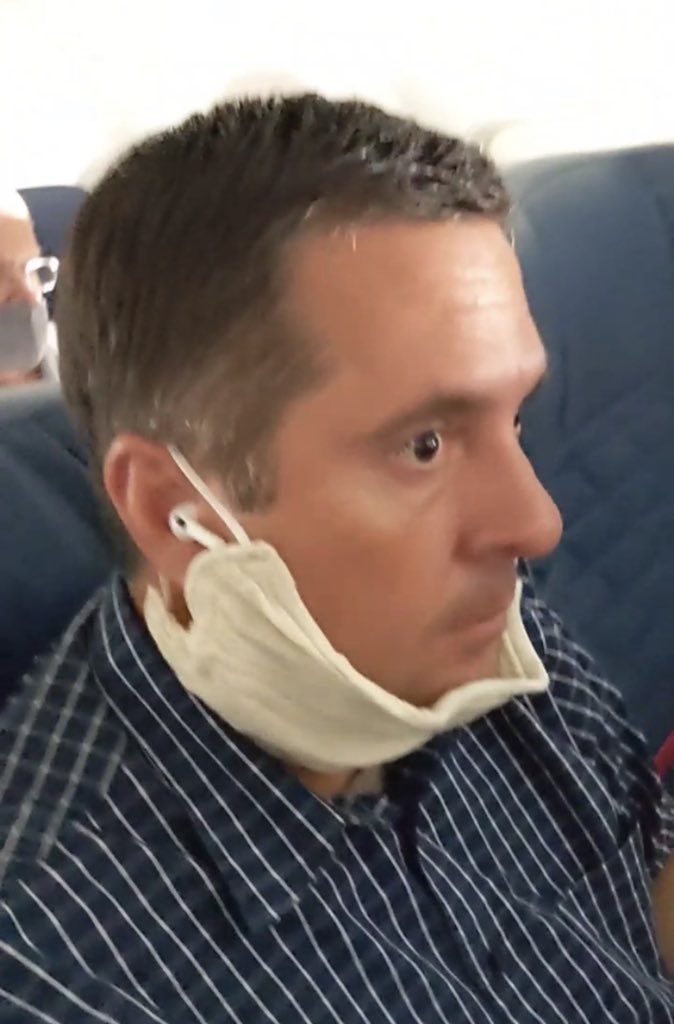 After that fateful moo, I walked back to my seat. That was the entire exchange.
I proceeded to watch closely as Nunes summoned two flight attendants, speaking to them for minutes. They closed off the mesh to first class, and allowed no one else to use the restroom at the front of the plane for the rest of the flight. When the flight landed, once again, two flight attendants stood guard to make sure that Nunes exited the plane before everyone else could moo at him.
A narrow escape! What a snowflake.
A 12 second exchange has now led to days of news coverage over the "antifa thug protestors that descended on DC to disrupt the RNC convention." In reality, there were no thugs – just this white suburban mom who mooed at him.
I like to picture the moment that Devin went crying to uncle Donald to tell him about all the scary people on that plane. It's hard to even fathom the intense fragility of this Twitter-cow-suing, suburban-mom-fearing man who turned a moo into a near-death narrative.
While this story is funny on its face, in reality this incident and its aftermath showcase the intensely dangerous games that Trump and his enablers play with the truth. This isn't a one-off event, and we all know it. This administration is only concerned with holding on to power, and they take every opportunity to twist and squeeze facts until they fit snugly into a narrative that suits them.
They've been doing this on a much grander scale with the entire Black Lives Matter movement since the death of George Floyd – painting protestors as anarchists who want to finish off the cities and then take their urban violence to your doorstep in suburban and rural America. It's pure fear-mongering and distortion, aimed at churning the white fragility that delivered him the White House in 2016.
Reality doesn't matter to them. Just the narrative.
In my experience, the reality of this movement is absolutely nothing like what Trump and crew purport it to be.
The weekend of the March on Washington, I attended the protests outside of the White House as Trump delivered his acceptance speech for the Republican nomination. There was music & dancing – it almost had the feel of a block party. There was no violence, no anarchy, no destruction. Nothing.
As Trump was getting ready to speak, we headed over to the South Side of the White House. There were sirens, blow horns, pots and pans and air horns. And a LOT of laughter.
These are the people that the President of the United States is calling "thugs". Everyday people who care passionately about this country and who have the gall to exercise their First Amendment right to engage in peaceful protest.
The next day, the march itself was transformative for me: powerful speakers, raw emotions and people of all races, ethnicities, ages, genders, orientations and identities coming together to say, in one voice: "No more."
This is my America and I reject the narrative that Donald Trump and Devin Nunes are weaving.
Do we now live in a country where you are not allowed to even speak to (ok, ok – and poke fun at) elected officials? A country that if you try to change the status quo so that equality is finally achieved, you are labeled "antifa"? A country that if you disagree with those in power you are a thug?
If so, I will proudly bear that label. I'll be a 'thug'.
But I'm also a voter. And I'll exercise my duty as an American on November 3rd to vote this propagandist and his enablers out of office.
 Jamie Carter is Director of Partnerships at DemCast USA. If you would like to help get out the vote in 2020, join our Focus14 program and adopt a swing state. We can win in November if we work together.
---
DemCast is an advocacy-based 501(c)4 nonprofit. We have made the decision to build a media site free of outside influence. There are no ads. We do not get paid for clicks. If you appreciate our content, please consider a small monthly donation.
---