Ballots Available in Eight Weeks!
You'll hear that the election is about 100 days from now. True, but ballots get mailed out much earlier. Pennsylvania's ballots, for example must be available on September 14th, which is just eight weeks from now! What does that mean? That means getting our phone banks going now is critical, because that's how we make sure Democratic voters in Arizona, North Carolina, and other super states vote and return their ballots. For now, continue to stockpile letters, recruit friends to our work, and join phone banks! Those swing-state voters are waiting for our calls, and we need to be sure that every ballot gets returned on time.
Your help is critical. Read on for details…
---
Who Knew? You Can Make Calls on a Smart Phone!
We all know we can use our smart phones to find the nearest doughnut shop, light up dark corners, send thumbs-up signs, time our baking, count calories, read "Born a Crime", check the surf report, watch dancing cats, deposit checks, listen to Rhiannon Giddens, and meditate. But did you know you can also call voters with a smart phone?
We almost forgot that basic phone feature too! But now that we know how, we're ready to teach you. We've learned that friendly voters in crucial states are sitting by their phones, hoping someone will break through the wall of social isolation and talk to them. They are bored, anxious, and ready to act! Learn how to call voters with your phone on July 26th. (The class is "for introverts" but extroverts are welcome too.) Both classes below are sponsored by Swing Left San Francisco.
Know some Spanish? Join a two-part "Phone Banking in Spanish" class (Part one is on Tuesday, July 21st from 7:00 – 9:00 PM and part two is on July 28th, same time.)
---
Phone our Focus States: AZ & NC
Call Arizona Voters on Wednesdays!
Every Wednesday, 3:00 – 5:00pm
Arizona boasts Saguaro cactus, eleven Electoral College votes, a winnable Senate seat, and a state house that's just about to flip blue. Let's help! We're calling on a rotating schedule for U.S. Senate Candidate Mark Kelly, AZ State Senate Candidates A.J. Kurdoglu (LD17/Phoenix) and Felicia French (LD6/Flagstaff), and AZ State House Candidates Jennifer Pawlik (LD17/Phoenix) and Coral Evans (LD6/Flagstaff). Co-sponsored by Swing Left Peninsula and Democracy Action.
Meet the AZ State Senate Candidates Who Will Clinch the Flip!
Monday, July 27th, 5:30pm
We only need to flip three State Senate seats in order to gain control of the Arizona State Senate, and these three candidates are likely our tickets to success! Hosted by the Arizona Democratic Legislative Campaign Committee (ADLCC) and Swing Left Maricopa County. RSVP here
Other Winning Actions for Arizona
Text for U.S. Senate candidate Mark Kelly. Get info here.
Phone bank on your own time for the state legislature candidates in the four strategic districts we need to win to ensure the entire AZ state legislature flips! RSVP here.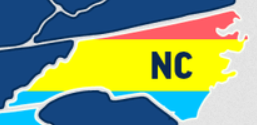 Call North Carolina Voters On Sundays!
Every Sunday, 1:00 – 3:00pm
North Carolina, the Tar Heel State, hosted the Wright Brothers' first flight and now offers 15 electoral votes! Its U.S. Senate Seat is ready to flip, and we can switch the state government from red to blue too! We're making calls to ensure a Biden victory, to defend Democratic Governor Roy Cooper's office, and to push Senate Candidate Cal Cunningham into the winner's circle. One call to NC advances three crucial races!
Other Winning Actions for North Carolina
Voter Protection Phone Bank: Recruit poll observers and hotline volunteers for November's election, every Thursday at 12:00pm. Sign up here.
Phone bank on Fridays and Sundays for Cal Cunningham and other NC candidates. Friday, July 24th (2:30pm) and alternating Sundays at 12:30pm. Click here for more info and to sign up.
Help Wanted – Join A Great Phone Bank Crew!
Got good Zoom or training skills? All of our phone banks take place on Zoom, and on every weekly event we need: several trainers, a chat manager, a Zoom technologist, and more. We can train you! Check out one of our phone banks above to see how they work, and then email us at phonebanking@swingleftpeninsula.org to get involved! With many weekly events between now and November, we need a large behind-the-scenes crew to stay afloat.
---
Parents – You Are Welcome!
---
GOTV Letters To Mail!
Want to expand our reach?
We have distributed 150,000 Get-Out-The-Vote letters since May 1st, thanks to a great Swing Left Peninsula community!
We need more "letter captains", people who will:
Reach out to friends and family and ask how many letters they want to personalize (checkout a sample email here for background and a GOTV letter here.)
Email lettercaptains@swingleftpeninsula.org and arrange to get the letters.
Distribute the letters and make sure they are mailed in October.
These letters, part of Vote Forward's "Big Send" of ten million letters, encourage under-represented groups of Democratic-leaning voters to go to the polls. We're writing them now so we can make calls, send texts, and canvass (if we can) in the fall.
Want to write letters?
You can:
Attend a Zoom letter Party: It's highly motivating to chat with other activists while you write!
Pick up or get letters delivered: Click here for our pick up & delivery options in several Peninsula cities.
Write letters on your own at home: Why not set a time each week to complete 20 letters? It takes about an hour. Click here to learn how to get started with downloading and printing letters.
---
Listen from Home
"Democracy in One Pod or Less…"
Swing Left's Podcast Episode 49
Here's a short discussion with Lisa Herrick PHD, a clinical psychologist who became politically activated in 2016 when Trump was elected. She founded a powerhouse volunteer group in Washington D.C., "31st Street Swing Left" in February 2017. Now a group of 1,000 members, 31st Street was part of the successful effort to turn Virginia Blue last year, and has raised a jaw-dropping amount of money for campaigns! Get some great insights here!
---
Partner Organization Events
Local Event Calendar and Texting Help!
Our local DVC (Democratic Volunteer Center) maintains a fantastic calendar of events with phone and text banks, candidate fora, and more. Also, learn how to start TEXTING with the DVC's Getting Started Guide, or get texting help and sign up for a weekly summary of current texting campaigns on several platforms at texting@demvolctr.org.
Meeting with Congressman Josh Harder From Swing Left San Francisco
Wed, July 22nd, at 6:30pm
Join us for a conversation with Josh Harder, the Congressman from our nearby swing district, CA-10. We'll discuss his campaign strategy in a no-canvassing era, talk about why we can't assume his re-election is a shoo-in, and what we can do to help him keep his seat. RSVP Here.
@Home Political Salon Series
Racial Justice and the 2020 Vote
Wed, July 29th, at 4:30pm
Featuring Jamal Watkins, NAACP, and Cliff Albright, co-founder of Black Voters Matter, on the fight for racial equity and a free and fair 2020 election. Find out how you can help assure that every voter can register and vote in this unprecedented election. To RSVP, email Michelle.
Fundraiser for Mark Kelly
With Stacey Abrams and Gabby Giffords
Thurs, July 30, at 5:00pm (co-hosted by Swing Left East Bay)
We've said there is no path to flipping the Senate—and putting Mitch McConnell out of a job—without Mark Kelly winning his bid for U.S. Senator of Arizona. Donations start at $100, with a special pre-event reception for donors over $2,800. To honor the speakers' request, we ask that you do not post any details about the event, or your attendance, on social media. RSVP Here.
Training to Win 2020
Sat, Aug 1st, 10:00am – 1:45pm
Training to Win 2020 is a nationwide Summit focused on helping Democratic activists navigate challenges in traditional grassroots and field organizing that have arisen due to the pandemic. Speakers include:
Dan Pfeiffer, Pod Save America
Congressman Adam Schiff and Congresswoman Karen Bass
Leah Greenberg, Indivisible
Reggie Hubbard, Move on
Rita Bosworth, Sister District
Ethan Todra-Whitehall, Swing Left
Join this Joint Virtual Training Conference to Kick Off the Final 100 Days!
---
Partner Phone/Text Banks
Flip the West: Flip the Senate
Act Fast, Two Weeks Left: Encourage AZ Democrats to sign up for vote by mail and to vote in the August 4th primary. Five days a week! Mon, Tues, Thurs: 4:00 – 6:00pm; Wed: 3:00 – 5:00pm; Sat, 10:00 – 12:00pm. Register here.
Get High Schoolers Involved: Special phone banks—led by high school and college students—to help students get involved. Weds, 3:00 – 5:00pm. Sign Up here.
Weekly Phone Bank Training: Tues and Thurs, 9:00 – 10:00am or 5:00 – 6:00pm Sign Up here
Call and Text for Joe Biden
Phone Bank for TJ and Josh:
---
Psst – Never heard of Rhiannon Giddens? Spend three transformative minutes here.
---
Finally…
Follow us on Twitter (@SwingLeftPen) or join our Facebook group for updates on our latest events, actions and swing district news.
Questions? Email us:
Voter contact: votercontact@swingleftpeninsula.org
Letter Parties: letterwritingparties@swingleftpeninsula.org
Fundraising: fundraising@swingleftpeninsula.org
CA-10 Outreach: ca10@swingleftpeninsula.org
CA-21 Outreach: ca21@swingleftpeninsula.org
Arizona Trips: flip_arizona@swingleftpeninsula.org
Join our email list: https://actionnetwork.org/forms/slp_subscribe
If all else fails: info@swingleftpeninsula.org
---
As always, thanks for your support!
| | |
| --- | --- |
| | Barb Berry, Judith Bolker, Linda Brummer, Scott Carlson, Michelle Chang, Carole Flores, Anne Frahn, Mary Gill, Colin Gottlieb, Laura Gottsman, Barbara Kyser, Bruce Knoth, Victoria Maxson, Kirstin Sego, Karen Spiro, Deb Strichartz and Mary Takahashi. |
---
DemCast is an advocacy-based 501(c)4 nonprofit. We have made the decision to build a media site free of outside influence. There are no ads. We do not get paid for clicks. If you appreciate our content, please consider a small monthly donation.
---