Justice For George Floyd
Vigils and protests are spontaneously being organized by groups and concerned citizens across Westchester who are seeking Justice For George Floyd and are speaking out against racial injustices in our justice system. Click here for a laundry list of ways to take action in solidarity with Minneapolis. Check out our Facebook page for updates about local events as they develop.
---
CD17 Forum This Thursday
Don't miss our CD17 Zoom forum featuring all of the candidates running to replace Rep. Nita Lowey, who is retiring. Last week, County Legislator Catherine Parker dropped her congressional bid leaving seven candidates vying to win the primary. Click here to register for the event which is this Thursday, June 4th @ 7PM. It will be moderated by John Metaxas of WCBS Newsradio.
---
Check Your Mail For A Ballot
New York's first ever vote by mail school board and budget election is right around the corner. Your school district should have mailed you a ballot with a postage paid return envelope to vote by mail. The school board election is June 9th.
If you filled out an absentee ballot application for the June 23rd Democratic Primary, your ballots should be arriving in the mail.
If you are voting by mail, you will get TWO ballots. One for the presidential primary and one for local (congressional, judicial, district attorney) races. Be sure to send BOTH ballots back to the BOE. They must be postmarked by June 22nd.
If you want to vote by mail but haven't filled out an application, click here to download the application from the BOE website and check the box labeled "temporary illness." You must mail your application by June 16th.
Voting by mail is only one of three ways you can vote in the primary. You can also Vote Early starting on June 13th or you can Vote on June 23rd – Primary Day.
Click here for a complete guide to voting in the NY primary.
---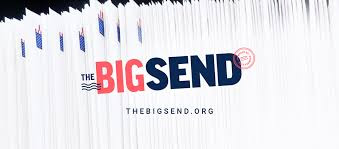 Time To Write Letters and Postcards
Join the national effort The Big Send to send 10 million letters to voters before the general election in November.
Here's how it works: over the next few months, you write letters (yes, physical letters!) to voters, sharing why you vote and why it's important than they do. You put them in envelopes and stash them in a safe spot in your house.
Then, in October, you'll get a reminder to slap a stamp on each envelope and drop it in the mail. The United States Postal Service will deliver the messages to each voter and, if we're successful, 10 million more people will vote!
---
You can also join IW's postcarding efforts to help elect Democrats around the country. Email communications@indivisiblewestchester.org for more information.
---
Save USPS
COVID-19 proves we need to be able to vote by mail; however the United States Postal Service is in serious danger of going bust with elections right around the corner. The USPS has also reaffirmed their policy to deliver mail-in ballots without postage so please sign this petition,this one, this one.and this new one from the American Postal Workers Union. Please share widely!
---
Let's Flip Another NY State Senate Seat
Close to home, help Democrat Karen Smythe pick up a NY State Senate seat in the Hudson Valley by joining our virtual fundraiser.
---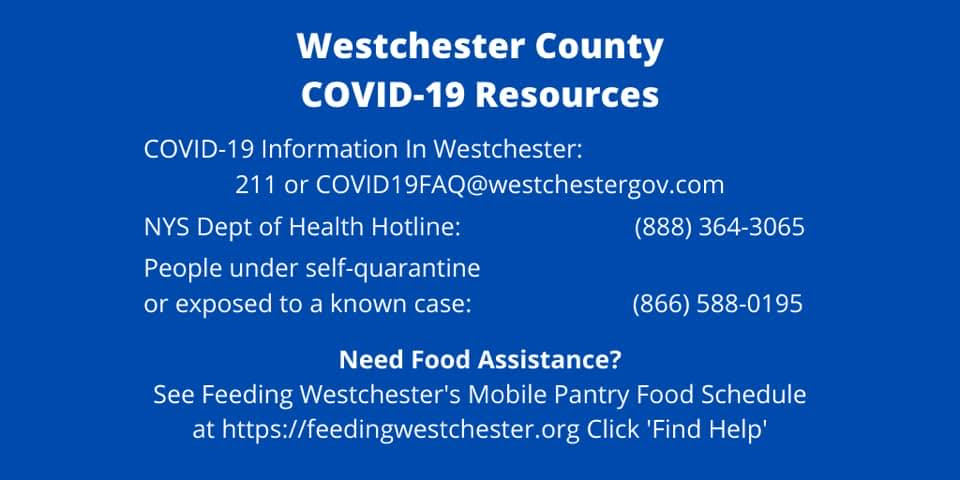 Click here to read a roundup of what recreation facilities are expected to be open this summer as Westchester gradually begins reopening.
Check out this dashboard to see what metrics have been met as we head into the second week of Phase 1. Here is a list of what can open during each of the four phases.

Antibody testing is now available at the Westchester County Center. Call 914-326-2060 for more information.
Ways To Help Those In Need:
Masks are in short supply. Help out @ www.sewforny.org
Call (914) 849-GIVE or email wphcmail@wphospital.org to contribute to White Plains Hospital's COVID-19 Relief Fund
New York-Presbyterian Hospital, in addition to accepting masks, gloves and protective eyewear, would also accept funds for food for the health care workers and old iPads to help patients in hospitals stay connected with loved ones. You can email NYP at masks@NYP.net
Greenwich Hospital has created a donation page for financial donations. Http://giving.greenhosp.org/giving/covid-19/support/funds/
Here are some Domestic Violence hotlines and resources:
Westchester County
Hope's Door, Inc. (888) 438-8700 – Provides both residential and non-residential domestic violence services. OCFS Licensed and Approved.
My Sisters' Place (800) 298-SAFE/7233 – Provides both residential and non-residential domestic violence services. OCFS Licensed and Approved.
Westchester County Office for Women– Provides non-residential domestic violence services. OCFS Licensed and Approved
Family Helpline/Hotline

weekdays 9am – 5pm (914) 995-5972
Weekend and after hours (914) 995-2099
Spanish Language (White Plains) (914) 995–6581
Spanish Language (Yonkers) (914) 231-2882
---
Get a Complete Count
Make sure to fill out your Census form today – click here to get started.
---
We stand Indivisible.
---
DemCast is an advocacy-based 501(c)4 nonprofit. We have made the decision to build a media site free of outside influence. There are no ads. We do not get paid for clicks. If you appreciate our content, please consider a small monthly donation.
---