Memorial Day Statement 
Excerpt from Letters From An American, Heather Cox Richardson
heathercoxrichardson.substack.com
"Numbers alone cannot possibly measure the impact of the coronavirus on America, whether it is the number of patients treated, jobs interrupted or lives cut short. As the country nears a grim milestone of 100,000 deaths attributed to the virus, The New York Times scoured more than 1,000 obituaries and death notices honoring those who died. None were mere numbers."
This dramatic cover does more than mark a stark number. It rejects the toxic individualism embraced by a certain portion of Trump's base. These people refuse to isolate or wear masks either because they believe the virus isn't actually dangerous or because they insist that public health rules infringe on their liberty or because, so far, the people most likely to die have been elderly or people of color and they are not in those categories.
The New York Times cover rejects this selfishness and reminds us that we are all in this together… or should be. At least, this has been our principle in our better moments, and some people have taken it quite seriously indeed. On Monday, Memorial Day, we will honor those young men and women who did not believe that being an American meant refusing to inconvenience themselves to help their neighbors. Instead, to protect their fellow Americans, they laid down their lives.
---
LOCAL ACTIONS
From Mavis Brauer, Prescott Indivisible Chair…
Call to Action
Last week PI sent out a "call to action" asking you to participate in the virtual town hall with U. S. AZ Reps to get relief for immigrant families (Gosar didn't show up!) and to send an email to add your name to Terry Goddard's letter about Outlaw Dirty Money. Your response to both calls was HUGE according to the organizers, Patty Willis and Diane McQueen. Thank you! 
Connie Slaten and Rebecca Blankenship are continuing to update the PI Member list and contact information to add more capabilities for our future "call to action" requests.
Businesses Re-Opening & Covid-19
Now that businesses are opening back up and wearing a mask is "optional" (according to the mayors of Prescott, Chino Valley and PV) this is no time to become complacent about continuing good practices (i.e. wear a mask, social distancing, don't touch your face and wash your hands often) for your own safety. Complacency will invite our community to become a "hot spot" for Covid-19 which increases the risk for all of us. For me personally, my hairdresser refuses to wear a mask so I am making the conscious choice of not going into her shop for my own safety. What businesses do you frequent and do they have safe practices to protect themselves and you? Some people just aren't grasping how many people are dying – which is 100,000 in this country!

Doug Kearney, our PI researcher, passed along this link to visually show what that looks like. CLICK HERE
Voter Values Project Postcards
This week, we mailed 1,000 postcards to Independents asking them to sign up for early voting (i.e. PEVL, Permanent Early Voting List). We used two designs, 500 each, to see which would be the most effective. We also asked them to let us know which issues are most important to them. When we find out what those are, we are going to find out what our reps' views are, what our candidates views are, and find any articles that can offer more pertinent information. When we put all of that information together, we're going to email it back to the Independents who responded to our postcards as well as post it on our website (prescottindivisible.org) and Facebook page.

Doug Kearney is leading our research team. If you would like to be a part of that effort, please email Doug at douglas.kearney@americantower.com
Voter Values Project Fundraiser: Masks
Louise Clara and Candy Atkinson continue to make masks to raise money for postcard stamps for the Voter Values Project. In addition, Rita Day has donated over a dozen to sell. For a suggested donation of $10 you can have a hand sewn mask to help you stay safe AND support the Voter Values Project postcard effort.

If you would like to order masks, go to the PI Website (prescottindivisible.org) and make a donation with the specification that it's for VVP. In case you don't hear from Louise within 24 hours of your donation, please contact her at lclara5250@msn.com. Thank you for your support.
---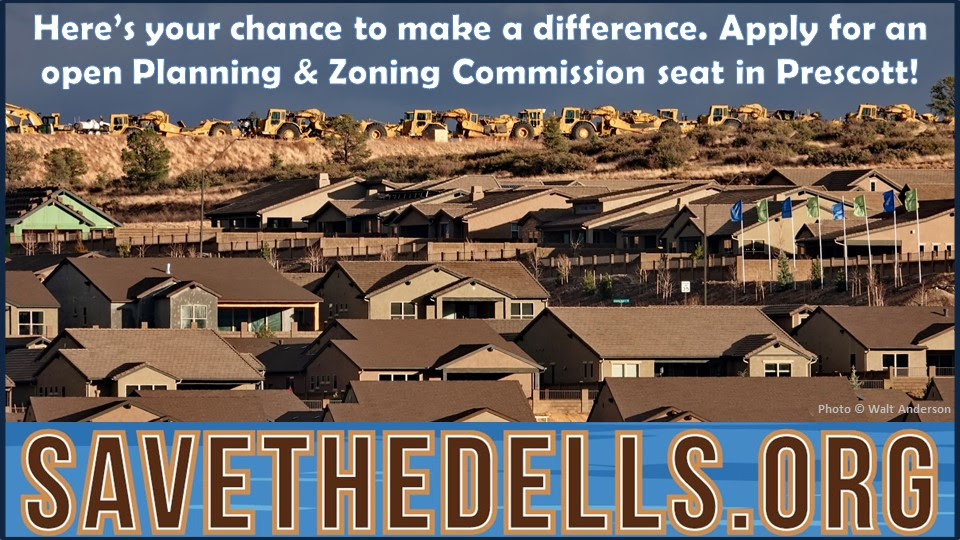 The Prescott Planning & Zoning Commission has two open seats that need to be filled!

If you want to see wiser development patterns in Prescott and you've got planning and zoning or building experience, please consider applying for one of the open Planning & Zoning Commission seats. If you don't have the necessary experience, maybe you know someone who does. Please help us spread the word, and thank you!
Applications are due by 5:00 p.m. on Friday May 30th, 2020: http://www.prescott-az.gov/city-seeks-new-applications-for-multiple-boards-commissions-committees/.
---
ARIZONA STATE
SAVE OUR SCHOOLS WEBINAR, Weds, May 27, 5 pm
Want to learn more about COVID impacts on schools, Arizona's looming budget crisis, and more? CLICK HERE to join Beth Lewis of the SOSAZ Network and David Lujan of Arizona Center for Economic Progress.
---
DRIVE THROUGH & SIGN INVEST IN ED PETITIONS
Starting this weekend and running through the end of June, Invest In Ed will have two drive through sites setup on the weekends for people to sign the petition. Please bring your ID and personal protective gear.
We will also have a notary available to notarize and accept Outlaw Dirty Money petitions. We are no longer gathering signatures for Outlaw Dirty Money but we want to get any petitions that you have with signatures on them notarized and back to us. Terry is filing an appeal with the Governor, Majority Leader of the House, and Senate President to let us carry these signatures over to the 2022 election cycle.
Locations and times:
Prescott
Pioneer Park, 1200 Commerce Dr, Prescott, (off of Willow Creek Road)
Saturdays and Sundays in June, 3 -5 pm

Prescott Valley
Hampton Inn, 2901 North Glassford Hill Road, Prescott Valley
Saturdays and Sundays in June, 9 – 11am
CONTACT: 
Diane McQueen, No AZ Regional Coordinator, Outlaw Dirty Money, 928-699-4308
---
SIGN UP WITH AZ READY THIS WEEK
–make calls for Invest in Ed
–protecting reproductive rights
–phone & text banking for PEVL
Wednesday, May 27th 5 -7 PM– Make Calls for Invest In ED – We'll be reaching out to voters to urge them to support the ballot initiative that would significantly increase funding for education in our state. There will be a guest speaker starting at 5pm and then phonebank training before hitting the phones to help fund education! https://www.mobilize.us/arizonaready/event/274981/

Saturday, May 30th, 1-2:30 PM – Protecting Reproductive Rights for Every Body – Join Arizona Ready and NARAL Pro-Choice America for a discussion about protecting the reproductive rights of every body. We will cover the laws that are effecting Arizonans when it comes to abortion and family planning resource access and how to protect reproductive rights in the upcoming election and in the future. https://www.mobilize.us/arizonaready/event/275093/

JOIN text and phonebanking on daily to get as many people as possible signed up for the Permanent Early Voter List (PEVL) so everyone can vote safely in the upcoming election
Daily Phonebanking – https://www.mobilize.us/arizonaready/event/274765/
Daily Textbanking – https://www.mobilize.us/arizonaready/event/272370/

PLEASE SIGN UP And please feel free to share these with any friends you think might also be interested in defeating Donald Trump's agenda in Arizona! Working together we are AZ Ready!
---
FROM INDIVISIBLE NATIONAL
Demand Safe Voting Virtual Townhall
with Elizabeth Warren& Special Guests
Wed, May 27 at 5:00 PM ET (That's 2 PM AZ time)
The coronavirus pandemic is not only a public health emergency and an economic crisis — it's also a threat to democracy as we know it. Join Indivisible next Wednesday for a joint livestream with Elizabeth Warren to talk about how to protect our elections during these unprecedented times. 
What: Demand Safe Voting Virtual Town Hall
Who: Indivisible, Elizabeth Warren, and special guests
When: Wednesday, May 27 at 5:00 PM ET
Where:Click here to RSVP for this live event 
Elections are the heartbeat of our democracy — Americans shouldn't be forced to choose between their right to vote and their safety. We need to act now to expand access to vote by mail, including mailing every registered voter a ballot, safer in-person voting locations, and expanded early voting periods. 
RSVP now to join us and Elizabeth Warren this Wednesday, May 27 at 5:00 PM ET to discuss how we can save our democracy!
---
5 WAYS TO SAVE THE POSTAL SERVICE
Read about it here:  CLICK HERE
And buy stamps:   usps.com
---
---
CALENDARS
---
AZResist is an independent calendar covering
civil rights and progressive politics across Arizona.
---
CONTACTS
Contact Your Members of Congress
KYRSTEN SINEMA
825 B&C Hart Senate Office Building Washington DC 20510
(202) 224-4521 
contact@sinema.senate.gov
MARTHA MCSALLY
B40D Dirksen Senate Office Building Washington DC 20510
202-224-2235
contact@mcsally.senate.gov
PAUL GOSAR
2057 Rayburn HOB, Washington, DC 20515 202-225-2315
6499 S. Kings Ranch Rd. #4, Gold Canyon, AZ 85118 480-882-2697
220 N. 4th St., Kingman, AZ (by appt. only)
122 N. Cortez St., Suite 104, Prescott, AZ 86301 928-445-1683
http://paulgosar.house.gov/contact/
Arizona
Governor, Doug Ducey
State Capitol, 1700 West Washington Street, Phoenix, AZ 85007 602.542.4331
http://azgovernor.gov/governor/form/contact-governor-ducey
Legislature http://www.azleg.gov/
Senator Karen Fann kfann@azleg.gov 602-926-5874
Rep. Noel Campbell ncampbell@azleg.gov 602-926-3124
Rep. Steve Pierce spierce@azleg.gov 602-926-5584
Prescott
Mayor Greg Mengarelli
201 S. Cortez St. Prescott 928.777.1248
---
DemCast is an advocacy-based 501(c)4 nonprofit. We have made the decision to build a media site free of outside influence. There are no ads. We do not get paid for clicks. If you appreciate our content, please consider a small monthly donation.
---