IC-SS Weekly Update: May 18, 2020
Zoom with Us: Thurs, May 28, 7:00 pm
Grab your glass of wine or mug of tea, gather your Michigan postcards, and come to Indivisible Chicago-South Side'sZoom Postcard Party, Thursday, May 28, 7:00-8:30 pm. You can rep your team or just yourself. Don't worry – postcards aren't required. Join us to learn more about the postcard project or just say hi.
At our Zoom party, check in with friendly folks you've missed and, together, we'll keep moving toward a better 2020. RSVP by email to get the Zoom link.
Note: Indivisible Chicago Alliance will be holding citywide Zoom Postcard Posse socials. Watch for those too! For more info about Indivisible Chicago-South Side's participation in the Indivisible Chicago Alliance postcard project, see the box below.
---
We Got the Postcards 
Let's Write!
Aren't the Michigan postcards beautiful? We've got 4000 of these babies, and IC-South Side Co-Leader Esther Peters has been busy getting them – safely – to members.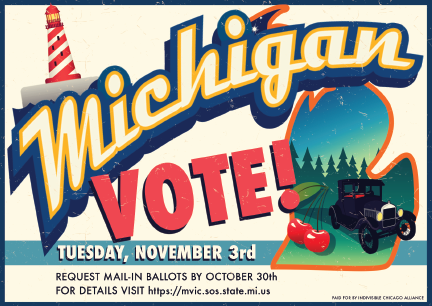 Here's IC-South Side member Michael Aaron working on his first batch. "It's ridiculously simple," he says. "I just copy the script and address on them, order postcard stamps to stamp them, and then I'll get them back to Esther."
If you want to write postcards but haven't yet signed up, please:
1. ORDER POSTCARDS. Fill in your order form at the Postcard Posse order page. Ask for 100 (unless you know you'll need more) and select HYDE PARK as your pickup/delivery point.
2. REGISTER. Sign up at the Postcard Posse registration page to get notifications from ICA about the project, opportunities to take part in citywide Zoom socials, and chance to compete with a team.
Team players: If you want to be on an IC-South Side team, choose Join an Existing Team option and then choose one of two teams: South Side Scribes, Local 15 or South Side Scribes, Local 37. Pick according to your zip code – or your whim! (You and your friends can also create and name your own team, if you prefer.)
Of course, you are welcome to do the writing on your own. The most important thing is to WRITE POSTCARDS to voters.
3. IF YOU CAN, BUY STAMPS. Youaren't required to buy stamps, but if you can afford to:
The most important thing is to WRITE THE POSTCARDS, and return them to Esther.
Reminder: Indivisible Chicago-South Side belongs to the Indivisible Chicago Alliance (ICA). ICA has joined the Postcards to Wisconsin & Michigan effort, but we're operating through ICA's Postcard Posse. The Postcard Posse will have teams and standings and the chance for members to work together via online connectivity tools. Learn more by watching the recording of the ICA Postcard Posse kick-off.
QUESTIONS?
Contact us at Indivisible Chicago-South Side.
---
Michigan Mondays – Phonebank from Home
Who's this engaging young woman? She's Abigail Wheeler – fire fighter, EMT, and candidate for State Rep in Michigan's 66th District (SW Michigan). Abby is determined to bring better to her district and help turn Michigan blue.
Indivisible Chicago Alliance phonebankers (including IC-South Sider Betsy Rubin) met Abigail Wheeler last week on Zoom. An inspiring moment! To help turn our neighbor state blue, join Indivisible Chicago Alliance to call voters on "Michigan Mondays."

Each Michigan Mondays phonebank session starts with a 30-minute orientation. You can also make phone calls to recruit friendly Chicago volunteers to phonebank. Sign up for Michigan Mondays phonebanking or volunteer recruiting.
PS What if you're new to phonebanking? Or experienced but seeking tips? Attend a free, 30-minute training from the phonebank experts at Indivisible Chicago Alliance. At the end, you have the option to go straight into the phonebanking session that follows. Sign up for the Phonebank Training for Bashful Activists.
---
BWOP's Virtual Press Conference: May 20, 9:00 am
Black Women Organizing for Power Chicago (BWOP) invites you to attend a virtual press conference about their Black Community Covid-19 Response Policy Demands (and do sign the petition, if you haven't already).
Join BWOP online for this presser, Wednesday, May 20th, 9:00 am. Register here.
---
Learn about BLOC – and Their Path to Win Wisconsin
Indivisible Illinois-9th invites other Chicagoans to join their online salon "How Milwaukee Could Decide the Next President" on Wed, May 20, 7:00-8:30 pm. RSVP here.
Salon guests include Deborah Harris, Executive Director of Chicago's Action Now, and Angela Lang, Executive Director of Milwaukee's Black Leaders Organizing for Communities (BLOC). Learn more about Action Now and BLOC from their websites:
Action Now "is a pillar of liberation and strength in Chicago and we will continue to fight for a future that embraces the most marginalized among us at all cost."
BLOC works "to ensure a high quality of life and access to opportunities for members of the Black community in Milwaukee and throughout Wisconsin.
---
COVID-19 Resources
Places to donate on the South Side
South Side Weekly.COVID-19 South Side Community Resource Guide
University of Chicago info & service resources:
Serve Illinois – Volunteer opportunities
City of Chicago.Chicago's Coronavirus Resource Center.
Cook County. Cook County Government's Information on COVID-19 page
State of Illinois. coronavirus.illinois.gov. (And get updates via Governor Pritzker's website, Facebook and Twitter.)
Chicago Reporter.How is COVID-19 affecting your ZIP code in Illinois?
South Side Weekly's COVID-19 Tracker by ZIP Code, showing how many deaths each Chicago community area has suffered; updated daily: SSW COVID-19 Live Tracker.
SHARE Network (South Side Healthy Aging Resource Experts.) SHARE Network has compiled a tailored list of COVID-19 Resources for older adults, caregivers, healthcare providers, and the community at large: COVID-19 resources (find resources along left side of screen)
City Bureau. Chicago COVID Resource Finder
Illinois Call4Calm Text Line: If you or a loved one are struggling with stress related to the COVID-19 pandemic and need emotional support, text TALK to 552020 for English or HABLAR for Spanish. This service is free and available 24/7.
Crisis Text Line, a nationwide service. If you are in crisis and don't know where to turn, you can text the word Home to 741741. Crisis Text Line serves anyone, in any type of crisis, offering 24/7 support via text. (Recommended at a City of Chicago forum hosted by South Shore Works.)Get info on Crisis Text Line. 
Got a local resource to recommend?Email us!
---
Email: Indiv.Chi.South@gmail.com
Follow IC-SS on Facebook and Twitter
---
DemCast is an advocacy-based 501(c)4 nonprofit. We have made the decision to build a media site free of outside influence. There are no ads. We do not get paid for clicks. If you appreciate our content, please consider a small monthly donation.
---