Local Actions
PRESCOTT INDIVISIBLE GENERAL MEETING– VIA ZOOM
Tuesday, May 7 @ 6 pm
Mark your calendar and watch for Zoom link announcement
---
CANVAS FROM YOUR COUCH
Please help us Flip LD 6 and Arizona #redtoblue
Sign Up! to "Canvass from your Couch" on Mobilize
Thursdays 2 pm – 5 pm and Saturdays 9 am – Noon

We know what we need to do to win. We have to contact voters in LD 6 and let them know about Mayor Coral Evans and retired Lt. Col. Felicia French. The more voters know about Felicia and Coral the more they like them. That is where you come in. Direct contact with voters is the key to winning and flipping the AZ Legislature
CONTACT: Jay Ruby, District Field Organizer Verde Valley jruby@azdem.org
Cell 928-925-2708 Land 928-649-3678
The Lutes for Supervisor campaign wants your help to to invite people to our virtual "Your Yavapai – Your Future" neighborhood discussion.
We are continuing our neighborhood based listening approach and asking your help to call dem friendly voters to alert them to upcoming virtual events with John and let them know about his candidacy.
TO HELP OUT CONTACT janesmoore@gmail.com 
---
Judy Stahl for Arizona House, LD1
CONTACT: Amber Faith, Campaign Manager (602) 531-0529
After collecting 1462 of voter signatures, Judy Stahl has qualified to be on the ballot in the 2020 race for LD1.
Stahl's top legislative goals are affordable health care, a strong economy invested in green energy and technology, and fully-funded public education, which she considers necessary to develop flourishing, future-directed communities.
While this is her first run for public office, Stahl has hands-on knowledge of the legislative process after successfully leading the seven-year campaign to create the Arizona State Board of Massage Therapy. About her past advocacy, Stahl said, "Working cooperatively with Republicans and Democrats has given me an understanding of what happens at the State House and has prepared me to jump right in and get to work on day one of my term of office. We need bridge building, consensus, and action in the State Capitol, and that's what I will bring to the Arizona House. I know how to get things done."
For more information, visit​ ​judystahl.com​ ​and connect on​ ​Facebook​ and ​Twitter​
---
Arizona State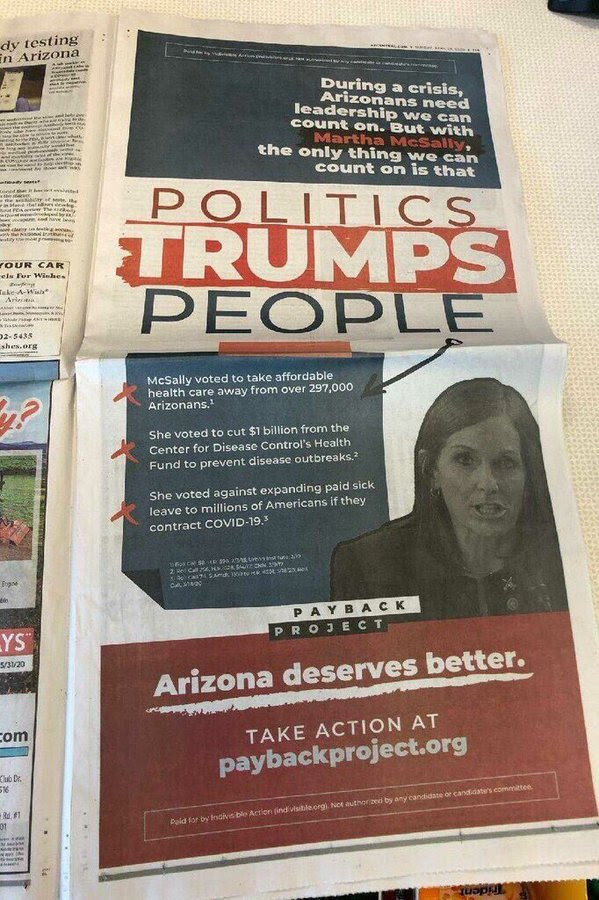 ---
NATIONAL
MAJOR ACTION FROM INDIVISIBLE NATIONAL
This week is critical because it may be our last chance to demand that Congress ensure relief to every person in this country, regardless of tax or immigration status, age, or disability. Here's the solution: demand your representatives pledge to vote 'no' on the next coronavirus package unless it prioritizes the People First Agenda.
The package must include these four policies:
Keep people on payrolls. Ensure federal dollars go to workers and small businesses, not enriching CEOs and Wall Street.
Provide financial relief: Expand aid for the most vulnerable in the COVID-19 epidemic, including direct cash assistance, increased food aid, debt relief, and eviction protections.
Protect public health: Guarantee full health coverage for all COVID-19 care and protections for all frontline workers.
Defend elections: Enact a vote-by-mail requirement for 2020 federal elections while maintaining access to in-person voting for those who do not have access to mail voting.
If it doesn't, representatives must vote no.
---
ANNOUNCEMENTS
Bend the Arc National Pursuing Justice 2020 Conference
Sunday, May 3, 2:00-8:00 pm ET, Monday, May 4, 12:00-5:30 pm ET
INFORMATION: conference.bendthearc.us
Bend the Arc's national convening of a multi-racial, multi-ethnic Jewish social justice movement dedicated to building a more progressive democracy.  In 2016, Bend the Arc's first national conference brought together and catalyzed a nationwide community of Jews rooted in our values and fighting against the rise of racism, xenophobia, and hate. Four years later, our power as a movement has grown and will continue to bloom in the lead up to the 2020 election and beyond.
Register Here
---
Brad Pitt as Dr. Fauci on Saturday Night Live:
---
CALENDARS
Prescott Indivisible Calendar LINK
Community Resources LINK
CONTACTS
Contact Your Members of Congress
KYRSTEN SINEMA
825 B&C Hart Senate Office Building Washington DC 20510
(202) 224-4521
contact@sinema.senate.gov
MARTHA MCSALLY
B40D Dirksen Senate Office Building Washington DC 20510
202-224-2235
contact@mcsally.senate.gov
PAUL GOSAR
2057 Rayburn HOB, Washington, DC 20515 202-225-2315
6499 S. Kings Ranch Rd. #4, Gold Canyon, AZ 85118 480-882-2697
220 N. 4th St., Kingman, AZ (by appt. only)
122 N. Cortez St., Suite 104, Prescott, AZ 86301 928-445-1683
http://paulgosar.house.gov/contact/
Arizona
Governor, Doug Ducey
State Capitol, 1700 West Washington Street, Phoenix, AZ 85007 602.542.4331
http://azgovernor.gov/governor/form/contact-governor-ducey
Legislature http://www.azleg.gov/
Senator Karen Fann kfann@azleg.gov 602-926-5874
Rep. Noel Campbell ncampbell@azleg.gov 602-926-3124
Rep. Steve Pierce spierce@azleg.gov 602-926-5584
Prescott
Mayor Greg Mengarelli 
201 S. Cortez  St. Prescott  928.777.1248
AZResist is an independent calendar covering
civil rights and progressive politics across Arizona.  
---
DemCast is an advocacy-based 501(c)4 nonprofit. We have made the decision to build a media site free of outside influence. There are no ads. We do not get paid for clicks. If you appreciate our content, please consider a small monthly donation.
---