When Nancy Pelosi bid 2018 adieu with a flip of her sunglasses and a swish of her red Max Mara coat, we might have despaired that 2019 couldn't possibly match up. We needn't have worried. Queen Nancy brought the fire all year long in 2019. 🔥
We bring you, here, Nancy's Pelosi's 10 best moments of 2019, presented chronologically. And by best, I mean the ones I remembered off the top of my head. This list could easily be four times this length.
---
January 3
2019 started off with a bang (of the gavel), with Pelosi elected Speaker of the House on January 3. Although there were grumbles of dissension leading up to the vote, and fruitless attempts to convince others to run against her, Pelosi demonstrated her masterful negotiating skills in winning over potential rivals like Marcia Fudge.
---
January 4
A day after her election as Speaker, Pelosi presided over a different kind of event, an historic photo of all of the Democratic women in the House. The 102* women representatives in the House was a huge jump over the 89 in the previous House, and the gains were entirely on the Democratic side, with 87% of the women in the House in the Democratic caucus. Although women still made up only 23% of the House, it was clear from the beginning of the year that 2019 would be the year of women, led by Pelosi at the top.

*Rep. Katie Hill later resigned. These numbers reflect the counts as of January 4.
---
January 16
The beginning of 2019 was marked by a long slog of a government shutdown, exacerbated by the toddler in the White House. Pelosi threw the ultimate shade at the Narcissist in Chief by uninviting him from the State of the Union address and suggesting he could just submit it in writing. Do they accept the SOTU written in crayon?
---
February 5
Shutdown averted, the State of the Union was presented in person after all, a bit belatedly. By this time the internet was antsy for another Pelosi gif to add to the gif libraries, and Pelosi responded in spades, giving us the clap.
A few months later, at her Ultimate Power Women's Lunch, Rep. Jan Schakowsky asked Speaker Pelosi about the clap, and Pelosi insisted she was only trying to clap politely and hadn't meant to start a sensation. We'll let you and the internet be the judge of that.
---
August 1
It was a long rough summer for Democrats, with increasing squabbles about impeachment and some tense moments for Pelosi and the Squad. But in a tweet that literally made me tear up, Pelosi and Rep. Ilhan Omar appeared to patch over their differences in the best way possible.
Trump had, grossly, suggested that the Squad should: "go back and help fix the totally broken and crime infested places from which they came," despite three of the four having been born in the US, which led to hateful chants of "send her back" at Trump rallies.
Pelosi traveled to Africa with Omar, Rep. John Lewis, and the Congressional Black Caucus, to observe the 400th anniversary of the American slave trade, and Omar and Pelosi used the moment to troll Trump.
---
October 16
Pelosi stands up to Trump, literally.
In case we needed further proof that Pelosi is better at this (all of this) than Trump, we got it conclusively on October 16. That afternoon House and Senate leaders traveled to the White House to meet with Trump to discuss Syria. Oddly, no one can even agree who asked whom to meet that day, much less what happened at the meeting.
At one point during the meeting, Pelosi stood up to make her point more forcefully. Trump, seeming to think this painted him in a good light, tweeted out a picture of the moment, labeling it "Nervous Nancy's unhinged meltdown," but Pelosi responded by making the photo her Twitter header, and Democrats seized on the picture as a sign of Pelosi's strength.
The best part? Since the photo was taken by the official White House photographer, it's in the public domain, and you're free to do with it what you like!
---
December 5
Pelosi is a master of the press conference, and appears to never reveal anything she didn't mean to reveal. After her routine press conferences, she usually heads back to her office and ignores shouted questions. But on December 5, after a press conference where she discussed impeachment, she did respond to an off-the-cuff question from Sinclair Broadcast Group reporter James Rosen.
Rosen asked, "Do you hate the president?"
Pelosi's response:
I don't hate anybody. We don't hate anybody. Not anybody in the world. Don't accuse me…

I think the president is a coward when it comes to helping our kids who are afraid of gun violence. I think he is cruel when he doesn't deal with helping our dreamers. I think he's in denial about the climate crisis…

This is about the Constitution of the United States and the facts that lead to the president's violation of his oath of office.

As a Catholic, I resent your using the word 'hate' in a sentence that addresses me. I don't hate anyone.

I was raised in a way that is a heart full of love, and always pray for the president. And I still pray for the president. I pray for the president all the time.

So don't mess with me when it comes to words like that.
Good advice, there. Don't mess with Pelosi. Ever.
---
December 18
On December 18, the months of impeachment speculation, rumors, and negotiation finally came to an end, when the House of Representatives voted on two articles of impeachment (and Rep. Jared Golden of Maine became forever known as the rep who couldn't make up his mind).
Although Rep. Diana DeGette (D-CO 1st District) presided over the impeachment "debate," Pelosi reclaimed the gavel to read the results of the vote on the first article. And with the look she immediately stifled any impulse on the part of Democrats to cheer the result. Once again reminding us to not mess with Pelosi.
---
December 18
After the impeachment vote, Pelosi, along with six House Democratic leaders, including probable future Speaker Adam Schiff, held a press conference, at which Pelosi shocked the political world by revealing that she would not immediately send the impeachment articles to the Senate for trial.
As a parent I'm used to trying to frame things as natural consequences instead of punishments (e.g., "well, if you're not hungry enough for dinner I guess you're not hungry enough for dessert either,") and Pelosi, mother of five and grandmother of nine, has clearly mastered that technique:
We're not sending [the articles] tonight because it's difficult to determine who the managers would be until we see the arena in which we will be participating. So far, we haven't seen anything that looks fair to us, so hopefully it will be fairer, and when we see what that is, we'll send our managers.
---
December 20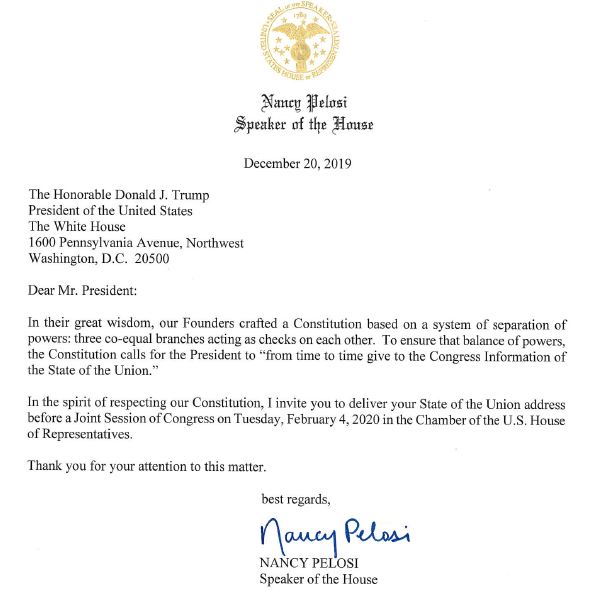 It's rare that you get to throw shade in two State of the Union invitations in one year, but Pelosi has managed this seemingly impossible task with her invitation to Trump for the 2020 State of the Union.
Two days after voting to impeach Trump for abuse of power and obstruction of Congress, Pelosi's SOTU invitation highlights respect of the Constitution and separation of powers.
Moreover, in a move many see as Pelosi playing the four-dimensional chess Trump's proponents seem to think he plays, the SOTU invitation is for a date when the specter of impeachment may well still be hanging over Trump's head, lending an urgency in at least Trump's mind to the Senate trial impasse that Pelosi and McConnell are currently at loggerheads over.
---
Pelosi ended the year with a Politico interview in which she affirmed:
Fear is never a word used with me. You should know right away. I'm never afraid and I'm rarely surprised.
We believe it.
---
DemCast is an advocacy-based 501(c)4 nonprofit. We have made the decision to build a media site free of outside influence. There are no ads. We do not get paid for clicks. If you appreciate our content, please consider a small monthly donation.
---