A brief post is in order on what we decided to do yesterday, as there seems to be some confusion about what is in H. Res 660:
First, please read the bill. Rather than relying on shoddy journalists or self-interested partisans, go to the original source material.
On the substance, let's first state the obvious: we did not vote to impeach the President yesterday, nor did we vote to initiate an impeachment inquiry, nor did we vote on articles of impeachment. We voted to set the rules for the next (open) phase of the process.
The question we were all asked yesterday was not whether we should move forward, but whether we agree to move forward subject to a specific set of rules.
The rules we passed were not only fair, but in some cases more generous to the President than the rules that were passed for the Nixon and Clinton processes.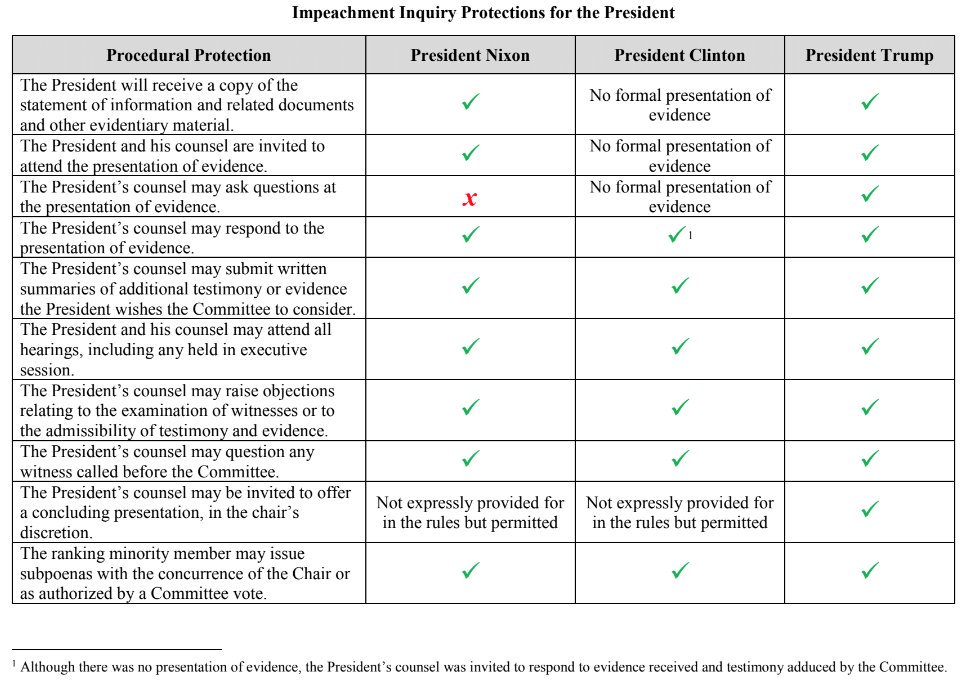 There is a very important point to be noted in that prior table. The protections afforded by this process are to the President, not his political party. As is appropriate, since he is the subject of our inquiry.
This weird narrative that the minority party deserves greater protection implicitly presumes that the minority party is on trial. No one is making that argument, except perhaps for those who doth protest too much.
So it's worth asking the question why someone would vote "no" on yesterday's resolution. There are only three logically possible reasons:
Because you want greater protections to the President in this process than has ever been granted in prior processes;
Because you are opposed to majoritarian democracies where the actions of a legislative body require the consent of >50% of the members; or
Because you think the Congress should not inquire as to whether the President should be impeached under any circumstances.
That's the extent of the logical objections. That's not to say that there can't be illogical objections of course… so let's examine some of those.
Some have suggested that the prior phase should have been open. That's irrelevant to what we do next. History is behind us.
However, the approach taken was fully appropriate given the circumstances.
In the Clinton and Nixon cases, impeachment hearings came AFTER the AG's office had led closed hearings to ensure that witnesses could not coordinate their stories. Barr's failure to do so, and his efforts to distort the Mueller report forced a different process this time.
Others have suggested that the prior process required a vote of the house. That argument is silly, and unfounded. Every committee in Congress has the right to set their own agenda, subject to the majoritarian opinion of their members.
For example, no one would argue that the Science Committee cannot hold hearings on ocean acidification prior to a full vote of the House.
In the same fashion, it makes no sense to argue that the Intel, Oversight, Judiciary, Ways & Means, Financial Services or Foreign Affairs committees cannot hold hearings subject to their jurisdiction prior to a full vote of the House.
Indeed, if we DID require a full vote of the House to approve the agenda of any committee, the House would never get anything done. Every member of Congress knows that. But some are hoping the public doesn't. That is irresponsible.
So what happens next? We wrap up closed sessions as soon as we can, and then move into open hearings subject to these rules. We do so with open minds and no pre-determined verdict.
I am sorry – and in many ways, angry – that not a single Republican saw fit to vote in favor of these rules. Their obedience and deference to the Executive branch is an abdication of their responsibilities.
But we – and by we, I mean all of us – cannot allow their obedience to conclude that a partisan vote is bad policy.
With heavy hearts, we move forward. No member of Congress celebrates this moment. But yesterday, I'm glad to at least report that the majority of us voted not to shirk our responsibility.
Originally posted on Twitter. Re-posted with permission.
---
DemCast is an advocacy-based 501(c)4 nonprofit. We have made the decision to build a media site free of outside influence. There are no ads. We do not get paid for clicks. If you appreciate our content, please consider a small monthly donation.
---