IC-SS Weekly News: November 13, 2023
Election Victories – You Helped!
Last Tuesday brought welcome news –– progressive policy and Democratic candidates won big on election day in multiple states.
In Virginia, citizens voted to keep Democrats in control of the state senate and flipped the state house from red to blue. In Ohio, people voted to enshrine reproductive rights in the state constitution — including the right to contraception, fertility and miscarriage care, and abortion.
YOU HELPED. This summer and fall, you may have:
Written Vote Forward letters with Indivisible Chicago-South Side, reaching over 2000 Ohio and Virginia voters;
Phoned Ohio voters with the Indivisible Chicago Alliance;
Texted voters or canvassed in other states;
Donated funds (or stamps) to the efforts.
Thank you. Let's celebrate the victories and be inspired for the work ahead in 2024!
Thanks again to everyone who wrote letters with us this year: Barb Schmidt, Barbara Brotman, Betsy Rubin, Carlton Ferrono, Clairan Ferrono, David Derbes, Dawn Brennan, Elaine Hadley, Esther Peters, Joyce Mannis, Justin Hill, Kathleen Atlass, Kay Poyner Brown, Kineret Jaffe, Lisa Oppenheim, Lisa Rademacher, Mary Naftzger, Meredith Conn, Michael Aaron, Richard Pardo, Sarah Lincoln, Sarah Rubin, Sheron Shapiro, Sophia Watson, Stephanie Weaver, Steve Kagan (our letter leader), Susan Avila, Tara Maguire, Teri Watkins, William Weaver.
Special Shout-Outs
We give heartfelt thanks to our letter leader, Steve Kagan, who spearheaded our group's Vote Forward letter-writing work. Steve printed out letters; supplied envelopes, pens, and stamps; and mentored all our letter writers. He also wrote more letters than all of us combined.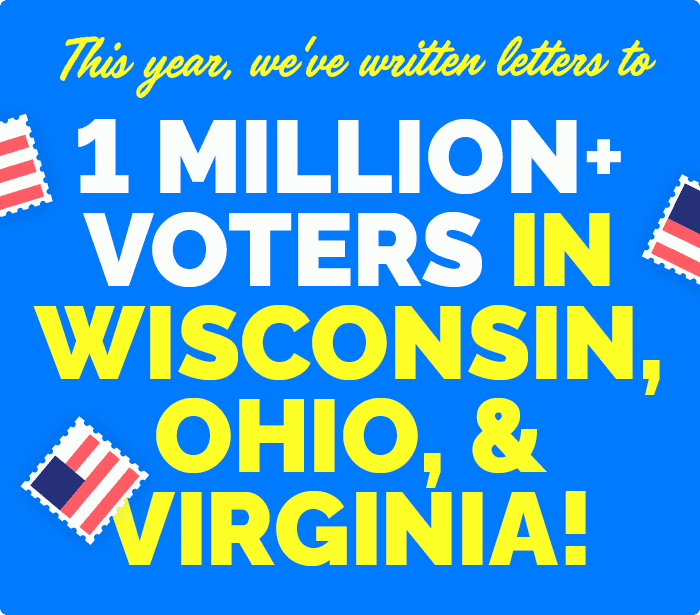 Steve wants us to know that our 2400 letters this election cycle – on top of 1,250 earlier in 2023 – were among the total of 1.15 million letters sent this year by Vote Forward writers across the country. Want to support the Vote Forward work going forward? Donate here.Big thanks, as well, to IC-SS Co-Leader Sarah Lincoln, who's also on the Indivisible Chicago Alliance board. Sarah hosted ICA Zoom phone banks, week after week, warmly and patiently welcoming phonebank veterans and training newbies alike in calling Ohio voters. 
Ceasefire: Statement from ICA
The board of the citywide Indivisible Chicago Alliance has issued the following statement on Israel, Gaza, and a ceasefire.
---
ICA Board Statement: The Crisis in Israel & Gaza
Along with all of the world, we have watched the events unfold in Israel and  Gaza. We share in the expressions of horror and grief at the loss of over 1,400 lives in Hamas' brutal attacks on October 7 and in the ongoing Israeli bombardment and blockade that have resulted in the deaths of more than 10,000 Palestinians, a number that grows by the hour.We understand that our members and those who share our progressive values may have different and deeply held views about the Middle East. At the same time, we are united by our shared humanity, and this is the context in which we send this message.We urge our members of Congress to support an immediate ceasefire, to ensure humanitarian aid to residents of Gaza, to continue to demand the release of all hostages, and to block US military aid to Israel that would cause additional civilian deaths in Gaza. Please join us by contacting your Representative, and Senators Duckworth and Durbin with these same demands.We are also appalled by the increasing expressions of hate in this country that target both Muslims and Jews. Join us in calling out hate in all its forms while at the same time being steadfast in protecting our rights to express our views and to protest the actions of our government.Sincerely and respectfully,The Indivisible Chicago Alliance Board
Contact Members of Congress
Illinois lawmakers need to know what their constituents think. Share your message with them here:
This Week: Blue Thursday at The Hideout
NOVEMBER 16th IS BLUE THURSDAY. Doors open 5:30, program runs 6:00-7:00 pm at The Hideout, 1354 W. Wabansia. RSVP here

From the Blue Beginning chapter of ICA: Did you see that? Progressives just went from abject despair to wild jubilation in the space of a week. And that, friends, is what the next 12 months will be like.

Prepare yourself at the November edition of Blue Thursday, where we'll talk it out with two veteran campaign consultants, Robert Creamer and Pete Giangreco.
Between the two of them they've worked dozens if not hundreds of statewide and national campaigns. With their help, we'll look ahead to the 2024 election. The talk will be loose, the bar will be open, and the company will be excellent. Join us at 5:30 this Thursday at The Hideout! Free and open to all, but please RSVP here.
Slides from Rep Jackson's Town HallIn our last newsletter, we mentioned Representative Jonathan Jackson's town hall at the South Shore Cultural Center. This IL-01 town hall focused on housing, health, and the migrant crisis in Chicago. For a quick summary of Rep. Jackson's presentation, read our Twitter thread.

NEW: Rep. Jackson shares the slide deck from his town hall.
Help Community & New Neighbors
Volunteer in SPR's Food Pantry in Kenwood: Linda Wheatley-Irving, a lead volunteer, says the St Paul and the Redeemer (SPR) church's food pantry is in extreme need of more volunteers for tasks such as carrying and opening food boxes, setting up the pantry, breaking down boxes, and assisting people with food selection.
The SPR pantry serves longtime community residents as well as newcomers, so both English and Spanish-speaking volunteers are welcome. SPR is located at the corner of 50th and Dorchester. Volunteers are needed every Wednesday between the hours of 2:30 and 6:00 pm; partial shifts are possible. To volunteer,email Linda Wheatley-Irving.
Help pay for supplies for people sleeping in police stations:Brenda Delgado, a lead volunteer for Chicago Police Station Response Team, continues to assist migrants sleeping in police stations in districts 2 & 3. To help pay for needed items for asylum seekers in those police districts, you can send funds to Brenda Delgado via Venmo.Donate coats and other items for migrants in districts 2 & 3:Contact us for South Side drop-off information for clean, gently-worn warm clothing (inner and outerwear) or warm blankets, sleeping bags, and ground tarps. (Please donate these items only — no summer wear or dress clothes.)
TOMORROW: District Council 2 Meeting
If you live in Chicago's 2nd police district, attend the in-person meeting of the 2nd District Council tomorrow, Tuesday, November 14th, 6:30-8:00 pm (doors open 6:00 pm) at Church of the Good Shepherd, 5700 S. Prairie Ave (updated address).You can also attend remotely – sign up here for the Zoom link.
Don't live in the 2nd district? Find your police district here. Connect with YOUR District Council on this page and get meeting announcements and minutes. Learn more about the role of Chicago's 22 district councils and the Community Commission for Public Safety and Accountability (CCPSA) here.
---
Tomorrow: Dark Money in Public Schools
From Indivisible Evanston: Join Indivisible Evanston on Zoom tomorrow, Tuesday, November 14h, at 7:00 pm for an online presentation and discussion on Dark Money in Public Education. Register here.
Cassie Creswell, Executive Director of Illinois Families for Public Schools, and Alisa Kaplan, Executive Director of Reform for Illinois, will discuss who is behind the right-wing efforts to ban books, deny the rights of LGBTQ+ students and privatize schools in an effort to destroy public education To register, click here!
---
Leonard Leo & SCOTUS: Webinar Nov. 16
From ProPublica: Few have done more to build the Supreme Court's conservative supermajority and bring about the Dobbs decision than Leonard Leo.
A new investigation from ProPublica reveals how Leo spent decades building a machine for conservative talent, starting with law schools, reaching into the states and ending at the Supreme Court. It was designed to advance the right cases, argued by the right lawyers and heard by the right lower court judges, and it transformed judicial nominations into political campaigns.
Leo played the long game, and his goals are now being realized: Roe vs. Wade was overturned, voting rights have been weakened, the federal government's ability to regulate has been gutted and the creaky wall between church and state has been eroded.
Learn more — tune into ProPublica's webinar, The Court Whisperer, this Thursday, Nov. 16th at 3:00 pm CT. To get the link to view the webinar, register here.
---
Write Cards to Incarcerated People: Mon & Thurs
From the Chicago Torture Justice Center:  Send cards to incarcerated loved ones. Join the Chicago Torture Justice Center every week through November to write holiday cards for our loved one and community members inside.
Drop by the Chicago Torture Justice Center (6337 S. Woodlawn) every Monday & Thursday in November any time from 10 am – 6 pm to help send a holiday card to the 100+ incarcerated people on our mailing list. The Center has the cards, envelopes, postage, and pens ready, so all you have to do is bring yourself!
Questions? Email latanya@chicagotorturejustice.org
Indivisible Chicago-South Side
Email: Indiv.Chi.South@gmail.com
Follow IC-SS on Facebook & Twitter
Co-Leaders: Sarah Lincoln, Esther Peters,
Betsy Rubin, Teri Watkins
About: Group & Co-Leader Statements
Newsletter Notes
SUBSCRIBE: Did someone forward this newsletter to you? If you'd like to subscribe and get our newsletter every Monday morning, click here to subscribe.

SUGGEST: Got an event or resource to suggest for the newsletter? Email us here.
---
DemCast is an advocacy-based 501(c)4 nonprofit. We have made the decision to build a media site free of outside influence. There are no ads. We do not get paid for clicks. If you appreciate our content, please consider a small monthly donation.
---