Bankruptcy or Justice? Sackler Billionaires' Lethal Fortune and the Oxycontin Death Toll.
"Supreme Court Pauses Opioid Settlement With Sacklers"
"The Supreme Court temporarily blocked a bankruptcy deal for Purdue Pharma that would have shielded members of the billionaire Sackler family … from additional civil lawsuits over the opioid epidemic and that capped the Sacklers' personal liability at $6 billion… The order was in response to a Justice Department objection to the plan, which the government said allowed members of the Sackler family to take advantage of legal protections meant for debtors in "financial distress," not for billionaires." – NY TimesBig numbers tend often become just statistics. That's sad. Each one of these overdose deaths leaves behind a grieving family and others struggling to cope with a terrible addiction. We used the memorial to those lost to opioid by the National Safety Council to humanize the cost of Sackler greed.Check this map for stories of hundreds of deaths from Oxycontin overdoses while the Sacklers walked away from any liability with billions by declaring Purdue Pharma bankrupt. What role did political connections and donations have to do with the initial settlement? Where do Rudy Giuliani and the Republican Attorney Generals Association fit into the original settlement? Follow the money.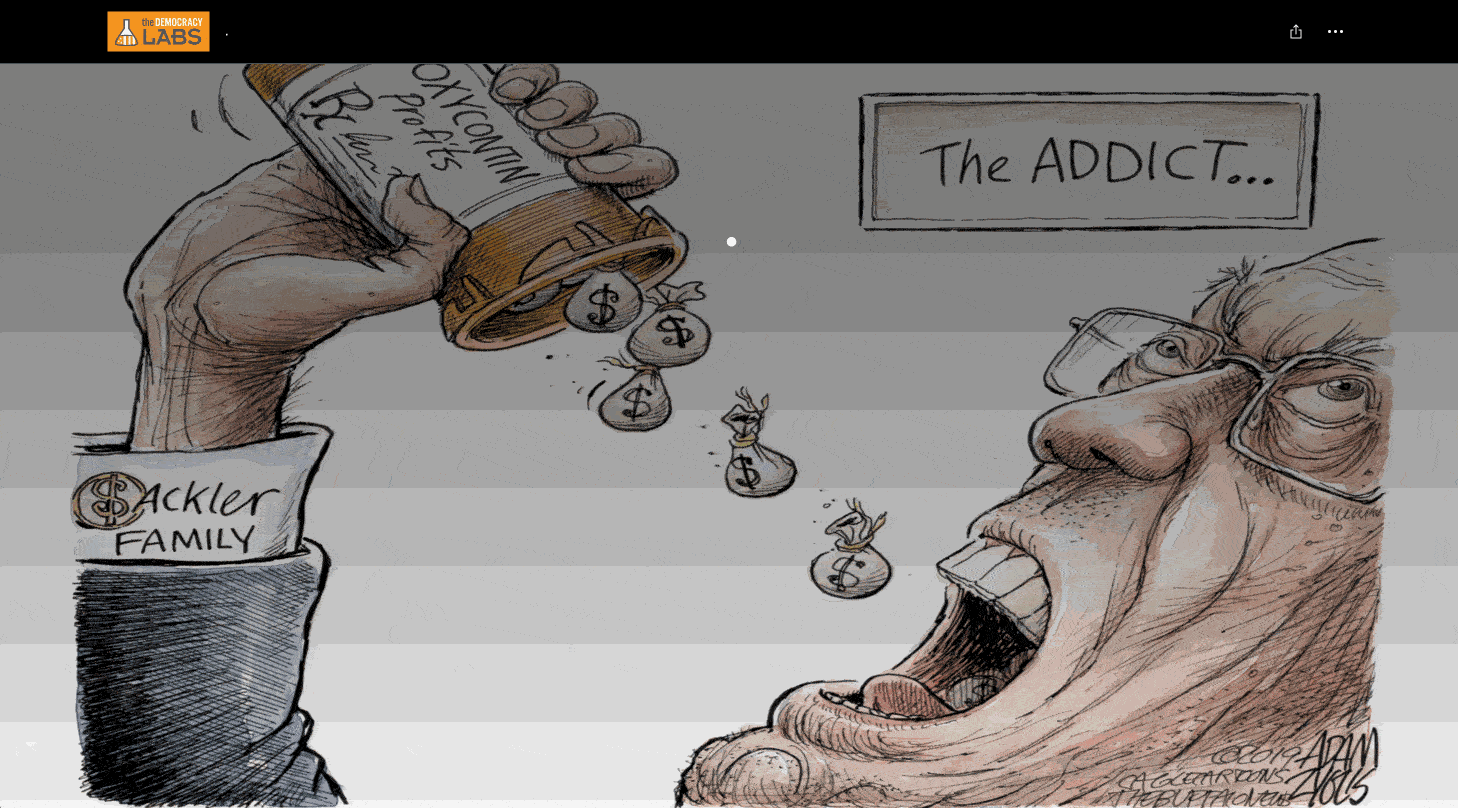 Bankruptcy deal temporarily blocked
"In May, the U.S. Court of Appeals for the Second Circuit approved the settlement plan after Purdue Pharma filed for bankruptcy protection in September 2019. The company and members of the Sackler family had collectively faced thousands of lawsuits concerning opioids."Under the deal, the Sacklers had agreed to pay billions to plaintiffs in exchange for full immunity from all civil legal disputes. Although companies routinely seek bankruptcy protection to be shielded from legal claims, this particular agreement was unusual because it extended liability protection to the company's owners." – NYT
Follow the money
Under Attack, Drug Maker Turned to Giuliani
Senators Question Rudy Giuliani's Role In Purdue Pharma Opioid Plea Deal. "They want to determine if Giuliani firm's $1 million contract with the DOJ as he represented OxyContin company resulted in "unduly lenient treatment." Giuliani's firm, Giuliani Partners, had a $1 million consultant contract with the Department of Justice for advice on reorganizing its drug investigations at the same time he was representing Connecticut-based Purdue Pharma against the DOJ, the New York Times has reported." – HuffPost"It has been implied that because Mr. Giuliani is a prominent national politician, Purdue may have received a favorable deal from the government solely because of politics," said the judge, James P. Jones of United States District Court. "I completely reject this claim."Even today, some of those parents are not persuaded. Ed Bisch, whose son died of an OxyContin overdose, said that he believed that Purdue got a free pass for years thanks to Mr. Giuliani. "It was all because of Giuliani," said Mr. Bisch. "And he got to take the money." – NY TimesFollow the money with this Relationship map
Luther Strange's role in the Purdue Pharma opioid settlement embraced by GOP states
"Some of the attention has focused on the role played by Luther Strange, a Republican former Alabama attorney general who has been working for members of the Sackler family, which owns Purdue Pharma. People familiar with the negotiations say he was at a meeting of the Republican Attorneys General Association over the summer, sounding out members about a settlement months before a tentative deal was struck this week. Purdue has been generous in recent years to RAGA, contributing more than $680,000 to its campaign operation from 2014 through 2018." –Alabama"The nation's Republican state attorneys general have, for the most part, lined up in support of a tentative multibillion-dollar settlement with OxyContin maker Purdue Pharma, while their Democratic counterparts have mostly come out against it, decrying it as woefully inadequate."ABC News
Read more:
Opioid epidemic: Map the profits, political donations and deaths.
Who Profits From The Opioid Epidemic? Follow The Money.TakeAway: Hold billionaires accountable for the harm (and deaths) they cause.Deepak
DemLabsDISCLAIMER: ALTHOUGH THE DATA FOUND IN THIS BLOG AND INFOGRAPHIC HAS BEEN PRODUCED AND PROCESSED FROM SOURCES BELIEVED TO BE RELIABLE, NO WARRANTY EXPRESSED OR IMPLIED CAN BE MADE REGARDING THE ACCURACY, COMPLETENESS, LEGALITY OR RELIABILITY OF ANY SUCH INFORMATION. THIS DISCLAIMER APPLIES TO ANY USES OF THE INFORMATION WHETHER ISOLATED OR AGGREGATE USES THEREOF.
Reposted from Democracy Labs with permission.
---
DemCast is an advocacy-based 501(c)4 nonprofit. We have made the decision to build a media site free of outside influence. There are no ads. We do not get paid for clicks. If you appreciate our content, please consider a small monthly donation.
---