IC-SS Weekly News: July 20, 2023
Yes to the Tampa 5 – No to DeSantisLast week CAARPR held a rally in support of the Tampa 5 – five University of South Florida student protesters who face incarceration on trumped-up charges. Four Indivisible Chicago-South Side members and one of citywide Indivisible Chicago's leaders took part – and Steven Dornbusch also served as a marshal.

Indivisibles at the CAARPR rally for the Tampa 5
After tornado threats drove Chicago protesters into a nearby subway station for safety, some emerged when it was safe to pose for a photo. We join CAARPR in opposing the anti-democracy policies of Gov. Ron DeSantis and ask you to sign this petition.
Chicago protesters standing in solidarity with the Tampa 5
Mary Volunteers for Asylum SeekersMary Naftzger, a longtime member of Indivisible Chicago-South Side, has been volunteering on her own to help the asylum seekers sleeping at the 2nd district police station. Mary tells us:"I have been working with immigrants for quite a while and found out about the opportunity to help with District 2 meals through my church. Right now the city of Chicago is responsible for getting dinner to folks staying at the police stations. I drive to another volunteer's home in Hyde Park and pick up breakfast and deliver it to the police station on 51st and Wentworth."Some volunteers actually prepare breakfast or lunch and distribute it to district 3 – on 70th and Cottage Grove, and District 2. Volunteers do what is manageable for them."I speak a little Spanish but am not fluent. There is almost always someone there who offers to help me get the meals out of my car and distribute the meals. So I would say it's not difficult. Folks are friendly and come up to say hello. I'm gratified to help with this project feeding neighbors."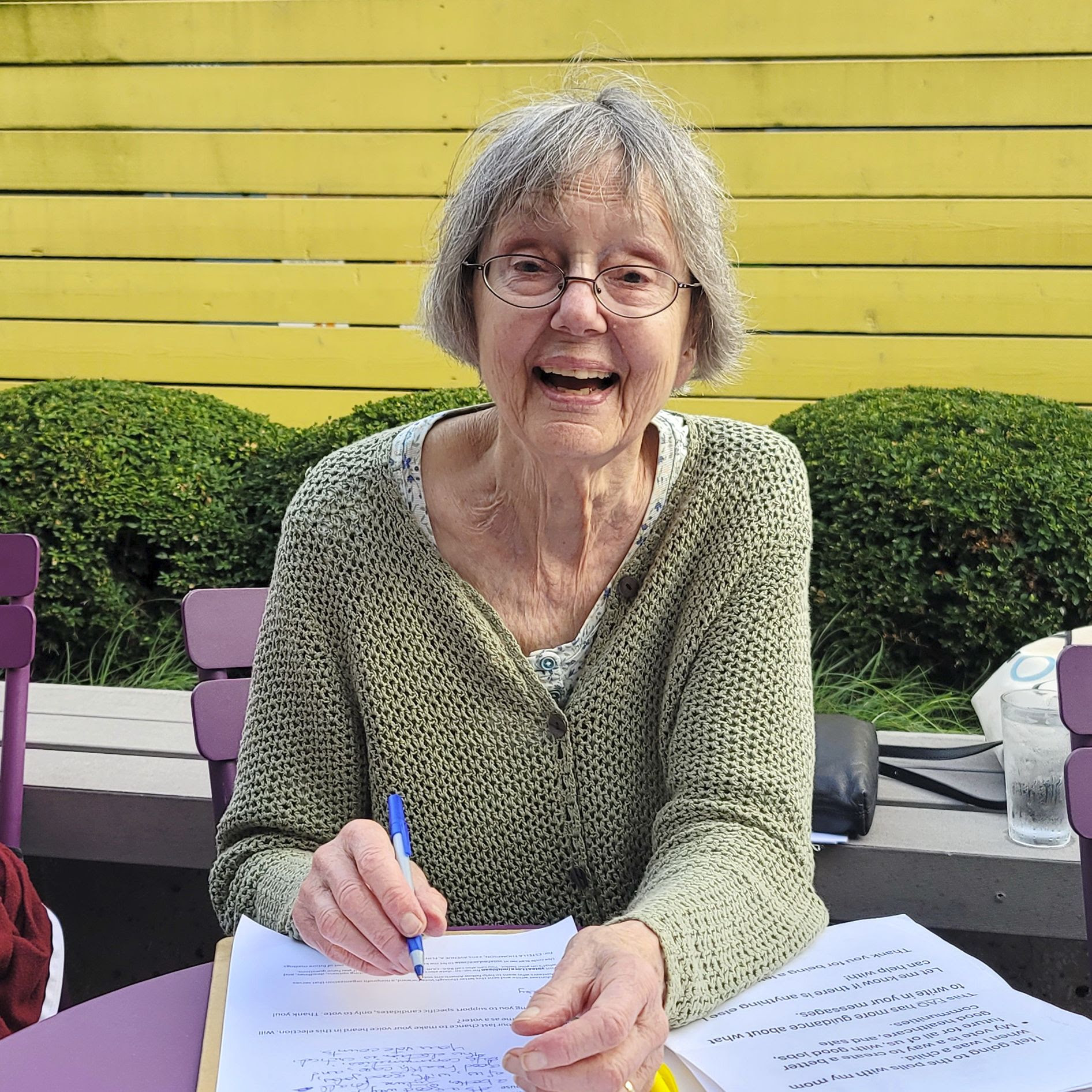 Mary Naftzger at an IC-SS event
---
Would you like to join people like Mary and help the asylum seekers in Chicago?
VOLUNTEER: Volunteer for the District 2 Chicago Police Station Response team: Volunteer Guide.
DONATE: Support the all-volunteer Chicago Police Station Response Team here.
Organizations and OpportunitiesIndivisible Chicago-South Side shares information and actions from other organizations on issues important in our country, state, city, and communities.
---
Sat. July 22: Treatment Not Trauma SummitFrom STOP Chicago: Come learn about the Treatment Not Trauma campaign and support the fight to reopen our public mental health centers and establish a citywide non-police mobile crisis response program for mental health emergencies. Guest speaker: Mayor Brandon Johnson.
Date/Time: Saturday, July 22nd, 12pm-3pm
Location: First Presbyterian Church of Chicago, 6400 S Kimbark
RSVP:Register hereQuestions? Contact: Cheryl Miller – cheryl@stopchicago.org or Any Huamani – ahuamani@bpncchicago.org
Newsletter NotesSUBSCRIBE: Did someone forward this newsletter to you? If you'd like to subscribe and get our newsletter every Monday morning, click here to subscribe.
SUGGEST: Got an event or resource to suggest for the newsletter? Email us here.
Indivisible Chicago-South Side
Email: Indiv.Chi.South@gmail.com
Follow IC-SS on Facebook, Twitter, Mastodon, Post
Co-Leaders: Sarah Lincoln, Esther Peters,
Betsy Rubin, Teri Watkins
About: Group & Co-Leader Statements
---
DemCast is an advocacy-based 501(c)4 nonprofit. We have made the decision to build a media site free of outside influence. There are no ads. We do not get paid for clicks. If you appreciate our content, please consider a small monthly donation.
---