"The Supreme Court just gutted the Clean Water Act" – Washington Post
"Under the court's new view, pollution requires a permit only if it is discharged into waters that are "relatively permanent, standing or continuously flowing bodies of water… like 'streams … oceans, rivers, and lakes.' It could lead to the removal of millions of miles of streams and millions of acres of wetlands from the law's direct protection. Basic protections necessary to ensure clean, healthy water for human consumption and enjoyment will be lost."
"It gives a win to farmers, home builders and other developers that will now probably find it easier to get permits to build, lawyers and trade groups said."
Wait! Who is one of the biggest developers in the country? "Trammell Crow Residential is a pioneer of multifamily real estate and is one of the largest developers in the United States."
How did Clarence Thomas' vote to gut the Clean Water Act benefit his billionaire friend, Harlan Crow? Find the Republican Senators who packed the Supreme Court and get political donations from Crow? Find your closest wetland where you could swim, fish, hunt and enjoy, but is now open for pollution because the EPA cannot protect it anymore? Use this StoryMap.
Activist Supreme Court
"The ruling arrives almost a year after the court's conservative majority made the worst fears of environmentalists a reality in West Virginia v. Environmental Protection Agency, which severely curtailed the ability of the nation's environmental laws to protect public health and welfare. The Sackett ruling doubled down on that disregard for pollution and public health, and the effect will likely be devastating…Nor will the nation's economy be spared. Myriad businesses rely on clean water for their industrial processes. The fishing, real estate and tourism industries are all highly dependent on the protections that the Clean Water Act has provided over the past half-century." – WaPo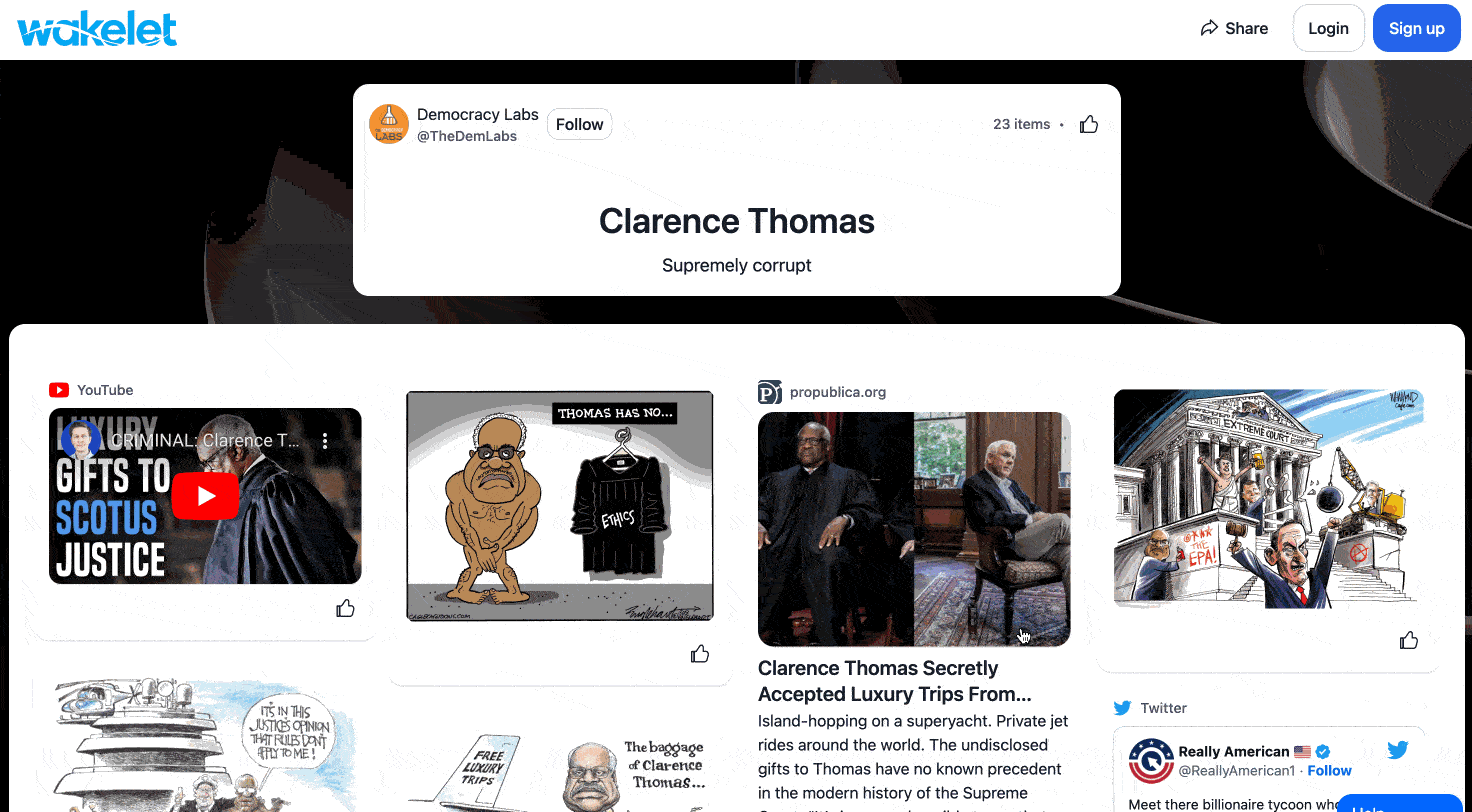 The low cost (for a rich person) of sponsoring a Supreme Court justice
"ProPublica reported that wealthy investor Harlan Crow paid the private-school tuition of Mark Martin, a grandnephew of Supreme Court Justice Clarence Thomas who Thomas has said he was raising as a son… Crow in 2014 bought properties belonging to Thomas to the tune of more than $133,000, that Thomas has been treated to luxury trips by Crow repeatedly over the past two decades. There are ethical issues at play, given that Thomas failed to report all of this largesse.
Harlan Crow's wealth flows from his father, as Forbes reported last month. Trammell Crow made his fortune in Texas real estate and was ranked 26th on Forbes's very first list of the 400 wealthiest people in America in 1982. Harlan and two brothers are majority owners of Crow Holdings Capital, which owns and manages $30 billion in real estate.
Crow has given more than $7.6 million to federal candidates for office, almost all of it to Republicans… Crow has Thomas's ear, should he want it — and even if he doesn't." – WaPo
Billionaires buy political and judicial influence
"The Crows also publicly donated to political committees focused on flipping the U.S. House from Democratic to Republican control. Harlan Crow contributed $150,000 to Take Back the House 2022, a joint fundraising committee spearheaded by then-House Minority Leader Kevin McCarthy (R-Calif.). After Republicans flipped the House in 2022, McCarthy won a contentious battle to become House Speaker after a historic 15 ballots.
The National Republican Senatorial Committee reported receiving about $1.1 million from the Crows since 1990, not adjusted for inflation. The Senate Leadership Fund, a super PAC aligned with Senate Minority Leader Mitch McConnell (R-Ky.), reported receiving $725,000 through the same period, including $350,000 during the 2022 midterms.
The Crows supported Texas Republican party committees at the state and federal level. Harlan Crow contributed $175,000 to the Republican Party of Texas in October 2022, accounting for three-quarters of the $200,480 he has contributed to the state party committee since 2004. Crow's contribution was also the largest the federal party committee received during the 2022 midterm election. Harlan Crow has also contributed to groups that keep their donors secret, ProPublica reported, making it impossible to know how much and to which "dark money" groups he has contributed."
Justice Thomas' refusal to recuse himself is thumbing his nose at the law
"Title 28, Section 455 of the United States Code is the federal statute that applies to Thomas. It provides: "Any justice, judge, or magistrate judge of the United States shall disqualify himself in any proceeding in whichhis impartiality might reasonably be questioned" or his spouse "is known by the judge to have an interest that could be substantially affected by the outcome of the proceeding."
Unfortunately, the statute includes no method to enforce it. Obedience to the law thus depends upon the honor of the justice or judge. Any justice in Thomas' position who was concerned about the Supreme Court's legitimacy — or his own integrity — would have recused himself." – LA Times
Who pays the price for the CLEAN WATER ACT being gutted?
What? You're not friends with a Supreme Court Justice? You're not taking them on any international luxury trips? Not making huge political donations to stack the Supreme Court? Well in that case you better get used to polluted wetlands and whatever else the Supreme Court decides…
TakeAway: Vote to stop billionaires rigging the system to get richer and leaving you with contaminated water.
Deepak
DemLabs
DISCLAIMER: ALTHOUGH THE DATA FOUND IN THIS BLOG AND INFOGRAPHIC HAS BEEN PRODUCED AND PROCESSED FROM SOURCES BELIEVED TO BE RELIABLE, NO WARRANTY EXPRESSED OR IMPLIED CAN BE MADE REGARDING THE ACCURACY, COMPLETENESS, LEGALITY OR RELIABILITY OF ANY SUCH INFORMATION. THIS DISCLAIMER APPLIES TO ANY USES OF THE INFORMATION WHETHER ISOLATED OR AGGREGATE USES THEREOF.
Read in browser »
---
DemCast is an advocacy-based 501(c)4 nonprofit. We have made the decision to build a media site free of outside influence. There are no ads. We do not get paid for clicks. If you appreciate our content, please consider a small monthly donation.
---