Voicebots make it easy and affordable for even small campaigns to arrange rides to the polls.
Grassroots campaigns struggle to compete with better funded rivals. How can they mobilize their supporters and get them to the polls with lesser funds and staff? Work smarter not harder. Use voicebots to automatically accept request for rides to the polls and transcribe the details. Volunteers can then match voters with drivers. It's fast, simple and close to free.
This blog explains how Anthony Hall with Center for Common Ground is using a voicebot to arrange for rides to the polls in South Carolina where Alicia Latrina Sullivan is running for Mayor of the City of Laurens.
What's hard about arranging rides to the polls?
Staffing a full time hotline may not be available or is too expensive
Some potential voters may not have a smart phone so text based requests aren't possible
Others may not have internet access so a web based form isn't feasible either
Some voters my have bad eyesight or other disability making it hard to use buttons
Voicebots easily overcome these hurdles. They interact with callers by voice, collect information and save answers for volunteers to follow up with. Voicebots can handle any number of incoming calls simultaneously and they work around the clock. Voicebots are affordable and cost a few cents per call. Learn more.
Alicia Latrina Sullivan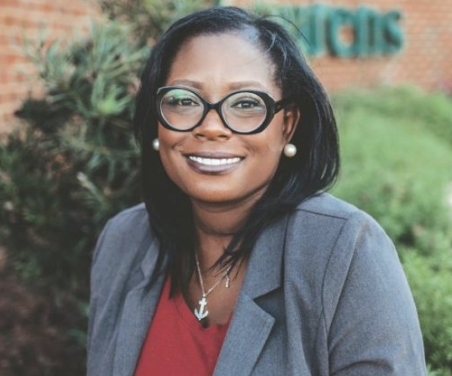 Alicia Latrina Sullivan is running for Mayor of the City of Laurens, SC. She has served as a councilwoman since 2016 for District 2, and is currently serving as chair of the Laurens County Democratic Party. She is a graduate from Emerge and Clyburn fellowship class of 2022 cohort 7. and helped organize the SC Black Municipal Caucus where she currently serves as secretary. Learn more.
Mobilize more supporters with voicebots
A voicebot is a program that responds to calls automatically with a set of questions that you prepare. The voicebot saves answers into a database along with the phone number of the caller and when the call was received. Anthony Hall set up this voicebot to ask if the caller needed a ride or wanted to volunteer to give a ride; the caller's name, city and state and when they wanted to go to the polls.
The voicebot saves the information into a database for volunteers to follow up with. Voicebots can also be set up to provide answers as well. Click on the link below to listen to how the voicebot greets callers, asks questions and waits for the answer before asking the next question. The answers are transcribed automatically and save in the database immediately.
Listen to a typical voicebot interaction
Single voicebot supports multiple candidates
An advocacy group may be supporting dozens of candidates. A single voicebot can handle requests for all of them because the records save include the location of the caller along with their phone number and when they called. This lets the advocacy group easily sort which request belongs to each candidate.
Center For Common Ground
Center for Common Ground was founded to educate and empower under-represented voters in voter suppression states to engage in elections and advocate for their right to vote. It aims to build a democracy that prioritizes the voices of ALL people. The Center for Common Ground has been working to fight voter suppression and empower underserved communities since 2018.
Working with local partners across the country, we run campaigns to increase voter turnout and defend voting rights on the local, state, and national levels. Together with the help of our volunteers, we are educating, mobilizing, and empowering Black voters in voter suppression states across the South to engage in local issues and make their voices heard at the ballot box. Support Center For Common Ground.
TakeAway: Use chatbots to arrange for rides to the polls and make sure that all voters are heard.
Deepak
DemLabs
DISCLAIMER: ALTHOUGH THE DATA FOUND IN THIS BLOG AND INFOGRAPHIC HAS BEEN PRODUCED AND PROCESSED FROM SOURCES BELIEVED TO BE RELIABLE, NO WARRANTY EXPRESSED OR IMPLIED CAN BE MADE REGARDING THE ACCURACY, COMPLETENESS, LEGALITY OR RELIABILITY OF ANY SUCH INFORMATION. THIS DISCLAIMER APPLIES TO ANY USES OF THE INFORMATION WHETHER ISOLATED OR AGGREGATE USES THEREOF.
Read in browser »
Reposted from Democracy Labs with permission.
---
DemCast is an advocacy-based 501(c)4 nonprofit. We have made the decision to build a media site free of outside influence. There are no ads. We do not get paid for clicks. If you appreciate our content, please consider a small monthly donation.
---