"All federal legislation sunsets in 5 years" – 11 Point Plan
President Biden said in his State of the Union address that "some Republicans want Medicare and Social Security to sunset every five years… That means if Congress doesn't vote to keep them, those programs will go away. Other Republicans say if we don't cut Social Security and Medicare, they'll let America default on its debt for the first time in our history."
In fact, Biden's statement was true. It was based on Florida senator Rick Scott's 11-point plan, released in February 2022, which promised, "All federal legislation sunsets in 5 years. If a law is worth keeping, Congress can pass it again." (It also promised to "sell off all non-essential government assets, buildings, and land, and use the proceeds to pay down our national debt," without defining "non-essential.")
Read the Republican Plan for yourself and check this infographic which features videos by Rick Scott (FL), Mike Lee (UT) and Ron Johnson (FL) explaining their plans for Social Security.
Republican Plan to Phase Out Social Security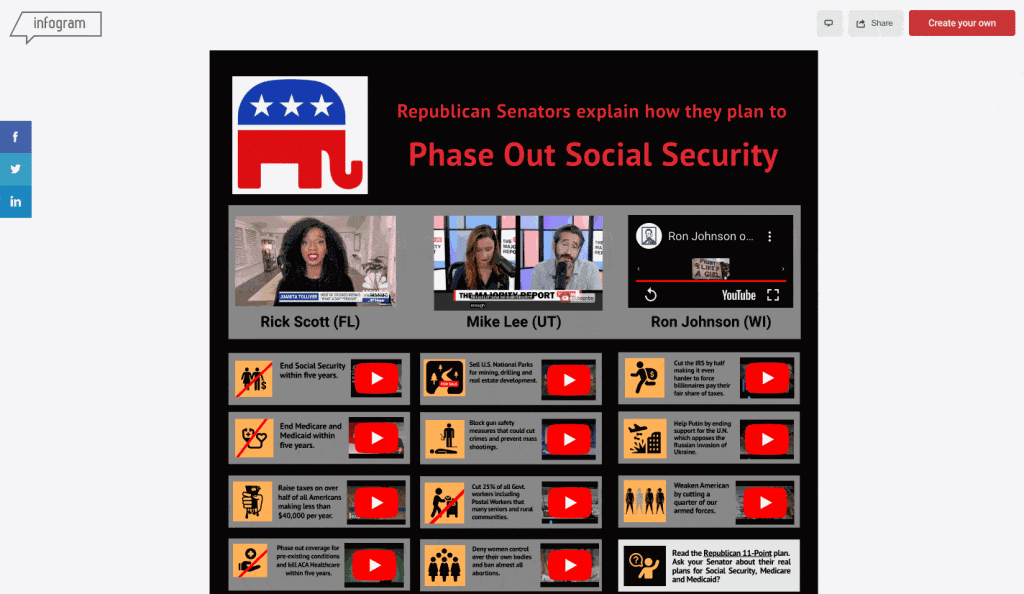 Republican calls for cuts to Social Security
"Since Republicans won control of the House, the extremists have also said they would not approve a clean debt ceiling increase without spending cuts. The history of Republican calls for cuts to Social Security runs long and deep, but just reaching back to 2020: Trump vowed to make cuts in his second term; former vice president Mike Pence last week called for "modest reforms in entitlements," including privatization; Wisconsin senator Ron Johnson has called for moving the programs to annual funding so they would have to be renewed every year; and the Republican Study Committee, which includes more than 150 Republican House members, has called this year for raising the age of eligibility from 66 or 67 to 70 for Social Security and from 65 to 67 for Medicare." – Letters From An American
Ron Johnson
"Senator Ron Johnson thinks five years is too long to wait. He wants to put the funding for Social Security and Medicare on the chopping block every single year.— The White House (@WhiteHouse) February 8, 2023″
In August, Johnson Medicare and Social Security should cease being federal entitlement programs, and instead require approval every year as "discretionary spending." "If you qualify for the entitlement, you just get it no matter what the cost," he said. "And our problem in this country is that more than 70 percent of our federal budget, of our federal spending, is all mandatory spending. It's on automatic pilot. It never, you just don't do proper oversight. You don't get in there and fix the programs going bankrupt." – Newsweek
Republicans' plans to slash Social Security and Medicare
After being evasive about their plans for entitlement programs like Social Security and Medicare in the months leading up to midterms, the House GOP has begun to confirm its intention to cut spending on both. That's according to The Washington Post's Tony Romm, who reported that Republican lawmakers are willing to use the debt ceiling as a bargaining chip in order to get the Biden administration to cave on spending cuts to Medicare and Social Security. Failing to raise the debt ceiling by the summer could cause the US to default on its debt for the first time in history, the consequences of which would be dire." – Business Insider
TakeAway: Vote for Democrats to protect Social Security and Medicare.
Deepak
DemLabs
DISCLAIMER: ALTHOUGH THE DATA FOUND IN THIS BLOG AND INFOGRAPHIC HAS BEEN PRODUCED AND PROCESSED FROM SOURCES BELIEVED TO BE RELIABLE, NO WARRANTY EXPRESSED OR IMPLIED CAN BE MADE REGARDING THE ACCURACY, COMPLETENESS, LEGALITY OR RELIABILITY OF ANY SUCH INFORMATION. THIS DISCLAIMER APPLIES TO ANY USES OF THE INFORMATION WHETHER ISOLATED OR AGGREGATE USES THEREOF.
Reposted from Democracy Labs with permission.
---
DemCast is an advocacy-based 501(c)4 nonprofit. We have made the decision to build a media site free of outside influence. There are no ads. We do not get paid for clicks. If you appreciate our content, please consider a small monthly donation.
---