Frank Chapman, Candidates, Resources
Last week, Indivisible Chicago-South Side hosted an online info session: Your Vote for District Council: Toward Community Control of Police.
The event featured Frank Chapman of CAARPR in the first hour, followed in the second hour by candidates for 2nd district: Julia Kline, Ephraim Lee, Alexander J. Perez, Coston Plummer. We thank all our speakers, and we're grateful that over 50 people attended this informative event to learn and to ask questions.
Missed the event? No worries. You can watch it and get all our follow-up resources too:
---
Make a Difference in Wisconsin, for Democracy
In the fight for democracy, Wisconsin is the front line. To move toward fair elections and hold back MAGA plans in the state, Wisconsin needs to flip the Wisconsin Supreme Court from conservative to progressive (Judges Everett Mitchell or Janet Claire Protasiewicz).
The non-partisan primary is on February 21, and the top two vote-getters go on to the Wisconsin general election April 4. YOU can help Wisconsin get out the progressive vote. Check out the following opportunities from WisDems.
Wisconsin 2023 Election Activities – Which Will You Choose?
---
Tell YOUR U.S. Rep THANKS – or Do Better
Last week, the U.S. House passed a resolution to "denounce the horrors of socialism." This farce of a resolution was introduced by Republicans but, shamefully, it garnered 109 votes from Democrats.
While this resolution is non-binding, it sends a powerful message to the public, associating socialism of any type around the world with the likes of Stalin and Pol Pot. This messaging is, in turn, used to demonize social programs in the United States like Social Security and Medicare. (See this opinion piece on MSNBC.)

How did our members of Congress vote? In Illinois's 2nd district, Rep. Robin Kelly stood strong and voted NAY, but, in the 1st district, we were disappointed to learn that newly sworn-in Rep Jonathan Jackson voted in favor. (See this Indivisible Chicago Alliance Twitter thread to learn how all Illinois Democrats voted.)

Please phone or email YOUR House rep!
Rep Robin Kelly (IL-02) – Tell her thank you for standing strong and voting no on the MAGA-inspired "horrors of socialism" resolution. Let her know you appreciate her work to protect Medicare, Social Security, and other social programs in word and deed.
Rep Jonathan Jackson (IL-01) – Tell him you are dismayed that he voted in favor of the GOP "horrors of socialism" resolution that will only serve Republicans' desire to take away Medicare, Social Security, and other social programs. Urge him to resist both the messaging and the agenda of GOP/MAGA forces and to do all he can to protect Medicare, Social Security, and other social programs.
We'd love to hear from you! Let us know what happens when you contact your member of Congress.
---
Thanks for Turning Out
Thanks to Indivisible friends for turning out in the bitter cold last Monday, January 30, along with hundreds of people in support of CAARPR's emergency action for Tyre Nichols, Keenan Anderson, Tortuguita, and others murdered by police. Vote in District Councils and hold police accountable!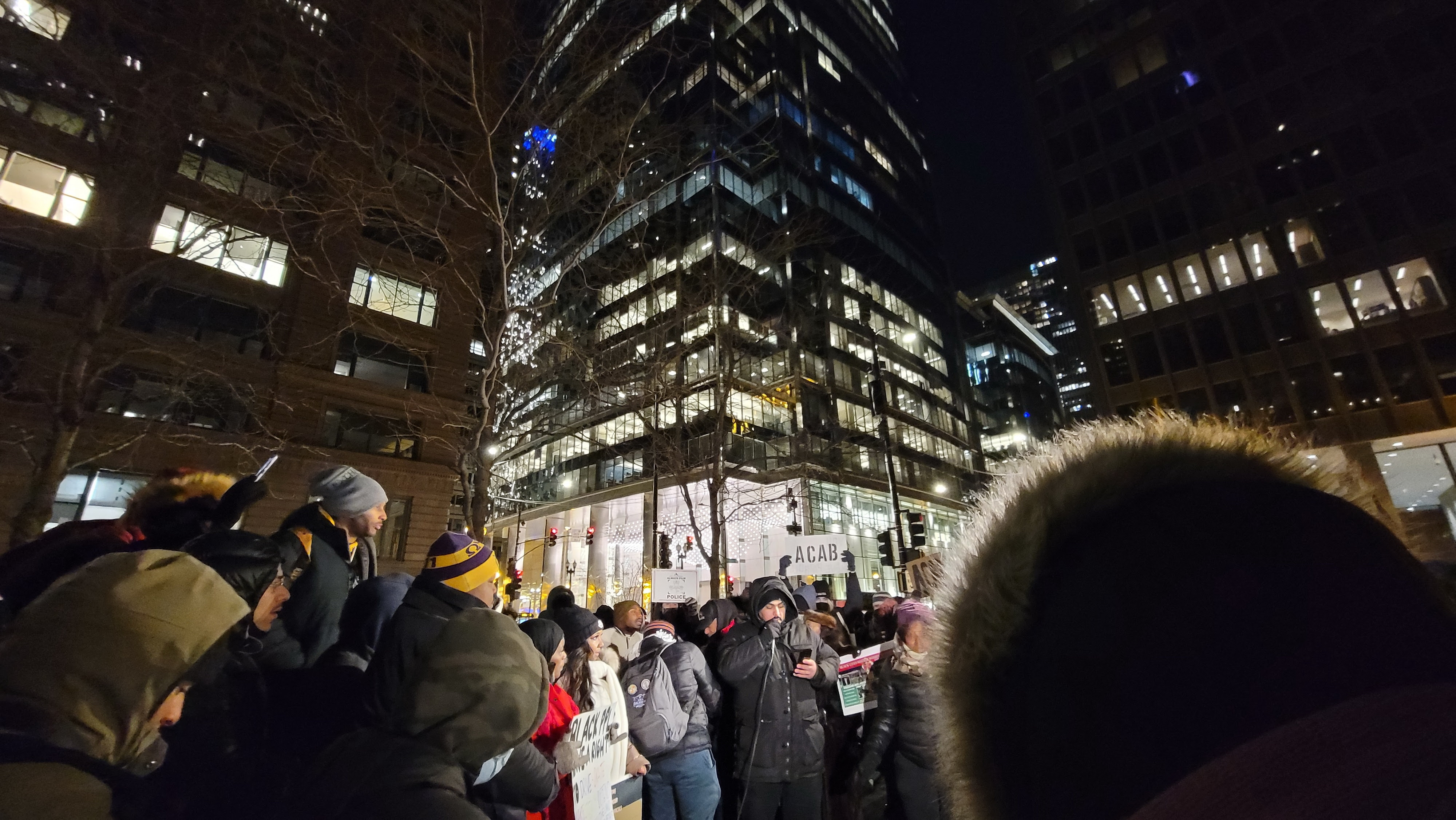 In these photos find Frank Chapman of CAARPR, Teri Watkins, Steven Dornbusch (marshal), Michael Aaron, Lisa Rademacher, Betsy Rubin, and Indivsible Chicago Board members/marshals, Denise Poloyac, Bill Mengebier, Betty Alzamora. If you were there and we didn't see you, let us know!
---
Candidate Forums for City Elections
Chicago's municipal Election Day is February 28, but early voting has already begun downtown and will begin across the city on Feb 13. While IC-SS won't be making endorsements, we'll help you get the info you need to cast your ballot.
---
Mayoral Forums – In Person or Virtual
Here are opportunities to see the mayoral candidates from your home or in person.
Upcoming Mayoral Forums
WBEZ's Reset with Sasha-Ann Simons has two mayoral forums this week:
Wed, Feb 8th, 11:00 am. At UIC Student Center East, 750 S. Halsted, hear from Mayor Lori Lightfoot, Chuy Garcia, Paul Vallas, Kam Buckner and Sophia King. Register here.
Thurs, Feb. 9th, 11:00 am: At Ida Noyes (UChicago), 1212 E. 59th St., hear from Brandon Johnson, Willie Wilson, Roderick Sawyer and Ja'Mal Green. Register here.
NOTE: WBEZ invites you to submit YOUR questions for the candidates here.
Recorded Mayoral Forums
City Council Forums
Find out about upcoming forums for various wards at this page of the website League of Women Voters of Chicago. And see below for recorded or live forums.

5th Ward Forums – Recordings & Reports

Missed recent 5th ward forums? Watch the recordings here:
From Obama CBA Coalition and Not Me We, Jan 22: watch
From Save Jackson Park, Jan. 15: watch
NOTE: After most 5th-ward forums took place, one candidate was removed from the ballot (Adrienne Irmer). This candidate's name mistakenly appeared on mail ballots, and the Chicago Board of Elections is now sending corrected mail ballots to voters who received the incorrect original ballots.
3rd & 4th Ward Forum
---
Resources for You, the Voter
As a Chicagoan, you'll be voting for multiple races in the municipal election. Cast your ballot now through February 28 (Election Day).
Here are resources we've compiled for you:
Recommendations & Endorsement Guides
Indivisible Chicago-South Side is not making endorsements in the municipal elections. However, some organizations and activists have put out their own list of recommendations:
Empowered Communities Guide – based on a questionnaire, a consortium of progressive grassroots and labor organizations list which candidates for District Councils share their values and principles.
---
Organizations and Opportunities
Indivisible Chicago-South Side shares information and action announcements from other organizations on issues important in our country, state, city, and communities.
---
CTU Petition: Black & Brown Unity in Woodlawn
You've likely read about the conversion of Woodlawn's shuttered Wadsworth elementary school into a shelter for migrants. Many have decried the way the mayor's decisions have pitted Black and Latino communities against each other. (See this WBEZ story.)
The Chicago Teachers Union asks people to sign a petition to Mayor Lightfoot demanding that the mayor's office "commit to #SanctuaryforAll, for Woodlawn residents new and old, immigrant and non-immigrant alike, particularly in this moment of heightened need." Add your name to the petition here.
Newsletter Notes
SUBSCRIBE: Did someone forward this newsletter to you? If you'd like to subscribe and get our newsletter every Monday morning, click here to subscribe.

SUGGEST: Got an event or resource to suggest for the newsletter? Email us here.
Indivisible Chicago-South Side
Email: Indiv.Chi.South@gmail.com
Follow IC-SS on Facebook, Twitter, Mastodon, Post
Co-Leaders: Sarah Lincoln, Esther Peters,
Betsy Rubin, Teri Watkins
About: Group & Co-Leader Statements
---
DemCast is an advocacy-based 501(c)4 nonprofit. We have made the decision to build a media site free of outside influence. There are no ads. We do not get paid for clicks. If you appreciate our content, please consider a small monthly donation.
---