"Tyre Nichols Cried in Anguish. Memphis Officers Kept Hitting." – NY Times
Was this a random event? How does it fit into the larger pattern of police violence? Let's analyze the data.
How many Black Americans have been killed by the police? What led up to the killing? How old were they? How many were women? Was the officer charged? What can you do about it?
Use this map designed with ArcGIS Online and data from Mapping Police Violence to understand the scope of this American tragedy. Tap on the map to call your elected official with one click. Read suggestions from Thom Hartmann on how to reduce police killings. There's also a link to register to vote so you can vote for leaders to reform police killings.
Mapping over 2,700 police killings of Black Americans
Let the facts do the talking
Law enforcement agencies and the government fail to provide accurate numbers on the number of lives taken at the hands of police. Mapping Police Violence is the most comprehensive accounting of people killed by police since 2013. They hope these data will be used to provide greater transparency and accountability for police departments as part of the ongoing work to end police violence in America. – Mapping Police Violence
The Washington Post compiles a database of every fatal shooting in the United States by a police officer in the line of duty since Jan. 1, 2015. It began tracking more than a dozen details about each killing — including the race of the deceased, the circumstances of the shooting, whether the person was armed and whether the person was experiencing a mental-health crisis — by culling local news reports, law enforcement websites and social media, and by monitoring independent databases such as Killed by Police and Fatal Encounters. – Washington Post
Check the facts for yourself
The map is designed for ease of use. You can search over 2,700 records of police killings with a few clicks. Filter your search for the age, gender of the victim and whether the police officer was charged. The map can be freely shared with this link or embedded in a website with this code: < iframe width="800″ height="600″ frameborder="0″ scrolling="no" allowfullscreen src="https://arcg.is/1TOnO9″></iframe>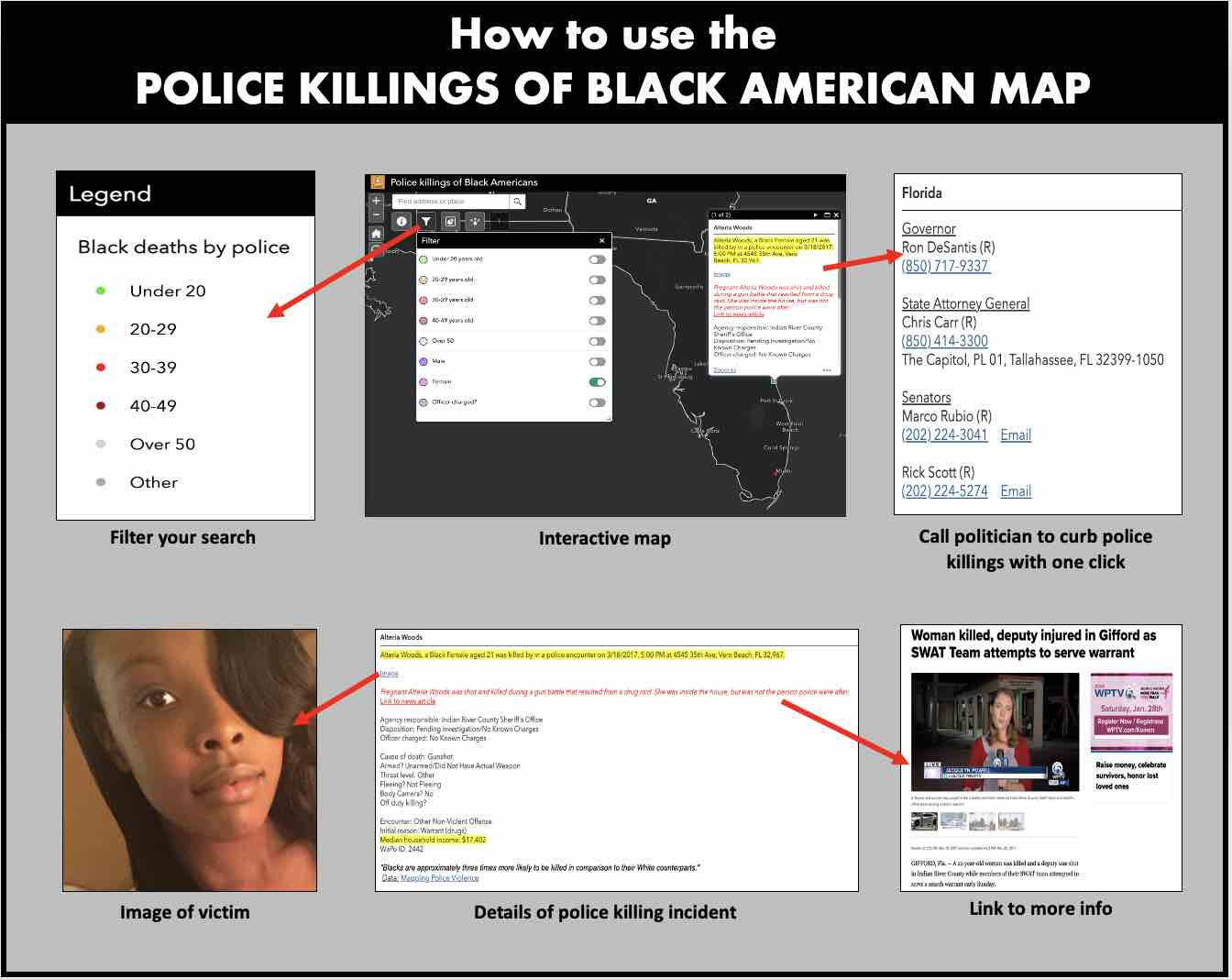 Time for genuine reform
"Congress should pass legislation to create national standards for policing to regulate local and state police departments so violence-prone and violence-craving individuals don't end up as cops." – Thom Hartmann
The United States is the only developed country in the world lacking national standards for hiring, training, supervising, and disciplining police across the 18,000 departments in the country.
While it takes years to become an officer on the street in most developed countries, the average cop in America spends about as much time training as does a barber. Many small police agencies require little to no training.
The US being the only developed country in the world that allows policing-for-profit, a system where police departments are funded in part by the revenue generated by moving violations and other fineable petty crimes.
The US is the only country in the world where a corrupt Supreme Court has unconstitutionally invented out of whole cloth a doctrine of "qualified immunity" which has, on numerous occasions, protected bad cops.
Congress, lobbied by defense contractors, rolled out an initiative based on Section 1208 of the National Defense Authorization Act that made "surplus" military equipment — from high-powered sniper rifles to armored personnel carriers — available to local police departments. This has so heavily contributed to the militarization of our police that departments that are heavy recipients of such equipment are measurably more likely to kill their citizens than departments that aren't.
TakeAway: Call your elected official to demand they reform the police system to curb police killings
Deepak
DemLabs
DISCLAIMER: ALTHOUGH THE DATA FOUND IN THIS BLOG AND INFOGRAPHIC HAS BEEN PRODUCED AND PROCESSED FROM SOURCES BELIEVED TO BE RELIABLE, NO WARRANTY EXPRESSED OR IMPLIED CAN BE MADE REGARDING THE ACCURACY, COMPLETENESS, LEGALITY OR RELIABILITY OF ANY SUCH INFORMATION. THIS DISCLAIMER APPLIES TO ANY USES OF THE INFORMATION WHETHER ISOLATED OR AGGREGATE USES THEREOF.
Read in browser »
Reposted from Democracy Labs with permission.
---
DemCast is an advocacy-based 501(c)4 nonprofit. We have made the decision to build a media site free of outside influence. There are no ads. We do not get paid for clicks. If you appreciate our content, please consider a small monthly donation.
---