Where organizers apply pressure? Use a Power Map to understand the players, motivations, and their relationships.
This Power Map presents options for activists as they campaign to curb Musk's Twitter spreading more disinformation and hate speech. The map was designed with the free Kumu app with data from the Washington Post, NY Times, Yahoo Finance and other sources.
Pressure points
Musk purchased Twitter for $44 billion using $33 billion of Tesla stock as collateral for the loan. As Tesla shares lose value, he has to give up more of his holding
Musk sold Tesla shares and put them up as collateral to raise cash. Tesla's value is linked to Twitter's. Any trouble at Twitter could force Mr. Musk to draw on his Tesla stock.
Any problem at Tesla that caused its stock to fall far enough could trigger clauses in Mr. Musk's personal loans that would require him to add more collateral.
Hate and racism is surging on Twitter as Musk allow more extremists back on the platform. Could some of the people offended by Twitter decide to buy an electric car other than Tesla from one of its 222 Tesla dealerships?
89% of Twitter's revenue comes from advertising. 50 of its top 100 advertisers representing $2 billion in advertising revenue since 2020 have left the platform. This makes it harder for Twitter to cover its debt payments.
Shareholders (BlackRock / Vanguard) and investors (Morgan Stanley) have clients who may not be pleased about the racism, violence and misogyny being spread through Twitter under Musk.
Use a Power Map to find pressure points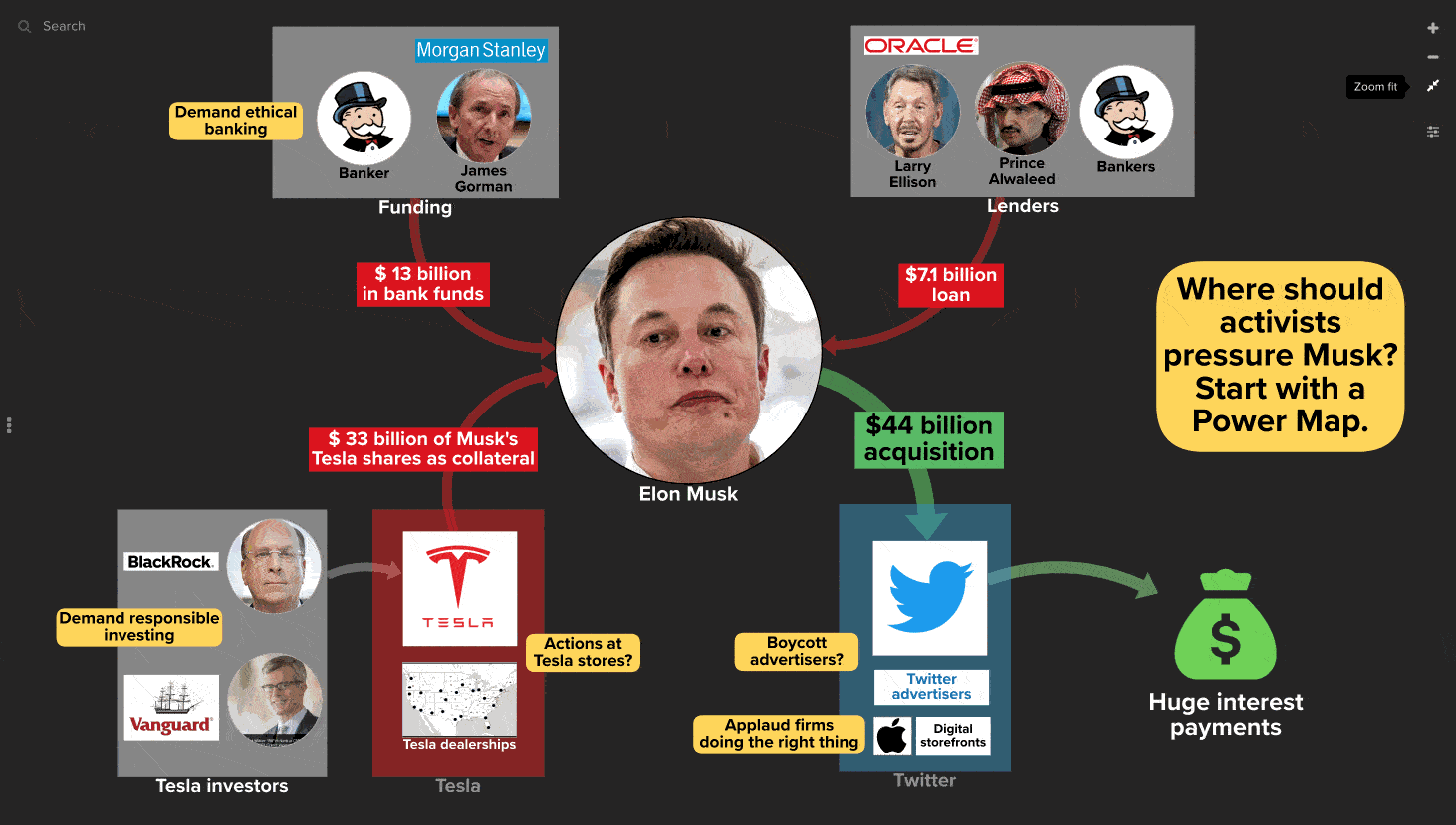 What is a Power Map
Power mapping is a visual tool used to understand who has more or less power to help navigate its politics. Power exist in established relationships. People can't own power because it depends on how much they control resources others value. To effect change in an organization, you must first identify individuals with the most power. Identifying the most powerful players in your workplace is crucial if you're trying to make a positive impact. – HBR
To win a campaign, you need to correctly identify who has the power to fix the problem you want fixed. Then you need to pressure them to make the right decision. Power mapping is a tool to not only identify who holds that power, but, crucially, who holds influence over that person, and, therefore, who to target with your direct actions and campaign activities. A power map, properly done, can reveal these relationships and power dynamics and help you design a winning strategy for your campaign. – Commons Library
How this Power Map was designed
We started with where the money for Musk's purchase of Twitter came from. Which investors, bankers and sovereign funds were involved?
How much of Elon's Tesla shares were applied as collateral to finance the purchase? What impact did the Twitter purchase have on Tesla's share price?
Who are the major Tesla shareholders? What are their public statements on corporate purpose and ethics?
Who are the major Twitter advertisers? How many are moving off the platform?
Where can activists apply pressure on advertisers, Tesla buyers, shareholders and Tesla investors?
Strategy for Organizers
A Power Map is a useful tool for organizers as they plan their strategy. Check out this free online training course on 'Strategy For Organizers' taught by legendary community organizer, Heather Booth. Heather is also the founder of the MidWest Academy that conducts workshop for organizers.
The Midwest Academy is a national training institute committed to advancing the struggle for social, economic, and racial justice. From local neighborhood groups to statewide and national organizations, Midwest Academy has trained over twenty-five thousand grassroots activists from hundreds of organizations and coalitions. Midwest Academy teaches an organizing philosophy, methods and skills that enable ordinary people to actively participate in the democratic process.
Courses and consulting services are designed for progressive organizations and coalitions that utilize civic engagement activities to build citizen power at all levels of our democracy. Over the years, the Academy has been instrumental in helping to build statewide coalitions in many states. Today, the Academy continues to provide training to these multi-issue, statewide organizations, as well as to numerous other groups, ranging from students to senior citizens and from neighborhood to national organizations.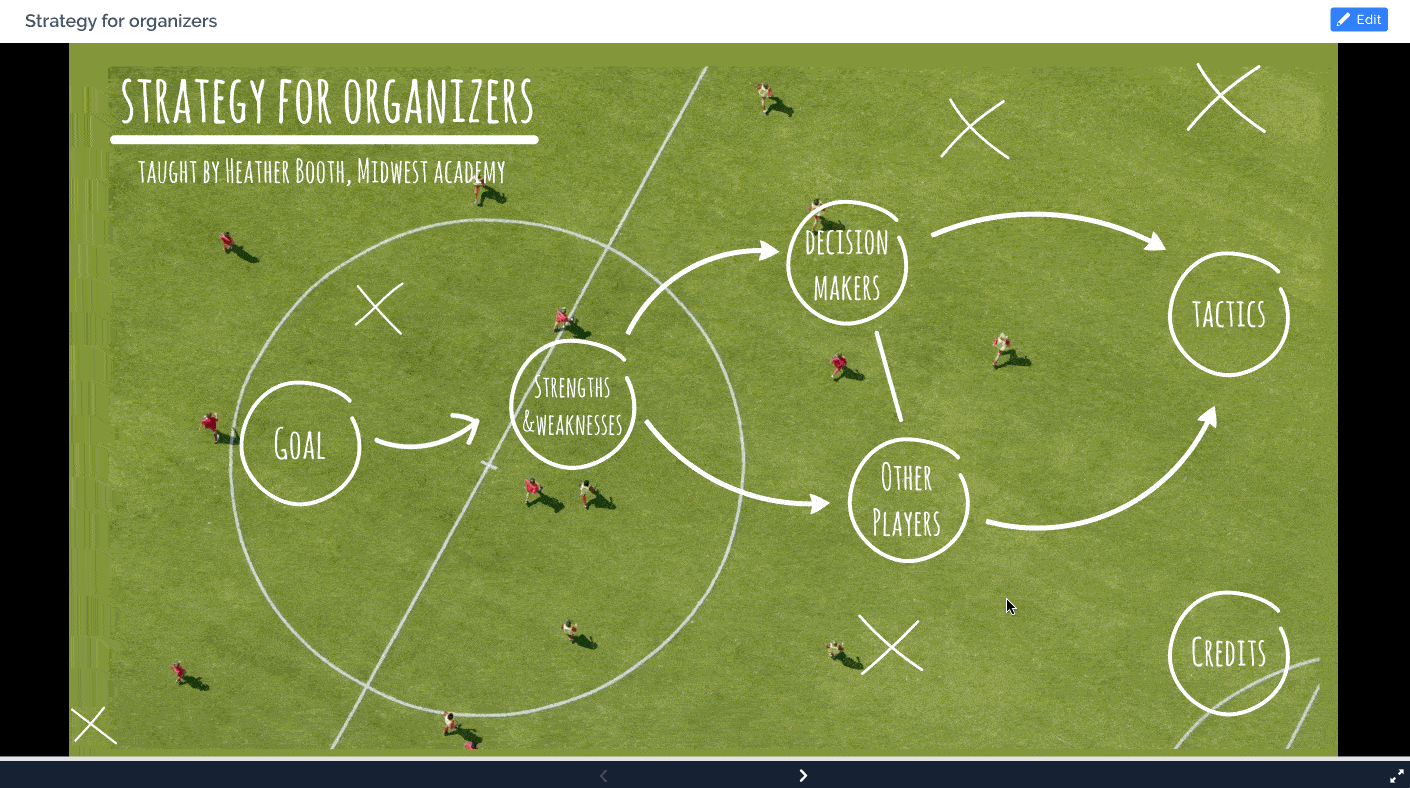 Take Away: Plan your strategy first and then use Power Maps to decide where to apply pressure to bring about change.
Deepak
DemLabs
DISCLAIMER: ALTHOUGH THE DATA FOUND IN THIS BLOG AND INFOGRAPHIC HAS BEEN PRODUCED AND PROCESSED FROM SOURCES BELIEVED TO BE RELIABLE, NO WARRANTY EXPRESSED OR IMPLIED CAN BE MADE REGARDING THE ACCURACY, COMPLETENESS, LEGALITY OR RELIABILITY OF ANY SUCH INFORMATION. THIS DISCLAIMER APPLIES TO ANY USES OF THE INFORMATION WHETHER ISOLATED OR AGGREGATE USES THEREOF.
Reposted from Democracy Labs with permission.
---
DemCast is an advocacy-based 501(c)4 nonprofit. We have made the decision to build a media site free of outside influence. There are no ads. We do not get paid for clicks. If you appreciate our content, please consider a small monthly donation.
---