Democracy is on the ballot in North Carolina
STOP the North Carolina Republican's brazen power grab.
A fringe legal ploy is being pushed by extreme politicians, the so-called "independent state legislature theory". It has never been accepted by American courts.
The politicians behind this radical scheme want the legislature to have absolute power over North Carolina's federal elections – with no checks and balances from our state's courts. If these politicians get their way in Moore v. Harper, it could overturn our historic victory against gerrymandering from earlier this year and unleash voter suppression against the people of North Carolina. It would make it harder to turn public demands into public policy that reflects the needs and values of our communities.
It has the potential to upend free elections and undercut voting rights across the country. – Common Cause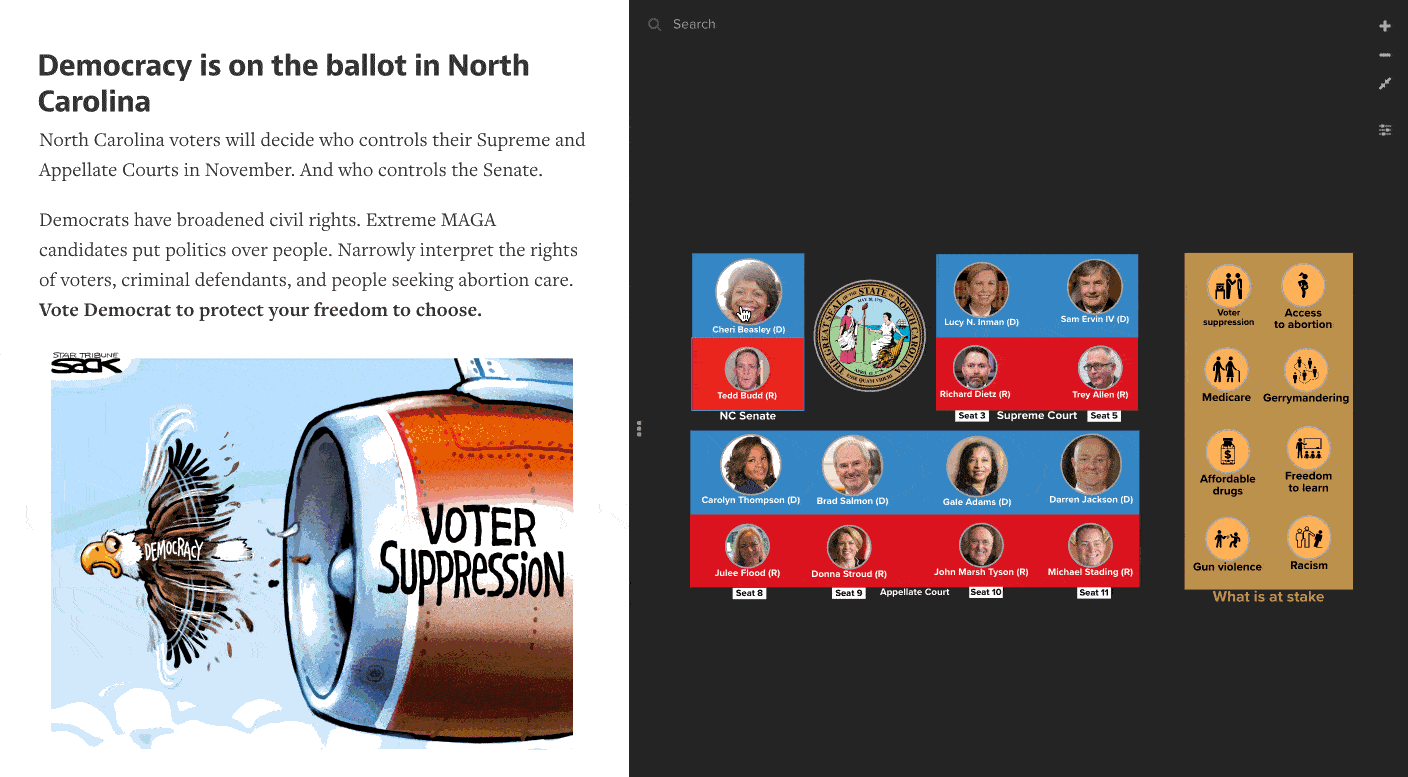 Who controls the North Carolina Courts matters so much
North Carolina voters will soon decide whether their state constitution will be defined by a slim Democratic majority that has broadened civil rights or by a new conservative majority that will narrowly interpret the rights of voters, criminal defendants, and people seeking abortion care.
In recent years, the North Carolina Supreme Court has cracked down on blatant partisan gerrymandering by the Republican-led legislature. In February, the Democratic majority struck down congressional districts and held that the state constitution protects "the equal power of each person's voice in our government through voting in elections that matter." (This ruling has been appealed to the U.S. Supreme Court under the absurd and dangerous "independent state legislature" theory.)
Conservative groups in D.C. are also pouring money into the race. A billionaire-backed organization called Fair Courts America has pledged to spend $22 million—a record-breaking sum—to help conservative high court candidates around the country. The Judicial Crisis Network, a dark-money group whose leader has lied about spending in high court races, could funnel money into groups that run ads attacking the Democrats. – MSNBC
Cheri Beasley
Cheri Beasley is a mom, former public defender, judge, and the first Black woman to serve as Chief Justice of the North Carolina Supreme Court. She's spent her life fighting to uphold the law and keep communities safe – and as U.S. Senator, she'll fight to lower costs, create good-paying jobs and expand access to affordable, quality health care in every part of North Carolina.
"I raised my family right here in North Carolina and dedicated my life in service to this state. I know that families in our state are struggling — and Washington is not helping. I'm running for Senate to be an independent voice who stands up for North Carolina and what's right for our state- regardless of the politics. And I will bring the same values I was raised with — hard work, integrity, and justice — to fight for every person in our state."
Raised by a trailblazing mom, Cheri learned the values of hard work, integrity, and justice from a young age. She and her husband Curt instilled those same values in their twin sons, Thomas and Matthew, as they raised their family in a home steeped in faith here in North Carolina. These values guided her work, first as a public defender and judge. In 2019, Cheri rose to become the first African American woman to serve as Chief Justice of the North Carolina Supreme Court. As a judge, Cheri has always acted independently and without bias to uphold the law and keep communities safe – no matter the politics. – Cheri Beasley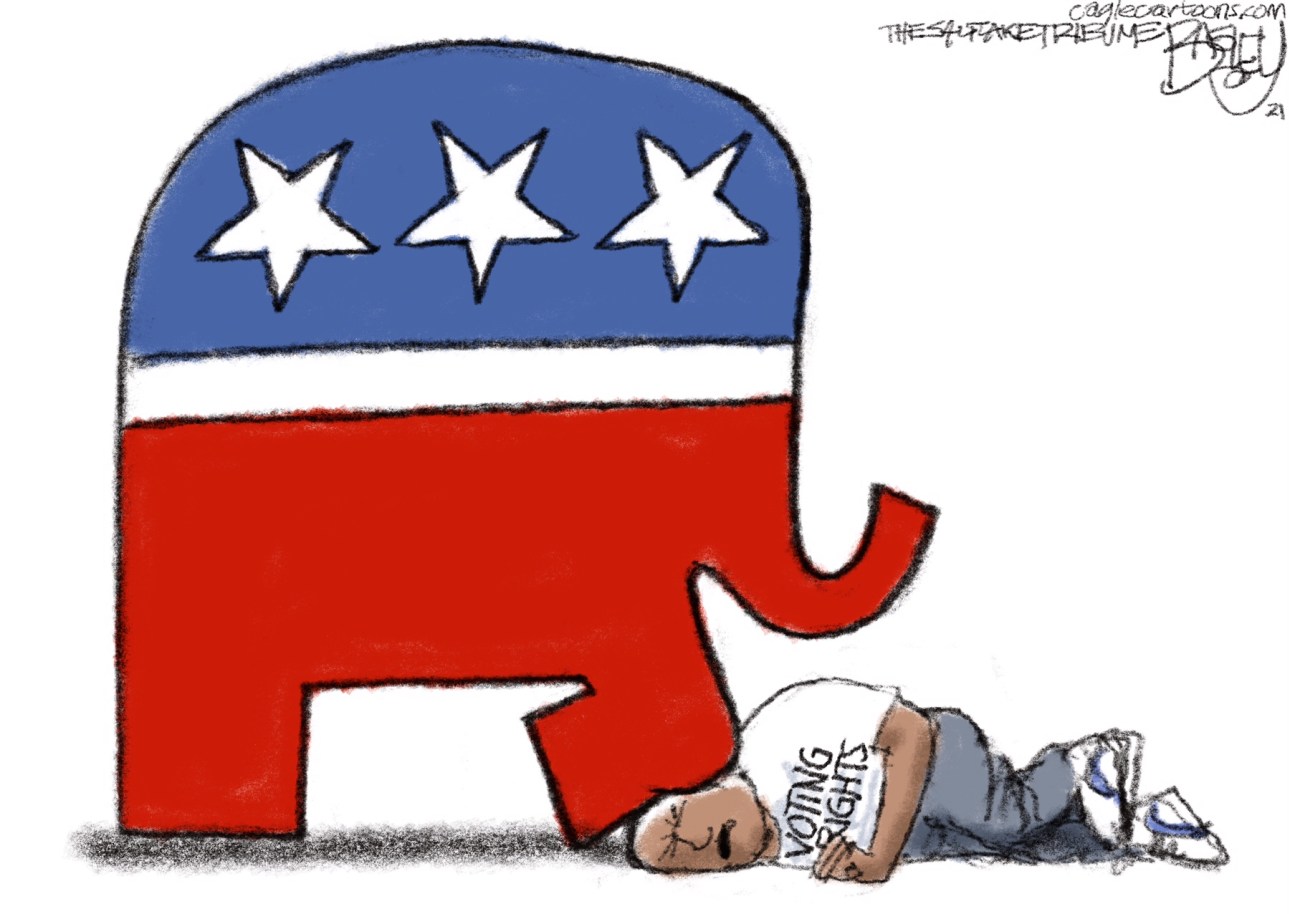 Moore v. Harper
In 2021, the North Carolina state legislature drew new congressional and legislative voting districts that were extreme partisan gerrymanders. Common Cause NC joined a group of plaintiffs in challenging those gerrymanders in state court. Earlier this year, the North Carolina Supreme Court ruled in favor of Common Cause NC and the other plaintiffs, finding that the legislature's gerrymanders violated North Carolina's Constitution.
As a result of that ruling, the legislature redrew the districts once again. However, the legislature's redrawn congressional map continued to be an illegal gerrymander. Since the legislature repeatedly proved itself unwilling to draw districts without gerrymandering, the court tasked a panel of neutral experts – called "special masters" – to draw congressional districts that met constitutional standards. The new congressional map drawn by the special masters was adopted by the state court to be used only for the 2022 election.
Instead of respecting the NC Supreme Court's ruling, politicians in the North Carolina legislature – led by Republican House Speaker Tim Moore – filed an appeal to the U.S. Supreme Court, grasping at a fringe concept never before accepted by American courts. Moore and his group want the legislature to have unchecked power over federal elections in North Carolina, which would include sole authority over creating the state's congressional districts, even if those districts are gerrymandered to the extreme.
If Moore and his group prevail, the people of North Carolina could essentially be barred from seeking protection in state court when politicians in the legislature violate our freedom to vote in federal elections. – Common Cause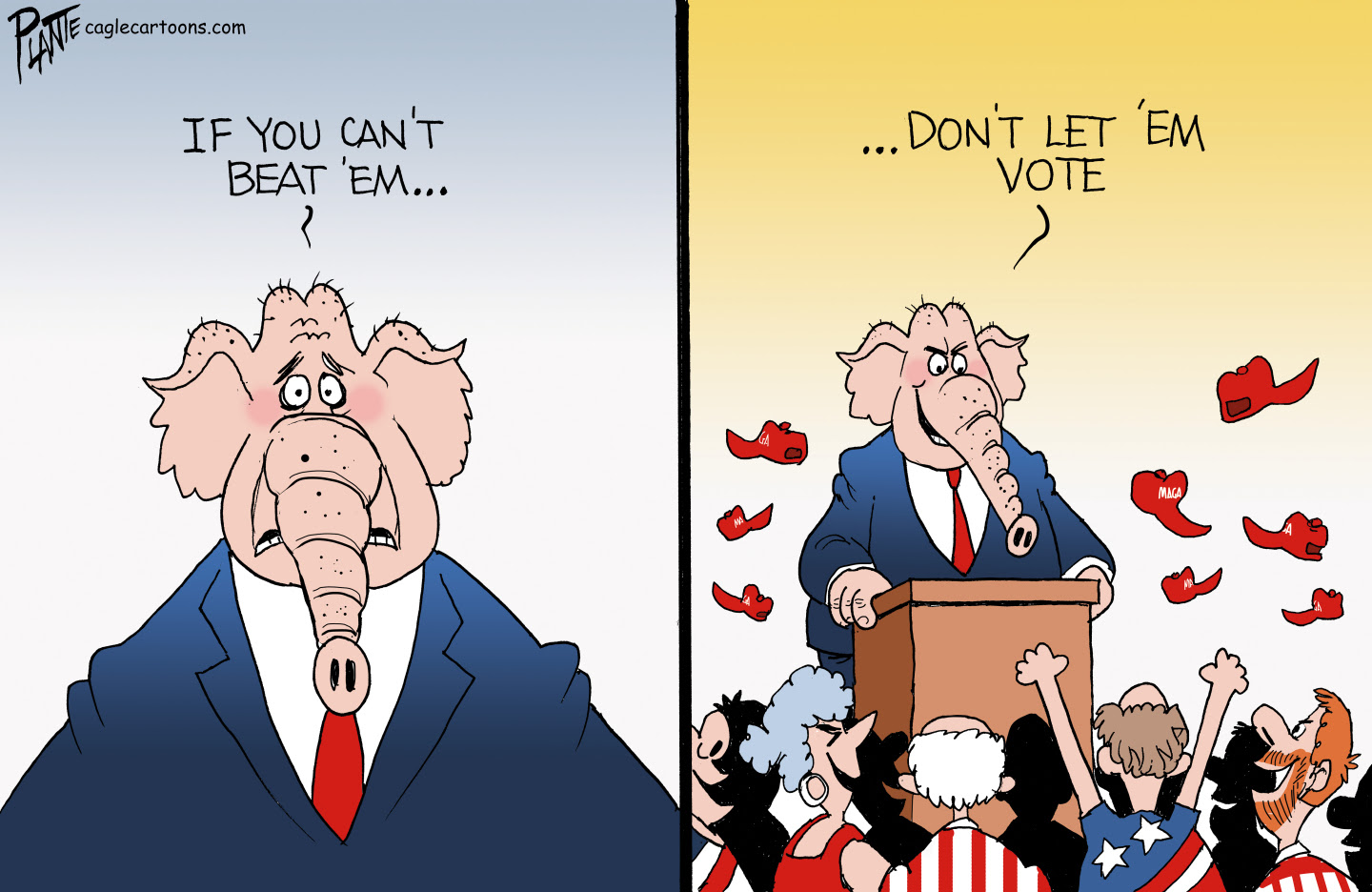 Since June 30, 2022, when the U.S. Supreme Court granted review of the North Carolina redistricting case Moore v. Harper, Common Cause NC and Southern Coalition for Social Justice revived an unprecedented campaign to tell our story about our state's fight for responsive maps and voting access and the impact Moore could have on future elections in North Carolina and across the nation.
Organizing these community conversations will be critical to providing a better understanding of how recent congressional, state legislative, and local redistricting will impact our daily lives. The #MapOurFuture Tour brings experts to your county for in-person and virtual events that show the consequences of new maps and connect redistricting to upcoming elections. Together, we'll talk about the issues that matter most to you, the representation and resources you need, and help shape a collective vision for civic engagement that serves your community.
TakeAway: Democracy is on the ballot in North Carolina. Vote for Democratic justices and Cheri Beasley.
Deepak
DemLabs
DISCLAIMER: ALTHOUGH THE DATA FOUND IN THIS BLOG AND INFOGRAPHIC HAS BEEN PRODUCED AND PROCESSED FROM SOURCES BELIEVED TO BE RELIABLE, NO WARRANTY EXPRESSED OR IMPLIED CAN BE MADE REGARDING THE ACCURACY, COMPLETENESS, LEGALITY OR RELIABILITY OF ANY SUCH INFORMATION. THIS DISCLAIMER APPLIES TO ANY USES OF THE INFORMATION WHETHER ISOLATED OR AGGREGATE USES THEREOF.
Reposted from Democracy Labs with permission.
---
DemCast is an advocacy-based 501(c)4 nonprofit. We have made the decision to build a media site free of outside influence. There are no ads. We do not get paid for clicks. If you appreciate our content, please consider a small monthly donation.
---