"An overarching agenda with a name that ties it all together and simplifies what's happening for voters and is easy to share." – Dan Pfeiffer, MessageBox
"Democrats should offer a straightforward, comprehensive agenda and commit to passing it if they keep control of Congress and get true control of the Senate. Such an agenda could mobilize the party's base, woo swing voters and, most important, guarantee that we don't see a repeat of the demoralizing do-little Washington of the past two years." – Perry Bacon Jr., WaPo
We created the American Freedom Agenda infographic which describes 29 items organized by Economic, Personal, Democratic and Environmental freedoms. The infographic is interactive with links to more information for each item. It includes ideas from:
American Freedom Agenda infographic
An uncivil war that the Democrats must win
"The United States is experiencing a non-military, uncivil war that the Democrats must win. This agenda directly confronts America's biggest problem: the radicalized Republican Party and how our political system gives a small bloc of GOP voters, the party's donors and its elected officials veto power over the preferences of most Americans, including many Republicans. What connects these ideas? First, many of them are already popular. The civics and life-skills course, in particular, should appeal to Democrats, independents and even Republicans.
The Republican agenda of expanding gun rights, narrowing voting rights and functionally abolishing abortion rights doesn't seem coherent or logical until you view it as an agenda of White male Christian hegemony. Then it fits together perfectly. The Democrats must stop trying to duck the so-called culture wars and instead fight hard to win them. There is no middle ground between White male Christian hegemony and multiracial, multicultural social democracy — and the Democrats shouldn't be shy about using their power to impose the latter, since it's what a clear majority of Americans want." – Perry Bacon Jr. Washington Post
How to design an infographic
There's a lot of information involved with dozens of policy initiatives. How do you present information so that it's easily understood at a glance but still be able to dive in for details on the topics that they're interested in? Choose icons that best represent the issue. An infographic can be quickly customized to different audiences by only featuring the items that appeal to that group and leaving out others. The background information for each item can also be revised as needed in the Google Doc without affecting the infographic.
Use basic colors – such as black, white and blue in this infographics so the viewer's attention is focussed on the icon. Icons are easily understood regardless of language, education and age. All the icons used are freely available here.
Organize information so it's easy to follow
We collected information from A Democratic 'Contract With America' for 2022 by Perry Bacon Jr. and The Freedom Agenda and the Post-Manchin Path Forward by Dan Pfeiffer. These articles are full of details described in words. Additional ideas came from Letters From An American by Heather Richardson and We Need To Show Up by Heather Booth.
The first step was to consolidate these policies, remove duplicates and group them into different logical types of freedoms – Economic, Personal, Democratic and Environmental. Each initiative was described in a few words to supplement the icon. Clicking on the icon or description leads to a Google Document with more details. Bookmarks are used in the document so the reader goes directly to the description of the initiative without having to scroll through the document.
The information is organized into three columns so it is easier to read. This 'pyramid style' design of information keeps the message simple and easily shared with others on social media. The details are kept in the background for those interested but easy to access.
Make it easy to share
Spread your message with Action Buttons
Reach more people by spreading your message across different social media platforms with a single link, without having to manually post an image and link for each one. Action Buttons make it fast and simple. This is how we created an Action Button for the AMERICAN FREEDOM AGENDA inforgraphic: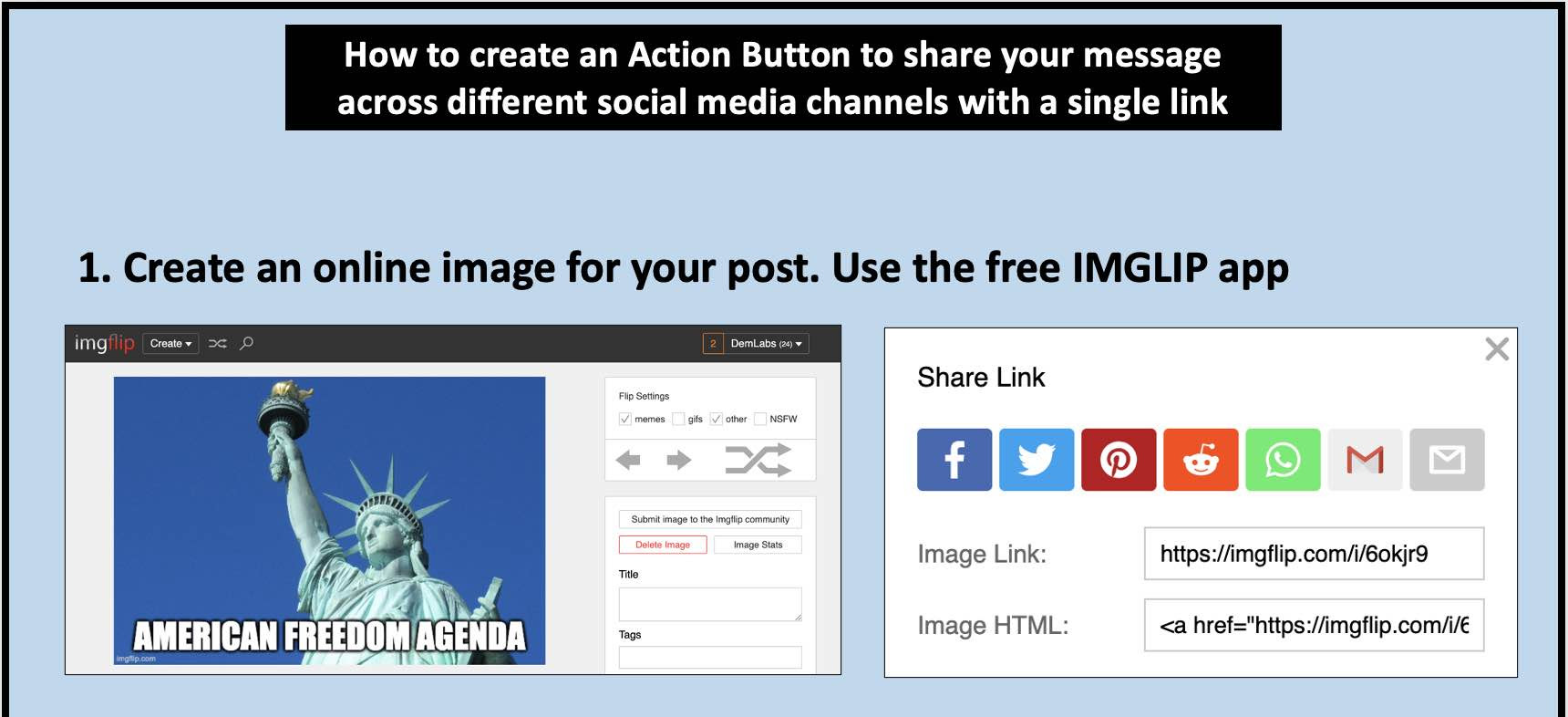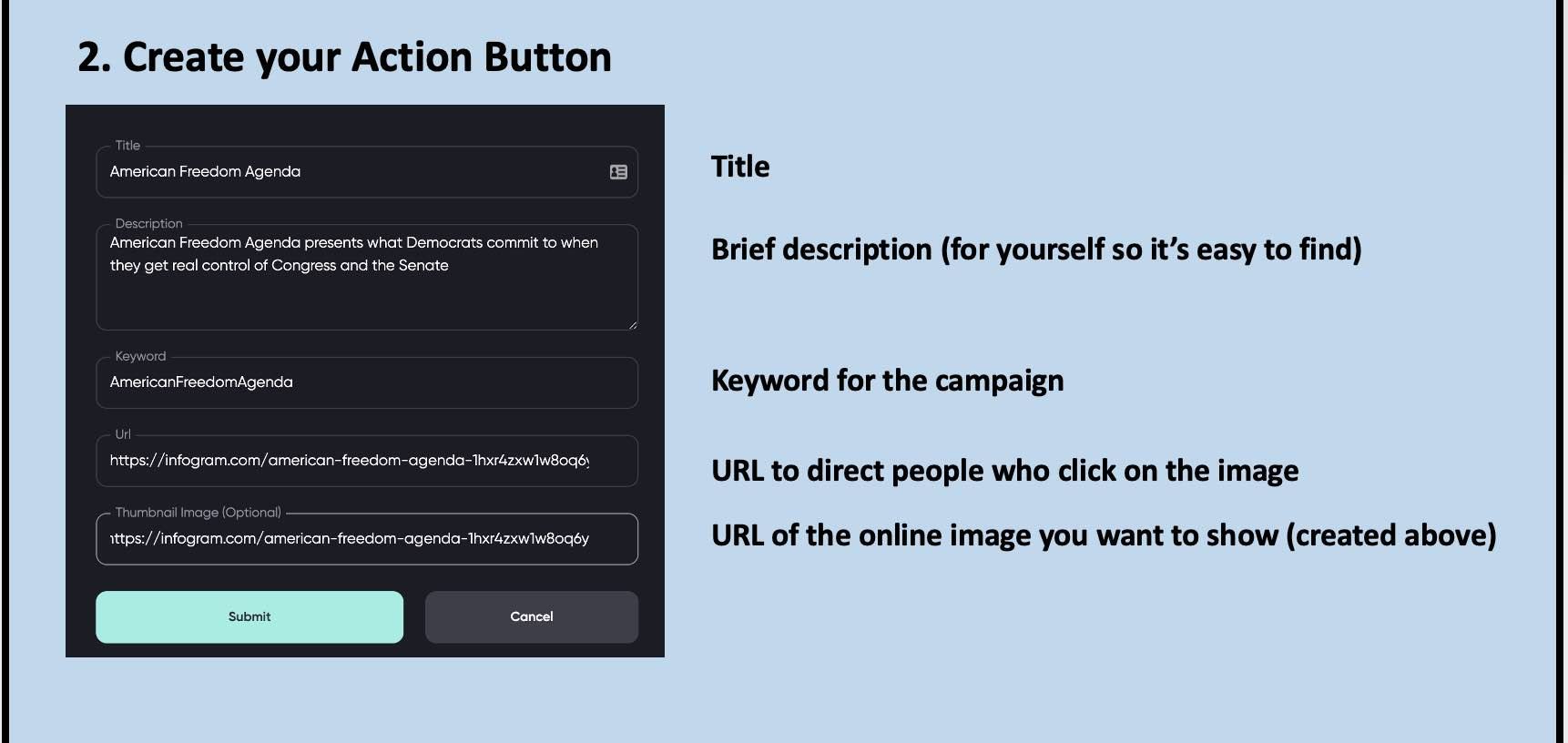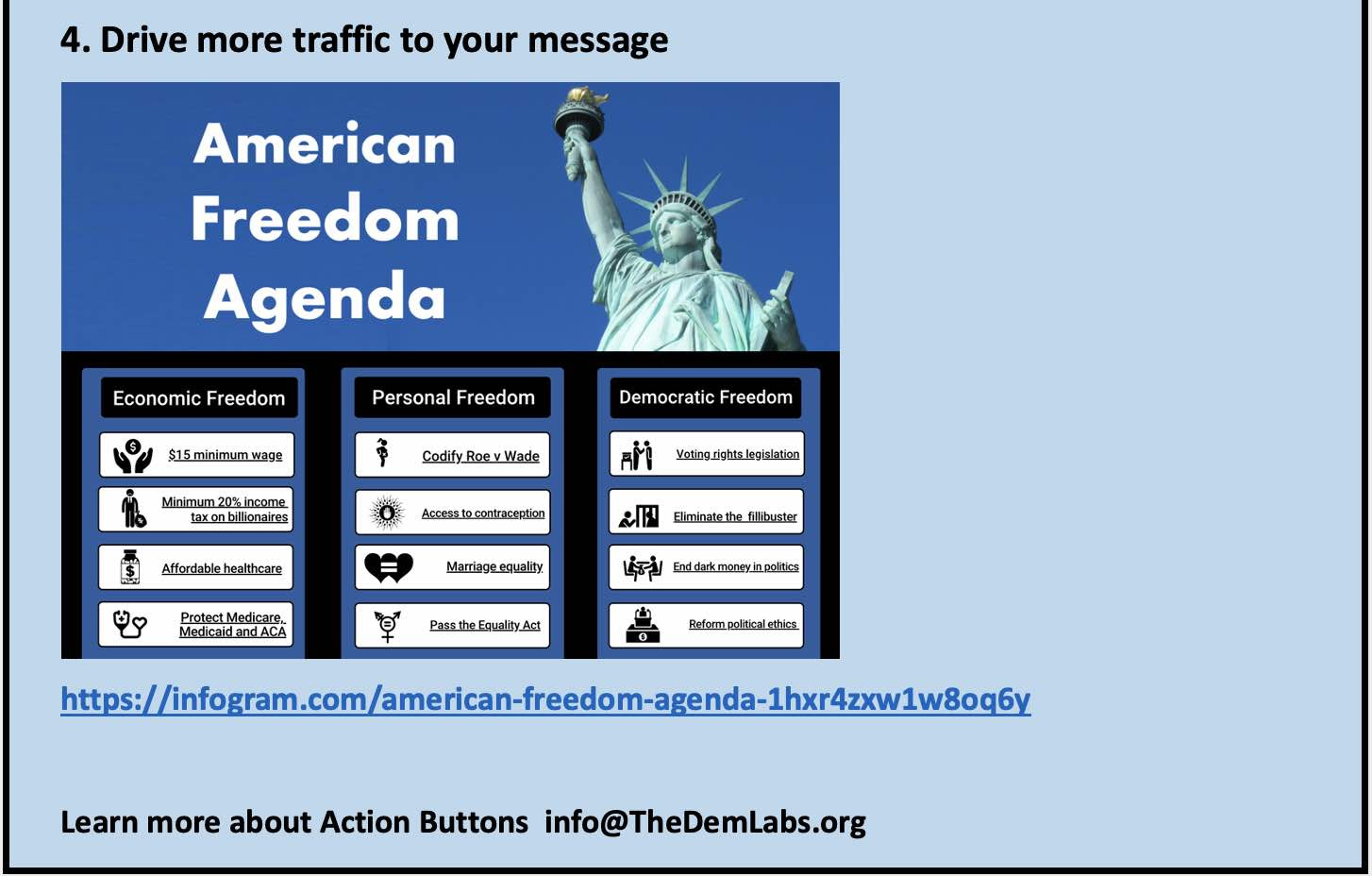 TakeAway: Use infographics and Action Buttons to reach and engage more people
Deepak
DemLabs
DISCLAIMER: ALTHOUGH THE DATA FOUND IN THIS BLOG AND INFOGRAPHIC HAS BEEN PRODUCED AND PROCESSED FROM SOURCES BELIEVED TO BE RELIABLE, NO WARRANTY EXPRESSED OR IMPLIED CAN BE MADE REGARDING THE ACCURACY, COMPLETENESS, LEGALITY OR RELIABILITY OF ANY SUCH INFORMATION. THIS DISCLAIMER APPLIES TO ANY USES OF THE INFORMATION WHETHER ISOLATED OR AGGREGATE USES THEREOF.
A Democratic 'Contract With America' for 2022
Perry Bacon Jr. in the Washington Post
Eliminate the filibuster.
A national law guaranteeing a right to an abortion in the first trimester and in all cases of rape and incest.
A democracy reform law mandating independent commissions to draw state and congressional districts lines free of gerrymandering; vote-by-mail and two weeks of early voting; proportional representation through multi-member congressional districts; and measures to prevent election subversion.
A ban on the sale of military-style weapons such as AR-15 rifles and high-capacity magazines, along with universal background checks for gun sales.
A minimum income tax of at least 20 percent on billionaires.
A ban on members of Congress buying individual stocks.
National marijuana legalization.
A climate change plan that puts the United States on a path to net-zero carbon emissions by 2050.
A required civics and life-skills course for high school seniors, with the same curriculum throughout the country.
Voluntary term limits of 12 years in Congress for all Democrats (six terms in the House, two in the Senate).
The Freedom Agenda and the Post-Manchin Path Forward
Economic Freedom

$15 minimum wage
Prevent price gouging
Paid family leave
Child care
Child tax credit
Immigration reform
Investments in stopping climate change (Biden Climate Plan)

Personal Freedom

Codify Roe
Protect access to contraception
Protect marriage equality
The Equality Act
Gun safety laws, including universal background checks and an assault weapons ban

Democratic Freedom

Voting rights legislation
DC Statehood
End dark money in politics
Ethics reform (including bans on members trading stocks)
Reposted from Democracy Labs with permission.
---
DemCast is an advocacy-based 501(c)4 nonprofit. We have made the decision to build a media site free of outside influence. There are no ads. We do not get paid for clicks. If you appreciate our content, please consider a small monthly donation.
---