It's the Tuesday after Roe.
Hello Indivisible Venturans!
Trying to keep ahead of the anti-democratic horrors coming out of the Supreme Court is becoming a full-time job. Keep ahead of us is easier. Go to tinyurl.com/VC-events!
EVENTS!
Hearing this morning (10:00 am PT) with unnamed witness! Yeehaw!
(From our twitter team) "January 6th Committee announces a PRIME TIME HEARING today!
It will feature witness testimony from an UNNAMED person!
They have NEVER refused to name who the witnesses will be in past hearings. Are they worried that pressure will be applied on him/her?
SPREAD THE WORD, especially to people who, for one reason or another don't follow the news."
How to Watch the Jan. 6 Committee Hearing: The sixth hearing will take place on Tuesday, June 28 at 1:00 p.m. ET. It is expected to air on all major broadcast and cable news networks. The Jan. 6 hearing can be streamed online on the committee's YouTube page (https://www.youtube.com/c/January6thCmte/videos) .
Tuesday – 06/28/2022 – WEBINAR – "How to Help Young People Counter Extremist Recruitment" (1:00pm PT)

From ADL Santa Barbara/Tri-Counties today: "I am heartbroken to learn about the horrible school shooting that just occurred in Texas. Many of our students have already heard about it via social media and may need support for processing it with their peers and families. Because of this, I would be remiss to not share the following resources to help you in your classrooms or at home with your families tonight. I am in shock. I am in disbelief. I cannot believe that I am sending these out to you, again:
Gun Violence and Mass Shootings
Empowering Young People in the Aftermath of Hate
Helping Students Make Sense of News Stories about Bias and Injustice
Which brings me back to this: Just barely over a week ago, a teenager, influenced by online white supremacist hate and propaganda, was responsible for the recent mass shooting in Buffalo – putting youth recruitment and radicalization in the news again.
Educators, parents and families report that the language and symbols of white supremacist extremism, packaged with concerning recruitment strategies, are reaching young people where they spend time – online. Find out what you can do about it.
With the recent mass shooting in Buffalo by a teenager influenced by online white supremacist hate and propaganda, youth recruitment and radicalization is again in the news. Educators, parents and families are reporting that young people are being reached online with the language and symbols of white supremacist extremism, packaged with concerning online recruitment strategies. Extremists are using social media and other platforms to spread biased, offensive and hateful ideas in an attempt to radicalize teens and tweens. ADL has developed a toolkit to help educators and parents/families identify these tactics and support young people. During this webinar, ADL experts will share background information about domestic extremism, recruitment strategies, adolescent development and vulnerability and present real-life examples along with strategies for addressing this topic with young people.
All participants will receive a certificate of completion for one hour of professional development.
More information and Register: https://adl.zoom.us/webinar/register/WN_GBseEVHPTLSK7ux0rRhDBA
Update on Sunday's "Swap Meet Justice Citizenship, Family Resource and Expungement Clinic" in Oxnard.
Thanks to all who helped make Swap Meet Justice, our last-Sunday-of-the-month social justice fair, a great success! That includes all the community volunteers and professionals who gave their time and expertise, and all those who shared information about this event online and through flyers. (Swapmeetjustice.org)
Thanks to your help, our coalition was able to accomplish the following:
– (107) people were able to get their next COVID vaccination, along with $50 gift cards, $10 dollar lunch vouchers at Juarez Tacos' food truck and a plethora of great takeaways, including testing kits.
– (13) people were able to meet with Medi-CAL navigators and sign up right there at the fair for benefits.
– (5) people were able to sit with attorneys from the V.C. Public Defenders' office and get their records expunged. This is currently the only free monthly expungement clinic available on a weekend in CA.
– (5) people were able to speak with our labor attorney about issues in their workplaces.
– (60) people were able to talk to our immigration attorneys to get expert advice on their status issues.
– (3) people were able to finish applications for citizenship and green card renewals with our community volunteers and immigration experts. Several more will return with more information next month to finish their applications.
– Swap meet shoppers were given educational information about notario fraud, where unqualified individuals scam thousands of dollars from families trying to accomplish their immigration journey.
– Information was given about affordable and accessible physical, mental and emotional health care options within the county.
– Westminster Clinic – Oxnard joined us for a few hours to give much-appreciated blood pressure and glucose tests. We hope they will return as regular members of our coalition.
Our work follows Bryan Stevenson's exhortation to "get proximate" – so many people want to "help" or need "help," but the connection between communities is often weak or non-existent. At Swap Meet Justice, we are all in the work together – those wanting help, organizers, volunteers, young, old, disabled, on and on. Donations to support this work are also much appreciated. (https://swapmeetjustice.org/donate-donar/)
Our coalition returns July 31, to once again provide services and information. Thanks again, everyone, and see you next last-Sunday-of-the-month!
If you missed the Friday Planned Parenthood/MFOL action at the Ventura County Government Center, the great folks at "Justice for All" published a video!
Here: https://fb.watch/dWQCUsRdTw/
FIGHT BACK! – CALL ACTIONSInternet voting remains a really bad, rotten, no-good idea, even with the best of intentions. A huge "NO! NO! NO!" to SB1480. (or…"Why you need to call Democrats.")
CALL BENNETT THIS MORNING!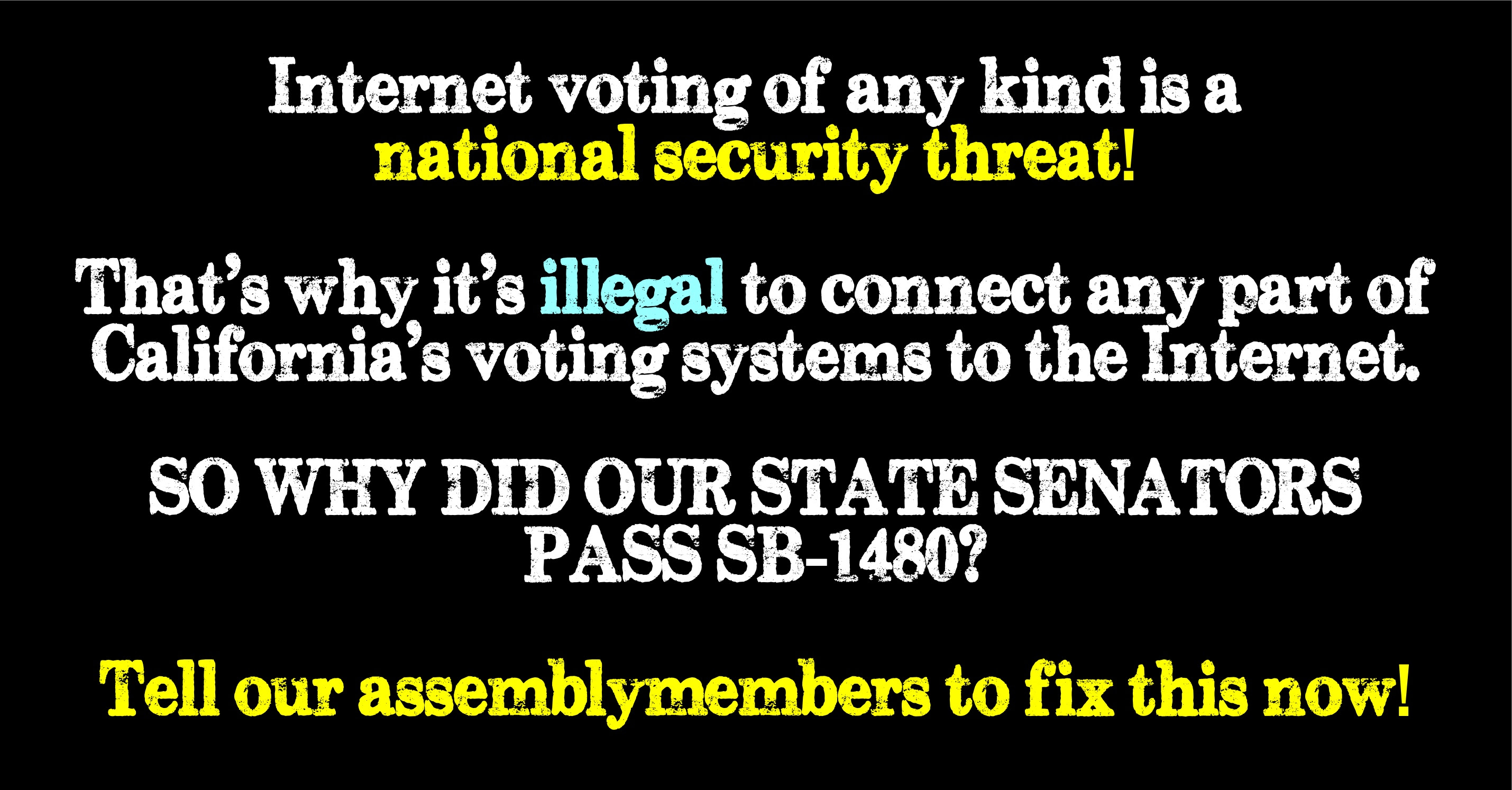 When people ask "Why do I need to call my legislators? They are all Democrats," we're going to point to this bill and say "This is why."
Even the best legislators make mistakes and this one, an internet voting bill that passed the CA Senate 38-0, is a doozy.
Make sure your assemblymembers know you're watching them to make sure that they do better. POST: https://indivisibleventura.org/2022/06/27/internet-voting-remains-a-really-bad-rotten-no-good-idea-even-with-the-best-of-intentions-a-huge-no-no-no-to-sb1480/
The Supreme Court is deleting democracy.
– Action #1: Expand and rebalance this lawless Court with H.R. 2584/S.1141 – Judiciary Act of 2021. It no longer represents the American public.
– Action #2: Supreme Court justices should not be above the law. "YES" on the Judicial Ethics and Anti-Corruption Act and the Supreme Court Ethics Act.
– Action #3 Chat with Joe.
– Action #4: Help fund non-profit organizations that help women access healthcare, in Texas and beyond. POST: https://indivisibleventura.org/2022/06/24/the-supreme-court-is-deleting-democracy/
March for Our Lives – Actions to take now!
The Senate GOP is giving the nod to the least they can get away with beyond "thoughts and prayers", and the NRA-captive SCOTUS just handed down another spurious 2nd Amendment decision, allowing concealed carry without cause.
Be heard. Call your legislators and make sure your friends and relatives in RED states are calling theirs.
POST: https://indivisibleventura.org/2022/06/23/update-6-23-22-march-for-our-lives-actions-to-take-now/
Bookmark this – "Roe v. Wade: What you can do."
https://docs.google.com/document/d/e/2PACX-1vRqbxh96ynlqdYUInUZB5GWrE2GIcW3FEXdtxO_n2BXMAd2HOkNssn3aP77zSXBN43TIJ3Xab2ih9vE/pub
Be Prepared. Corporate oligarchs paid a lot of money for this court and they have a shopping list.

(Our Fridays for Future US friends sent us this…) "The Supreme Court is probably going to release its ruling on the West Virginia vs EPA case tomorrow. If the Court rules in favor of the WV petitioners (which we're expecting it will), it'll have pretty detrimental impacts on regulations to force power plants to decarbonize – which is a serious blow to climate action and environmental justice as it is. But depending on how the decision is written, it could have much more far-reaching consequences for the ability of the government to protect the environment and public health, and to regulate in a range of other areas.
A few of us across the movement put together a little brief on what the case is about and a few talking points on the environmental justice impacts. We can't know the actual scope until the ruling comes out of course, but we've found this overview helpful as we're preparing to respond, so we wanted to share!
Brief: https://docs.google.com/document/d/1L3B4ExG6LBCDsq_wglKuPjOVP_jaenqM8_64__7AMoE/edit?usp=sharing
Feel free to spread this far and wide. Alert your network on the socials before the ruling comes out, Fridays for Future U.S. put out a tweet (https://twitter.com/FFFUnitedStates/status/1541236435507970048 ) and post (https://www.instagram.com/p/CfSjjkkIWFg/ ) about it, and you're welcome to use or adapt the graphics.
From what I understand, PvFF will be sharing some material after the ruling is released. Something not explicitly mentioned, but inherent in the focus on the environmental justice impacts of the ruling, is that both this and the Roe v Wade case affect BIPOC and low-income communities first and worst. They are both consequences of the same system and part of the same fight. We have to break down silos and work together, uplifting each other's struggles and uprooting the system collectively."
FIGHT BACK! – PHONEBANKS, TEXT BANKS, POSTCARDSTuesday – 06/28/2022 – ONLINE PHONE BANK – "Voter Protection Phonebanks with Common Cause" (1:00pm – 3:00pm PT)
We're so excited to work together to demand bold changes to our democracy to create a government that represents all of us, not big corporations or special interests. We're calling voters in New Hampshire to connect them with Gov. Sununu and encourage him to veto SB 418 and voters in Michigan to recruit them for events happening around their state. We also have an Our Democracy event once a week. These phonebanks are subject to change based on variables outside of our control (i.e. a Senator's mailbox is full).
Here's our schedule:
– Sunday: Calling voters in Michigan to recruit them for events happening around their state.
– Tuesday (in partnership with Newburyport Indivisible-RISE): Calling New Hampshire voters to connect them with Gov. Sununu and encourage him to veto SB 418
– Friday: Our Democracy phonebank
These shifts also always will include training for first-timers before you make calls – so if this is your first time, no worries! We'll make sure you feel prepared before you begin.
Mobilize link: https://www.mobilize.us/commoncause/event/376178/
Tuesday – 06/28/2022 – ONLINE PHONE BANK – "Guided Phone Bank to Virginia " (3:00pm – 5:00pm PT)
Virginia is having a primary election on June 21 in its 8th congressional district. We are calling Black communities in the city of Alexandria and encouraging early voting.
– Beginning phone banker? We start with a training for anyone who needs it. You can also train yourself beforehand by watching this video.
– Experienced? You can start making these calls immediately and pop back into the zoom with any questions along the way.
– You can also make these calls on your own time 9am-8pm within the target state's time zone – no need to wait for an event!
For more information about this phone bank, please visit https://www.centerforcommonground.org/phonebanks
Zoom link: https://us02web.zoom.us/j/88061928911#success
Mobilize link: https://www.mobilize.us/cfcg-rov/event/436982/Tuesday – 06/28/2022 – ONLINE LETTER WRITING – "Write Letters for Beto" (4:00 pm – 5:00 pm PT)
Sign up here to join a Beto for Texas Letter Writing Party! Letter Writing parties are a great opportunity to meet other Beto for Texas volunteers and get trained on our letter writing process. After a brief training, we'll all write letters together!Facebook link: https://www.mobilize.us/betofortexas/event/427673/
JOIN THE POSTCARD BRIGADE!!
You Can Make a Difference! Do you want to help Democrats win in the 2022 elections? You can write Get Out The Vote (GOTV) postcards to help get Democratic voters to the polls! Studies have shown that receiving a colorful postcard with a short punchy message is the most effective way to persuade a voter to get to the polls.
One of Indivisible Ventura's members is working with Postcards to Swing States (PSS) to coordinate GOTV postcarding focused on Senate races in swing states. PSS identifies the campaigns, writes the message, and provides the voter names and addresses. She will provide the cards and, if needed, the stamps.
If you want to participate, please send an email to her at ivpostcards@gmail.com. She will add you to her writer roster and email you a description of the campaigns she is currently running. You decide which campaigns you want to join and specify the number of cards you want. If you live locally, you may collect your supplies from her address in Ventura. She can also will snail mail your packet to you.Resist every damn day! – Debby Millais, Postcard Wrangler
SAMPLE READING FROM OUR FACEBOOK PAGE
If your facebook feed is clogged with the deniers, racists and misogynists amongst your friends and family, come on over and borrow posts to share from ours (https://www.facebook.com/IndivisibleVentura)
Bobbe Edmonds
June 26 at 11:21 PM  · 
I don't have a terribly deep reserve for humanity at the moment, but for everyone so comfortable on that fence, because; "At least it's not ME in the barrel" – listen up.
IT WILL NOT STOP HERE.
In the martial arts, this is what we call "Attack Momentum", once the attacker has gained forward momentum, and has you stepping backwards, your chances of recovery dwindle exponentially by the second.
Because, at that point, you're no longer a combatant.
You're a pedestrian.
But there's one moment, right at the start, called "Tai Tai no Sen", from Miyamoto Musashi's Book of Five Rings: 
Taking the initiative *AT* the initiative. Circumventing an ambush or sudden attack from the enemy by taking the initiative and attacking in full force, as they have begun to move. In simplistic terms; "They begin to move, you have already finished".
This strategy is the most difficult to achieve, because it requires immediate, unwavering commitment to fight, without hesitation or uncertainty. They move to attack, you've already finished before they get even halfway there.
So, those with the wisdom to hear – understand this.
This is the onset of the attack, and it will not stop here.
They will come after Griswold (the right to birth control), absolutely, and probably Obergefell after that (if not right along with it), and allow states to deny queer people the right to marry. 
Then Lawrence, so they can imprison the queer people for allegedly having queer sex with each other.
They will uphold a state right to deny trans people the same hormones and puberty blockers that cis people need and use. 
The state will decide what medicine you can take.
When Lawrence is overturned and gay sex is illegal? They'll have a neat little list of queers to go after, right there in the marriage license records. Queers with no legal defense. Because once you dehumanize a group, killing them isn't a moral outrage – it's pest control. Maybe you've heard of Lawrence v. Texas, the 2003 Supreme Court case that declared anti-sodomy laws unconstitutional? 
What a lot of you people fail to realize is that the Texas penal code STILL defines oral and anal sex as "deviate sexual intercourse". They just need an outlet to get the party started. And remember, this is the same state that has proposed bounties on the heads of women seeking or having gotten an abortion, doctors who perform them, and anyone who aids them along the way.
And all the children Gay couples have adopted, that CONservatives claim to be oh-so concerned about, will get shipped off to the nearest religious kiddie fuck-farm, currently labeled as "Children's Homes".
And once they get that far forward, it won't be long. You think "Whites Only" signs are alarmist, they'll never go THAT far.
They've already declared that to be their intention. 
They will indeed "go that far". They've blatantly stated as much. Interracial marriage? They threw that on the table three weeks ago. 
They'll gut environmental protections and try to defang any governmental regulation that some corporation might object to.
And then, we won't have a livable planet much longer. Not that it's in great shape anyway, if you've been paying attention the past several years, or tried to go boating in Lake Mead recently. 
I'm not interested in the "Hillary tried to warn us" mantra – we dropped the ball, and let them walk all over the carpet with dogshit on their shoes. Finger pointing right now is only a distraction.
The best time to fix all this was in the past. 
The next best time is now.
Right Fucking Now.
We don't avoid those things by refusing to fight. They're still going to try to make all that happen. Republicans have already tilted the electoral maps, voter suppression policies, legal challenges and whatever coup plans they have, and they're going to use them anyway even if the Democrats did absolutely nothing.
But just like in 2016 and 2020, the more we turn out, the more we mitigate their evil. But it has to be now, at the single initiative. If they get the next step, it will be twice as hard for us to fight back.
The midterms are Tuesday, Nov. 8, 2022. All 435 U.S. House seats and 34 of the 100 Senate seats are on the ballot.
It's not theirs yet. 
But we have to do it together.
If you think Rome wasn't built in a day, ask a historian when it fell.
*********************************************
"The body of a rock is the state of an unmoving mind. When you have mastered this way of strategy you can suddenly make your body like a rock, and ten thousand things cannot touch you.
You will not be moved."
Miyamoto Musashi, 
The Book of Five Rings
Please DONATE to the cause!
Indivisible Ventura is completely volunteer run and your donation will support the direct costs of organizing in Ventura — things like expenses for Swap Meet Justice, posters, art supplies, stamps, transportation, and more! Although we've defeated Trump and taken back the Senate, we have to act urgently to save our democracy and enact other desperately needed reforms. Getting it done depends on all of us. Let's stand together, indivisible. Indivisible Ventura is one of 6,000 grassroots Indivisible groups across the country. Together, we will win. (https://secure.actblue.com/donate/ven383907253)
The usual caveats…
Keep ahead of us on our calendar scroll here: tinyurl.com/VC-events
• If we screw up a link, our apologies. You can find the original post here: tinyurl.com/VC-events
• We're putting up information on local protests and actions by others we're finding from informal sources. 
These listings are not endorsements nor guarantees as to time/place/type of protest or participant safety. Events can and have already been cancelled without notice. 
• Check ahead for future events there as well. We often miss morning event postings.
• If we screw up or miss information about an event, please send an email to indivisibleventura@ailurophileCopyright © 2022 Indivisible Ventura, All rights reserved.
Hello from Indivisible Ventura! Thanks for signing up!

Our mailing address is:
Indivisible Ventura
PO Box 6367
Ventura, Ca 93006
---
DemCast is an advocacy-based 501(c)4 nonprofit. We have made the decision to build a media site free of outside influence. There are no ads. We do not get paid for clicks. If you appreciate our content, please consider a small monthly donation.
---