"Tonight, I say this to my Republican colleagues who are defending the indefensible: There will come a day when Donald Trump is gone, but your dishonor will remain."
Liz Cheney (R-WY), vice chair of the House Select Committee to Investigate the January 6th Attack on the U.S. Capitol, damned her Republican colleagues at tonight's first hearing on the January 6 insurrection." – Letters from an American
Teleprompters help make your presentations exceptional. You can focus on your delivery and maintain eye contact with your audience as the script scrolls. Here's an excerpt of her comments in a teleprompter and tips on how to use a teleprompter to present better.
What is a teleprompter?
Good presenters keep eye contact with their audience. That's hard to do when you have to keep looking down to refer to your notes. Teleprompters scroll your script so you can read it while looking straight at the camera – on your phone, laptop or with a cameraman. Teleprompters have evolved from big clunky pieces of gear to apps that can run on any device and very affordable. They're also easy to use:
Edit the script in the teleprompter to highlight key words and phrases to emphasize.
Adjust the font size and scroll speed so that you can read it comfortably.
Pause the scrolling to answer a question from the audience.
Save your script for later use or to adapt for other presentations.
Try this exercise
Try reading the same excerpts while looking at the camera on your laptop. See how hard it is to move your eyes back and forth from the camera to tht last sentence you read.
"Tonight, I say this to my Republican colleagues who are defending the indefensible: There will come a day when Donald Trump is gone, but your dishonor will remain. President Trump corruptly pressured state legislators and election officials to change election results. President's close advisor Steve Bannon said "All hell is going to break loose tomorrow."
"On Jan. 6, 2021, the defendants directed, mobilized and led members of the crowd onto the Capitol grounds and into the Capitol, leading to dismantling of metal barricades, destruction of property, breaching of the Capitol building, and assaults on law enforcement."
"President Trump is wrong. I had no right to overturn the election. The presidency belongs to the American people and the American people alone. And frankly, there is no idea more un-American than the notion that any one person could choose the American president", said Mike Pence
"And thanks to your bullshit, we are under siege… If Trump's plan had worked, it would have permanently ended the peaceful transition of power, undermining American democracy and the Constitution. If the country does not commit to investigating and pursuing accountability for those responsible, the Court fears January 6th will repeat itself," said Judge Jacob." – Liz Cheney (R-WY)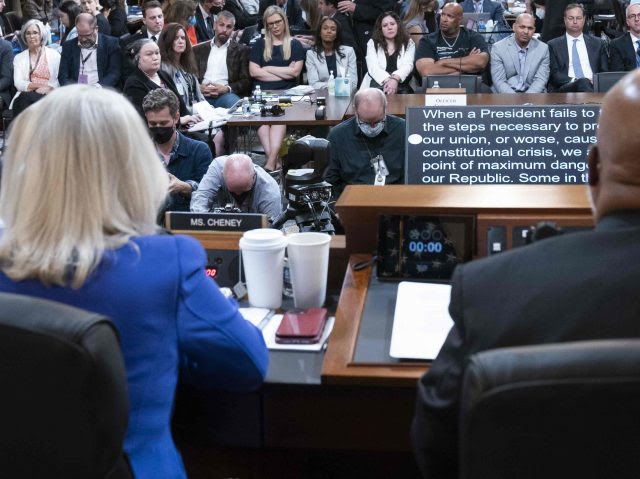 What to look for in a teleprompter
Here is a checklist of features from the BigStage Teleprompter which has both a free and premium ($5/month) version.
A built in timer so you know how much time you have left to present
Import speaker notes from your PowerPoint presentations automatically
Have the right slide corresponding to what you are talking about show up on the screen automatically
Works with different presentation apps such ZOOM, WebEx, Microsoft Teams and Google Meet.
It supports scripts in different languages such as Spanish and Chinese.
It can be used either on a laptop or on a phone with a mobile app (Apple AppStore or Google Play)
Share your script with others so they can also deliver your presentation in a free teleprompter.
Co-present with others using the same script with others on panels and fundraisers
Alert other presenters in the teleprompter when they need to hurry up if they go over their time. (Details)
Get answers to questions you're asked from an associate right in the teleprompter, so you can answers without having to look away from the audience. (Details)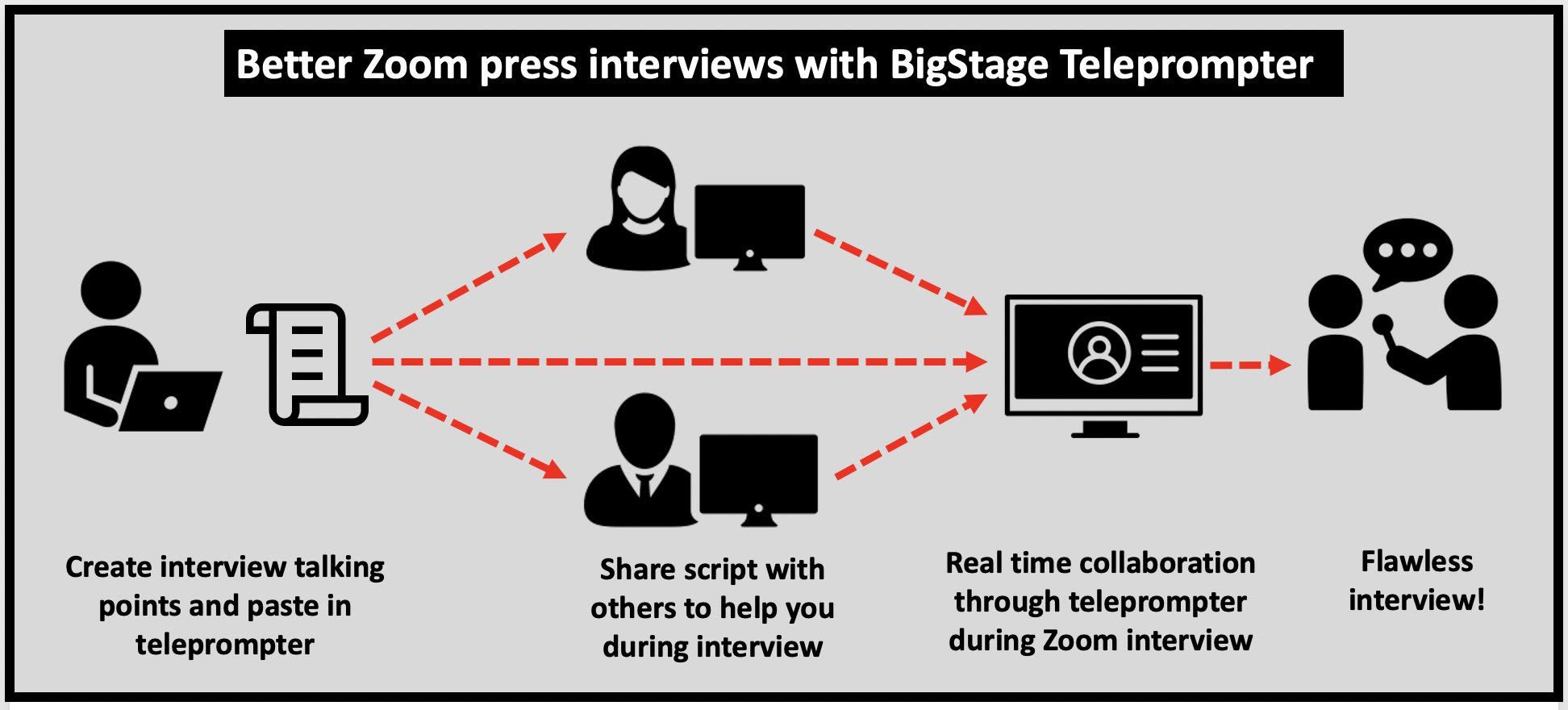 Get immediate answers to questions through a teleprompter

The BigStage Teleprompter is designed for multiple users to collaborate and present together. They all see the same script, can edit in in real time and send messages to each other during an interview or presentation. This is how it works:
Save your script to a link such as this one about FOR THE PEOPLE ACT HR1. Share the script with associates who will be helping you during the presentation. They launch their own BigStage Teleprompter app and can communicate through your teleprompter. They can send you realtime messages, update the script and remind you if you are running short on time so you can present more forcefully without ever having to look away.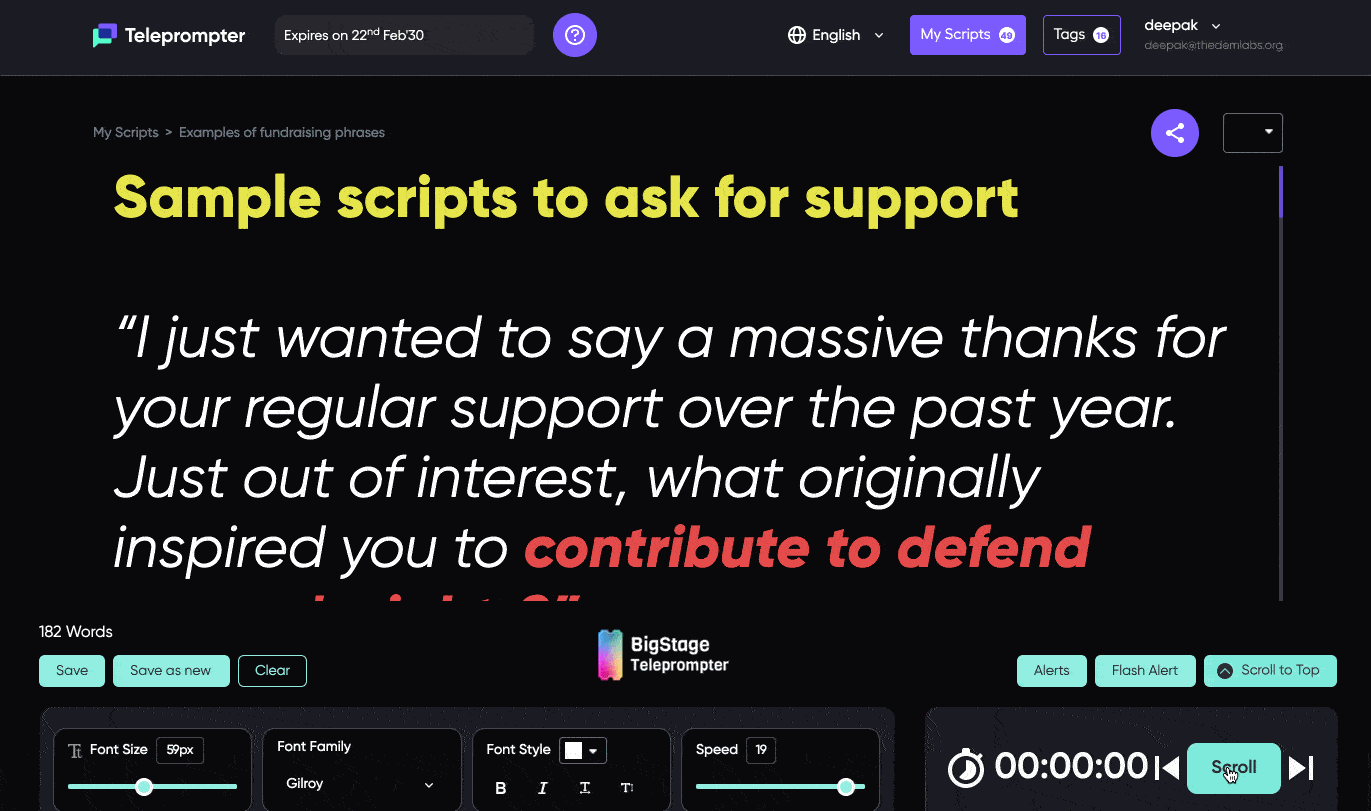 Fundraise better with a teleprompter
Fundraiser better with a strong script. Keep your script in front of you on the screen as you make your call for donations with the free BigStage Teleprompter app. You can also save and share a fundraising appeal with others packed in a teleprompter so they can launch it whenever needed. Some ideas for strong asks for donations from SoapBox Engage:
How to present better with a teleprompter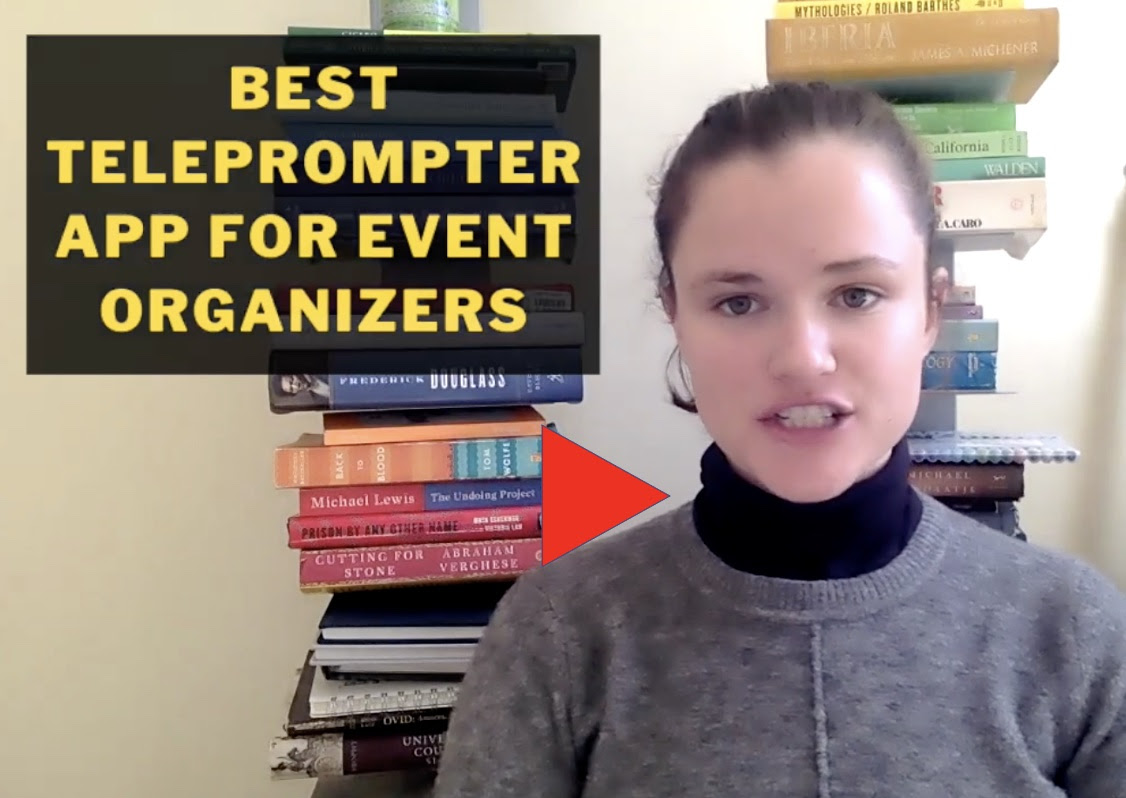 Prepare scripts for expected questions
You can type in or upload what you're going to say. Have different scripts and answers to possible questions. Share your script with others, co-present and get real time help right in the teleprompters. Learn more here. In this example three scripts were created with content from the Billionaire Income Tax toolkit from Americans for Tax Fairness and Build Back Better plan from AGIS Partners.
Billionaire Income Tax
Build Back Better plan
Jeff Bezos net worth and income tax paid

Clicking on any of these links launches the script in a teleprompter. The Billionaire Income Tax script has two 'TAGs' at the bottom which can be clicked. This launches other answers about the Build Back Better plan and Jeff Bezos in separate windows. These TAGs let you be ready for possible questions in your Zoom session.
Resources to present better
Zoom media interview? Perform better with realtime invisible helpers.
Zoom fundraising goes better with a teleprompter
Answering hard questions in a Zoom meeting
Speak truth to power, but first practice your lines.
Stick to your message. Use a teleprompter.
TakeAway: Use a teleprompter when you have an important message to deliver.
Deepak
DemLabs

DISCLAIMER: ALTHOUGH THE DATA FOUND IN THIS BLOG AND INFOGRAPHIC HAS BEEN PRODUCED AND PROCESSED FROM SOURCES BELIEVED TO BE RELIABLE, NO WARRANTY EXPRESSED OR IMPLIED CAN BE MADE REGARDING THE ACCURACY, COMPLETENESS, LEGALITY OR RELIABILITY OF ANY SUCH INFORMATION. THIS DISCLAIMER APPLIES TO ANY USES OF THE INFORMATION WHETHER ISOLATED OR AGGREGATE USES THEREOF.
Read in browser »
Reposted from Democracy Labs with permssion.
---
DemCast is an advocacy-based 501(c)4 nonprofit. We have made the decision to build a media site free of outside influence. There are no ads. We do not get paid for clicks. If you appreciate our content, please consider a small monthly donation.
---