I am delighted to offer you a BADASS Briefing with the latest and greatest events over the next couple of weeks. Watch out, this is a long email! Please take your time to peruse the opportunities to gather. CTA's will return early next week!
We are Celebrating Black History Month, Defending Democracy and Having Conversations! Let's Gather!
If you have events to share, email me at networkvirginia@gmail.com.
Onward warriors!
Stair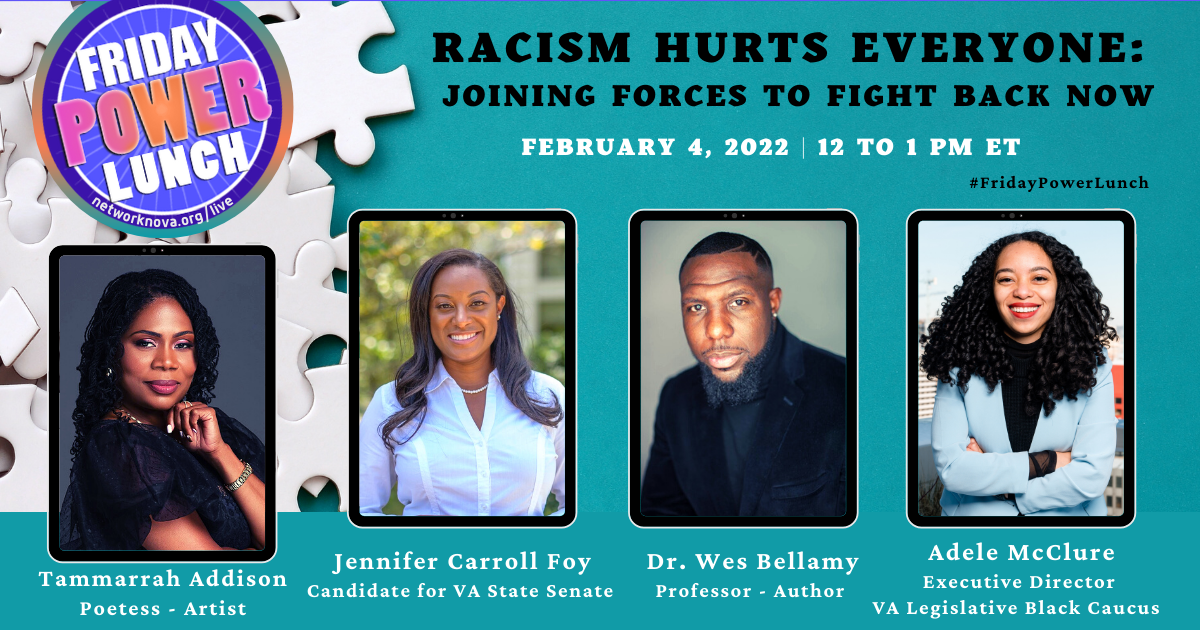 Racism Hurts Everyone: Joining Forces to Fight Back Now
February 4, 2022, NoonET
Register here
As Republicans fan the flames of hatred and racism while making everything a political and divisive issue, it is up to us to unite and fight back. This Friday we will talk to some of today's most dynamic black leaders on what it will take to bring us to a better place. Guests: Dr. Wes Bellamy (Author of When White Supremacy Knocks, Fight Back! How White People can use their Privilege and How Black People can use their Power), Jennifer Carroll Foy (Candidate for SD 33, former Delegate); Adele McClure (Executive Director of Virginia Legislative Black Caucus and Candidate for HD 2), and Tammarrah Addison (Poet).
Share the Facebook Event – Retweet – Love Us on Instagram
VREA's Fireside Chat with Senator Jennifer McClellan – Abortion is Policy
February 3, 2022, 6pm
Sign Up HERE
Please join the Virginia Reproductive Equity Alliance as they kick off their Season of Action! The panel will be discussing how policy has been a barrier to accessing abortion care in Virginia, how we can expand that access for Virginians, and how YOU can fight back against the anti-abortion bills that have been introduced.
Senator Jennifer McClellan will be joined by
Tarina Keene, Executive Director of Pro-Choice Virginia
Kenda Sutton EL, Executive Director of Birth in Color 
Breanna Diaz, Legislative and Policy Council for ACLU Virginia
Ayé Johnson (moderator), Community & Volunteer Engagement Accomplice at Richmond Reproductive Freedom Project
COFFEE WITH KARL Thursday, February 3 at 8pm ET – Virtual
Register here
Karl Frisch, Fairfax County School Board will
welcome his first special guest of the year: JOE TRIPPI, the bestselling author, podcast host, and famed Democratic political strategist.
Bring your questions about the state of the 2022 midterm elections, Trump's lingering impact on our politics, the Biden/Harris agenda, and more. You won't want to miss this discussion!
Abolition. Feminism. Now. Friday, February 4, 2022, 5 PM EST
Join Angela Y. Davis, Gina Dent, Erica R. Meiners, and Beth E. Richie for an urgent conversation moderated by Mariame Kaba.
As a politic and a practice, abolition increasingly shapes our political moment — halting the construction of new jails and propelling movements to divest from policing. Yet erased from this landscape are not only the central histories of feminist — usually queer, anti-capitalist, grassroots, and women of color — organizing that continue to cultivate abolition but a recognition of the stark reality: abolition is our best response to endemic forms of state and interpersonal gender and sexual violence. Amplifying the analysis and the theories of change generated from vibrant community based organizing, Abolition. Feminism. Now. surfaces necessary historical genealogies, key internationalist learnings, and everyday practices to grow our collective and flourishing present and futures.
What the Heck is the VA Democratic Party's Reorganization Anyways? A View from the Grassroots UP!
Feb. 5, 2022: 9 am – 11 am
Virtual Workshop
Register here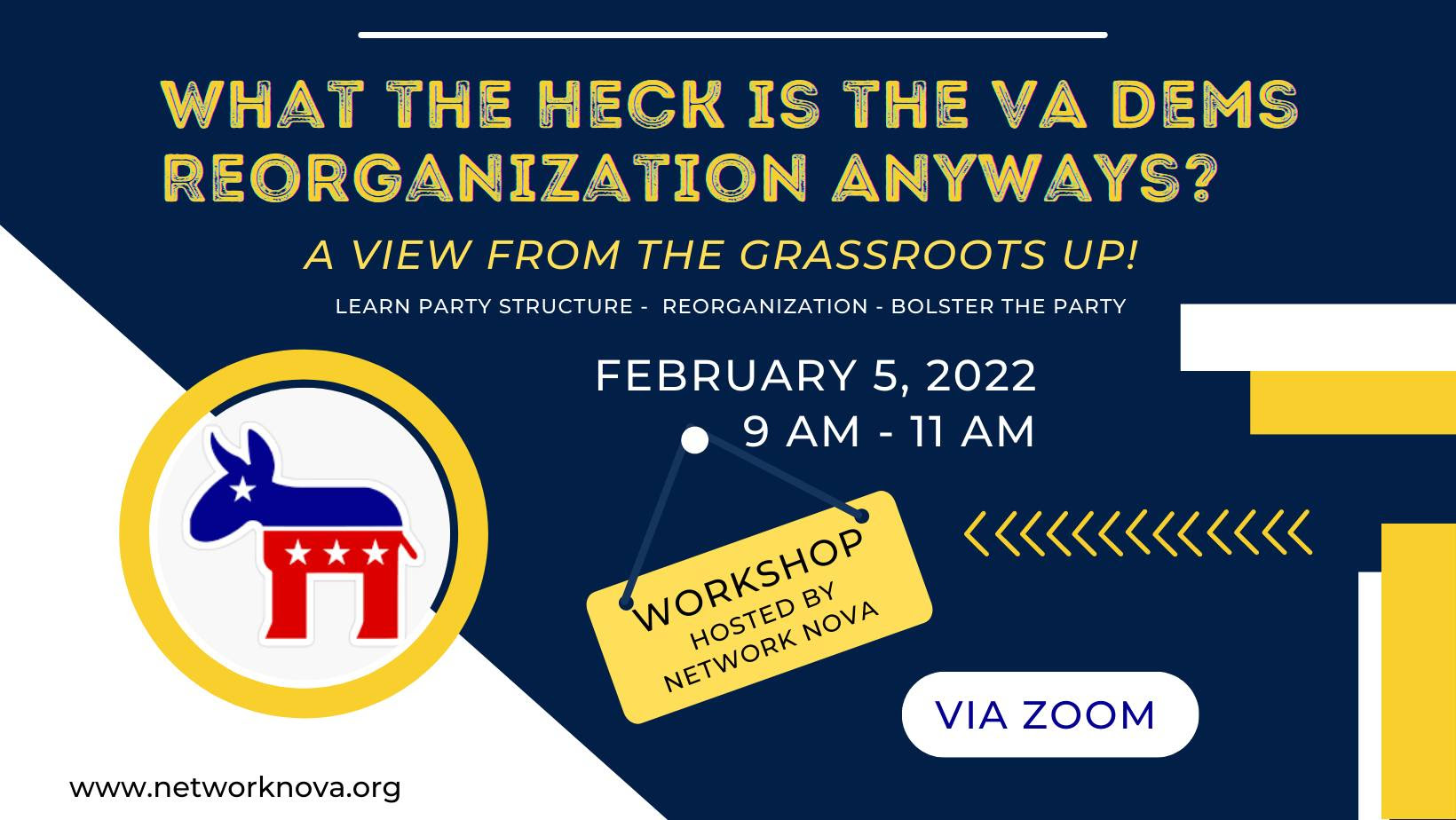 Join Facilitators:
Josh Stanfield: Historic Triangle Democrats, CD 2 Committee, State Central Committee & Rebecca Daly: Member of Congressional District 5 Committee and State Central Committee to learn about the structure of the VA Democratic Party, the upcoming "Reorg", and how to get more involved to bolster the party.
Virginia Grassroots Coalition Meeting,
Sunday, February 6th, 4:00pm – 5:30pm RSVP here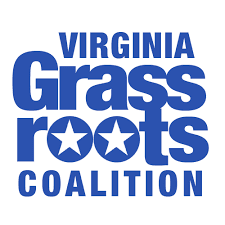 NOPE 2022 Kick Off Meeting with Senator Reverend Warnock
Monday, February 7th, 7:00pm – 8:00pm RSVP here 
Senator Reverend Warnock will speak about his reelection race and share his views on how we can protect our democracy in what will undoubtedly be a year where the foundations of
our country are challenged. NOPE will be supporting Senator Reverend Warnock's campaign as well as Georgia grassroots groups that are crucial to fighting voter suppression and getting out the vote in the state.
Register Democrats. Save the World
Wednesdays, 2-3pm ET Register here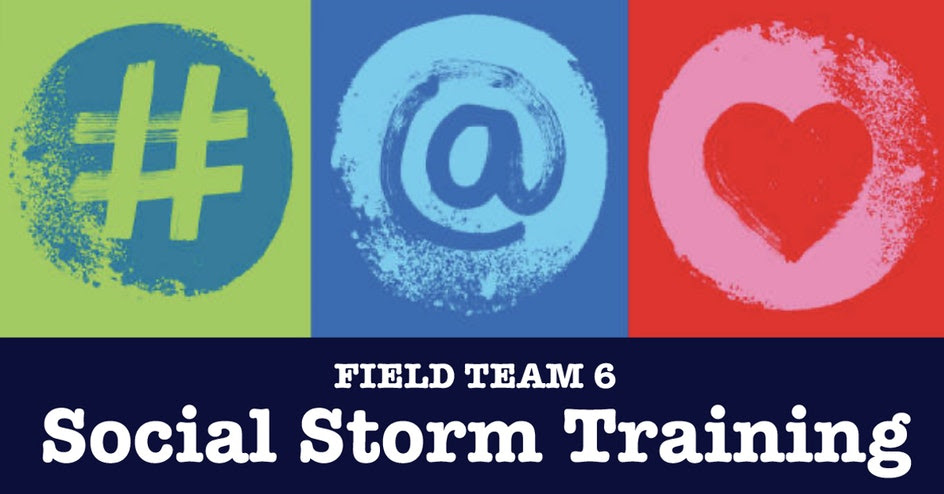 Join Field Team 6's Voter Registration efforts as well as #Voterizer and #RegisterDemocrats …all from the comfort of your social media accounts!
Virginia (VA) Redress Network -Biweekly Meeting
Wednesday, February 10, 2022, 6pm Register here
he Virginia (VA) Redress Network is a collaboration between local redress efforts
throughout the Commonwealth of VA. The goal of the Coalition is to embolden efforts among its members by collaborating and building a consensus around redress. The Coalition provides support and raises awareness for specific instances of U.S. historical racial injustices by undertaking and facilitating capacity-building and public education. The VA Redress Network is in alliance with the African American Redress Network (AARN).
Messaging from the Ground Up
Wednesday, February 9, 2022 07:00 PM Sign Up HERE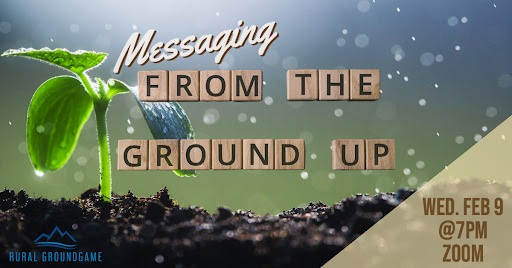 The purpose of this event is to present some ideas for how Rural GroundGame can be of service to rural Democrats in amplifying locally-sourced messaging across multiple media
platforms. From radio, to newspapers, targeted digital ads, mail/postcards, and direct voter contact, we want to crank the volume of your voices to ensure that the presence of Democrats is felt year round in every zip code. Some of these ideas will be new and experimental and we will be seeking your guidance and input as the driving force behind this work. Please join us and invite your friends (as long as they are Democrats!).
"What Happened to Ohio Politics?"
Wednesday, February 9, 2022 7:00pm ET Register here.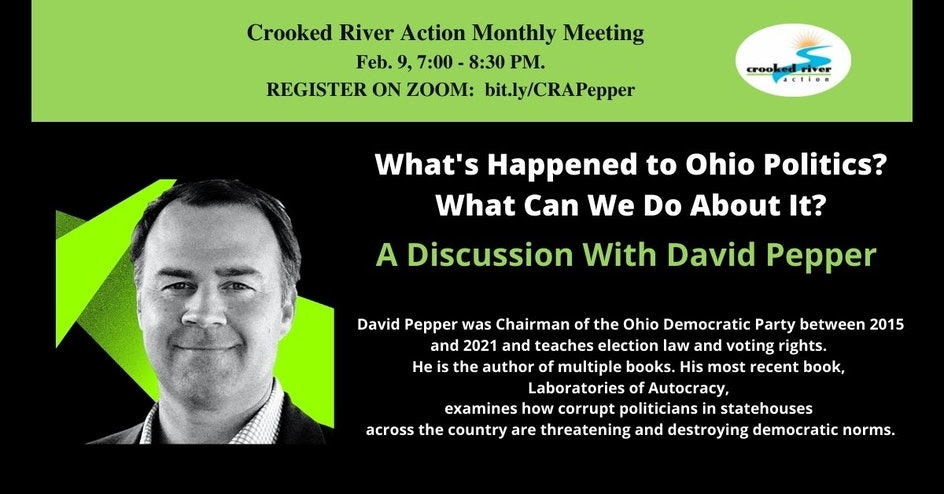 Join Crooked River Action Monthly Meeting for a discussion with David Pepper. David was Chairman of the Ohio Democratic Party between 2015 and 2021. His most recent book,
Laboratories of Autocracy, documents the economic and political decline of Ohio and explains how corrupt politicians across the country are working to dismantle democracy. He also has ideas on how they can be stopped.
---
DemCast is an advocacy-based 501(c)4 nonprofit. We have made the decision to build a media site free of outside influence. There are no ads. We do not get paid for clicks. If you appreciate our content, please consider a small monthly donation.
---