IC-SS Weekly Update: January 17, 2022
Dr. King's Birthday + Voting Rights

 Today we observe the birthday of Dr. Martin Luther King, Jr. Over fifty years after Dr. King's life was taken, our nation still has not protected the right to vote. Dr. King's family is calling for "no celebration" of their father's birthday without the passage of voting rights legislation.
Let's use this day to honor Dr. King by advocating for the Freedom to Vote Act and the John Lewis Voting Rights Act.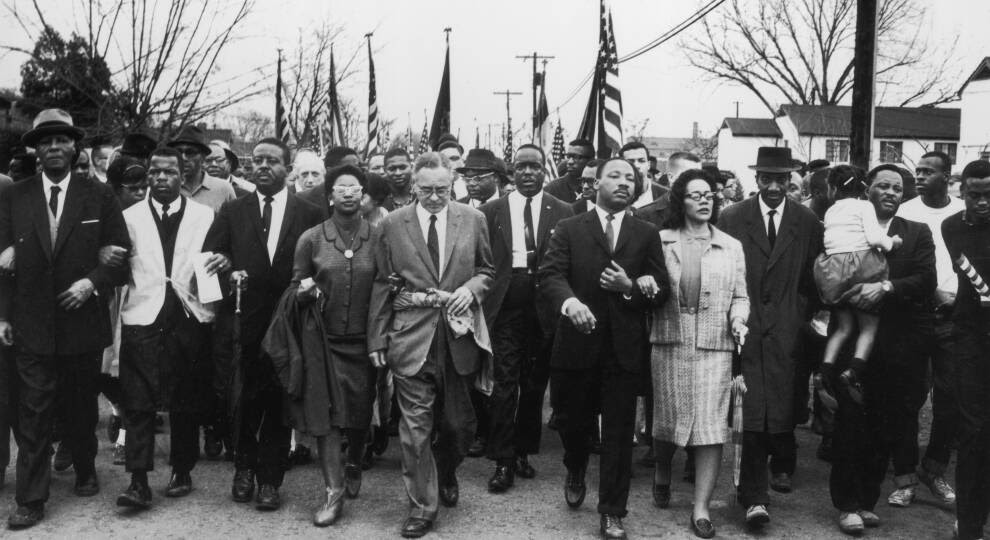 ACT
1. Write a quick, automatic (but editable) email To Senators Durbin and Duckworth, via Indivisible Chicago. 2-minute letter action here.
2. Call and leave messages for Senators Dick Durbin and Tammy Duckworth. Suggested phone script:
My name is ______ and I live in zip code ______. Dr. King fought for voting rights, but voter suppression is increasing in state after state. I appreciate that Senator (Durbin/Duckworth) is speaking more loudly in support of the voting rights bills now in the Senate. Today, I am calling on Senator (Durbin/Duckworth) to go all out and use (his/her) influence to convince fellow Democrats to fix the filibuster so these bills can pass. End or reform the filibuster so we can honor Dr. King by passing the Freedom to Vote Act and the John Lewis Act.
Contact Senator Durbin. If you cannot leave a message in his DC or Chicago offices, call one of his other district offices in Illinois.
Contact Senator Duckworth. If you cannot leave a message in her DC or Chicago offices, call one of her other district offices in Illinois.
3. Join the Chicago-area Indivisibles Social Media Blitz. Today, anytime between 9:00 am and 12:00 noon, join a Zoom room for camaraderie while you use your social media – Facebook, Twitter, Instagram – to post or tweet for voting rights. Sign up to get the Zoom link and a social media toolkit. (NOTE: You can use the toolkit on your own at any time today.)
4. Find more ways to act at the Deliver for Voting Rights website. Find Deliver for Voting Rights here.
Tomorrow: WI Voter Protection Kickoff
Wisconsin is at the frontline in the fight for democracy. On Tues, January 18th at 5:00 pm, WisDems Voter Protection team is kicking off their 2022 program, and we – Wisconsin's Illinois neighbors – are invited to attend.
 
Join WisDems, along with the Democratic Party of Wisconsin's Chair Ben Wikler, on Zoom to learn all about their plans to protect voting rights in 2022, and find out how you can get involved advocating for voters.
LEARN MORE – GET INVOLVED
 Will You Become an IC-SS Voting Member?
Will you become (or remain) a voting member of Indivisible Chicago-South Side? As IC-SS prepares for possible candidate endorsements for the 2022 midterms, we invite you to become or remain a voting member to have a voice in leadership, endorsement, and governance decisions for our group. 
To become a voting member of IC-SS, pleaseregister via this voting member registration form as soon as possible and no later than 5:00 pm, Sunday, February 13, 2022. You qualify if you have been active with our group in any way.
If you were already a voting member and received our January 7 email asking you to confirm, you need only reply to that email to remain a voting member. If you did not receive the January 7 emaillast week, please complete the voting member registration form instead. 
Notes:
Anyone is welcome to take part in Indivisible Chicago-South Side's open meetings, events, and projects. However, only voting members can vote on endorsements.
Youqualify to become a voting member if you've been active with our group in any way.
If you become a voting member now (or confirm your voting membership), you can vote in any endorsement meeting IC-SS may hold in 2022.
IC-SS will hold an endorsement meeting via Zoom on the evening of Wednesday, February 16th, to consider making one or more endorsements before the Illinois primary. Invitations with the Zoom link will be sent to anyone who becomes a new voting member or confirms their continuing membership by February 13th.
Phone Voters in AZ and WV
If you felt dismayed by the words of Kyrsten Sinema on the Senate floor last week, you're not alone. While Senator Sinema blithely voted for a carve-out to the filibuster for the debt ceiling in December, she now pretends to stand on principle while refusing to do the same for voting rights. We felt the urge to call her office to express our disgust, but we know it's counterproductive to call anyone but our own senators.
What to do? Get Sinema's own constituents to call their senator – and the same for Manchin!
Make Senators Feel the Urgency
The Senate will be debating voting rights bills this week. If we are to overcome the dozens of voter suppression bills being enacted by states, the Senate must pass the Freedom to Vote Act and the John Lewis Voting Rights Advancement Act. But to pass these bills, the Senate must end or reform the filibuster, a parliamentary rule.
You can do it! At each phonebank session, you'll connect on Zoom with friendly Indivisible Chicago folks, who'll guide you as you patch people in different states through to their own senators to tell them to fix the filibuster and pass the Freedom to Vote Act. You may even see folks you know, like Teri, Sarah, and Betsy.
Choose your date/time to phonebank:
Tuesday, January 18 + each Tues in January, 3:00-5:00 pm:RSVP to connect people in WV to Senator Joe Manchin

Wednesday, January 19 + each Wed in January, 5:00-7:00 pm:RSVP to connect people in AZ to Senator Kyrsten Sinema
Choose your day: If you can't make the Indivisible Chicago phonebanks, choose a Common Cause phonebank to call AZ or WV on other days. RSVP for other days.
Updates on IL Congressional Races
NEW MAPS. Based on Census 2020 data, the Illinois legislature has redistricted the state. Compare the current 2013 map to the new 2023 map, showing the redrawn districts relevant to the 2022 primary and general elections. In the Chicago area, both the 3rd and 6th districts have been significantly redrawn. (Get into the details via FiveThirtyEight.)
IL-01
Since Congressman Bobby Rush announced he will not stand for re-election in Illinois's 1st District, over 20 people are considering running or have already declared. The current list of declared IL-01 candidates is on Ballotpedia (the list does not update as soon as a candidate publicly announces, so check back frequently).
IL-03 and IL-06
In the new IL-03, two candidates are now running for US Congress in the Democratic primary: Delia Ramirez, currently an Illinois State Rep, and Gilbert Villegas. See Ballotpedia.
In the new IL-06, two incumbents will be opposing each other in the Democratic primary. Congresswoman Marie Newman was elected to the current IL-03 in 2020, having first defeated the more conservative Democratic incumbent in the 2020 primary. Democratic Congressman Sean Casten was elected to the current IL-06 in 2018, overcoming a Republican incumbent; he was re-elected in 2020. See Ballotpedia.
Members of both Indivisible Chicago and Indivisible Chicago-South Side volunteered for and supported both Sean Casten and Marie Newman in their previous campaigns.
Volunteer for Candidates
Last week, we featured volunteer events for Kina Collins, running for Congress in IL-07; Rep Lauren Underwood running in IL-14; and Rep Marie Newman, Congresswoman in the current IL-03 and running in the new IL-06. This week, we feature Rep Sean Casten, the Congressman in the current IL-06 and running in the new IL-06.
 
Volunteer with Sean Casten, IL-06
Congressman Sean Casten flipped IL-06 in 2018 with the help of volunteers from IC-SS. He's facing a contested primary, and he asks for your help to win re-election and continue leading on climate action.  
ACT
Postcards, Letters, Messaging to GOTV*

Get in the winter frame of mind. Grab the cocoa, find a fuzzy friend, write letters to voters to help turn out the vote in key elections.
ACT: Write to voters in one or all of these ways: Vote Forward + Postcards to Swing States + Postcards for Climate.
LEARN: Postcards are one piece of a larger puzzle. In a virtual meeting on January 27, Progressive Turnout Project will outline the messages and tactics aimed to rally progressives and Democrats to vote — from one-on-one conversations with voters to handwritten postcards. Featuring renowned communications researcher Anat Shenker-Osorio.
What: How We'll Rally Democrats to Vote in 2022 (virtual meeting)
When: Thurs, Jan. 27th, 7:00-7:45 CT (8:00-8:45 ET)
RSVP: Get info/Sign up
Thanks to Steve Kagan for the alert to this special event.
Stay Informed on Voting Rights
Stay informed on the urgent need to strengthen and defend our democracy – including voting rights, fair elections, and counteracting the filibuster loophole as an obstacle. Check the IC-SS Democracy Doc – new resources weekly: websites, articles, podcasts, videos, and more.
Organizations & Opportunities
Indivisible Chicago-South Side shares information and action announcements from other organizations on issues important in our country, state, city, and communities.
Centering Rehabilitation: Reevaluating Prisons and Punishment: Mon., Jan 24

Mon, Jan 24, 5:00-6:30 pm. Join WBEZ and the University of Chicago's Center for Effective Government for an online event exploring different models of prisoner rehabilitation and the potential for local reform.
Author and WBEZ  Race, Class and Communities Reporter Natalie Moore will share her experience inside Finland's open prisons and provide an inside look into her reporting. The event will also feature a panel discussion about the future of the American criminal justice system. Info/register here.
COVID-19 Behind Prison Walls: Wed., Jan 26

Wed, Jan 26, 6:00-7:30 pm. Join the Coalition to Decarcerate IL and partners, the University of Illinois at Chicago Criminology, Law, and Justice Department and Institute for Research on Race and Public Policy, for a timely panel event discussing COVID-19 in Illinois prisons: COVID-19 Behind Prison Walls. The online event will feature panelists Tewkunzi Green, Michelle Daniel (Jones), Erica Meiners, and Alan Mills. RSVP here.
Community Control of Police: Join the Fight!

This summer, the Empowering Communities for Public Safety ordinance (ECPS) was passed in the Chicago City Council.  This legislation gives Chicago residents some of the most comprehensive accountability over city police in the nation. The struggle for police accountability, however, is not done. 
Now we need the City Council to put a referendum on the ballot, so Chicago residents can vote for even further control.
ACT:
Join CAARPR at the ECPS Zoom workshop, every Saturday at 10 AM. Learn about the next stage in the struggle for community control of the police. Then choose to do some phone banking or find out other ways to get involved. Get info/sign up
---
DemCast is an advocacy-based 501(c)4 nonprofit. We have made the decision to build a media site free of outside influence. There are no ads. We do not get paid for clicks. If you appreciate our content, please consider a small monthly donation.
---