We the People: January 6th Day of Remembrance, Unity, and Action
Join an event to remember the heinous attack on the capitol on January 6, 2021. Or, create your own. One year later, we must say never again. Make your voice heard: attend a vigil and let your representatives, senators, and President Biden know the urgency to pass federal legislation to protect our vote and democracy. Some solutions: The Freedom to Vote ActThe Protecting Our Democracy ActThe John Lewis Voting Rights Advancement Act. Read more and Find events near you
Be part of the commemoration, not only to remind yourself of what is at stake, but to serve as a model to others in your life who may not understand or appreciate the significance of the events of January 6th.

The first anniversary of the victory of democracy over autocracy (or worse) on January 6th will take place on Thursday of this week. If you have not already made plans to commemorate January 6th, check out Defend Democracy's website, which lists hundreds of in-person and virtual events. Speaker Pelosi has arranged for a series of events in Washington D.C., including a moment of silence in the House, remarks by President Biden and Vice-President Harris.

CNN will host a two-hour special at 8 pm EST that will include live interviews with members of the House and the Capitol Police about their experiences on January 6.

On DemCast, Americans across race, place, party, and background are holding more than 175 events throughout the country to say, "In America, the voters decide the outcome of elections. The promise of democracy is not a partisan issue but a calling that unites us as Americans."
The January 6th attack by right-wing militants demonstrates the dangers facing our nation and only further underscores the urgency with which we need to transform our political system into one that works for all Americans.

We must stand together in this moment — we need to keep up the momentum for our freedom to vote. Coming together, we can prevent another attack and realize the promise of democracy for all of us — no matter our color, zip code, or income — so we all have an equal say in the decisions that shape our daily lives and futures.

Field Team 6 is hosting a nationwide virtual postcard writing event focused on flippable districts. Register here.

We the People has created a site that focuses on vigils, voter registration, and passing voting rights legislation. Find an event here. The Contra Costa Civic Theater is hosting a Zoom presentation of a reading of "Running for My Life," which is based on interviews with 23 women Representatives who were in the House on January 6th. "Their recollections form the narrative for this powerful and unique insight into recent events." RSVP here.

Defenders of Democracy Against Disinformation (DDAD) is coordinating events in seven states with 19 organizations. The group's newsletter provides links to social media messages that can be posted, shared, and retweeted by going to DDAD's Twitter, Facebook and/or Instagram accounts.
The Civics Center is holding a workshop (via Zoom) on January 6 at 7 pm EST to help volunteers organize voter registration drives in high schools. What better way to teach the lesson of January 6th than by registering the next generation of voters?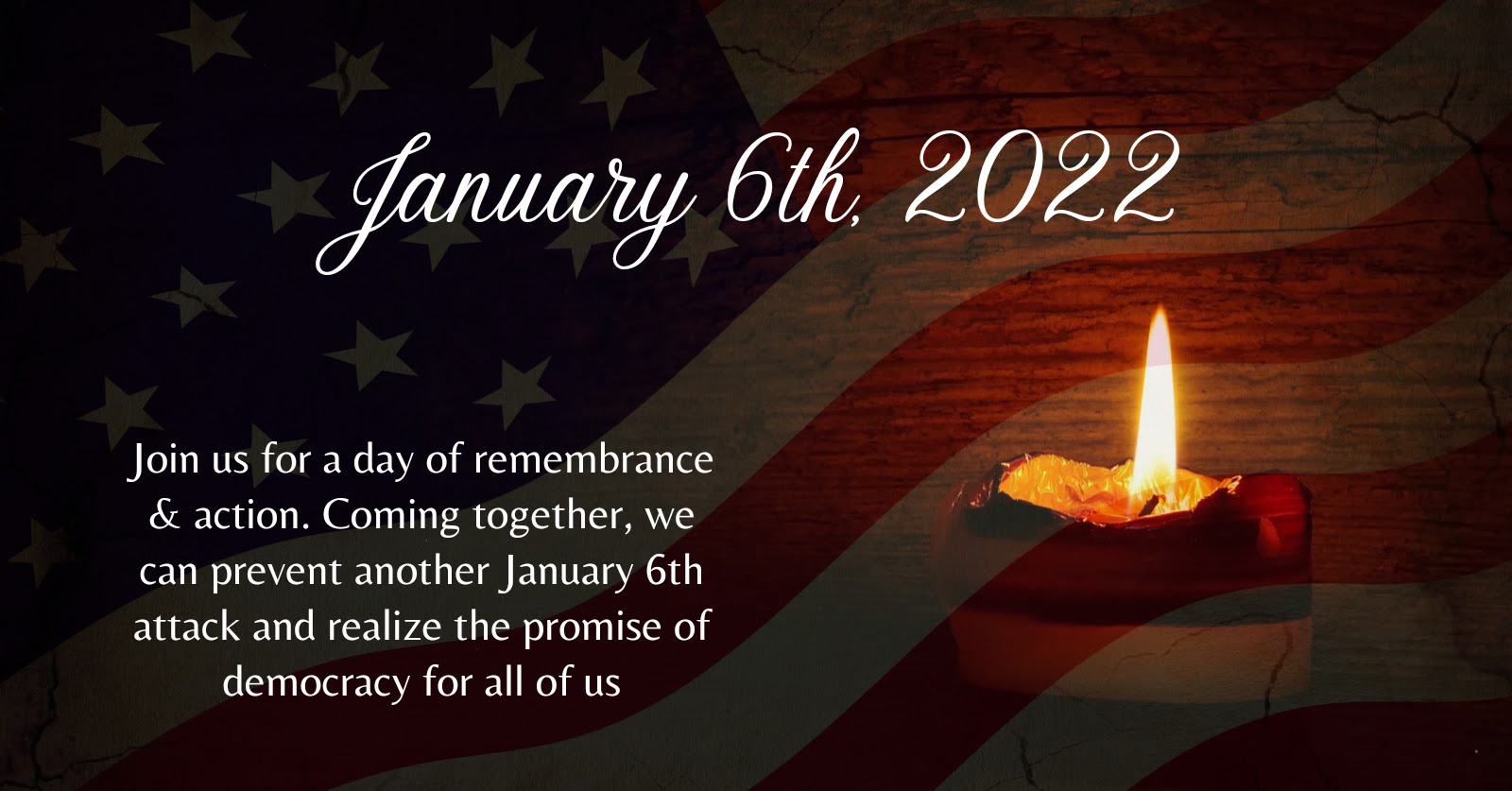 Click here to share the events across social media!
Share and invite your friends and followers to join us for a day of remembrance and action. There are messages formatted to share on Instagram, Twitter, Facebook, and LinkedIn.
---
Action
What Michigan's new maps mean for you and future elections.
Now that the Michigan Independent Citizens Redistricting Commission has issued new maps, come learn what that means for you and for future elections. Guests on Conversations! will be Sergio Martínez-Beltrán, Capital Reporter for Bridge Magazine, and Bob Chunn and Yalcin Yonikoglu of Next Vote.
This zoom presentation will take place on January 16 at 7 pm EST. Email Chuck at chuck@lba80.com to register for the program and send questions you would like him to ask his expert guests.
Call Your Senators to pass Voting Rights Acts (find yours here)Hi, I'm a constituent calling from [zip]. My name is ______.[If Democrat:] I understand that Democrats are considering changes to the Senate rules if Republicans keep obstructing progress on voting rights. I 100% support this, and want the Senator to as well. We should do whatever it takes to pass the Freedom to Vote Act and the John Lewis Voting Rights Advancement Act, then move on to pass Build Back Better and the many other excellent bills Democrats have already passed in the House. There's no time to waste, please get this done! Thanks.
[If GOP:] I understand that Democrats are considering changes to the Senate rules if Republicans keep obstructing progress on voting rights. I 100% support this, but hope it won't come to that. I want the Senator to change course and commit to voting for the Freedom to Vote Act and the John Lewis Voting Rights Advancement Act. S/he needs to put country over party now. As Liz Cheney stated this weekend, the Republican Party "can either be loyal to Donald Trump or…to the Constitution, [not] both." Tell the Senator that Cheney and one or two others shouldn't have to be the only courageous Republicans in Congress. Thanks.-From Jessica Craven's Chop Wood, Carry Water
Call Your House Rep (find yours here)Hi, I'm a constituent calling from [zip]. My name is _______.
I'm deeply concerned about the partisan bias evident in the Supreme Court. We need to pass the Judiciary Act and add 4 more justices to rebalance it. Will the Congress member co-sponsor HR 2584, the Judiciary Act? This is really important to me. Thanks.From Jessica Craven's Chop Wood, Carry Water.
Visit the PEG website to view the comprehensive listing of Upcoming Events!
Remembrance and Accountability
52% of Republicans believe the Jan. 6 insurrectionists were "protecting Democracy"
ABC News reports the results of their ABC News/Ipsos poll conducted Dec 27–29: WAS THE JAN 6 INSURRECTION A THREAT TO DEMOCRACY?52% of Republicans say those involved in the Jan 6 insurrection were "protecting democracy." Only 45% of Republicans said the insurrection was a threat to democracy.In contrast, 98% of Democrats believe that those involved in the insurrection were threatening democracy.In total, one in four Americans believes that the individuals involved were "protecting democracy" and 72% of Americans believe those involved in the attack on the Capitol were "threatening democracy." DOES THE FORMER PRESIDENT BEAR ANY RESPONSIBILITY FOR THE INSURRECTION?78% of Republicans believe the former president bears "just some" or no responsibility for the day's events.91% of Democrats believing Trump bears either "a great deal" or "a good amount" of responsibility for it.In total, 58% of Americans think Trump bears a "great deal" or a "good amount" of responsibility for the Jan. 6 events, unchanged from an ABC News/Washington Post poll conducted on Jan. 13, 2021. WERE THE 2020 ELECTIONS LEGITIMATE?In total, 65% of Americans believe Biden's victory in the 2020 election was legitimate, which is similar to the results of a January 2021 ABC News/Ipsos poll (68%).71% of Republicans believe the false claim that Trump was the rightful winner of the election.93% of Democrats believe the 2020 election results were legitimate.
Investigating the Day of Outrage
The bipartisan Congressional Committee investigating the January 6th insurrection is considering making "criminal referrals to the Justice Department that would urge prosecuting former President Donald J. Trump or his allies." They have witnesses who testified that both his son and daughter advised him to stop it and that Trump was in continual contact with Kevin McCarthy and Jim Jordan that day. Says Liz Cheney, the vice chair of the committee, "We have firsthand testimony now that he was sitting in the dining room next to the Oval Office, watching the attack. The briefing room at the White House is a mere few steps from the Oval Office." As Benny Thompson said, "We need to know as a committee, why did it take so long, as this riot was going on at the Capitol, for you to say, 'Stop?' "
The Committee has interviewed more than 300 witnesses, perused 1000s of documents, and connected the dots, which create a picture of GOP principals who planned the attack to undermine Biden's legitimate victory in the November 2020 election. They're also following the money trail, issuing subpoenas for bank records, to determine the financing of the insurrection. And they continue to fight in the courts for access to Trump's records, a fight Trump's lawyers have taken to the Supreme Court. Above all, the Committee is in a rush. If the Republicans win control of the House in the November 2022 election, they very well might shut down the investigation. They plan to air what they've found behind closed doors as soon as possible.The real fear is that this insurrection could happen again, perhaps more threatening to our nation next time. "I think that the challenge that we face is that the attacks on our democracy are continuing — they didn't come to an end on Jan. 6," said another panel member, Rep. Adam Schiff, D-Calif., also chairman of the House Intelligence Committee.
The Corporate Insurrection
How companies have broken promises and funded seditionistsReport from The Center for Responsibility and Ethics in Washington (CREW)Since the insurrection, 717 corporations and industry groups have funneled over $18 million to the re-election of members of Congress who objected to the 2020 presidential election results. As calls for insurrection accountability reach the one year mark, one thing is for certain: our democracy cannot recover from the insurrection while Corporate America continues to spend millions of dollars bankrolling seditionist members of Congress. Read it here.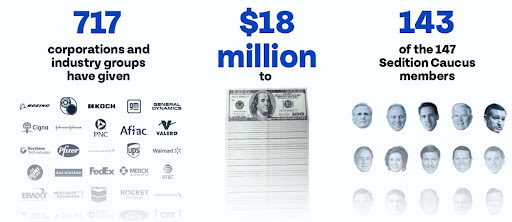 ---
DemCast is an advocacy-based 501(c)4 nonprofit. We have made the decision to build a media site free of outside influence. There are no ads. We do not get paid for clicks. If you appreciate our content, please consider a small monthly donation.
---